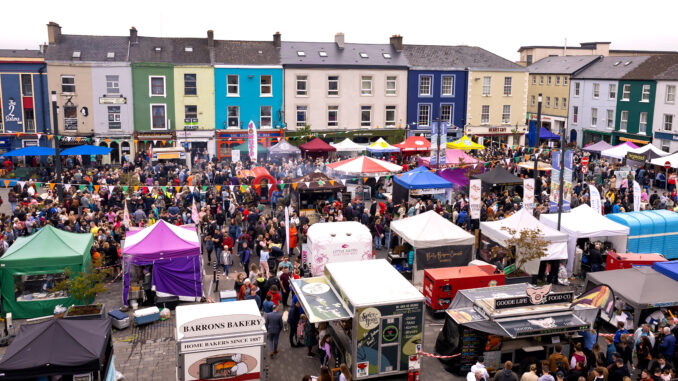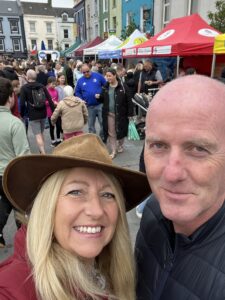 There was something for everyone in Dungarvan at the 14th annual, West Waterford Festival of Food. With a carnival atmosphere and variety of food stalls and trucks locals, visitors were wooed with tastes of the world using local produce. I arrived a little late to the party on Sunday but in time to soak up the atmosphere at the Festival Market in Grattan Square. Music was in place for much of the afternoon from choirs and bands filling the air with a delightful mix of entertainment. It wasn't just food on offer either as I stopped by at Di Fenza Design who make remarkably original jewellery inspired by Irish Coins. They also offer a unique take on the sun, moon and stars.
We popped into The Local on Grattan Square for lunch where owners, husband and wife Donnchadh and Helena have created an ambient haven for foodies. Being 24 years in business, The Local was always a must visit pub in the center of the town but they have reconfigured the layout and focus of the business putting food to the fore. All offerings on the menu were appetizing but it was the seafood specials that tantalized our tastebuds with crustacean crumb and turbot in a provençal sauce. The Deise has an enviable choice of food producers who were out in full force and from the aromas wafting from the stalls it all felt very continental with flavours of pretty French and Spanish towns.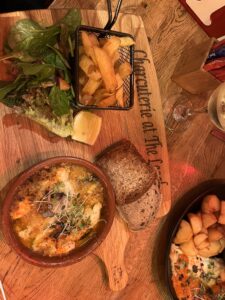 The festival organizer this year was Eunice Power of EPCatering and she kindly had left us some vouchers to sample her gourmet take away. …AndChips is located at the harbour front in Dungarvan and really offers a healthier way of enjoying the traditional take away. Exotics on the menu include Korean Chicken wings and Ling fish which went down well. The chips are a highlight and make this take away a unique twist on the local chipper with emphasis on seasonality and quality.
We were booked in for the night at the Park Hotel, with a newly appointed Four Star, which enjoys the great location overlooking the Colligan Estuary. Our suite was also named The Colligan and with a super size bath and bed the décor was fresh and luxurious. The Flynn Group offer different styles with each hotel but there is always a warm atmosphere guaranteed. The welcome that Irish Family run hotels offer is unique and not to be taken for granted as larger groups sweep across our cities offering an impersonal and transient service.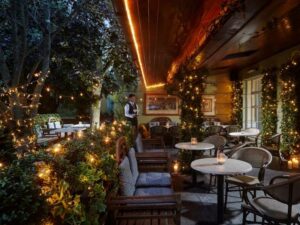 Much of the investment in the property has been put into the décor in the lobby and hotel dining areas with a new outdoor bar. The Riverside Health Club and Pool at the Park are open early suiting anyone looking for an early morning swim. The Riverside Health Club and Pool at the Park are open early suiting anyone looking for an early morning swim. With self catering accommodation available The Park Hotel is ideal for families looking for a short break in Ireland or a summer staycation.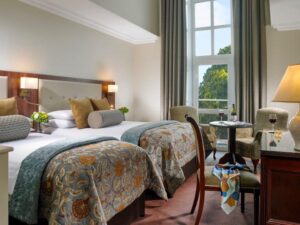 Teddy Bear Picnic
Festivities were ongoing throughout West Waterford as far as Lismore Castle and the Carriglea Woodlands – where the Teddy Bear Picnic was held for 4-7 year olds. With songs and storytelling, Jazz brunches and early morning yoga and healthy breakfast on Clonea Strand there was a variety of entertainment displaying the best of what is on offer in this charming part of the country. The Waterford Greenway and promotion Copper Coast has drawn much attention to this county which boasts the oldest city in Ireland and a landscape that is rich in natural beauty.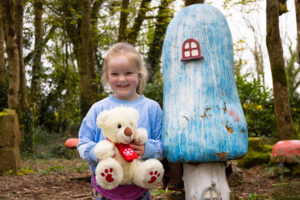 We finished off our evening at Merry's Bar where a concert of blue grass musicians entertained before popping into the Moorings for a night cap on hearing that it is on Lonely Planets list of top 20 pubs in Ireland. Dungarvan is a coastal town with the charm of Kinsale but remains a hidden gem on our gorgeous Irish coast. West Waterford doesn't need to boast because it has so much to offer and I will be back. When you walk the walk you don't need to bla the bla!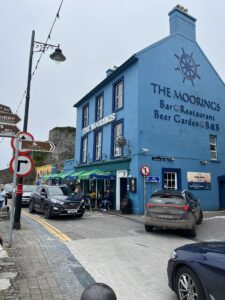 Fact box:
The Local is open 7 days per week and can be found at Grattan Square in Dungarvan County Waterford and online at www.thelocal.ie
To celebrate its fourth star The Park Hotel has launched a celebratory '4 Star Staycation Package' which features a 2 night stay bed and breakfast with a bespoke 4-star themed afternoon tea, a 4-course evening meal on an evening of your choosing and the hotel's favourite local produce in your room as a welcome gift on arrival. Package starts from €290 per room.
For more see www.parkhoteldungarvan.com