Everyone has a London story. Mine includes a summer spent working in Harrod's food hall when I was a student the same year as Live Aid, followed by frequent visits during my Halcyon Days as a sock designer. So with my friend and our two eleven-year-old daughters in tow, I amall set to see the city with new eyes.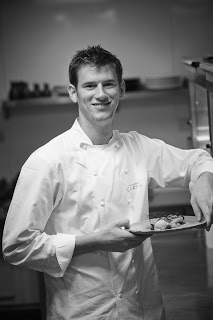 Adam Handling masterchef at the Caxton Grill
Patrick, the porter, greets us at the door of The St Ermins Hotel – close to St James park – part of the Marriot Autograph collection. This hotel has a special history, laced with intrigue. The story goes that Churchill held top secret meetings here during the Second World War when MI6 took over a floor of the building. In keeping with the theme of espionage, my daughter and her pal are presented with top secret files to be filled out at check-in and part of the added learning value of staying in such a unique hotel. On the rooftop, hives are kept and honey is made from the local flowers, which of course includes the gardens at Buckingham Palace.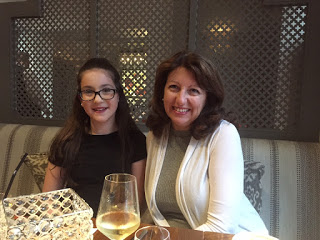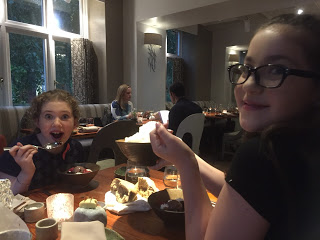 Our first evening is spent in our hotel at Caxton Grill, home to Masterchef Adam Handling. Little details like homemade candy floss for the kids made this a special dining experience. The wagyu burger and salad celeriac with truffle went down a treat with the mums, and the kids devoured the macaroni and parmesan. Leaving room for dessert is a must and the popcorn, caramel, nougat and burnt orange ice-cream will remain in my memory for a very long time.
We wake next morning from a wonderful slumber ready to take on a massive day's sightseeing. A fifteen minute walk past Big Ben brings us south of the river Thames with oodles for families to do. We start at the London Eye which is a half hour trip in a pod with spectacular views. Late afternoon and early evening is the best time to visit, when queues are shorter and views have the addition of a sunset backdrop. Next door is Sea Life and the London Dungeon. Queues are long for these popular attractions but huge savings in time and money can be made by booking beforehand on line.
We finish with a London Duck Tour – an amphibious vehicle – which proves to be great fun, taking in Buckingham palace, Marble Arch and Whitehall. The Duck splashes into the Thames at the MI5 building and the cruise gives a unique perspective of the Houses of Parliament. Places are limited so it is essential to reserve tickets.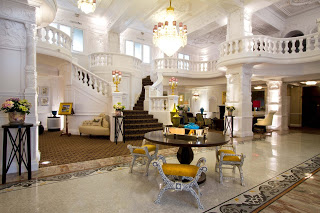 We are truly exhausted by evening but can't resist a peek at the filming of a Bollywood movie in our hotel's dining hall. Although not familiar with Bollywood actors we are still able to spot the star in the crowd. Next morning to our surprise we see her again, in Madame Tussaud's where her wax model is on display. London is the sort of place where anything can happen and it really does. Madame Tussaud's is a massive hit with the girls and they love having their pictures snapped with their idols. A short trip through time in The Spirit of London ride proves educational and fun for the kids. We don't feel two hours slip by, making the online family ticket at £75 good value for money.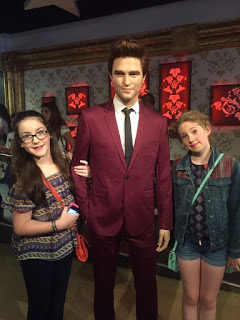 Afternoon Tea is a quintessentially English activity and another must do on our list. We catch a traditional cab to The Arch Hotel, near Marble Arch, to try something a little different. The Arch has introduced a new and funky kind of tea which includes mini burgers and mini fish and chips. Three portions is more than enough for the four of us and as adults we are presented with a blackberry cocktail which kicks off the afternoon nicely. This cosy boutique hotel is extremely popular with a perfect location next to Oxford Street. After Tea we walk off the delicious treats with a shopping expedition.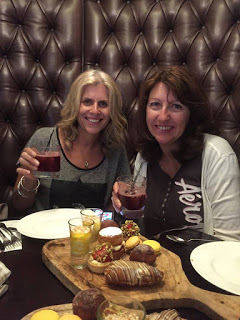 On our last night in London our daughters are determined to drag us to Leicester Square because it is next to M&M's World. Massive tubes of multi-coloured M&M's send the girls into a frenzy and is a great prelude to our night at the Theatre. We dance in our seats at 'Let It Be' the musical, and sing along to all the familiar Beatles songs. London has a great choice of shows suitable for kids such as 'Mathilda' and 'Charlie and the Chocolate Factory'.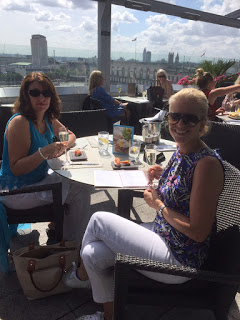 We wake sad on our last day to leave our lovely hotel room. The family room at the St Ermins boasts two en suits which is a luxury with the girls preening themselves for hours in the bathroom. Brunch beckons at one of London's best kept secrets on Radio Rooftop which is perched high with panoramic views on top of the ME hotel on The Strand. The Shard (currently the tallest building in the EU at 73 floors), The new Tate, Big Ben and the London Eye, form a perfect panorama as we sit in sophisticated opulence.
As the sun beats down ordering a bottle of Prosecco feels like the decent thing to do. Our daughter's enjoy wifi on tap and devour their crisp pancakes with summer berries, while we dine on crab omelette and Eggs Benedict. This is the sort of experience that makes you feel like a millionaire and prices ranging from £6-15 per dish are reasonable.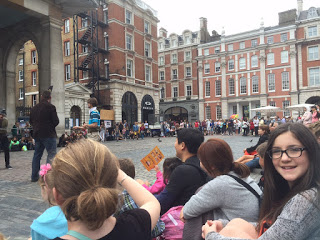 Afterwards we enjoy a Sunday afternoon stroll around Covent Garden which is only ten minutes away. We squeeze in a quick trip to the top of the Shard which has a champagne bar in the viewing gallery. This part of London is home to Borough Market and requires another trip to be explored properly and perhaps without the kids.
We're reluctant to go home but with hourly flights from Aer Lingus, that whisk you there in fifty minutes, Heathrow is not far away. And with the Rugby World cup coming up there has never been a better time for the girls to go to London!
Michelle Jackson is the author of 'Six Postcards Home' featuring London in the 1980's. It is available in all good book stores and on www.amazon.com, see www.michellejackson.ie
Fact box
Aer Lingus, the smart airline, operates multiple daily flights to London Heathrow from Dublin with fares starting from €34.99 one-way including taxes and charges. For more information visit
aerlingus.com
St Ermins Hotel 2015 lead prices, room only inc vat: Double room £209. Family room £289. Best prices will be achieved booking up to three months in advance.
www.sterminshotel.co.uk
For Lunch or dinner visit www.adamhandlingatcaxton.co.uk for a special treat.
To book in advance for attractions go to www2.VisitSeaLife.com , www.TheDungeons.com and www.MadameTussauds.com and get a multi-attraction pass.
Try some fun dining with brunch at www.radiorooftop.com/london/ or afternoon tea starting at £29 pp at www.thearchlondon.com
London Duck Tours can be reserved on the website www.londonducktours.co.uk and family tickets for four are from £70.
Featured in The Irish Mail on Sunday 7th September 2015