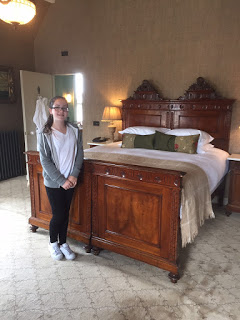 My daughter, Nicole, is making her confirmation soon so we decided to mark the occasion by doing something really special together and take a mini trip to the West. The Wild Atlantic Way has been a buzz word for Irish Tourism over the last couple of years and The Ice House in Ballina is the perfect hotel to stop off at while travelling the route from Sligo to Galway.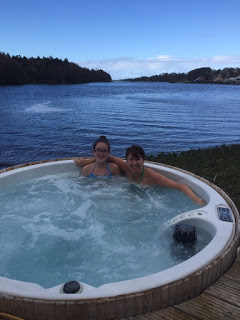 In Ireland most hotels have strict rules and only allow over 16's in the hot tubs or treatment rooms but we found a warm welcome for a mum and daughter at Chill Spa. In fact the small and cosy steam room and outdoor sauna were the perfect introduction to spa life for my daughter before we plunged into the main event, The Hot Tub.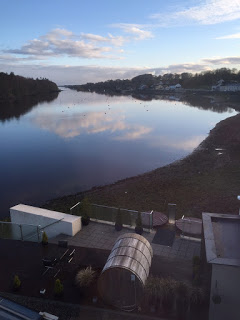 The view from the Hot Tub is stunning and of course it didn't matter if the sky clouded over because we were toasty in the warm bubbles.
The Ice House hugs the River Moy and is a clever blend of the old and the new with innovative architecture design. The original building has a great story from the 1800's when it was used as storage for the ice to keep the salmon cold that was caught on the River. The massive vaults are now stylish ultra modern rooms and in a really nice touch the boutique bedrooms have names instead of numbers. Our room was called Bartra and overlooked the river. In fact every other room in the hotel enjoys a view of the water including the relaxation room in the spa and the restaurant and bar.
In the corner of our ensuite was a massive wooden bath and we had the option of a seaweed bath to relax in before going to bed for €25.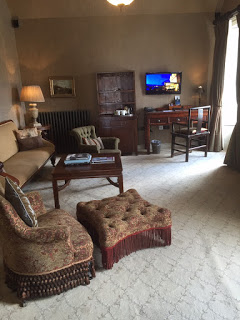 The Chill Spa use natural local ingredients made from seaweed in the treatment of guests. The range of skincare and creams is called Voya and is available in many of the world's top resorts, spas and airlines. I opted for a facial and enjoyed ninety minutes of complete pampering. When I joined my daughter in the relaxation room for my cup of herbal tea, she was already sipping hers with her perfectly painted toes in the air.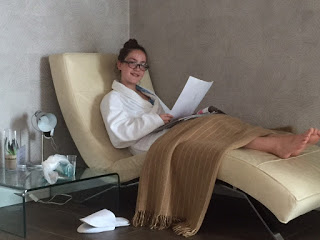 We spent in all about three hours in the spa and it went too quickly. We floated up to our room and dressed for dinner. I had heard that the food is delicious and we were not disappointed, in fact the bread was too delicious and if I have one piece of advice, make sure that you leave room for dessert because the chocolate medley is perfect for two and includes a unusual mixture of yummy textures and even a chocolate cone!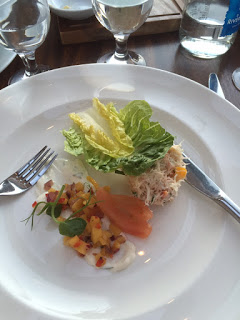 Our bed was high and we sank into the feathered under-down with intentions of watching a movie but I found myself asleep in minutes. I wasn't prepared for the spectacular view next morning as I woke early and caught the light shimmering over the water. It was then that I really appreciated how special our little night away will be in years to come.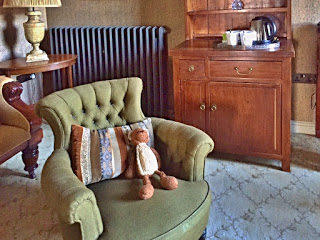 Elizabeth, my daughter's teddy, has seen plenty of travels over the years and suffered the trauma of being almost left behind in Belfast and actually left behind for a few days in Athlone after one of our trips, But while she was in my daughter's sleepy clutch I realised that Elizabeth won't be brought along for much longer as spas become more important and teddy's less important.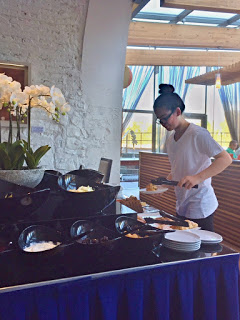 We went for breakfast and Nicole was in her element scouring the buffet and comparing it to others. She has high standards but could not fault this one. The home made scones were a massive hit and she even took one for the car journey home.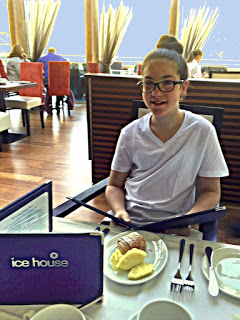 But I wasn't allowed to mention home because Nicole had a plan to revisit the hot tub and relaxation room before our return to Dublin, which we did.
The Ice House is close to beautiful Belleek Castle and grounds which is a lovely spot for a walk in nature and Afternoon Tea. The drive home was a leisurely three hours and we stopped off for McDonalds on the way making it the perfect weekend. Elizabeth agreed it was perfect too.
I look forward to returning to the Ice House soon!
The Ice House is part of Ireland's Blue Book. www,icehousehotel.ie www.irelands-blue-book.ie

Special offers from The Ice House
CHILL SPA ESCAPE – OVERNIGHT & SPA TREATMENT
Description: Enjoy full use of the Thermal Suite including Steam Room and two Outdoor Hot Tubs, plus a 50 minute signature massage each from our Voya Organic Range. If a bath is not available on booking a complimentary file & paint will be offered.
Valid From:
 01.01.2015 To: 
31.03.2017
From: €115 Per Person
STAY & CHILL – 2 NIGHT SPA BREAK
Description: Enjoy full use of the Thermal Suite , plus a 50 minute Chill Spa signature massage each. Also included is Table d'Hote dinner on one evening as well as breakfast each morning. Voted Ireland's best boutique spa, and What's more we're proud to have Ireland's best spa therapist Alicija on our team, as voted at the 2014 Tatler Spa Awards.
From: €215 Per Person