I've been checking out some of the nicest places to stay at home in Ireland this summer and on my travels I took a trip to Galway City and the wonderful Glenlo Abbey. I'd passed by this beautiful hotel several times on my way to Connemara but always considered it a little out of my reach. Until I checked the website for prices and the packages on offer making this five-star accommodation an affordable treat for a special occasion. They are offering a special Christmas Package too so check out at the end of the page if you plan to escape this Christmas.

With spectacular views, the Golf Course is another major attraction to this wonderful hotel that is bursting with character and charm. From the moment we entered the lobby, filed with antiques and warmth from the blazing hearth, we knew that we had arrived somewhere special.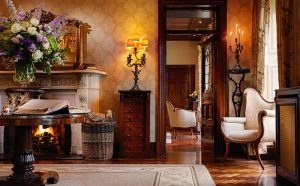 Glenlo doesn't boast the usual  leisure facilities, it has much more unique attractions and the two activities that my teens got to enjoy will stay with them for a lot longer than a dip in a swimming pool!
We were treated to a detailed and educational experience with a variety of owls and raptors. The Hawk walk was an especially thrilling experience as the bird flew over our heads to eat some chunks of chicken brought by Jurgen Hick, our guide. Munster Falconry Services provide the Falconry Tourism at Glenlo and we learned much about these feathered creatures that we didn't know before.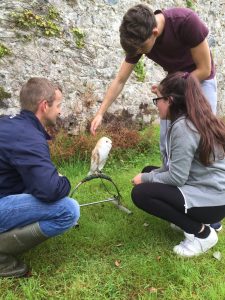 We were able to get up close and personal with owls and study their, ears, eyes and beaks with detail impossible in any other setting. Jurgen Hick's dedication to his profession made this one of the loveliest learning experiences I've had with my kids.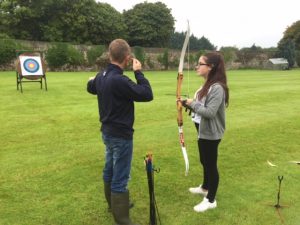 When it came time to enjoy the archery, the kids left me behind. They took instruction brilliantly from Jurgen and hit the target time after time. The less said about my attempts the better, despite Jurgen's patience.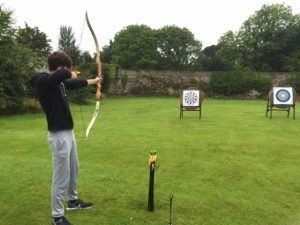 The kids had worked up an appetite by dinner time and this dining experience was to prove very special indeed. We were given train tickets at reception before making our way to the Pullman Restaurant. Converted into a wonderful Restaurant Car without losing any of its original character, this historic Pullman train carriage had been residing at Elsenham Station in Hertfordshire, England, before joining the many and varied facilities already available at Glenlo. Complete with chugging sound effects we boarded the train with a warm greeting from the Maitre D who clicked our tickets on arrival and we were on our way.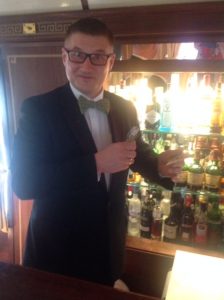 We were brought to our own private section of the carriage which would comfortably seat six so we were spoiled with the room. Frank Sinatra sang to us from the discreet speakers and we began the difficult job of choosing what to eat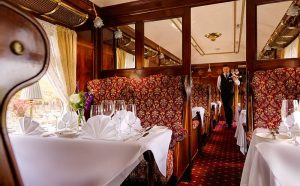 My youngest chose the children's menu and I went for the fish which was more like a work of art. It didn't stop me eating it but I am so glad that I took a photograph.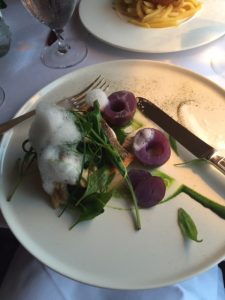 The desert was incredible. I haven't seen arctic roll on  a menu for too long and I was whisked back to my youth with mouthwatering consequences.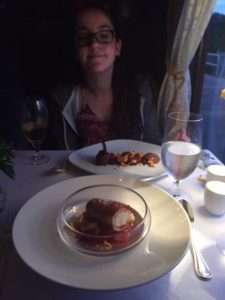 If you are lucky enough to live close to this beautiful part of the country and you haven't been to the Pullman restaurant then why not try it for your next special occasion or celebration?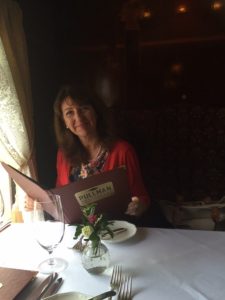 Our bedroom was large with beautiful views over the golf course. We enjoyed a wonderful night's sleep and the suite catered for the entire family. Glenlo provide special Teepees for younger visitors to enjoy when they check into their hotel rooms which is yet aother novel attraction not found in other hotels. My kids instead enjoyed the free wifi and chilled out after our trip back in time.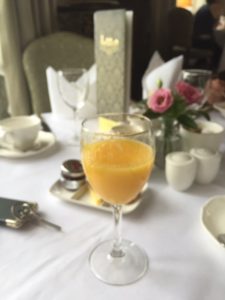 We enjoyed breakfast next morning while taking in breath-taking views. The usual buffet included honey on the comb which is one of my favourites and I enjoyed Eggs Benedict from the A la Carte menu. We didn't want to leave but with only a short two hour drive from Dublin, Glenlo is somewhere we hope to return to again and again.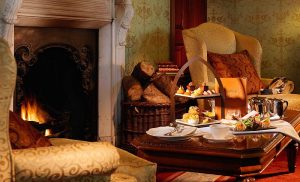 For more information go to the hotel website http://www.glenloabbeyhotel.ie/en/5-star-hotel-galway/
At the moment Glenlo Abbey have CHRISTMAS RESIDENTIAL PACKAGES on offer – hurry and don't miss out.
Join us for a luxury three night stay including the gourmet food, fine wines, winter walks, activities and entertainment for the whole family at Glenlo Abbey Hotel in Galway. Our Christmas Programme 2016 is designed for your total relaxation and enjoyment over the festive period.  Upon arrival you are welcomed with open fires and a warming glass of Mulled Wine, after which you will be escorted to your bedroom or suite for your Christmas Break in Galway.
CHRISTMAS EVE – 24TH DECEMBER 2016
• Arrival from 2pm to Glenlo Abbey Hotel with valet parking
• Enjoy a warm glass of Mulled Wine upon arrival by the log fires 
• Festive Entertainment throughout the evening
• Candlelit Dinner in the River Room Restaurant 
• Overnight luxury accommodation 
• A selection of Festive Movies showing in the Abbey Theatre throughout your stay. 
CHRISTMAS DAY – 25TH DECEMBER 2016
• Awaken on Christmas morning to breakfast served in the River Room Restaurant. 
• Enjoy a Champagne Reception in our Ffrench Room  from 12pm – 1pm. 
• Gourmet Five Course Christmas Day Lunch
• Spend time with loved ones and relax in one of our reception rooms for the afternoon and early evening, listen to the soothing sounds of our resident Pianist from 4pm – 7.30pm.
• A special visit from our guest of honour with a personalised gift for all of our Little VIP's – rumour has it he has a white beard and will be traveling from the North Pole!
• Light Fork Supper served that evening in the River Room Restaurant
ST. STEPHEN'S DAY – 26TH DECEMBER 2016
• Breakfast at your leisure in the River Room
• You are free to explore – whether it is touring in Connemara, walking or golfing on the estate. 
• St. Stephen's day Treasure Hunt organised on the grounds of the hotel
• Test your general knowledge with our renowned Glenlo Abbey Table Quiz. 
• Dinner served in the River Room Restaurant that evening
27TH DECEMBER 2016
Leisurely breakfast in the River Room, followed by a 12 o'clock check-out before you make your journey home. 
Adults:
2 Night Package 24th – 26th December    From €565 pps 
3 Night Package 24th – 27th December   From €785.00 pps