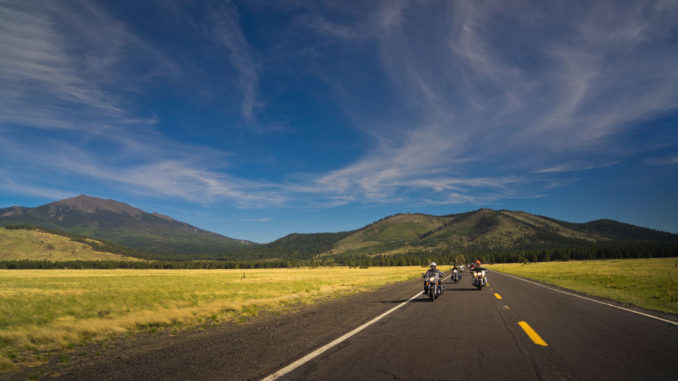 A Road Trip is on everybody's Bucket List. It's a great holiday for those that like to be on the move or want to see as much as possible while they travel. I've chosen three destinations with the best roads and routes to stir the imagination and bring out the Jack Kerouac in everyone. I've two routes in the USA, one in Italy and finishing off at home in Ireland with what is now one of the best Road Trips in the world on the Wild Atlantic Way
Undoubtedly the USA has some of the best known road trips so I'm starting with one of the most desirable – The Pacific Coast Highway and the stretch that runs from San Fransisco down to Los Angeles.  This is a great family holiday destination.
Pacific Coast Highway
The best place to start is San Francisco as you will drive with the Pacific Ocean to your right with unspoilt views. It's possible to fly direct from Dublin to both LA and San Fran with Aer Lingus.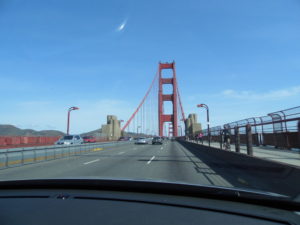 Things to see and do in San Francisco.
hire a bike and cycle over the golden gate bridge
visit Alcatraz but be sure to book online well in advance not to be disappointed
get the ferry from Sausalito back to San Francisco.
enjoy the food – San Fran is a foodie town and great hustle and bustle at Fisherman's Wharf
shopping is great at Westgate shopping centre near Union Square
ride a trolley and get the feel for the Hills of San Francisco
On route places to visit –
Monteray – home to the famous Aquarium and to Steinbeck and see his family home in Salinas
Stop by at the Madonna Inn – a quirky hotel with kitsch styling that will take you back to the fifties. It's close to San Luis Obispo where you can stop by and see Bubblegum Alley – the kids will love it.
Santa Barbara is a lovely town to stop off en route.
In LA
Do a bus tour – there are several routes but get to see Rodeo Drive, Beverly Hills and Hollywood Boulevard
stay at Santa Monica and get the real LA vibe
visit Venice Beach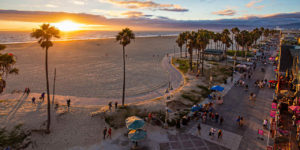 This offer is with Tour America
7 night California Fly/Drive from €859pp
Includes: Return flights, car hire, 3 nights in San Francisco, 1 night in Monterrey, 1 night in Santa Barbara & 2 nights in LA
Offer includes staying at these properties
San Francisco: Holiday Inn Fishermans Wharf
Monterey: Days Inn by Wyndham San Simeon
Santa Barbara: Best Western Plus Pepper Tree Inn
Los Angeles: The Garland
visit tour americas website here https://www.touramerica.ie/
Based on 2 adults + 2 kids sharing | Travel Feb 2019 | Reference: 628455
2. Route 66
The original Route 66 is actually no longer a viable route but you can travel on much of the old road as long as you have a good guide and plan mapped out. Parts of the road stop at a dead end where it has been replaced by interstate highways. You can still drive much of it and scenically it is one of the best ways to see America.
Starting in Chicago travel through Missouri and the heartland states – Kansas and Oklahoma. Oklahoma is actually one of the longest stretches of the original road still functioning and it has lovely museums and memorabilia scattered along the way – The people are so friendly and welcoming I recommend spending time there and getting a feel for the states history – especially those interested in Native American Culture. Get to know Arizona and New Mexico before weeping into The Johua Tree national park. Arrival at the end of the road sign on Santa Monica seafront is quite a bucket list adventure.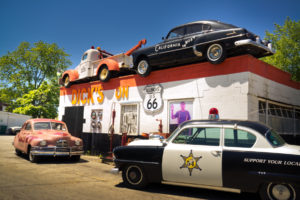 Celtic Horizons have two different offers available for motorbike fans – one with a mini route 66 tour and another on a motorbike travelling on route 66 see website here https://celtichorizontours.com/packages/motorcycle-tours.aspx#touring-usa
1)      Mini Route 66 Guided Tour 2 persons / 1 bike / 1 room from €2,999.00 pps+ taxes
Departure dates: Vary
No of touring days: 8 days
No of nights in package: 7 nights
Arriving airport :Los Angeles
Departing airport: Las Vegas
Please note you arrive back in Ireland the day after the last day of the tour.
Included:
Return flights from Ireland
All hotel accommodation
Late model motorcycle rental Unlimited mileage Free fuel and oil
"Welcome" and "Farewell" dinners Helmets for driver and passenger
Daily breakfast Professional tour leaders
Support vehicle equipped with spare bike and room for additional luggage
All taxes, fees and environmental surcharges National park entrance fees
Hotel parking fees Discounted activities
One Way Transfer fees (when applicable) Transportation between the hotel and the EagleRider location
Custom riding jacket Pre-programmed GPS unit (upon request)
Supplemental Liability Insurance (see below)
PLEASE NOTE THAT PRICES CAN INCREASE / DECREASE SUBJECT TO CHANGES DUE TO AIR FARES, TAXES, CURRENCY FLUCTUATION, ETC.
NOT included:
Airport taxes and fuel surcharges Personal souvenirs
Beverages and Food and snacks (except welcome and farewell meals, as described)
Tips Personal travel insurance (see below) EVIP insurance (see below)
2)      Route 66 Self-Guided Tour 2 persons / 1 bike / 1 room from €3,259.00 pps+ taxes
Departure dates vary
Our Route 66 Self Drive Motorcycle Tour is a 15 day journey riding along the world famous "Mother Road" highway. You begin your tour in Chicago, IL and ride for 2400 exciting miles to Los Angeles, CA. Along the way you will pass through 8 states: Illinois, Missouri, Oklahoma, Texas, New Mexico, Arizona, and California, making stops in some of the most beautiful and historic American cities. You will get a definite sense of the 1950's Midwest as you ride your Harley into the Ozark Mountains, along the Old West's Indian country in Oklahoma, across the Great Plains, through the 400 year old city Santa Fe, NM, and into Nevada gambling Mecca, Laughlin. By the time you make it back to Los Angeles you will have toured the best of the "Mainstream of America", Route 66!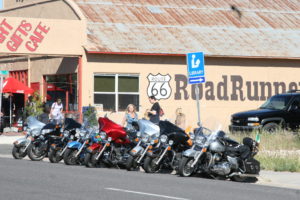 Package Includes
Included:
Scheduled Flights Dublin-Chicago and Los Angeles-Dublin (not direct servi
ces)
Late Model Motorcycle Rental
3 – 4 Star Motorcycle Friendly Hotels Unlimited mileage EagleRider Custom Motorcycle Maps
Leather-Bound Custom Road Book Custom Daily Itinerary
Supplemental Liability Insurance (cover up to US$1million) EVIP-Zero Insurance (for your vehicle)
Transportation between Tour Hotel and EagleRider Locations
Not Included:
Personal Travel Insurance Airport Taxes @ €237.00
Meals except where specified Anything not listed in "What's Included" above
American Sky
If you'd like to ride the route in a car then american sky have this trip along route 66 in a self-drive package for €1979 click here for more details https://www.americansky.ie/illinois-holidays
Travel from september 1st to end of October 2018 – prices accurate 25th June 2018
* * * * * * * * * * * * *
Italy
Sorrento and Amalfi
There are few roads more celebrated for their beauty than the winding picture perfect route on the Amalfi Coast. Some are nervous about driving this but you can still take it in on a guided tour – Travel Department have one of the best tours of this area with availability for this summer.
Topflight can organise fly drive holidays for the Amalfi Coast.
A price for September is approx €1299 per person sharing for 1 week
Outbound flight on Topflight charter flight from Dublin to Naples
Pick up car in Naples and drive to Amalfi staying 7 nights in a 4 star Hotel on a B&B basis (Amalfi town is a good base to explore the area)
And from there you can explore the whole area of this coast – Ravello, Positano, Maiori, Minori and Amalfi town
you can also visit Sorrento and take a hydrofoil to the islands of Capri and Ischia
Pompeii and Vesuvius and also accessible from this area
Inbound flight on Topflight charter from Naples to Dublin
Topflight have a five day sale that ends Friday so if you fancy a trip this summer it's not too late
https://www.topflight.ie/holidays/summer-holiday-deals
For Example A stay at the Hotel Conca in Sorrento has been reduced from €1279 to €849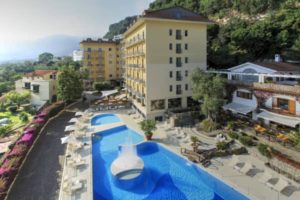 https://www.topflight.ie/summer-sun/italy/sorrento_amalfi_coast/sorrento/hotel_conca_park?data_filter_travcount=2&select_week=18_31U&data_filter_airport=DUB&data_currency=EUR
If you'd like to explore this part of the world The Travel Department still have availability for this beautiful part of the world all summer. Inluded in this tour is a stay in four star hotel and special excursions to Capri and Pompeii but a highlight is the tour of Amalfi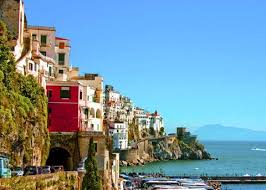 Amalfi Coast
On this magical guided excursion, you will travel along the Amalfi Coast, renowned for its breathtaking scenery and pastel coloured villages, perched over the turquoise Mediterranean Sea. After a stop at picture-perfect Positano to drink in the view, you'll continue to the lovely maritime town of Amalfi, and on to the hilltop village of Ravello. Visits to the Cloister of Paradise in Amalfi and Villa Rufolo in Ravello are included.
https://www.traveldepartment.ie/products/europe/italy/campania/sorrento/sorrento-coast-pompeii-capri-holiday/?dp=dub,ork,snn
* * * * * * * * * * * * * * ** *
Ireland
Wild Atlantic Way.
I recently took a mini solo trip to the west of Ireland to visit my daughter in the Gaeltacht and found some wonderful places to stay along the way. Starting in the middle of Ireland at The Wineport Lodge on beautiful Lough Ree. I'd been planing a visit for a long time and I wasn't disappointed. I landed on world Gin Day and enjoyed time in the spa, at the hot tub and the beautiful lakeside restaurant.
Wineport Lodge has the most unique setting on the edge of Ireland's peaceful Inland Waterways. Situated just 4KM from the M6 Motorway, one hour's drive from West Dublin, it is very easily accessible from anywhere in Ireland.
More than a hotel, this is a luxury lodge with a unique sense of warmth and comfort at every turn. Nestled on the shores of Lough Ree, in an idyllic setting surrounded by native woodland, Wineport Lodge is exceptional in both style and service. With hosts who instinctively ensure you're every need is met, here 4 star luxury comes wrapped in easy humour and effortless hospitality.
Relaxation is what it's all about at Wineport lodge and each of our 29 rooms and suites have been designed with individual flourishes to help you do just that.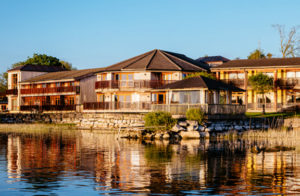 My Wild Atlantic Road trip took me to two fabulous Country house hotels in Galway.
Cashel House Hotel in Cashel close to Roundstone and Clifden.
Cashel House, formerly one of Connemara's most gracious homes, set in 50 acres of grounds on the beautiful coastline of Cashel Bay with Cashel Hill rising behind. It has been our our pleasure to welcome guests for the past 40 years.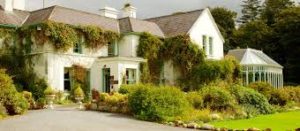 The location is an ideal base from which to enjoy walking, beaches, sea and lake fishing, golf, horse riding, Kylemore Gardens and trips of Aran and Inish Boffin islands. Guided hill walks are available by arrangement.
Our restaurant, situated in the conservatory overlooking the gardens, serves country house cooking at its best with a selection of locally caught seafood, Connemara lamb, fruit, vegetables and herbs from our own gardens and the locality. We also have an extensive wine list.
There is also a garden school, stud farm and equestrian shop on the grounds of the hotel, run by your hosts, the McEvilly family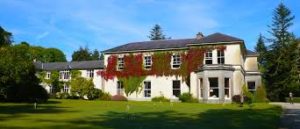 I moved along the Wild Atlantic Way to Currarevagh House and enjoyed a warm welcome from owner Henry. Old fashioned (in the best sense of the word), Currarevagh House is a Victorian country manor romantically situated on the shores of Lough Corrib in 150 acres of private woodland. Built by the present owner's ancestors in 1842, it is still run more along the lines of a private country house rather then as an hotel, and the tranquil informality lends itself to those seeking a relaxing few days. Lough Corrib is famous for its wild brown trout fishing and Ghillies (guides) can be arranged at current rates.
There is an 18 hole golf course in Oughterard and five other courses within an hour's drive. The traditional Irish Country House atmosphere that Currarevagh provides offers a uniquely wonderful experience.
Having all Connemara (including the Aran Islands and The Burren) within easy reach for touring, Currarevagh is the perfect base for exploring the magnificent West of Ireland. Our own boats with engine provide guests with the opportunity of enjoying Lough Corrib, and picnics are prepared on request. There are many walks, both on our private estate and in the local area, including the recently upgraded and spectacular Western Way.
Currarevagh is the ideal place for that longer break, especially as the better known food guides highly recommend its classically simple, yet ultimately delicious, menus based on local produce. Dinner for non-residents by advance booking.
"It is difficult to think of a more romantic place than this 19th century mansion on the shores of Lough Corrib. It is renowned for its exquisite evening meals and quality guest accommodation" – Lonely Planet Guide 2013.
Prices are with Ireland's Blue Book or contact the hotels directly
Wineport Lodge, Co Westmeath
Rooms from €75 per person sharing
Suites from €99 per person sharing
Overnight, Dine and Delight at Wineport Lodge, Co. Westmeath (1 night B&B with dinner)
Escape to Wineport Lodge – the home of 'The Restaurant' show. Leave the world at the lodge door and enjoy bold rustic flavours over dinner before relaxing while the lapping waters lull you to sleep. When you wake, spoil yourself a little more with breakfast in bed and the morning paper.   Includes: Table D'Hote dinner, overnight accommodation, breakfast in bed and morning paper.
Valid From: 01.03.2018 To: 31.12.2018
From: €120 Per Person Sharing
Cashel House Co. Galway
Bed & Breakfast from €75 – €95 per person sharing
July & August Enticing 2 night break at Cashel House, Co Galway (2 nights B&B with dinner on one night)
This July & August give yourself some peace and quiet by heading as far west as you can go.  Cashel House nestles in 50 acres of flowering gardens and woodland walks and here you can breathe in pure unpolluted air and look up and see the stars in a velvety sky. Activities are laid back and include walking, riding, or perhaps golf in Ballyconneely for the more energetic.  If you fancy yourself as an artist bring your paints and easel with you.  Enjoy 2 nights' accommodation & breakfast dinner on one evening & a complimentary Irish Coffee after Dinner in this little bit of paradise.
Valid From: 01.07.2018 To: 30.08.2018
From: €245 per person sharing
Currarevagh House, Co Galway
Bed & Breakfast from €70 – €90
Terrific Two Nights Bed & Breakfast, with 1 Dinner at Currarevagh House, Co. Galway. (2 nights B&B with dinner on one night)
Stay for a unique two nights with us at Currarevagh House in beautiful Connemara. The private 180 acre lake shore estate allows you to escape the world, yet we are perfectly situated for touring the area and indeed only 30 minutes from the ferry port for the Aran Islands. This rate includes 2 nights stay with delicious Full Irish Breakfast each morning, Afternoon Tea on both days served in the drawing rooms, and dinner on one of the evenings. Dinner at Currarevagh is not to be missed – Lucy cooks with originality, expertise and pride; you will be looked after by our long serving local staff; everything adds up to a most memorable experience.
Valid From: 09.03.2018 To: 28.10.2018
From: €205.00 Per Room Per Night