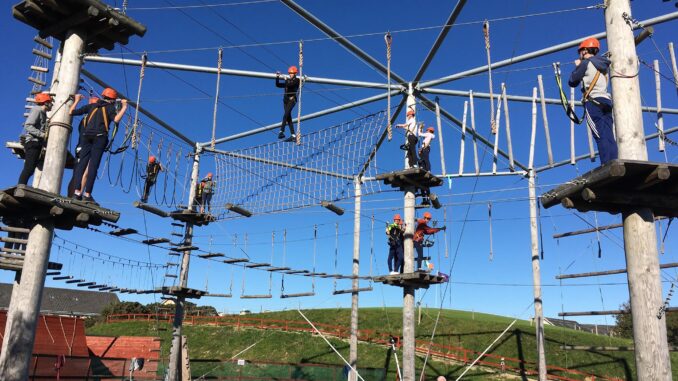 Newstalk adventure and activities in Ireland June 4th
Listen to the podcast here The Hard Shoulder Newstalk
This week on The Hard Shoulder on Newstalk we are looking at adventurous things to do around the country. I went down to Wexford to enjoy my first stay in a hotel this year and it was exciting to be able to wake up in a different place and not have to make the bed after you. The Riverside Park Hotel was buzzing and Bookings are brisk for July and August but look out for deals and bargains coming in September – the Riverside Park Hotel offer a gorgeous autumn getaway overnight B&B for €89 per couple and includes a bottle of prosecco see www.riversideparkhotel.com
East Coast Adventure
A highlight in Wexford is the IOAC including battlezone archery and assault courses and I was intrigued by the Berserker which is the Viking Challenge course – the record for this arduous assault course is held by a 14 year old girl…it's 100 meters long and takes quite a while to complete with huge obstacles – there's lots of other things to do at the Irish outdoor adventure centre and they have a campsite attached which is an option for staying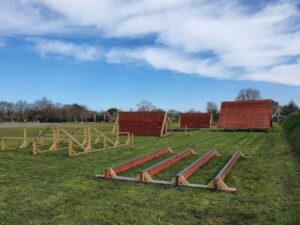 Looking at the International Outdoor Adventure Centre, the IOAC has a High Ropes Park, Archery, Jacob's Ladder, Crate Stacking, Team Challenges, a number of adventure trails, Kayaking and Raft Building on our purpose built activity lake and of course the "Berserker" Viking Challenge Course!  The Vikings have a strong influence across many of their offerings!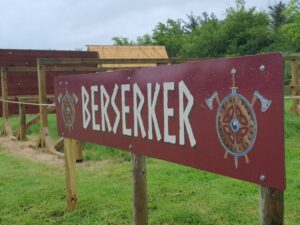 In terms of prices, The Berserker Viking Challenge Course is €16 per person per hour based on a min of 4 participants, High Ropes Park, Jacobs Ladder (also needs min a 4 people) and Crate Stacking are €20pp, Kayaking and Raft Building are 1.5 hours each and €25 x 1.5, Archery is €16 pp, and Axe Throwing is €80 per lane per hour (that includes up to six players on 2 targets).
For more information see https://www.ioac.ie/
Clayton Whites Wexford Summer Family Break
AVAILABLE: 01 JUNE 2021 – 31 AUGUST 2021
Enjoy a stay in the Sunny South East. Included Bed & Breakfast and complimentary access to Club Vitae with kiddies pool and 20m pool.
Package includes up to 20% off our usual Bed & Breakfast Rate
Summer surprise for kids in room on arrival
Town centre location & lots to do!
5-minute walk from the Bus/Train Station
Save €10 instantly per night when you sign up to Click on Clayton
Currently available for August midweek from €179 per night for 2 adults and 2 children sharing.
West Coast Adventure
Sligo is home to adventure with surfing being so popular
Special SUP event this weekend
SUP to Beezies Island for Yoga Breakfast : Sunday 6th June 8am with Northwest Adventure Tours and Your Wellbeing Warrior.
Outdoor Yoga in Sligo is the ideal way to release stress and renew and refresh your energy reserves. Paddle gently across the tranquil waters of Lough Gill, Co. Sligo on stand-up-paddle board and enjoy a stress releasing outdoor yoga and breakfast on the deserted Beezies Island. This excursion has been an annual favourite and we are super excited to see it return again in 2021. This has proven to be a wonderful way for both experienced and first time paddlers to discover the joys of drifting across water.  The pace is slow and contemplative, you can chat amiably with fellow paddlers or embrace the stillness with a simple meditation or intention in mind.
Northwest  Adventure  Tours Website and Prices
My Website is also live. www.northwestadventuetours.ie
Prices start around 35euro for adults and 25 for kids for regular tours.
Surf Schools:
https://adventuresligo.ie/choose-your-adventure/#surfing
They are Rebelle Surf, Strandhill surf experience,  Sligo  surf experience, Perfect Day Surf School, Strandhill  Surf  School and in Enniscrone they  have 7th wave surf  school.
Top tips:
Northwest Adventure Tours sunset SUP or Night Hikes or SUP  to  Sip
Sligo Kayak Tours Dawn Paddles
Carraig Climbing 'Kids Rock' Climbing sesison or adult tasters
Your welllbeing warrior outdoor yoga in beautiful locations from the coast to the peaks that over look the coast.
Eco Boat tours or deep  sea  fishing with Sligo Boat charters
Magic Hours sunset SUP with Harbour sup  and sail at  Enniscrone pier
Seatrails Heritage on horseback
Wild West Sailing daily  sailing trips in Sligo bay
Island View riding stables horseback beach rides
Surfing lessons with  all  of the above  surf  schools in Strandhill, Enniscrone and Streedagh. Rebelle Surf for  advanced surf lessons and womens groups. All of them also offer kids camps.
Wild Wet  adventure canadian canoe  adventures
Sligo Walks  for  more  self guided routes.
Pretty much all  of these can be found on Sligo Tourism or Adventure Sligo.
The Ultimate Famcation 3 Night Package
AVAILABLE: 02 JUNE 2021 – 30 SEPTEMBER 2021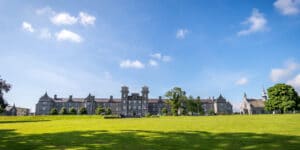 Family 3 Day Package with Dinner in our spacious family rooms.
Full Irish Breakfast with 2 course Dinner on one evening
Kiddies welcome bag on arrival with surprise treats
Voucher for our newly opened Aunty Shiela's Sweet Shop
Fun filled free family activities including on-site mini golf & fairy trail
Full access to Club Vitae Health & Fitness Club with 20 meter pool & kiddies pool
Sign up to Click on Clayton to receive a further reduction of €10 per night off your stay.
Currently available for August midweek from €599 for 3 nights for 2 adults and 2 children sharing
Midlands Adventure
Athlone adventure activities is possible for a day trip for most people in the middle of the country. When my own kids were small I brought them to Baysports water park and kayaking. It's a waterpark that's inflatable and good for kids. It has a great viking theme too.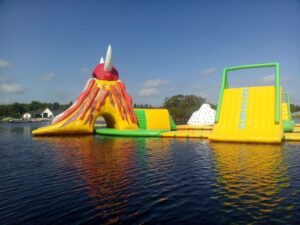 | | |
| --- | --- |
| Admission – 1 HOUR | |
| Adult €22.50 | Includes wetsuit hire and buoyancy aid |
| Child €18.50 | Includes wetsuit hire and buoyancy aid, Child (up the 14 years) |
What about a voyage on a Viking long ship with Viking Tours Ireland?
Known locally as "Viking Mike", Michael McDonnell established Viking Tours in 1999 as a themed passenger vessel. As captain and proprietor, he has become an ambassador to all those visiting Ireland's Hidden Heartlands and today the business is one of the most popular tourist attractions in the Midlands.
https://www.vikingtoursireland.ie/ Lough Ree river cruise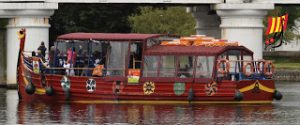 €45 for a family – great fun on the water and take in the best of the River Shannon
Just a short trip from Wineport Lodge, Athlone is a vibrant, bustling town with so much to see, do and enjoy during your stay.  To the west of Athlone, in the shadow of Athlone Castle and on the banks of the river Shannon, you will find the 'old town', which is an enchanting mix of quaint streets, historic pubs, antique shops, as well as some award winning local restaurants.  The east of the town is a shopper's haven, with many interesting local and international shops side by side and boasting the longest established department store in Ireland and two large shopping centres.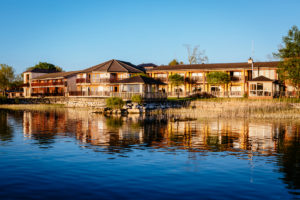 If adventure is your thing then visit Lough Key forest park, take a trek on horseback through local woodland or for golfing in the midlands, Wineport Lodge is placed to a tee!
Alternatively take a leisurely stroll through the beautiful local countryside or take our bikes for a spin and explore our picturesque surroundings; or why not visit beautiful Glasson village on our doorstep and be greeted with a warm welcome on your return.
Bed and Breakfast from €210 per room per night.
To book, visit www.wineport.ie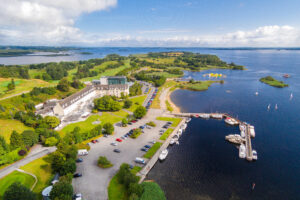 Hodson Bay hotel are offering the following for family rooms this summer:
€280
Bed & Breakfast for 2 adults and 2 kids in a family room
Includes access to the leisure centre and playroom
Plus discounts to many local attractions such as Athlone Castle and the Viking Boat
Kids Activity Camp will be available throughout the summer (additional costs apply)
South Coast Adventure
Ballyhass adventures near Mallow has some of the most extensive adventure activities in the country. ballyhass.ie
Wake boarding – climbing – zipline – high ropes – abseiling –  kayaking – high nets – axe throwing – and of course the waterpark. Most activities are €18 when you book online but there is a pass you must get too.
Private Group Prices
One Activity Package U18€30 Adult€35, Two Activity Package U18€40 Adult€45
Three Activity Package U18€50 Adult€55
Longueville House Mallow Cork
The 10th  Annual Dawn Chorus Weekend at Longueville House, Co. Cork June 18th & 19th
International Dawn Chorus Day is a worldwide celebration of nature's greatest symphony – birdsong.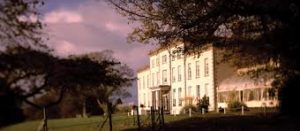 About the Dawn Chorus Walk: The walk will be guided by Michael Cobley, Ornithologist expert, through Longueville Estate on Saturday morning – guests will meet at 4am for a quick coffee, brief orientation, and distribution of estate maps. The walk is interactive in private extensive surroundings, allowing participants to benefit from the guide's time & attention.
Approximately 2.5 hours later, the group will return home to clean up and enjoy a hearty country house style breakfast. Includes: Two nights' accommodation
Welcome tea/coffee/freshly baked cake and home bakes on the 18th Breakfast on each morning
Dinner on each evening – Each evening Longueville offer a four-course, set dinner menu that changes daily and varies according to the season prepared and cooked by Chef/Owner and Host William O'Callaghan. This menu style allows William to focus his energy on limited offerings of finely executed dishes, and concentrate on what he does best, cooking exquisite food.
Price: From €730 total stay (based on two people sharing)
To Book: Contact Longueville House at 022 47156 or visit www.longuevillehouse.ie
Summer Family Corkcation
Clayton hotel Silver Springs in Cork
AVAILABLE: 02 JUNE 2021 – 31 AUGUST 2021
Enjoy 1 or more nights Family Break with Breakfast in a Family room with one complimentary family pass to District Health & Leisure on the grounds of the hotel. With our safe & spacious public areas, we are perfect for your family staycation. Please note District Health & Fitness does not open until the 07th June.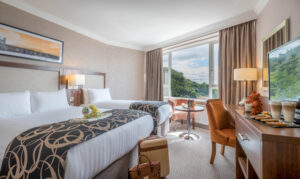 Currently available for August midweek from €219 per night for 2 adults and 2 children sharing on Bed and Breakfast Basis.