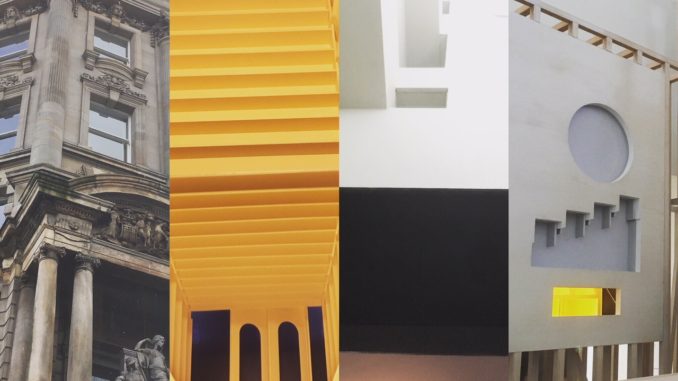 Newstalk Wednesday 23rd October 2019
Listen in to my podcast on The Hard Shoulder HERE
This week on The Hard Shoulder we are looking at Travel for Art Lovers.  I saw this sign while travelling through Passau in Germany on The Danube River Cruise and it struck a cord and besides it's high time Ivan had a little education in the arts!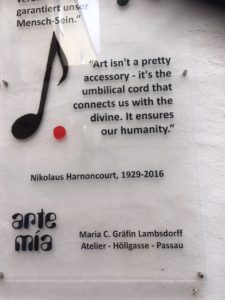 Galway
Starting with the great arts we have on our doorstep and it's no wonder that Galway has been named one of the world's top cities for 2020 by Lonely Planet
"Brilliantly bohemian" Galway has today been named one of the world's top cities for travellers in 2020 by world-leading travel authority Lonely Planet. The city receives the accolade in Lonely Planet's Best in Travel 2020, the highly anticipated annual collection of the best travel destinations, trends, journeys and experiences to have in the year ahead.
Lonely Planet describes Galway as "arguably Ireland's most engaging city," where "brightly painted pubs heave with live music" and "cafes offer front row seats to watch buskers perform."
In 2020, all of that creative exuberance will be supercharged by events marking the Galway region's role as a 2020 European Capital of Culture.https://galway2020.ie/en/events/
Visitors to Galway in 2020 can expect street spectacle, live and digital art as well as world-class music, theatre and dance.
Galway 2020 is the largest and most complex cultural event ever undertaken on the island of Ireland comprising over 1,900 events across 154 projects, 170 partnerships and collaborations with local, national, European and international artists and cultural organisations from over 30 different countries.
The European Capital of Culture is an initiative of the European Commission, it began in 1985 and has developed into one of the most ambitious cultural projects in Europe. The aim of the project is to provide Europeans with opportunities to learn more about each other's cultures and to place the regions at the heart of cultural life across Europe.
Unmissable experiences in Galway recommended by Lonely Planet's experts include:
Taking in live music at Tig Cóilí where the walls are decorated with photos of those who've played there, and two live traditional music sessions a day draw the crowds.
Feeling at home at the Tigh Neachtain pub, where timber walls frame a roaring fire and locals crack gentle jokes.
Enjoying the groundbreaking flavour combos at Loam, where Galway's culinary heart beats strongest and home-grown, locally sourced and foraged ingredients rule.
If you're going to Galway places to stay then Glenlo Abbey is perfected located just outside the city center and here's a package https://www.glenloabbeyhotel.ie/en/5-star-hotel-galway/
Glenlo Abbey have a "Two Night Gourmet Escape" valid up until 23.12.2019
The offer includes : Two nights luxury accommodation, a Four Course Gourmet Evening Meal on one evening served in the newly refurbished River Room Restaurant on midweek dates in Winter or aboard the award-winning Pullman Restaurant on weekends. A Full Irish Breakfast, plus an extensive selection of fresh fruit, baked breads and cereals each morning served in the River Room Restaurant.
Price from: €243 per person
* * * * * * * * * * * * * *
Belfast
I'm just back from a lovely weekend at the 57th Belfast International Arts Festival. If you're thinking of visiting Belfast then for further information see https://visitbelfast.com/
The original Grand Central Hotel opened on Royal Avenue in Belfast on Thursday 1 June, 1893….In the ensuing years Winston Churchill, King Leopold of Belgium, Billy Graham, Al Jolson and Mario Lanza were some of the distinguished guests who relaxed on the magnificent ornamental bed of room 217 – the hotel's most celebrated suite. The doors shut in 1969 but re-opened in 2018 as a new reincarnation of modern city luxury.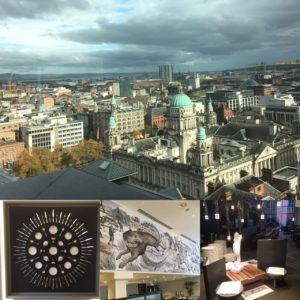 The observatory lounge on the top floor has probably one of the best city views not only in the city but in any european city.
Gourmet Grandeur – £140 FOR TWO ADULTS
Stay at the Grand Central Hotel this Autumn to get unrivalled views across Belfast of the most colourful season of the year. Get cozy in one of our cloud beds, with complimentary room upgrade and special Taste the Island food slate upon arrival before enjoying a luxurious night's accommodation and complimentary full Irish breakfast in the morning.
This Autumn, Hastings Hotels are offering you the opportunity to sample our famed Northern Ireland produce. By booking this offer you will enjoy with our compliments a selection of local treats in your room. These will give you an idea of what you can look forward on our Taste the Island Menu at dinner which has been created to showcase the very best of local seasonal produce this Autumn.
FAMILY HALLOWEEN BREAK AT GRAND CENTRAL HOTEL FROM ONLY £170 PER ROOM
 There's still time to book a spook-tacular family Halloween break at the Grand Central Hotel from only £170* per room for two adults and up to two children.
Included in this frighteningly good offer is overnight accommodation with full Irish breakfast, a trick or treat bag, a voucher for 20% off W5 and a 2-for-1 Kids Combo Deal at Movie House Cinemas (Dublin Road).
For further information or to book, go to www.grandcentralhotelbelfast.com or call 028 9023 1066.
To stay at the Grand Central from now and throughout November starts at €162 for two adults B+B per night availing of the Gourmet Grandeur package. For further information or to book, go to www.grandcentralhotelbelfast.com or call 048 9023 1066.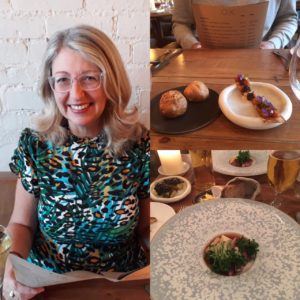 For food lovers do stop off at OX a Michelin Star restaurant where the food is the works of art.
On Friday night I went to see La Dame Blanche a Cuban performer, singer and flautist who breaks musical boundaries, in Empire Music Hall. I also caught up with the director of the festival Richard Whately who briefed me on the highlights and what to expect.
There are a plethora of wonderful performers including Glen Hansard playing at the Opera house but many other including The Hoaard who appeared at Glastenbury this year.
I asked him about what else is happening and especially a workshop involving CS Lewis who was born and bred in Belfast. There is lots  to see in the city including a heritage trail and a sculpture of the wardrobe from the lion the witch and the wardrobe in CS Lewis Square-
I went up to see one of the exhibitions showing at Ulster University the 'unique instruments' which is a showcase of architectural excellence. Also on  Royal Ulster Academy has it's 138 annual exhibition at The Ulster Museum.
As Many Reps As Possible is the Naughton Gallery's third annual sports exhibition, exploring the relationship between the worlds of art and sport.  The exhibition showcases some of the most exciting sports-influenced artworks being made today across a variety of media, simultaneously highlighting groundbreaking figures in the sporting world including Simone Biles, Colin Kaepernick, Ibtihaj Muhammad, Andy Murray, Megan Rapinoe, and Serena Williams.  Whilst celebrating sport and sports culture, the exhibition ultimately tackles issues around gender, sexuality, religion, class, politics, and diversity within a sports context.
Part of the Belfast International Arts Festival
Featuring photography, sculpture, video and illustration, As Many Reps As Possible includes work by an international roster of artistic talent, showcasing some of the most exciting sports-influenced artworks being made today. Whilst celebrating sport and sports culture, the exhibition also explores issues around gender, sexuality, religion, and politics within a sports context.http://www.naughtongallery.org/Exhibitions/2019/as-many-reps-as-possible/
Unique Instruments at Ulster University
Metaphor, simile and story-telling are at the heart of local architectural practice, Hall McKnight's, work. In 2018, for the prestigious 16th International Architecture Exhibition in Venice, La Biennale di Venezia, their work was presented as an ensemble.
The large-scale installation cross-referenced a number of their projects including the re-imagining of new civic spaces from a variety of different perspectives.
For all you need to know see https://belfastinternationalartsfestival.com/
* * * * * * * * * * *  * * * *  * * *
The Venice biennale is in it's 58th exhibition and will run until November 24th –
the Title of this years Exhibition is May You Live in Interesting Times
Find out more about the program and what is on here https://www.labiennale.org/en/agenda
Best Churches to visit in Venice are San Zaccaria which houses a Tintoretto and Bellini. The Frari and Madonna dell Orta are also good to visit.
Click and Go package to Venice… 4 Star Venice City Break from €259pp
From €259pp for the 4 Star Principe Hotel. Price per person based on 2 adults sharing for travel in November 2019.
Price includes:
3 nights in the 4 Star Principe Hotel, Venice, Italy
1 x double room on a Bed & Breakfast basis
Return flights from Dublin to Venice
Airport taxes & charges
5 Star Venice City Break from €299pp in November
From €299pp for the 5 Star Bauer Casanova Hotel. Price per person based on 2 adults sharing for travel in November 2019.
Price includes:
3 nights in the 5 Star Bauer Casanova Hotel, Venice, Italy
1 x double room on a Bed & Breakfast basis
Return flights from Dublin to Venice
Airport taxes & charges
* * * * * * * * *  * * * * * * *
Paris
Paris is a wonderful city for The Arts at any time of the year. My top museums are The Musee D'orsay and The Louvre of course but The Rodin Museum is also a hidden jewel and one of my favourites!
Opera & Art in Paris
With Anna Netrebko and Yusif Eyvazov
3-nights, €1499pps
Departing 26 April 2020
Return scheduled flight from Dublin, taxes, Three nights in the four-star Mercure Paris Montmarte with breakfast, Welcome lunch in a typical Parisian restaurant, Highlights of Paris sightseeing tour by coach
Guided tour of the Musee d'Orsay, internationally renowned for its rich collection of Impressionist art, Pre-opera dinner , Adriana Lecouvreur at the Opera Bastille (opening night) – category 2 tickets, Walking tour of Ile de la Cité with visit of Saint-Chapelle, Departure lunch in a French Bistro and Private transfers and guide according to the programme
This package is with Keith Prowse Travel https://www.keithprowseattractions.com/en/index.htm
* * * * * * * * * * * * *  * *  * *  * *
 A viewers question about using the city pass in New York  
Hello there, I do my best to listen to your slot on the Ivan Yates Programme. Very informative. We are going to New York on 1st December 2019. First time…SUPER EXCITED !
I was wondering how the city pass works and what museums etc I can go to see with it …Lorraine.
City pass to see 6 attractions it's €124 per adult and to see C3 it is €79
Go online https://www.citypass.com/new-york buy the pass and use the mobile option on your phone or you can be sent printable tickets
My top galleries to visit in New York are The Met and MoMa