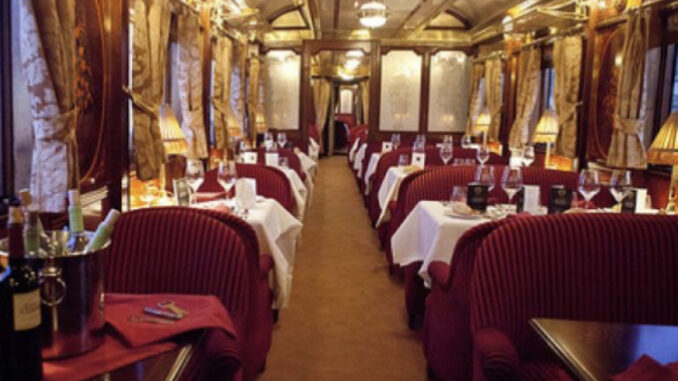 Newstalk Monday 13th July
Great Train Journeys on The Hard Shoulder
If you want to get off the island you don't want to fly then your only option really is by sea and we have three companies to help us do this. Stena Line which services much of Europe and Scandanavia, Irish Ferries and Brittany Ferries which has opened the gateway to the Iberian Peninsuala by sea but you must travel with a vehicle to Spain which might not suit those wanting to avoid flying.
Brand new Stena Estrid arrived in Holyhead last December and it is a great way to connect to Europe through the UK. It is possible to arrive in Harwich the same day as leaving Dublin and step on board one of the larger ships that brings passengers to the Hook of Holland…
Some good news today, as well as the UK gov't removing quarantine for incoming travellers, we've heard that Netherlands and Germany have reciprocated.
Harwich to Netherlands are twice a day; morning and evening.
Dublin to Holyhead is four times a day: morning, afternoon, evening and middle of the night
STENA ESTRID FAST-FACTS
The name Estrid is connected to Stena Line's Scandinavian heritage. It is an Old Norse eastern-Nordic version of the name Astrid. Estrid is commonly found on old runestones and means 'divinely beautiful'.
Stena Line is the largest ferry operator on the Irish Sea, offering the biggest fleet and the widest choice of routes between Britain and Ireland including Holyhead to Dublin, Fishguard to Rosslare, CairnryantoBelfast, Liverpool to Belfast, and Heysham to Belfast routes, a total of 232 weekly sailing options. Stena Line also offers a direct service between Rosslare to Cherbourg with three return crossings a week.
Brittany Ferries
Step on board Brittany Ferries' économie ship, Kerry, for either an overnight or 2-night sailing to beautiful Bilbao in Northern Spain. The route offers two weekly no-frills sailings in both directions.
Outbound
Rosslare to Bilbao route every Wednesday departing at 11:00 and arriving at 16:00 the next day or every Friday departing at 23:30* and arriving at 08:00 (*2 night sailing)
Inbound
Bilbao to Rosslare every Thursday departing at 12:00 and arriving at 15:00 or every Sunday departing at 12:00 and arriving the next day at 16:00
There is a caveat however you must travel with your own transport be it a bike or car.
The journey takes approximately 28 hours.
****************************************************
Top Advice
IF you are planning an epic train journey get help with a specialist agent who will take care of your needs and add insurance in case of delays or cancellations – you don't want to lose money if you have invested a lot in a luxury train package….go to a bespoke agency such as platinum travel.ie or the travel counsellors.ie
Spain great train journeys
SPAIN
 Book with a travel agent and I've gone to Platinum Travel in Clontarf to get this great package https://www.platinumtravel.ie/
Southern Spain rail journey aboard the Luxurious Al Andalus Train – also known as The Palace on Wheels of Spain
From €3890 per person based on 2 sharing
24 May 2021 – 30 May 2021
6 nights / 7 days
Discover Spain's distinct history, culture and cuisine as you travel across the breath-taking landscapes of Spain aboard the luxurious Al Andalus Train of Spain.
Itinerary starts in Seville and goes to:
Jerez
Cadiz
Ronda
Granada
Linares/Beza
Cordoba
Finishes again in Sevile
Here is the full link to the 6 night itinerary (don't use this on your site though as it goes away from you & I!)
All Inclusive Train Cruise
All Meals Provided With Coffee, Tea, Wine and Liquors
Expertly Guided Visits
All Tours and Monument Entry Fees Included
Private Coach Travels
Security Service
Musical and Cultural Performances
24 Hour Service On Board the Train
Also with Platinum Travel www.platinumtravel.ie
Another Spanish option is El Transcantabrico which is a wonderful way to see the green coast of the north of Spain – The Spanish tourist board informed me that it is a special year on the camino – a jubilee year and this is a great way to see Santiago de Campastela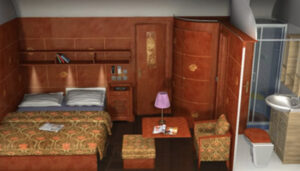 Price 7n 8d – €5500 pp may june july september
 Day one: San Sebastián,  Bilbao,  Villasana de Mena

Rendezvous at 1:00 pm in San Sebastian at Hotel Barceló Costa Vasca. Passengers reception, welcome and lunch in San Sebastián, a city of elegant beauty and home to major cultural events. Tour of the town after lunch and transfer by luxury coach to Bilbao, where El Transcantábrico is waiting for us. Welcome drink with the crew. Train trip to Villasana de Mena while enjoying our first dinner onboard.

Overnight in Villasana de Mena.
Day 2 – Sunday: Villasana de Mena – Bilbao – Santander
Cities covered: Bilbao,  Santander
Overnight in Santander.
Day 3 – Monday: Santander – Potes – Cabezón de la Sal
Cities covered: Potes
Train trip to Unquera station from where we will travel by coach through the gorge of La Hermida and reach the town of Potes. After visiting this charming village, enjoy a Spa circuit at La Hermida Spa. Return to the train after lunch and trip to Cabezón de la Sal. In the afternoon there will be free time and you may choose to visit the mansion of El Capricho in the town of Comillas, the impressive and colourful 19th century house designed by Antonio Gaudí.
Dinner and overnight in Cabezón de la Sal.

Day 4 – Tuesday: Travel back in time to Santillana del MarCities covered: Santillana del MarThe day begins with a visit to the town of Santillana del Mar with its beautifully preserved medieval town. Next we will be taken on a tour of Altamira Neocave, the finest realistic example of Upper Palaeolithic cave art. After lunch we will return to the train and travel into Asturian territory, visiting the village of Ribadesella and its charming promenade and stunning historic mansions.Dinner and overnight in Arriondas
Day 5 – Wednesday: Deep into the heart of Asturias
Cities covered: Candas,  Oviedo
Today our coach will drive us to the heart of the Principality of Asturias, to the Picos de Europa National Park. First enroute is Lake Enol, then visit the sacred place of Shrine of Covadonga to hear its legends. Back onboard for lunch and trip to the region's capital, Oviedo, the highlight of Asturian Romanesque art, featuring gems such as the basilica of San Julian de los Prados. City tour and free time.
Dinner onboard while we travel to Candás, where we will spend the night.
Day 6 – Thursday: Journey to the charming city of Gijon
Day 7. Our coach will take us to the Las Catedrales Beach, one of the most spectacular beaches in the world. City sightseeing in Ribadeo and free time. Back on the train for lunch and trip to Viveiro, with city tour and free time.
Dinner and overnight in Viveiro.
Day 8 – Saturday: Your journey ends in Santiago de Compostela
Cities covered: Ferrol,  Santiago de Compostela
While enjoying our last breakfast onboard, we will arrive in Ferrol, followed by a comfortable coach trip to Santiago de Compostela. Enjoy a city tour in this historical town, goal of devotees for over a thousand years, and admire its countless artistic jewels such as the Cathedral.
* * * * * * * * * * * * * *
I've popped this in there because the Orient Express may be on your bucket list – this package is with Platinum Travel in Clontarf
Verona to Paris  – Belmond Orient Express
From €2999 per person based on 2 sharing
06 April 2021 – 09 April 2021
3 night / 4 day stay (1 night on the train)
With its inspiring architecture, contemporary galleries and thriving restaurant scene, Verona isn't just a setting for star-crossed lovers. Travel between two of the world's most romantic cities on this timeless train journey.
Inclusions & Highlights
One night stay in Verona pre train journey with breakfast
One night stay in Paris post train journey with breakfast
One night aboard the Venice-Orient-Express Luxury Train
Dedicated Steward Service
Welcome glass of Sparkling wine
Sumptous Four course Dinner, seasonal table d'hote menu including cheeseboard, biscuits & chutneys
Coffee, tea & petit fours
Continental breakfast served to your cabin
Overview:
Your train journey begins as you meet the gleaming Wagon-Lits carriages of the Venice Simplon-Orient-Express at the station in Verona. Settle into your inviting private cabin and enjoy afternoon tea as the train journeys through the evocative Italian countryside.  As the day winds down, head to one of the beautiful restaurant cars for a sophisticated four-course dinner. After, trade stories with fellow travellers in the Bar Car as the resident pianist sets the scene. Retire to your cabin, now converted into a cosy bedroom. The next morning a Continental breakfast is served in your cabin, as you soak up the ever-changing views. All too soon the train arrives at Paris Gare de l'Est, your journey's end.
*******************************************
Switzerland
Travel counsellors package on Glacier Express
https://www.travelcounsellors.ie/ie/leisure
Take a train ride through some of the most spectacular scenery in Europe and be catered to from stop to stop with this package from Travel Counsellors.
Sample package includes flights in July from Dublin to Zurich staying at top quality hotels and stopping off in the towns on the Glacier Express. This is the slowest express train in the world and who would want to go quickly through such spectacular landscape.
Important information
Special requests cannot be guaranteed.
Once confirmed you will become subject to our terms and conditions which can
be found at www.travelcounsellors.ie/tsandcs
*****************************************
Norway
I've been to Norway and it is second only to Iceland in expensive destinations but it is wonderful for scenery and there is lots to do and see in Oslo.
The Oslo to Bergen route in Norway and unlike most things in Norway it isn't too expensive – for a budget ticket it's about €30 one way and lasts 6.5 hours travelling through 380 miles of high mountains and spectacular scenery. It climbs to 1200m and travels through 180 tunnels
* * * * * *  * * * * *
Epic Train journeys that I recommend highly for wonderful views and special experiences –
Cairns to Kurunda railway in Queensland Australia
The Original Kuranda Scenic Railway is a spectacular journey comprising unsurpassed views of dense rainforest, steep ravines and picturesque waterfalls within the World Heritage listed Barron Gorge National Park.
This famous railway winds its way on a journey from Cairns to Kuranda. The journey to Kuranda takes approximately 2 hours, which includes a 10-minute stop at the spectacular Barron Falls Station for a bird's eye view of the Barron Falls. Passing through 15 hand carved tunnels, 37 bridges, spectacular waterfalls and into the stunning Barron Gorge.
Choose from Heritage or Gold Class travel to discover this famous railway journey. Being one with the rainforest as you undertake an unforgettable journey is what makes Kuranda Scenic Railway such a must-do experience.
The Kuranda Scenic Railway operates daily all year, except Christmas Day.
 https://www.kuranda.org/listing/kuranda-scenic-railway
The Cusco to Aqua Calientes Machu Picchu in Peru.
See my article on Peru https://thenoveltraveller.com/we-are-talking-peru-on-newstalk-this-travel-thursday/