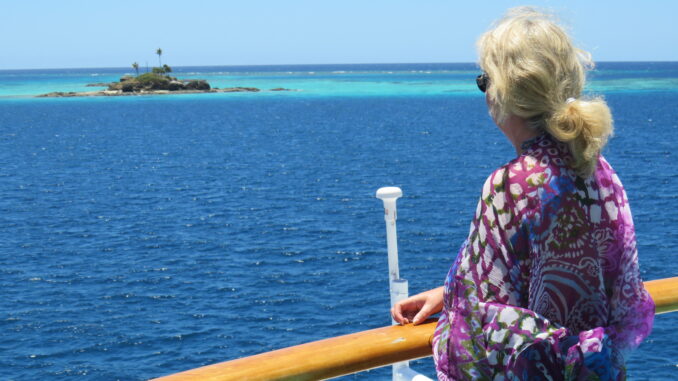 About as far as you can travel from Ireland, in the South Pacific Sea, lie 333 delicious islands that make up the archipelago of Fiji. It may seem very far away to travel for a holiday but reachable with two long haul flights from Dublin to LA with Aer Lingus and from California to Fiji with Fiji Airways. Besides wanderlust is back with vengeance as we venture into 2023 and exotic bucket-list destinations are making a comeback. Fiji is more than just home to an energetic rugby team that visited us in Dublin at the end of 2022.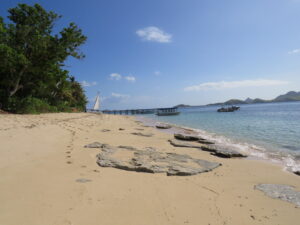 For travel junkies Fiji is a slice of paradise close enough to Australia to warrant a stop off on a return flight home across the Pacific Ocean. Everyone speaks English here but if you want to use the local lingo the word 'Bula' goes for 'hello', 'thank you', 'please' and pretty much everything else in Fiji. In fact the gorgeous guides who we met at Denaru Marina before setting off on our exploration of the islands told us that they are bulanaires! In Fijian terms this means they're as rich as a billionaire in happiness. They did this while putting garlands, or Salusalu, around our necks and singing a welcome song too.
This was only the start of the welcomes. After a short boat ride from the main island Viti Levu, we landed on Tokoriki Island Resort in the Mamanuca Islands, where our host Perona greeted us by our Christian names at the water's edge. He led us to the small foyer where staff sang the Isa Malay – a song written for the Fiji Troops to hurry them home from Malaysia during the Second World War. With good reason Tokoriki Island Resort boasts the number one hotel on Tripadvisor in the whole of Fiji. They say – Arrive as a visitor leave as a Friend– a little grotto of plaques with the names of frequent guests sits under the palm trees in the flower covered grounds.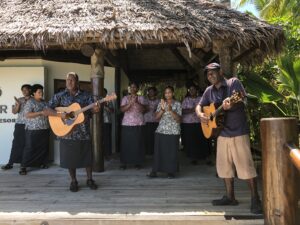 After a cocktail, Perona showed us to our private Bure. These indigenous thatched huts are not sparing in creature comforts such as four poster beds and outdoor rain showers but without the distraction of WIFI or TV. Tokoriki Island Resort is an adult-only oasis and our Bure had its own small pool outside on the deck. All Bures lead directly on to the beach with their own double hammock − perfect for watching the sunset. It's an ideal way to return to a slower pace which is dwindling as our lives return to a busier pace. The Spa at Tokoriki left my other half and I practically horizontal after enjoying the couples massage to the sound of water trickling gently down the rocks outside in the courtyard. Fijian's have their own special Bobo massage incorporating honey and natural ingredients of the region.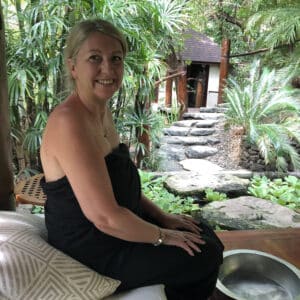 It's not all rest at Tokoriki either, guests have the option to keep busy with lessons in scuba diving, yoga and the watersports provided by a Welsh/English couple who moved to the island over twenty years ago. They brought us to Monuriki where 'Help Me' is inscribed in stones to mark the spot where the Tom Hanks movie Cast Away was filmed in 2000.
Dining is extra special on Tokoriki Island Resort as the head chef Ashim is a local chap who went around the world working in top restaurants before returning with all his experience to Tokoriki. The food on the island is a mix of Asian fusion with the very best seafood and meats locally sourced.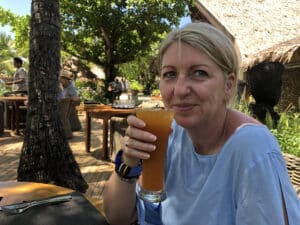 Tokoriki is a difficult place to leave but we had more exploring to do and 222 of Fiji's islands are inhabited by hotels or local tribes and villages so one of the best ways to see more islands is on a cruise.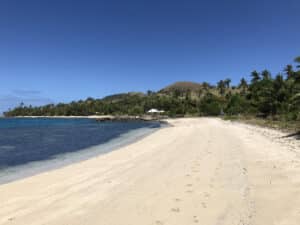 Yasawa means Heaven in Fijian and gives its name to a group of 20 volcanic islands to the north west of the main island of Viti Levu. A four-night escape with Captain Cook Cruises was a perfect way to explore these pretty islands. The ship is small compared to most cruiseliners with only 150 guests on board. Each day we were taken to a different secluded island with two trips ashore and lots of opportunities for snorkelling. Onboard the marine biologist Amos, briefed us about what we could expect to see in the waters and took us on tours in the submersible boat afterwards. Angel and Butterfly fish kissed our ankles as we walked along the warm water's edge on Tivua Island, our first stop. We watched schools of silver flying fish from the glass bottom boat and we even got up close with some small reef sharks and Mantaray.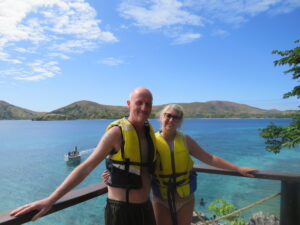 Each day we sampled a different cultural experience on a new island. One of the most intriguing in the Yasawa Group is Naviti. The first European to visit this Island in 1789 is well known as the British Royal Navy officer William Bligh (1754-1817). Protocol is paramount before visiting Gunu Village on Nacula Island as we were formally introduced to the Chief in a Sevu Sevu Ceremony with strict traditions involving drinking Cava from a communal bowl. Cava is a root vegetable ground down to a white powder and when water is added it tastes like a mix of cold coffee and tea. It does have hallucinogenic qualities and after drinking I did feel a tingling in my lips but the Fijians can't get enough of it and they say it helps them sleep – it also makes them rather laid back and a bit giddy too!  The ceremony has to be performed with men performing gestures and selected recitals to other men while the women must sit at the back while the ceremony is enacted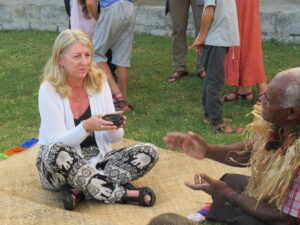 Afterwards we eat from the traditional Lovo oven, where vegetables and meat are cooked under the ground. The women dined first which made up for the machismo traditions denied at the Sevu Sevu ceremony. It was followed by a sales pitch was subtle as we were offered beautiful local produce, mostly sarongs and tapas which are designs drawn on papyrus. It's humbling to visit remote islands that have managed to maintain their culture for so many years.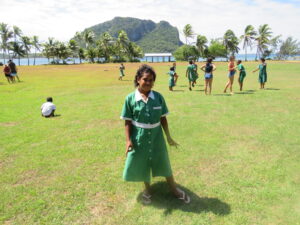 One of our favourite days was spent visiting a local school where the children sang to us and I made great friends with Robert, a friendly six-year-old who held my hand as he showed us proudly around his school yard. The school boasts a large rugby pitch surrounded by swaying palms and unspoilt views of the turquoise blue ocean – there isn't a pitch anywhere in Ireland that can boast such a stunning view. Fijians are incredibly proud of the gold medals they've won in the last two Olympics with the Flying Fijians rugby sevens, making it the country's most popular sport. It's played in all schools even on the most remote islands.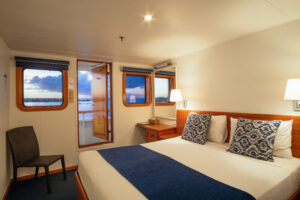 Captain Cooke Cruises staff take care to clean any plastic that is left on the beaches as we travelled from island to island. Sustainability is a big issue for this island nation. Dinner is served in the Captains Lounge each evening, whilst these are fairly informal affairs the Food is varied and fresh. One third of Fijians are of Indian descent from the indentured slaves that were relocated during the19th century when Fiji was colonised by the British so we enjoyed a wide variety of flavours in Fijian food. Coconuts are used in Fijian cooking and a good range of meats and plenty of fish including crab of course. If you'd arrived in Fiji at the end of the 1800's you might have been served a different dish as cannibalism was widely practiced on all the islands. Our entertainments officer Ilsioni told us the fascinating history of Fiji's gruesome past and most famous cannibal Udre Udre who holds the world record for consuming the most humans – a figure over 850 and some suggest up to 1000 victims during his lifetime. It was the spread of Christianity which brought about the end to the practice and I wonder if the Cava might have had something to do with it too.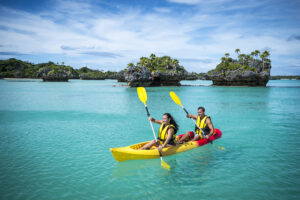 Captain Cook Cruises saved the best until last as we docked beside the Blue Lagoon beach where the saucy film starring Brooke Shields was made in the 1980s. We paid a visit to the limestone cave at Sawa-i-lau which is close to the Blue Lagoon and an important setting in the movie. The crew brought kayaks so we could wander off and do our own exploring around the deserted inlets and coves, while they collected some tiny hermit crabs. Later that evening we were introduced to the local art of crab racing and temperatures ran high as we watched to see which crab would stay within the circular race track and win the race.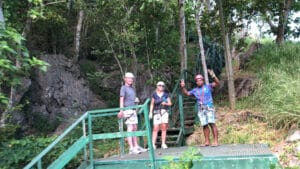 We were sad to say goodbye at the end of our four days on board but on our return to Viti Levu we found more surprises for adventure lovers as we headed for the hills and a canopy of Vesi trees. These large hardwood trees are used to make the bowls for the native Cava ceremonies. Rain trees and caves are some of the exotic natural beauty to be explored at Zipline Fiji but the speed and length of the lines make a big thrill for adrenaline junkies. http://www.zip-fiji.com/ It costs about €100 and takes a full morning or half day – lunch is included plus pick up and drop off to our hotel. We were looked after by Martin who pushed us to new levels of thrills as we took in the spectacular views below.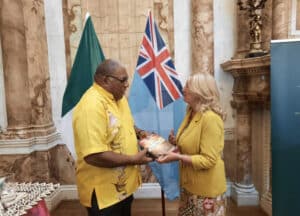 With fewer places offering paradise lost Fiji is a special destination and a complete contrast to our lives on the other side of the world. Our connections with Fiji were extended last year when the Fijian President Wiliame Katonivere visited Ireland with his wife to celebrate the international relations our small island nations have shared since 2002. He assured me that there is a great big Bula welcome waiting for all Irish visitors to his country this year!
Check out my review on my youtube channel of Fiji Airways
Factbox
Fiji Airways will get you there, I went west via LA meaning only one stop but many people will go through the Far East, Singapore or Hong Kong. Fiji Airways operate the lovely airbus 380 dreamliner and for such a long trip it is really worth considering business class. There is nothing like arriving fresh for a flight after a dreamy sleep on the flat beds with added mattress and heavy duvet. The goody bag contained wooden toothbrushes and as for the food of course is top class and it was like already being in Fiji as the Fijian people are so friendly and have the warmest welcome and smiles. www.fijiairways.com
For more information about travel to Fiji see https://www.fijiairways.com/en-us/  and see www.fiji.travel
Package with Sunway
Aer Lingus and Fiji Airways via LA, staying at the Fiji Marriott at Momi Bay (B&B basis) 7 nights with Transfers priced at €3669pp visit www.sunway.ie or telephone 01-22311800
Captain Cook Cruises has a selection of cruises to the Mamanuca and Yasawa Island on the MV Reef Endeavour for cruise expeditions in the Fiji Islands in 2023.
4 NIGHTS from €1375pp Based on twin/double share
For further information and bookings visit www.captaincookcruisesfiji.com