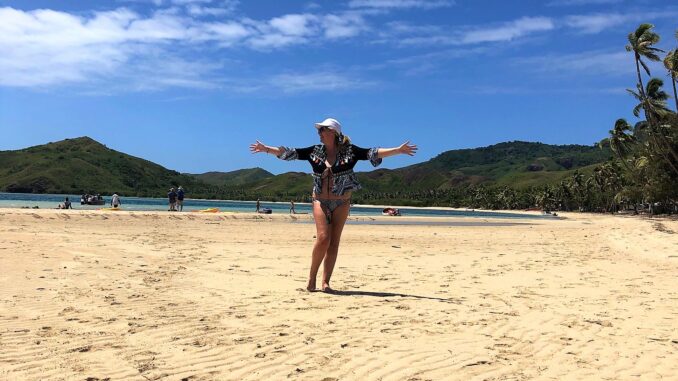 This week on Newstalk's The Hard Shoulder with all the madness and mayhem going on in the travel industry I'm  giving you all a little bit of inspiration and a chance to escape the Irish spring as we set off to the other side of the world. Fiji March 11th 2020
Listen Back to the Podcast https://www.newstalk.com/podcasts/travel-on-the-hard-shoulder/travel-wednesday-fiji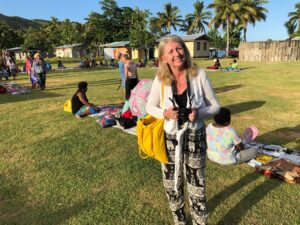 Fiji
Fiji is about a two and a half hour flight north of New Zealand and seven hours west of Hawaii in the South Pacific. It is twelve hours ahead of us in Ireland so as far as you can go around the world. Fiji Airways will get you there, I went west via LA meaning only one stop but many people will go through the Far East, Singapore or Hong Kong. Fiji Airways have a lovely new aircraft in the airbus 350 dreamliner and if someone is thinking of going so far away I really consider business class. There is nothing like arriving fresh after a flight and they have flat beds with a lot more room as they are tilted slightly. But the added mattress and heavy duvet was another dimension which really was lovely and in the goody bag with the usual socks and ear plugs I found the toothbrushes are made from wood. The food of course is top class and it was like already being in Fiji as the Fijian stewards are so friendly and have the warmest welcome and smiles. Fijian's say 'welcome home' when you arrive on one of their islands or resorts and they did it on the aircraft which was really lovely.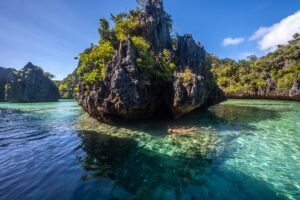 What's the weather like?
I was there during rainy season which is February to April but saw little rain – usually it can rain from 2pm for a couple of hours – best time to travel is during October to end of January for dry warm weather – the temperatures reached over 30'C as it was humid and Fiji is peak season is July to September. It doesn't drop lower than 20'C in daytime or higher than 35'C
Fiji Facts
With just over 900,000 people spread over 200 islands it is a small country. There are 333 islands in total but one third are uninhabited. Viti Levu is the main island with the capital Suva.
The Fijian Dollar is worth 40c so $5 is worth €2 and check out https://www.fiji.travel/ on the web for an over view before you travel.
They are incredibly proud of their rugby team and the gold medal they won in the Olympics last time out for their sevens and it is the country's biggest sport with all schools playing it. Even on the most remote islands.
My Trip
We flew into Nadi airport and went straight to Denaru Marina and took a one hour boat to Tokiriki one of the loveliest islands in the Mamanuca Islands. We arrived by boat to Tokoriki Island Resort and got a great big Bula Welcome! The local greeting and word for hello, please, Life and a host of other meanings is Bula!
BULA!
There's a word you'll hear all the time when visiting our 333 islands –"Bula" can mean many things. It can mean hello or welcome, cheers or good health."Bula"is guaranteed to be delivered and received with the warmest smiles you'll ever see. But more than anything, Fijians like to be happy and they want you to be happy too.
In fact the Fijians will openly tell you that they are bulanaires which means as rich as a millionaire in happiness. Then they will give you a lei to put around your neck and sing a welcome to you.
Tokoriki Island Resort
Some guests arrive by helicopter which costs about $700/€280 return and if you were on honeymoon I'd say this is the way to travel –
Tokoriki is the most idyllic paradise you can imagine and it is the number one resort on tripadvisor in the whole of Fiji. They like to say – Arrive as a visitor Leave as a Friend- is the mantra at Tokoriki Island resort – it's a honeymooners or anniversary paradise! It is a really special place and there's a reason why it is number one resort on trip advisor because I've never stayed any place like it.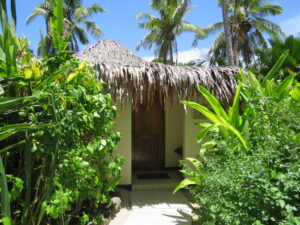 Guests stay in their own private Bure (which are thatched huts) but incredible comfort with outdoor showers and each bure has its own small pool outside the deck that leads directly on to the beach with its own hammock − perfect for watching the sunset.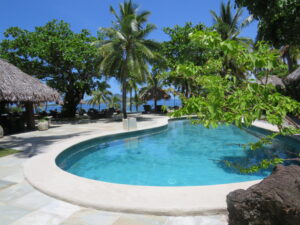 You will only be mixing with other guests as the beach is completely private and if you want to take a picnic off to a stretch of the beach you will have it all to yourself – the nice thing about the southern hemisphere is it is kinda like what we expect to see on a beach in Europe but the shells are a different colour and the crabs will be different or the colours of the heron legs with be stark and there's more blue or purple in nature.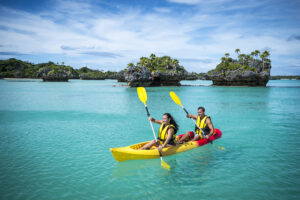 There are lessons everyday in scuba diving or yoga and the watersports are provided by a welsh and English couple and they will bring you over to the local village across the water or Moniriki (which was used in the movie castaway by tom hanks) We had a spa massage and they have a rate of about €120 for three days massage which is incredible value.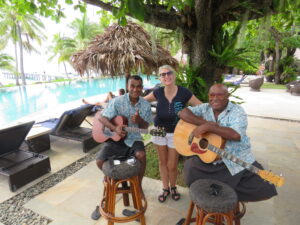 I have to say the food is extra special and the head chef is a local chap who went around the world working in top restaurants and then returned with all his experience to Tokoriki. We were so sad to say good bye especially to Penioni who was our all round go to guy to make sure our stay was a perfect as possible. Vanaka (thank you) as they say in Fiji for the most wonderful stay https://tokoriki.com/
Captain Cook Cruises
I went on a four night Captain Cook Cruise of the Yasawa Islands. This classic cruise ship it's an older style vessel not like your huge cruise liners it holds 150 people. But it really allows you to experience the culture of Fiji because you won't be on the ship for long. It allows you to get to quite secluded islands with two trips each day there are lots of opportunities for snorkelling. And best scuba-diving spots between 30 and 40 feet in most cases away from where the ship anchors. They have an onboard marine biologist who briefs you on board about the marine life that you can expect to see and he takes you on tours afterwards.
Amos Daniel was on board our ship and he has been crowned the company Bulianaire -He is a wealth of information for snorklers and those interested in enjoying the beautiful wildlife on the reefs and in the sea.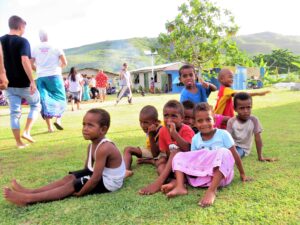 I like my bit of culture and Fiji has it in abundance. Did you know that Fiji used to practise cannablism and wasn't until Christianity was introduced in the 19th century that the practise stopped. They are now a very religious country and have large Hindu community too.
Each day on board they offer a different cultural experience and it's quite unlike any other you will experience. Whether that's a visit to a local village or school or a sevu sevu ceremony where they drink the local cava.
Cava
Cava is the most important ceremonial drink found all over the islands and you cannot leave Fiji without trying it. It does have halluciangenic qualities and after drinking it you will have a tingling in your lips. We went for a formal ceremony on Nicula Island and get to meet the village chief. They retain strict traditions and visitors to the island need to be formally introduced in a ceremony where they bring cava which is a root vegetable and then in return guests partake in drinking from a communal bowl.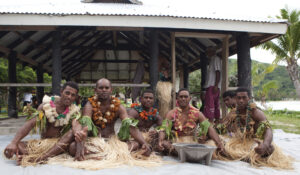 It tastes like a mix of cold coffee and tea but the Fijians can't get enough of it and they say it helps them sleep – it also makes them rather laid back and a bit giddy too! The ceremony has to be performed from men to men and women must sit at the back – it was really funny to watch the American and Australian husbands afraid to sit with their back to their wives.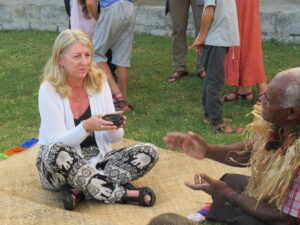 However we ate afterwards together from a traditional Lovo oven which is a roast of vegetables and meat cooked in the ground. And here the women get to dine first. We also were able to buy local produce mostly sarongs and tapas which are papyrus style art. Lots of locally made jewellery and souvenirs too.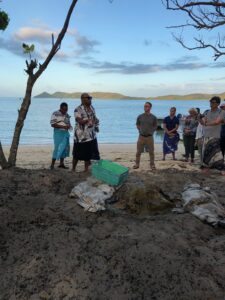 One of the highlights because Captain Cook Cruises support schools who only get government help for teachers and not for the book or copies etc so guests can buy copies and pens and give them to the teachers which supplements their budgets – this is a poor country in many ways however you should see the rugby pitch and the view the kids had from their school and if you compare it to an Irish school you'd have to ask who is actually living! The cruise company take care to clean up any plastic they find when we went onto a new beach each day and sustainability is huge for them because tourism is the backbone of their economy so it's in their best interest to keep the reefs and beaches pristine.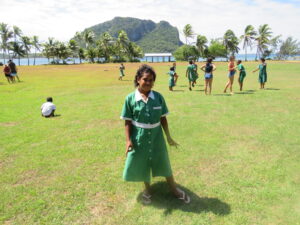 Captain Cook Cruises cater really well for families and children younger than 10 they've got nannies on board that even take care of them while you're visiting the villages and skills and there are separate charge for the children there is this Sunday and great to use the ocean at the front of the boat is the reef lounge where are you mate meet wearing experts to tell you all about what you can expect to see Wi-Fi areas but it is free on board we took a four day that you can take a three day or an 11 day cruise.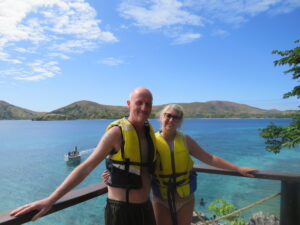 Dinner is in the captains the lounge whilst there is a fairly formal affairs and the food is very varied and because one third of Fijians are of Indian descent from the indentured slaves that were relocated during the19th century when Fiji was colonised by the British expect their flavours in the food.
Expect plenty of coconuts in the diet and they eat all range of meats. Casava is a root vegetable and plenty of fish of course. They also have a great local beer called Fiji Gold.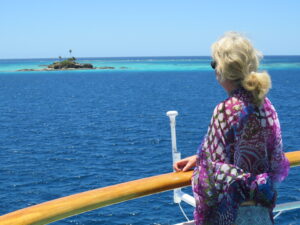 What's really unique about Captain Cook Cruises is the fact that they are based in Fiji and they have Fijian crew on board The service and genuine friendliness of the Fiji and crew is outstanding the dedicated help you become immersed in the culture.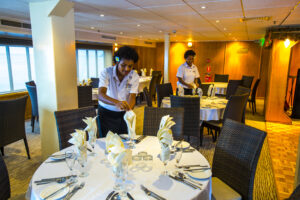 It has the right mix of adventure cultural activities things to do as well as great facilities. They provide glass bottom boat tours, snorkelling equipment and kayaks for all guests.
Even if you aren't snorkelling you can enjoy colourful butterfly fish swimming right up to you and we saw a school of silver flying fish. Some of the guests had swam with small reef sharks and Manta Rey so there was plenty of excitement –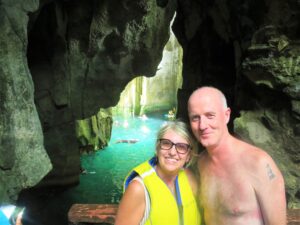 For me seeing the Blu Lagoon beach where the saucy film starring Brooke Shields was made in 1980 was definitely one of the loveliest places but all the beaches we stopped at were fantastic. It's easy to see why Fiji is a spot chosen for paradise films. There's also a special limestone cave Sawa-i-lau close to the Blue Lagoon which is worth a visit. The local economy seems to depend on guests from the chips visiting.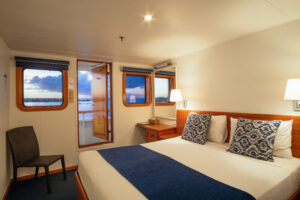 I'd get a tour operator to book this as part of a full package. Early Booking Saver fares (EBS) for the three-night Southern Yasawa and Mamanuca cruise in a porthole cabin start from only €800 per person, twin share;  EBS fares for the four night Northern Yasawa and Mamanuca cruise in a porthole cabin start from €1060 per person.
Fares include shipboard accommodation, all meals, guided village, school and island tours, snorkelling and glass bottom boat excursions, daily island stopovers and water activities, hikes and Kayak safaris, on board entertainment, kids club (5-9yrs), onboard Wi-Fi, 24-hour self-service tea and coffee bar, post cruise transfers to Nadi and Denarau hotels and Nadi airport and use of the ship's facilities including a swimming pool, jacuzzi, mini
gym, sun deck, cocktail bar and library.  
For further information and bookings visit www.captaincookcruisesfiji.com
www.captaincookcruisesfiji.com  currently have a '3 nights free sale' on seven and 11 night cruises until 31 March 2020 with travel valid until 31 March 2021, including school holidays. You can book any seven or eleven-night Fiji cruise and save up to FJ$2485 per person, twin share.
Momi Bay on Viti Levu
On our return to Viti levu after the cruise we went zip lining through a canopy of forest at Momi Bay. It was close to our last stop at the Marriott hotel and Resort at Momi Bay. http://www.zip-fiji.com/ It costs about €100 but takes a full morning or half day and lunch is included plus pick up and drop off to your hotel. It was exhillirating and you have the option of abseiling too but after the 16 ziplines we had done enough.
Our final stay was at the Marriott Resort on Momi Bay- This is where you can stay on Bures on the water and swim straight from your hut into the lagoon. It's a large resort but good news for business travellers who might have a Marriott card is that you can use the points throughout the resort. It's about 40 minutes from the airport in Nadi and was a lovely place to finish our trip. On the last night they spoil guests by running a bath filled with rose petals and make romantic characters from the towels. The resort caters for families and has a variety of restaurants and I'd recommend it for anyone who wants to crash out for a couple of days on arrival to Fiji after the long flight and then move on to other islands for the rest of your trip.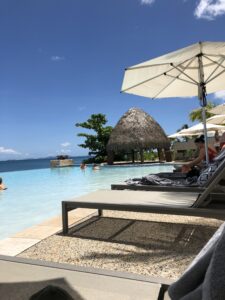 The hotel has a wide range of restaurants, sports bars, speciality and with in-room dining too and a fabulous spa – this is the perfect place to just chill out and it's all in one spot.
There are plenty of people visiting family in Australia and New Zealand and I think Fiji would be ideal for a stop off on your return from a trip Down Under. It's also somewhere you could holiday with your loved ones who live in Australia or New Zealand. Lots of Irish who travel to Australia to work for a year could take it in as a stop on the way home. The world is very small nowadays. I've been to Seychelles and all over the Caribbean but I have to say I particularly liked Fiji and the locals make it unique. It really is a happy place – they use the slogan #findyourhappy and I can see why.
Tempted to take a trip?
I've got a quote from Sunway who will do up a bespoke package for you and this one is based at the Marriott Momi Bay. If you were going I would add on a cruise with captain cooks to see either the Mamanuca or Yawawa Islands which you really need to visit to get to the heart of Fiji
Package with Sunway
www.sunway.ie
Momi Bay, Fiji from €5085 per couple
Depart November 2020
Marriott Resort, Momi Bay
10 nights Deluxe Lagoon View Room bed and breakfast.
Includes all flights, taxes, transfers, baggage and accommodation
That comes in at €12749 if you are going business class
Sydney & Fiji Honeymoon from €6570 per couple
Depart November 2020
5 nights Novotel Sydney Darling Square on a room only basis, 8 nights Hilton Fiji Beach Resort & Spa in an ocean front apartment with breakfast included
Includes all flights, taxes, transfers, baggage and accommodation
Photography and Videography credits Terry Talbot