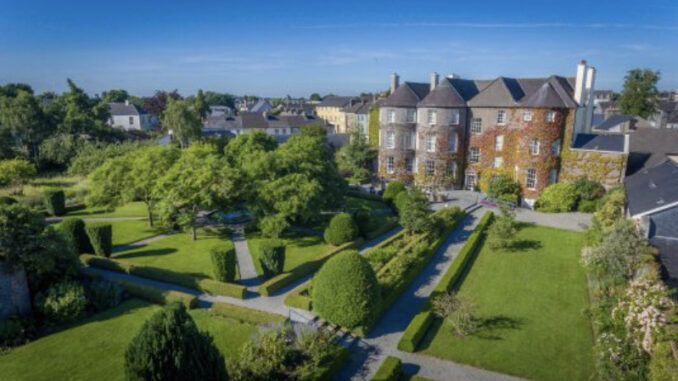 Newstalk Tuesday 6th October 2020
With Kieran Cuddihy on The Hard Shoulder
This week we are looking at places to stay for mid-term and over the autumn that might appeal to those wishing to avail of the Spend and Save scheme.  But now that we are locked into our own counties I've picked a variety scattered around the country
To recap the government are offering 20% saving per person for spend up to €625 between now and the end of April – so that's €1250 per couple that can be claimed back at the end of the year. You keep note of your receipts and upload them to an app to keep record. But please remember to ensure that the place you stay at or restaurant that you visit has registered with the Spend and Save scheme.
Take a staycation in Dublin with The Wilder Townhouse in Dublin
I'm starting with a staycation for anybody in Dublin who is looking for a lovely treat in the city centre. We have been locked down already for some weeks and I was getting itchy feet being a travel writer, so I had a staycation at the gorgeous Wilder hotel in Adelaide road. This period Victorian townhouse is ideal for a romantic getaway. I brought along my other half and we felt like we had taken a city break to anywhere in Europe.  Its original use was a "Home for Retired Governesses" and there is also historical reference to it being a "Home for Bewildered Women". The beautiful red brick façade is typical of the period and can be seen in many parts of Victorian Dublin. An extension was built to the north east (c.1895), with a further extension to the east (c.1930). In more recent years property was used both as a Retirement Home and an Artists' Studio. The hotel has a gorgeous vibe with fabulous art on the walls and in fact our room was so lovely we didn't leave it. We ordered in a fabulous thai takeaway from Kanum Thai which is in Mespil Road a short drive away and they delivered to the hotel. https://www.kanum.ie/
The Wilder, Dublin
Includes: Overnight Stay with Complimentary Breakfast and a Welcome Autumn Cocktail
From: €189 per night (based on two people sharing)
To Book: Contact The Wilder at 01 969 6598 or stay@thewilder.ie
The Wilder is a member of  Ireland's Blue Book and you will find over 60 properties country wide that will really have something to suit every taste – https://www.irelands-blue-book.ie/
* * * * * * * * * * * * * * * * * * *
Killkenny
Those of you locked down in Kilkenny are very spoilt as you have the glorious Mount Juliet which is one of my favourite hotels in the country – offering lots of fabulous activities too and a spa. I brought my teenage daughter there a couple of years ago and we went horse-riding.
Memorable Midterms
Mount Juliet Estate, Co. Kilkenny
Includes: Three Nights Luxurious Accommodation in Hunter's Yard for Two Adults and Two Children
Dinner on One Evening of your choice for two adults in The Hound Restaurant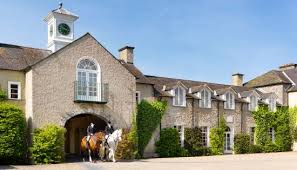 Daily Access to Mount Juliet Juniors Club for children aged 5-12 years from 12 – 4 pm including a packed lunch and each evening from 6 – 9.30 pm including dinner for children
From: €317 per night
To Book: Contact Mount Juliet at 056 777 3000 or info@mountjuliet.ie
Butler's House Kilkenny
It's part of Ireland's Blue Book which has a treasure trove of properties around the country and one of the loveliest is Butler's house.  Once the dower house for the Butler family the house itself has a great history and connection with Kilkenny Castle. The house was home to Lady Eleanor Butler who lived here after the death of her husband Walter in 1783. Lady Eleanor Butler was the mother of John, the 17th Earl of Ormonde and her daughter, also Eleanor, was one of the famous "Ladies of Langollen".
In the 19th Century James, Earl of Ormonde resided in the house while the Castle was under reconstruction in 1831. A soup kitchen was run from here during the cholera epidemic of 1832.
Kilkenny Design, the state design agency, restored Butler House in 1972. The decor and furnishings reflect a certain 1970s Art Deco style, which because of the muted colours and natural fabrics used, proved sympathetic to the original features of the house. In 1989, the Kilkenny Civic Trust acquired both Butler House and the Castle Stables. The house was then opened to the public as a guesthouse and conference centre.
This special offer in for October
Includes: 2 nights luxury accommodation with Artisan breakfast on each morning
20% discount on yours at the Medieval Mile Museum
10% discount in the Kilkenny Design Centre
From: €360 total stay (based on two people sharing)
To Book: Contact Butler House at 056 7722828 or res@butler.ie
* * * * * * * * * * * *
Wicklow and Druids Glen
I remember those days when my own children were small and it was difficult to get a break because toddlers are so busy – and not all have a nap in the afternoon. For me the golden rule was to find a hotel with a pool that was child friendly and even better if they offered a babysitting service. People in Wicklow are very lucky because there are lots of amenities for all the family at Druid's Glen.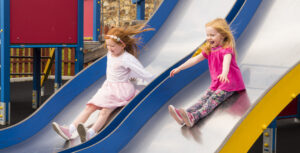 Facilities for kids include a playground and walking trail. The swimming pool has family swimming times and an indoor entertainment centre. The second floor has a baby pantry which is very handy for those managing bottles. And if mum and dad want some time out they will help you to organise a nanny service. With driving range and golf course there really is something for all the family.
Their 2-night Autumn Getaway Offer from €179 per person is very popular, all details here https://www.druidsglenresort.com/autumn-getaway.html
Family rooms are very popular and this autumn from from €170 B&B for 2 adults & 2 children under 12.
Druids Glen is part of the Neville Group and you can access their hotels here. https://www.nevillehotels.ie/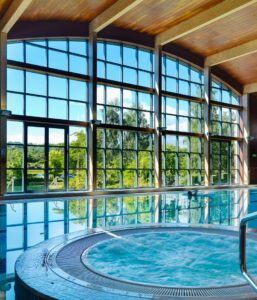 * * * * * * * * * * * * * * * * * * * 
Galway and the unique Glenlo Abbey
A couple of years back I took my teenage kids to Glenlo Abbey which is just outside Galway city and it was magical. Glenlo Abbey Hotel & Estate is situated overlooking the River Corrib some four kilometres upstream of Galway City. It is the ancestral home of the Ffrench family, one of Galway's famous 'tribes'.
Galway developed from an Anglo-Norman settlement established on the east bank of the river by the De Burghs in the early thirteenth century. By the early fourteenth century, a compact town, enclosed by a curtain wall, was beginning to flourish as a result of trade.
A charter granted by King Richard III, in 1484, empowered Galwegians to elect their own mayor and bailiffs. This released Galway from the grip of the De Burghs, and cleared the way for the rise to power of the 'Tribes of Galway'. A sustained period of prosperity followed under the leadership of these fourteen merchant families: Athy, Blake, Bodkin, Browne, Darcy, Deane, Ffont, Ffrench, Joyce, Kirwan, Lynch, Martin, Morris and Skerrett.
One such tribesman was Seán an tSalainn Ffrench ('John of the Salt') who served as Mayor of Galway from 1538 to 1539. He earned his nickname because of the wealth he accrued as a merchant (salt was a valuable commodity). Four of his sons also served as mayors.
Over time many of these families established country houses, outside of the old town. Glenlo Abbey House was one such house; others in the vicinity include Dangan House (Martins), Menlo Castle (Blakes) and Ross House (Martins).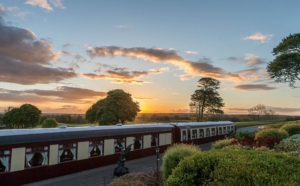 One of the Unique Selling Points of this gorgeous hotel is the restaurant which is in an original Pullman carriage – the type that was used during the halcyon days of train travel and passages such as the orient express. We were given a train ticket that was clicked once we climbed on board and with the complete sounds effects of a train pulling out of the station we were pulled back in time.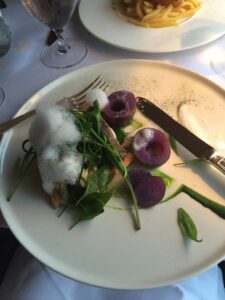 Needless to say the menu was equally exotic and with each group in their own personal cubical it was almost prescient for this time of covid.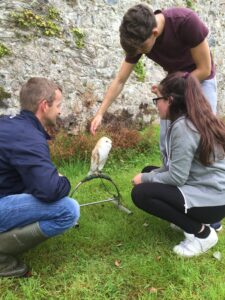 They offer archery and falconry – the archery is limited to the over 8s but all kids would love the falconry. Falconry is available at €75 per adult and €50 per child, whilst Archery is available at €50 per adult and €40per child (children must be aged 8 or over. Kids are facinated by animals so it's a really good activity – of course it has a golf course too and for a special family experience they offer movie nights in individual theatre so this is a special treat for those in Galway who might not have been there.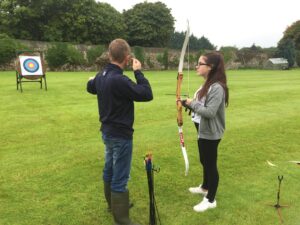 Package at Glenlo Abbey Galway
Enjoy two nights' accommodation in a Classic Family Room overlooking the Estate at Glenlo Abbey Hotel
Enjoy a relaxing breakfast each morning 3 course family dinner included in the Oak Cellar Lounge on one evening.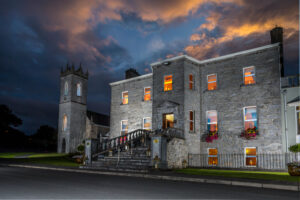 Savour the flavours of our spooktacular afternoon tea consisting of all the Glenlo favourites – homemade scones with preserves and clotted cream, savoury wraps and dainty sandwiches served with a selection of creepy treats.
From: €365 per night
* * * * * * * * * * * * * *
Kerry folk are blessed with a huge array of fine hotels
I had planned to take a trip down there this month but with the lockdown measures it will have to wait. They have a fantastic selection of hotels to chose from But there are two special offers I'd like to mention.
Killarney Royal is a sister hotel of the Great Southern Killarney close by and guests can avail of facilities in both hotels.
The Scally Family have welcomed guests for over 100 years now and are committed to creating outstanding memories for all guests. Killarney Royal is a luxury 4-star hotel which is situated in the heart of charming Killarney town in County Kerry. With lavish Killarney hotel rooms, outstanding cuisine and attentive staff on hand to ensure you enjoy a memorable stay, the Killarney Royal Hotel offers the ideal abode while you enjoy all that Killarney and County Kerry has to offer. Killarney is one of the most popular and beautiful towns in Ireland with an abundance of attractions including Lakes of Killarney, Killarney National Park, and many more around the county including world class golf courses. Killarney Royal Hotel is the proud winner of the IGTOA Boutique Golf Hotel of the Year Award 2012.
Accommodation at Killarney Royal Hotel is enhanced with antique furnishings, complimentary WIFI access for all residents and plasma television screens in the deluxe rooms and the junior suites for an extra luxurious experience.
October Mid Term Halloween 2 Night Break
Includes: 2 nights' accommodation
Full Irish breakfast on each morning
A delicious 4 course meal for the adults on an evening of choice in either The Candle Roon or The Royal Bar & Bistro.
Patrons of Killarney Royal can avail of all the Halloween treats and activities which will be taking place in their sister property, Great Southern Killarney, which is conveniently located within a short walking distance of Killarney Royal.
Families are most welcome to take some time out with the little ones and enjoy the Halloween Festivities at the Great Southern Killarney. The Halloween activities include Scary Movie Nights and Spider Hunts.
Guests also have complimentary WIFI and this also includes full access to the Health Club at their Sister Property, Great Southern Killarney which includes 15m Heated Pool, Steam Room, Sauna, Jacuzzi, Monsoon Shower & Two Outdoor Tennis Courts.
From: €549 total stay
Also in Kerry this is another Blue Book Property and it's a gorgeous country house
Carrig House, Co. Kerry
The house was purchased by Senator Arthur Rose Vincent in the early 20th. Century. Vincent moved here after he and his wealthy Californian father in law Mr. Bowers Bourne gave Muckross House & Estate in Killarney to the Irish Government for a wonderful National Park.
Bourne had originally purchased Muckross House from the Guinness family and gave it to his daughter Maud as a present on her marriage to Arthur Rose Vincent. However, Maud died at a young age prompting Bourne and Vincent to donate the estate to the Irish State.
Vincent remarried a French lady and lived at Carrig for about 6 years, they then moved to the France. The country house history doesn't end there, Carrig has had many other illustrious owners, such as Lady Cuffe , Sir Aubrey Metcalfe, who retired as the British Viceroy in India and Lord Brocket Snr, whose main residence was Brocket Hall in England.
Frank & Mary Slattery, the current owners purchased the house in 1996. They are the first Irish owners of Carrig since it was originally built and have renovated and meticulously restored the Victorian residence to its former glory.
For over two decades Frank & Mary have operated a very successful Country House & Restaurant and have won many rewards for their hospitality and their Lakeside Restaurant. They are members of Ireland's prestigious Blue Book.
Carrig House has 17 bedrooms, each individually decorated in period style with antique furniture. Each room enjoys spectacular views of Caragh Lake and the surrounding mountains. All rooms are en suite with bath and shower. Those who like to indulge can enjoy the sumptuous comfort of the Presidential Suite with its own separate panoramic sitting room, male and female dressing rooms and bathroom with Jacuzzi bath.
The restaurant is wonderfully situated overlooking the lake. The atmosphere is friendly, warm and one of total relaxation. The menu covers a wide range of the freshest Irish cuisine.
Irish trout and salmon from the lake and succulent Kerry lamb feature alongside organic vegetables. Interesting selections of old and new world wines are offered to compliment dinner whilst aperitifs and after-dinner drinks are served in the airy drawing room beside open peat fires.
Within the house, chess, cards and board games are available in the games room.
Carrig Country House & Restaurant is the perfect setting for fishing, golf, cycling, canoeing and sailing. Here, one finds some of the best walking in Europe plus a wealth of archaeological sites and places of historic interest within easy reach. The house is adjacent to the Ring of Kerry, Muckross House, Dingle Peninsula, Slea Head, The Wild Atlantic Way and its many beautiful beaches. There are up to 15 excellent golf courses nearby for golf enthusiasts.
Includes: 2 Nights bed & breakfast
A sumptuous 4 course dinner on each evening
Arrive after 3pm and enjoy complimentary tea/coffee & homemade biscuits in the Drawing Room or Garden.
From: €490 total stay (based on two people sharing)
To Book: Contact Carrig House at 066 976 9100 or at info@carrighouse.com
* * * * * * * * * * * * * * * * * * *
 There's lots for families in Laois to enjoy this Halloween
The heritage is a wonderful hotel for families – as well as the golf course and spa the swimming pool and leisure facilities are second to none – when I stayed I took part in one of the free pilates classes. There's good variety of places to eat in the hotel too.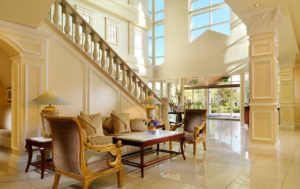 With Mini Halloween Heroes at The Heritage you and your nearest and dearest can enjoy a Halloween break away that all the family will remember for years to come. Included in this two-night getaway is luxury accommodation in a family room or family suite, breakfast each morning, dinner with all the family on one evening in Blake's Restaurant, a 30-minute spa treatment for the grown-ups (choice between a mini facial or a back massage), a family pass to the nearby National Stud & Japanese Gardens and use of the children's playground, children's playroom and leisure centre.
The Heritage is the perfect destination for a family getaway this Halloween. Available from €520 total stay for two adults and two children, for more information on Mini Halloween Heroes at The Heritage or to book visit www.theheritage.com.
Radisson Blu Hotel, Athlone County West Meath
Pack the bags for all the family and stay for two nights in stylish accommodation at Radisson Blu Hotel, Athlone complete with breakfast each morning. To add to the Halloween fun, families will enjoy their choice of two activities, choose between a day out to Glendeer Pet Farm's Spooktastic Halloween Event, an afternoon of bowling with all the family at The Planet Athlone or savour an in-room Halloween Feast with a family pizza night in the comfort of your own room.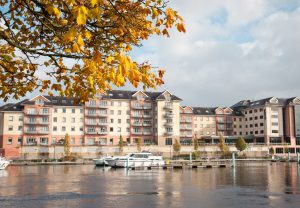 The Magical Midterm package at Radisson Blu Hotel, Athlone is available from 23rd October until 1st November 2020 from €240 per night and includes a two-night family break for two adults and two children with breakfast each morning, a Global Explorers Welcome Bag for the little ones on arrival, complimentary access to the leisure facilities and choice of two family experiences.
I'll finish up with a break in Dublin for anyone with kids –

Make midterm memories at Castleknock Hotel this autumn
Round up the little pumpkins and head to Castleknock Hotel this midterm to make some memories with a fun filled family break.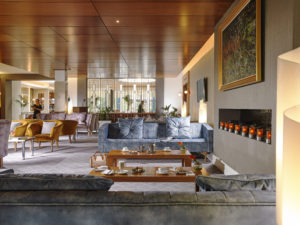 Enjoy a one, two or three-night family break at the award-winning hotel located right next door to Phoenix Park with breakfast each morning and dinner on one evening in Earth & Vine restaurant along with a children's welcome bag in room on arrival to keep the little ones entertained.  Mid-term packages starts at €250 for one night based on two adults and two children. For more information visit www.castleknockhotel.com
Remember you will save 20% of any stay featured here by registering with the spend and save scheme.