Valentines Offers at Ireland's Blue Book Properties
I'm a big fan of a little luxury and night somewhere really special always stands out in my memory. We all like to be spoilt around Valentine's Day and a nice gift of a night away is a present that you can share with your someone special. I have asked the Blue Book to send me some of their best deals and these gorgeous venues are open for a cheeky break all year round so you can be romantic anytime. This is a great way to use up a blue book voucher that you have been gifted in the past. Remember there is no expiry date on a Blue Book Voucher.
Fairy Tale Getaway at Belleek Castle, Co. Mayo
Escape to Belleek Castle for a Fairy Tale Getaway and step into a world full of history and artefacts. For two nights, sleep in the castle, enjoy the authentic rooms furnished with a selection of unique antiques with some rooms offering beautiful four poster beds, while other rooms offering vintage overhead canopies. Relax in front of the castle's open log fires and leave reality behind you. Take in the sprawling castle grounds nestled in the heart of the 200-acre Belleek Woods on the banks of the river Moy and walk the Fairy Trail that loops through the largest woodland in Mayo.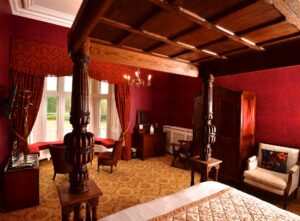 Built on an Abbey dating from Medieval times, the 1820's neo-gothic Castle is informal, cosy, warm and friendly, rich in decor and antiquities, with open log fires to light your steps back through this cultural adventure.
Enjoy a fine dining experience in our award-winning Library Restaurant, have a drink in the Spanish Armada Bar or relax for brunch in Jack Fenn's. Explore Marshall Doran's collection of Fossils, Medieval Weapons & Armour. The team at Belleek Castle have developed a new food philosophy, the spirit of which is to search for more "depth of flavour", exercising both classic and imaginative cooking techniques.
February 2023 (subject to availability) from €250 per night
What is included in the offer:
Luxurious two-night stay
A 3-course dinner for two on the first night at Belleek Castle's award-winning Library Restaurant
A drink voucher per person to be used at their Armada Bar located in the Residents Lounge
How to book this offer:
Please call: (0)96 22400 or visit: https://secure.irelands-blue-book.ie/bookings/specials?lim=29E9C48D7EC3A18BCBF408B8DFEF8CCA
Valentines Heart To Heart – 1 Night Break at the Ice House, Co. Mayo
Spoil the one you love this Valentines with a one-night stay in a luxurious Riverview room, bubbles on ice in your room on arrival and a chocolate treat! Enjoy a themed Table D'hôte Dinner in their restaurant and complete your stay with a lazy breakfast the following morning. Guests can also enjoy unlimited access to the Chill Spa thermal area throughout their stay.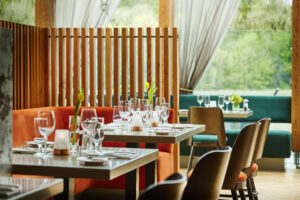 The Ice House is located in a truly iconic building overlooking the spectacular and ever-changing River Moy, at the Quay, Ballina, Co Mayo. Funky furnishings, eclectic styling and stunning architectural design at the Ice House combine to make you feel like you're in the heart of the city. However, just one look at the unrivalled view from all rooms and you'll immediately know you're not.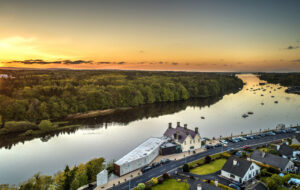 A unique setting, the Ice House comprises of 32 ultra-luxurious heritage and contemporary bedrooms and suites, all with panoramic river views, featuring underfloor heating, goose down duvets and pillows, and VOYA lotions and potions. With great service, fantastic food, fine wines, clever cocktails and Ireland's best boutique hotel spa guaranteed to soothe, the Ice House is unlike any other hotel in Mayo. Discover the best of both worlds in Ballina and make the Ice House your own.
Wednesday 15th February – Thursday 16th February 2023 €385 per room per night
What is included in the offer:
A luxurious overnight stay in a Riverview room
Breakfast the following morning
Complimentary and unlimited use of their award-winning Chill Spa thermal area and Spa Garden with outdoor hot tubs and a sauna
Bubbles on ice in your room on arrival with a chocolate treat
How to book this offer:
Please call: (0)96 23500 or visit: https://secure.irelands-blue-book.ie/bookings/specials?lim=BABEF27895EAF7F8D9ED4C27F50E2151
A Georgian Valentines Experience at No.1 Pery Square Hotel & Spa, Co. Limerick
Experience Valentines in Limerick's Historic Georgian Quarter. Step back in time and indulge your loved one with a luxurious night of pampering at No.1 Pery Square Hotel. Be part of a very exclusive valentines themed 6 course tasting menu and ease down to breakfast the following morning with all food cooked to order.
Overlooking the handsome, tree-lined Peoples Park in Limerick's historic Georgian Quarter, No.1 Pery Square is a luxurious and intimate boutique townhouse. Situated just a 5 minutes' walk from the city centre & the train/bus station. The house comprises of 20 bedrooms all individually named and styled.
Delicious food & wine served at Sash and the park room lounge. No 1 Pery Square also houses an organic VOYA spa tucked away in the basement vaults and own kitchen garden, rooms full of personality and style throughout and a boutique wine shop.
Date: Tuesday 14th February – Wednesday 15th February 2023 Price: From €398 total stay
What is included in the offer:
A luxurious overnight stay
Breakfast the following morning
6 course tasting menu at the Sash Restaurant
Lavender & Rosemary Bath Salts to enjoy during your stay
How to book this offer:
Please call: (0)61 402402 or visit: https://secure.irelands-blue-book.ie/bookings/specials?lim=70BD720710B119996EF2BA362115E732
Valentines 2 Night 1 Tasting Menu Break at Aherne's Townhouse & Restaurant, Co. Cork
 Chef David in Aherne's has designed a tasting menu bringing together the sense of tradition and history that is so important in Aherne's. Including the finest fish from the day's catch in Youghal Harbour, locally reared beef and lamb, seasonal vegetables, local artisan produce and a delicious array of home baked goods.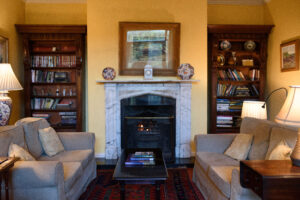 Open wood fires and the warmest of welcomes await you in this family-run hotel in the historic walled port of Youghal. The bedrooms are stylishly furnished and exude comfort and luxury. The famous seafood bar and restaurant specialise in the freshest locally caught seafood (lobster, oysters, crab, prawns, mussels, salmon, squid, sole etc.) Choose from the a la carte or set menus. Aherne's tasting menus include imaginative and traditional dishes created by owner and Head Chef, David Fitzgibbon. Prepared with the best of local ingredients, each dish comes with carefully selected wines, perfect if you are looking for an extra-special night out.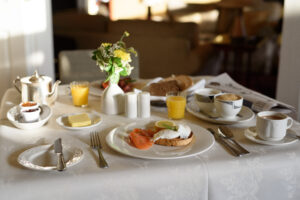 The bar is renowned for its friendliness; you can enjoy a chat with the locals along with your Guinness and seafood. Gluten-free meals have been served in both the restaurant and the seafood bar for over 20 Years. Embrace the outdoors along the fabulous cliffs in Ardmore/Ballycotton and Knockadoon Head or hike up the Comeraghs or the Vee Gap. Visit Spike Island, Fota Wildlife Park, Cobh Queenstown, Jameson Irish Whiskey Distillery, Blarney Castle or the Rock of Cashel all within easy driving distance.
Price:
From €270 per person Friday 10th February – Sunday 12th February 2023
What is included in the offer:
Two-night stay
Breakfast on both mornings
A delicious 8 course tasting menu on one night
How to book this offer:
Please call: (0)24 92424 or visit: https://secure.irelands-blue-book.ie/bookings/specials?lim=886AB45EBB7B2ACC1152BE01F2A2D3B5
Valentine's – Let There Be Love at The Old Inn, Co. Down
Enjoy the perfect Valentines getaway, from relaxing in the Treetop Spa, a drink (or two) by the cosy fire in the 1614 Bar, opulent guestrooms, and a delicious breakfast before you head home.
Nestled in the charming village of Crawfordsburn in beautiful County Down, The Old Inn is near castles, beaches, forest parks, a Royal Palace and the world's top links golf course; the perfect place to spend a rural break. The Old Inn dates to 1614 and is labelled as one of the region's most historic hotels due in part to its links with author and 20th Century Literary icon C.S. Lewis. A new chapter in an iconic age-old story, you'll find The Old Inn is a place where classic Victorian design meets elegant authentic luxury, embodying a playful blend of the old and new, the local with the worldly.
Named in the Irish Independent's Fab 50, a prestigious accolade for best places to stay in Ireland in 2022, The Old Inn is like home away from home, with personable service and an easy-going atmosphere. Guests can kick off their shoes and get comfortable in a guestroom that suits every mood. From cosy Petite rooms to more spacious junior suites, complete with a standalone copper bathtub for ultimate relaxation. Amp up the luxury with Suites that offer their own private hot tub. The rustic cottage is perfect for a peaceful getaway, complete with a private hot tub which overlooks Crawfordsburn country park.
Friday 10th February – Saturday 11th February Price: From £330 total stay
What's included in the offer:
A luxurious overnight stay
Access to the Treetop Spa
Bottle of bubbles in your room on arrival
A 3-course dinner in The Restaurant
Full Irish breakfast the following morning
Entertainment in the 1614 Bar Friday – Sunday from 9pm
How to book this offer:
Please call: +44 (0)28 9185 3255 or visit: https://secure.irelands-blue-book.ie/bookings/specials?lim=24BFC82703F10BAA7D7455A72BF588BB