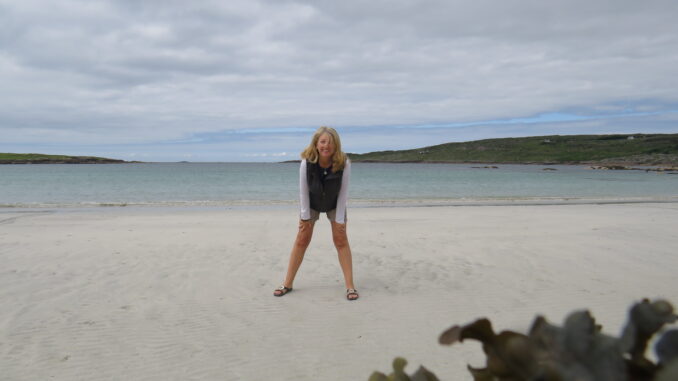 Ireland's best beaches are too numerous to mention and for many of us and especially those living inland they are looking forward to a trip by the sea when we can travel outside current restrictions. I've put together a selection of my favourites with suggestions for places to stay in some of Ireland's most beautiful counties.
Wicklow Brittas Bay
Brittas has a 5km stretch of powdery sand and sand dunes, it is designated as a proposed Special Area of Conservation (SAC). It is an area of ecological importance and habitats of interest include sand dunes, ferns and grassland areas. The landscape is dominated by the dunes which cover approx 100 hectares. The beach is life guarded throughout the bathing season.
Brittas Bay has been awarded 'European Union (EU) Blue Flag' . With no headlands to interfere with the peaceful rhythm, it is ideal for bathing, sailing and walking.
Rivervalley campsites.
Your perfect holiday awaits in beautiful County Wicklow
Nestled in stunningly beautiful County Wicklow, Ireland, River Valley Caravan & Camping Holiday Park is the perfect choice whether you are a Family with Children seeking a Family Camping Holiday destination with fun and activities, or a couple seeking a holiday with a little piece and quiet.
Due to careful planning our Caravanning & Camping Holiday Park is laid out in such a way that families with kids get to be near great amenities like for example crazy golf, kids camps, petting zoo, pool tables, remote control cars & boats, tiny tots playgrounds etc.
While Adult Couples are conveniently accommodated in a totally separate part of the Holiday Camping Park known as the Secret Garden, where our couples get to enjoy a child-free, adult only camping accommodation area, free from noise, bikes and games.
All of this goes into making River Valley Holiday Park the perfect Motorhome, Caravanning & Camping destination in Ireland. Check out our Glamping Treehouses, Kukoo Huts, Maxilodges and Microlodges too.
Rates per night for camping with your own tent and caravan
€13.00 for the site fee (low season – March, April, May and September)
€14.00 for the site fee (June, July and August)
€7.00 per adult
€5.00 per child
€5.00 for electric hook up
Example: 1 caravan with two adults and electric is €32 for low season or €33 for high season.
Example: 1 caravan with two adults and two children with electric is €42 low season or €43 high season.
* * * * * *  * * * * *
Wexford
Wexford Curracloe – everyone has heard of this beach and it was famous for being the site for filming Saving Private Ryan –
Curracloe is long wide fine stretch of beach with 3 main entrances known locally as Ballinsker/White Gap/Culletons Gap running north to south, White Gap being the largest. Culletons Gap is bordered by the Raven Nature Reserve and forestry.
Awards: Blue Flag, Identified Bathing Water
Carpark: Approx 500 parking spaces with the majority at White Gap. 4 and 2 disabled spaces at White Gap and Ballineskar respectively.
Lesser known is morriscastlestrand….and both of these beaches offer wheelchair hire free so look up wexford county council for more information https://www.wexfordcoco.ie/environment/beaches/beaches-including-beach-wheelchairs
Awards: Blue Flag, Identified Bathing Water
Car Park: Road parking and parking in the car park available parking spaces with 2 disabled spaces in the car park. See Photos below.
Access to beach: Access is by Car park to a wooden sleeper walkway. Access for the disabled can be difficult due to wind blown sand on walkway which slopes slightly to sea.
Sand Type: Sand type is soft and wind blown.
Toilet Facilities: Male, Female and disabled toilet available all year. Universal key is required to gain access to the accessible toilets. Outside cold shower available.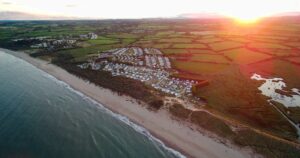 https://morriscastlestrand.com/
The pods are available to book for a longer stay now and you can book them from the 30th of April until the 27th of September.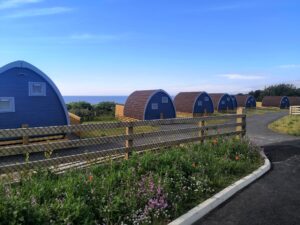 for more information www.visitwexford.ie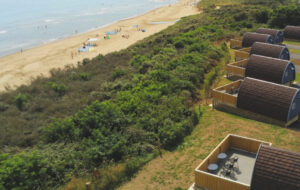 * * * * * *  * * * * *
Galway
I have a favourite beach that is a gem and it rivals Dogs Bay because it is an actual coral beach – this means that instead of sand coral lines the coast….I was sent video from Padraic who is host of tours of the area. It is near to Lettermullen and coming soon is a brand new seaweed centre and museum. Included in this will be a seaweed spa where you can soak up all the goodness from the sea.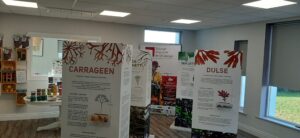 Connemara Pub Tours & Secret Connemara.
Padraic Ó Ráighne, a native of Connemara offers a range of tours throughout Connemara and the Aran Islands from traditional pub tours to food and cultural experiences showcasing the best Connemara has to offer with particular emphasis on the Gaeltacht region of Connemara. From food producers to craft making workshops, from fireside seanós dancing and singing sessions to sailing on a Galway Hooker, we can create personally guided local experiences for you throughout Connemara and the Aran Islands.
* * * * * *  * * * * *
Sligo
4 Star Strandhill Lodge & Suites

Website: https://www.strandhilllodgeandsuites.ie/
·    2 NIGHT MYSTICAL MEAVE WALKING BREAK FROM €250 PP
Two Nights in a Deluxe Balcony Room at Strandhill Lodge & Suites overlooking the Wild Atlantic Way, a Breakfast hamper delivered to your room each morning. On the day after you arrive enjoy A Relaxing Beach Yoga session on Strandhill beach, followed by a guided walk with Seatrails up Mount Knocknarea describing the archaelogy and folklore or Queen Medbs tomb and then that evening a romantic meal for two in the Venue Bar and Restaurant.
NORMAL PEOPLE ROMANTIC BREAK-AWAY FROM 360PP
Enjoy a romantic two-night stay with a room overlooking the Wild Atlantic Way with dinner on one evening of your choice. Travel in the footsteps of Marianne and Connell taking in the fictional town of Carricklea and have a gourmet picnic basket on the shores of the beach where they sat. Wrap up the stay with a shared room in the Voya Seaweed Baths…
* * * * * *  * * * * *
Donegal
Seaside Hotels
Rossnowlagh beach is located approximately 8 kilometres south of Donegal Town, and has soft, golden sand and exceptional views, Rossnowlagh is very popular with both local residents and tourists.
The surf here is perfect for beginners and the local surf school offers tuition and equipment rental. As well as surfers, this beach also attracts walkers, swimmers and sailors.
Sandhouse Hotel, Rossnowlagh, Co. Donegal
A haven of peace and tranquility on the Wild Atlantic Way, nestled in a quiet corner of County Donegal
The Sandhouse Hotel is perched on the edge of the Atlantic Ocean, overlooking miles of secluded sandy beach in a quiet corner of beautiful Co Donegal.
https://www.youtube.com/watch?v=ZZHZ3hLpS6s
Website link https://www.originalirishhotels.com/hotels/sandhouse-hotel
Offer / B&B from -1 Nights Dinner & B&B from €198 based on 2 people sharing
Arnolds Hotel, Dunfanaghy, Co. Donegal
Dunfanaghy is surrounded by superb, safe, clean, sandy beaches.
Within short walking distance of Dunfanaghy is the Blue Flag Kilahoey Strand, and within slightly longer, and very dramatic, walking distance is the majestic Tramore.
A short drive brings you to Marblehill beach, another Blue Flag beach which is popular for surfing as well as swimming and relaxing.
A couple of miles away are the beautiful beaches surrounding Ards Forest, and Ards Friary.
Arnolds Hotel is nestled in the pretty seaside Donegal village of Dunfanaghy on the Wild Atlantic Way, the family-run Arnolds Hotel is renowned for excellence in food and hospitality, and a quality of service designed to ensure your comfort. Spectacular vistas of Sheephaven Bay and the golden sands of Killahoey Beach just a short stroll away – the perfect spot to relax and unwind.
Website link – https://www.originalirishhotels.com/hotels/arnolds-hotel
Offer / B&B from – Double Room from €132 per night B&B
* * * * * *  * * * * *
Cork
In the Ballycotton Bay area there is a sandy beach that stretches for miles east from Silverstrand to Ballycrenane beach.
The beaches:
Silverstrand beach can be accessed from Ballycotton village on foot.
Ballynamona is a very safe beach for children to swim in and there is plenty of sand to built sand castles.
Ardnahinch has a car park and slip road to the beach. Between here and Garryvoe beach there are some great rocks for children to climb.
Garryvoe is a mixed pebble beach and a great destination for families. It has a children's playground, shop, picnic area, car park, wheel chair access to the beach, public toilets & Garryvoe Hotel which serves seafood, steaks and more, as well as a children's menu.
Ballywilling is the perfect beach it you want a quieter time. There is a car park and slip road to the beach.
Ballycrenane has a car park with good access to the beach. This is also a good spot for beach fishing.
Bayview Hotel, Ballycotton, Co. Cork
An elegant manor house, offering stunning views over miles of coastline, a perfect retreat from a busy world
For over 700 years, the little harbour of Ballycotton, Co Cork, has been a haven for seafarers. Today, the Bayview Hotel affords rest and retreat, combining a sure sense of comfort and style with good dining and attentive service.
The Bayview, with its elevated aspect over the splendid coastline, lives up to its name in spectacular fashion. Pleasant gardens give access to one of Ireland's loveliest bathing spots and there are miles of sandy beaches within easy reach.
Website link – https://www.originalirishhotels.com/hotels/bayview-hotel
Offer / B&B from- 2 Nights Bed & Breakfast with 1 Evening Meal from €149pps
Enjoy a 2 Night break with full Irish Breakfast each morning and 1 evening meal.   Romantically overlooking miles of spectacular coastline, nestled in the unspoilt fishing village of Ballycotton.
Offer includes complimentary access to the Health Club at our sister hotel, Garryvoe Hotel which includes :  25m Lap Pool, Splash Pool and Water Jet Massage Area, Aqua Jogging Ring, 1,200 square feet Gym with 40 pieces of the latest Technogym equipment, Top Quality Sauna, Invigorating Outdoor Hot Tub, & Steam Room.
Garryvoe Beach Cork
Garryvoe in County Cork has a popular beach with families and has a playground nearby.
Garryvoe Beach is located just off the road from Ladysbridge to Shanagarry in County Cork. It is a mixed pebble beach and a great destination for families. The beach has a public car park, toilet facilities and wheelchair access is provided.
It is lifeguarded during the bathing season and more information can be found on the notice board located at the beach.
Garryvoe Hotel, Co. Cork
An impressive coastal location, overlooking one of Ireland's finest beaches in Ballycotton, Co. Cork
There has been a hotel on the beach at Garryvoe since the early 1900s and while the world has changed beyond recognition, some things have thankfully remained the same – the golden, sandy, five-mile beach; the view of Ballycotton and its lighthouse, and the smiling faces at the Garryvoe Hotel – a family-owned, independent four-star hotel.
Website link – https://www.originalirishhotels.com/hotels/garryvoe-hotel
Offer / B&B from – 3 nights Bed & Breakfast, 1 Evening Meal (Midweek)
3 night stay with Full Irish breakfast each morning, dinner in the Lighthouse Bistro on one evening of your choice. This offer includes complimentary access to our Health Club
FROM €215.00 PER PERSON
Do Check out my event with the Hope Foundation Book Club this March 18th it's only €10 to join and I've reduced the price of my ebook to €4.99 on amazon and it is only €14.99 from https://swiftbooks.ie/product/journey-to-the-heartland/.