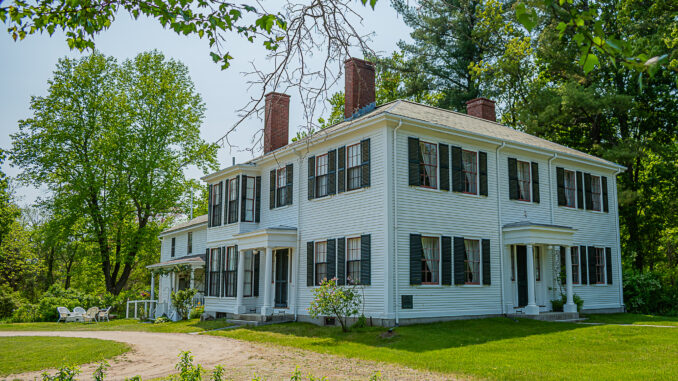 I've found through my travels that the best way to truly engage with an author's spirit is to visit a house where they once lived. New England is a corner of the United States bursting with homes and landmarks associated with Great American Writers but the question is where to start?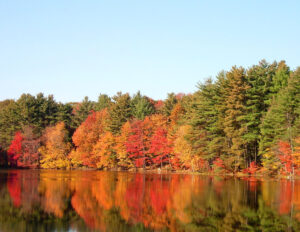 Arguably Boston is the home to great book shops and academic learning but to snake a trail through Massachusetts and Connecticut is in my mind a Bibliophile's perfect road trip. The true heavyweight writers can be found twenty miles north-west of Boston in Concord, at the core of Massachusetts State. This willowy town shrouded with lush greenery and quaint stores boasts more than its fair share of literary connections. Historically Concord played a pivotal role in the American Revolution but that's another story. It's at Sleepy Hollow Cemetery that Louisa May Alcott, Henri David Thoreau, Ralph Waldo Emerson and Nathaniel Hawthorne are all laid to rest. This bowl shaped plot of land is the perfect spot to meditate and commune with nature which is in essence what the Transcendentalist's ideal was all about.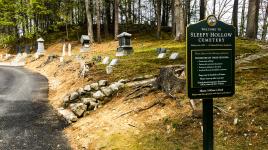 The home and setting for Louisa May Alcott's novel, Little Women, is preserved as it was when she wrote about heroine Jo and her sisters for the iconic novel which continues to resonate today. Orchard House was purchased by Alcott's father Branson, who also was a part of the Transcendentalist movement established by Ralph Waldo Emerson. Probably the most influential thinker of this time Emerson having written a small 90 page book entitled Nature encouraged writers to move to Concord – notably his ancestors founded the town following the war of 1812. The Old Manse House where he wrote the inspirational book is another museum and was also habited by Nathaniel Hawthorne.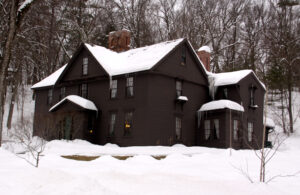 Amongst a setting of mature fruit trees that shape this pretty town the Orchard House is a must see to soak up the ideals of the time. The Transcendentalists group who were nature lovers and abolitionists would gather here to discuss their writing and poetry. It must have been a remarkable time for these neighbours with their hopes in creating a new ideal of America that included equality and freedom of expression. The house is open seven days a week. See louisamayalcott.org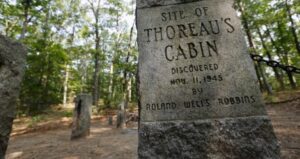 It was a fresh September day as autumn was descending on New England when I first visited Walden Pond – a short drive from Concord. I'd recently finished reading Walden by Henry David Thoreau and it was my first flurry with philosophy on my journey to becoming a published novelist. The peaceful and tranquil setting was a real pilgrimage worth taking as I explored the replica of the tiny dwelling where Thoreau lived for two years two months and two days from July 4th 1845.
"I went to the woods because I wished to live deliberately, to front only the essential facts of life, and see if I could not learn what it had to teach, and not, when I came to die, discover that I had not lived."
Walden, or Life in the Woods, highlights the injustices of society at large and proposes a way of living instead in harmony with the natural world. Something that is even more prescient in today's world. Thoreau was a man of principals and one of the first environmentalists to put into practice a purposeful way of living that resonates significantly to those searching for the real meaning of life in a simple way. However had it not been for the generosity of Ralph Waldo Emerson allowing the eccentric Thoreau to stay on his land – Walden may never have been written.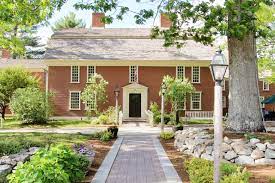 Food for thought however doesn't fill the belly but another epic landmark offered that option about ten miles away in a westerly direction – Longfellow's Wayside Inn. This charming country house and restaurant transported me back to the days of stagecoaches and highwaymen with waiters dressed in pilgrim clothes from the 18th century. The Wayside Inn has been catering for guests since 1716 and most notably it is the setting that inspired the charming book of short stories by Henri Wadsworth Longfellow Tales of a Wayside Inn.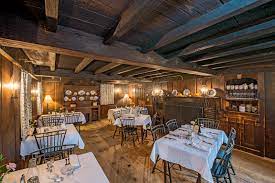 Longfellow in turn was inspired by the genius of Dante when composing this collection but is probably best known for his poetry about Paul Revere's Ride and The Song of Hiawatha. Indeed while stopping off in Boston it is worth dropping in to the Paul Revere House in the North End. It's a great spot for dining in one of the typical Italian Trattoria to be found in the area, and of course the iconic Union Oyster House is nearby also.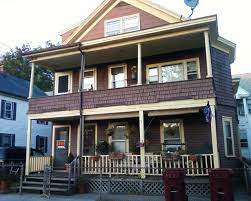 An unlikely literary spot is in the town of Lowell, a blue collar mill town north of Concord and birthplace of Jack Kerouac. If he was still On the Road he would have turned 100 this year. No writer sums up the tempo or rhythm of the Beat Generation better than Kerouac who spent his early years in a house that is now a museum. After he went to New York on a football scholarship Kerouac found a voice that would have the biggest impact on his style. The sound of jazz runs through his novels and On the Road is infused with the essence of the time he spent post World War II driving around the country. This autumn offers the chance for fans of the writer to celebrate the beatnik generation in Kerouac's hometown.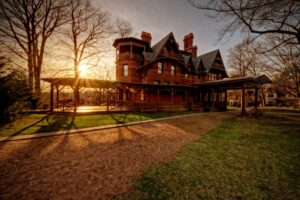 Visiting an authors home is also an opportunity to touch the furnishings that the author sat on and read words written in their own hand. It sends shivers up my spine when I see the pens and handwritten notes once touched by a writer who has passed away and confirms to me that words make the finest legacies. Hartford in the neighbouring state of Connecticut is host to two houses that are a must for literary lovers. "To us our house…had a heart, and a soul, and eyes to see us with;" so said the witty and remarkable writer Samuel Clemens. Author of The Adventures of Tom Sawyer and The Prince and the Pauper he is of course better known as Mark Twain. The Gothic mansion where he wrote his most seminal works is a cornucopia of delights with exotic vases and carved furniture that reflects the brilliant mind of the man who has left us with some of the wisest and best quotes in English Literature. The house offers the unique opportunity to book three hours writing time in Twain's own library which for any discerning author must surely provide some divine inspiration. The price for each session is $50 and only 8 permitted at a time.
It is poignant that Twain's friend, who he admired and defended greatly, Harriet Beecher Stowe lived around the corner and her house is now open to public also. 'There is more done with pens than with swords,' according to Stowe, the author of the largest selling novel of the 19th century, Uncle Tom's Cabin. Being an abolitionist her work is credited by many to have been instrumental in the cause of the American Civil War. The Harriet Beecher Stowe House is today preserved in its original Victorian splendour and carries on the legacy of the author in the form of inspirational debate with a tour-guide. The centre displays not only the style and decorations that Stowe enjoyed during her 23 years living in the house but also some of the authors own oil paintings. The mission of the centre is to inspire inspirational commitment to social justice and positive change which is enough reason to visit in itself. Tour visits are limited and booking on line is recommended. www.harrietbeecherstowecenter.org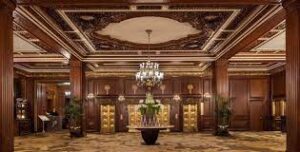 No literary trip to New England would be complete without a stop off in Boston at the Omni Parker House Hotel. The hotel is the oldest still in use in America and was a favourite haunt of some of the writers that I followed around on my travels through Massachusetts. Be sure to try the Boston Cream Pie which is a speciality of this old world hotel that is steeped in atmosphere and dates back to 1856. It's nice to imagine the many writers who have visited sitting around a table in the plush finery of 19th century style. It's even better that we can hear their voices in the words that the left us – keeping their spirits alive today.
Highlights
Lowell Celebrates Kerouac Festival from 6th – 10th October 2022
The October Festival features tours of Kerouac Lowell places including many sites described in his Lowell-based novels. Panel discussions, reading, jazz and folk music, films,
open mike events, high poetry competition, book signings, and more are all planned to run over this four day festival.
More info at www.lowellcelebrateskerouac.org
Highlights
Salem, Massachusetts, is a thirty minute train ride north of Boston and home to more than the infamous witch trials. The House of the Seven Gables from the gothic novel of the same name by Nathaniel Hawthorn in Salem, is a landmark and part of the trolley tour around this quaint town. Oozing with exciting happenings Salem is a must see with historic architecture and supernatural stores – especially during October with the build up to Halloween. This stolid colonial mansion dates back to the 1600's and is now an intriguing museum. www.7gables.org
Fact Box
For more about New England see https://discovernewengland.org/
A fly drive through New England with Sunway Holidays www.sunway.ie
Price from €1999pp
This includes return direct flights to Boston including checked bag, Car Hire for 10 Days p/u & d/o Boston Airport, Hotels 3* standard for each destination above, 9 Nights
This price is based on October/November departure