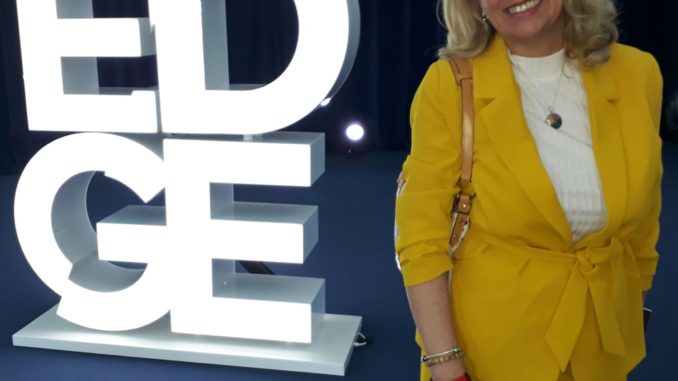 Celebrity Cruises new game changing ship, Celebrity Edge, has arrived in Europe and cruisers will be thrilled and excited with this wonderful new addition to their already exquisite long list of ships. I'll be chatting with Ivan Yates on Newstalk about what's new on the ship and what to expect.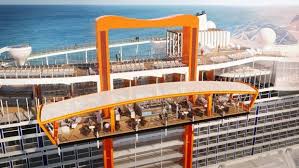 Everyone on board was raving about the technological feat that is the magic carpet designed by Tom Wright who was instrumental in the creation of the Burj Al Arab. The interiors and the styling truly blew me away. Kelly Hoppen is regarded as one of the best interior designers in the business and she has transformed the ships interiors to a new level.  Every nook of the ship is an oasis of calm and relaxation and the modern luxury brand has gone beyond what we expect from the most exclusive hotels on terra ferma.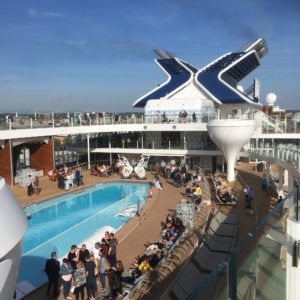 I'll be writing up a full review over the weekend as I haven't come back to earth properly after my two days of bliss but look out for the packages available from click and go this summer which include drinks. Especially availability on Celebrity Edge For more information or to See full compliment of Celebrity cruises go to  www.celebritycruises.co.uk
* * * * * * * * * * * * * * * * * *  *
I've pulled together these great offers from Click and Go for sailing this year.
Check out www.clickandgo.com Call 01 699 5186 to speak to their cruise team
Mediterranean Cruise
Celebrity Edge
Travel 20th July or 3rd August
Ocean View Stateroom: €2,199
Balcony Stateroom: €2,399
Price Includes
Flights to Barcelona, return from Rome
Carry-on luggage
7 night sailing in Ocean view stateroom
All meals & snacks
Classic All Inclusive Drinks Package
Gratuities
Itinerary: Barcelona, Spain – Valencia, Spain – Ibiza, Spain – Marseilles, France – Nice, France – Florence /Pisa, Italy – Rome, Italy
* * * * * * * * * * * *
Alaska Cruise
Celebrity Eclipse
9 nights (2 nights hotel + 7 night cruise)
Destination
Alaska
9 nights (May – September 2019)
Itinerary: Vancouver, Canada – Inside Passage – Icy Strait Point, Alaska – Hubbard Glacier – Juneau, Alaska – Ketchikan, Alaska – Inside Passage – Vancouver, Canada
Includes:Return flights from Dublin, checked in bag, 2 night hotel stay pre cruise in Vancouver, 7 night cruise in a balcony stateroom, all meals & snacks, entertainment, Gratuities, Classic All Inclusive drinks package
Upgrades:FREE Ocean to Balcony stateroom upgrade including Classic All Inclusive drinks package & Gratuities
https://www.clickandgo.com/holidays/cruise/
* * * * * * * * * * * *
Caribbean Cruise
Celebrity Equinox
7 nights (1 night hotel + 6 night sailing)
Itinerary: Fort Lauderdale, Florida – Key West, Florida – Puerto Costa Maya, Mexico – Cozumel, Mexico – Fort Lauderdale, Florida
Includes:Return flights from Dublin, checked in bag, 1 night hotel stay pre cruise in Ft. Lauderdale, 6 night cruise in a balcony stateroom, all meals & snacks, entertainment, Classic All Inclusive drinks package
Upgrades:FREE Ocean to Balcony stateroom upgrade including Classic All Inclusive drinks package
* * * * * * * * * * * * **