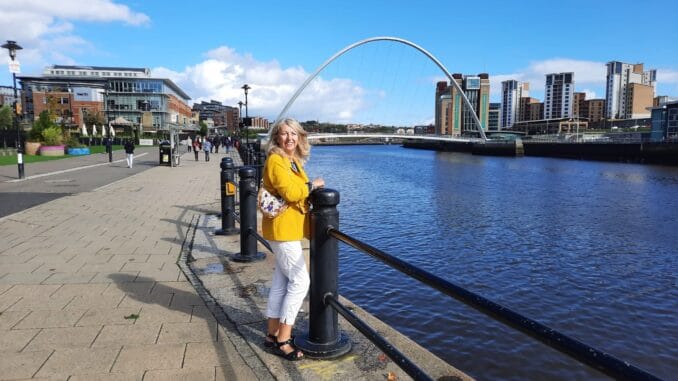 It isn't often that I get the chance on my travels to go back in time but that's exactly what happened when I took my first flight for 19 months in September. My journey began at Dublin Airport with a busy queue at security as to be expected on a Saturday morning but it was at Duty Free where the time travel started. Every passenger to the UK is now allowed to buy a litre of spirits at Duty Free prices – like the old days. So we picked up a boxed bottle of Crested Ten Jameson for only €19.50 and as I was travelling with my other half we couldn't pass by the litre of Bushmills Whiskey for only €13.
We ate a delicious breakfast at Marquette Restaurant, and at leisure too as we had give too much time to avoid the delays – that didn't happen. And apart from the masks on passengers and staff and social distancing in lines, the experience was as normal as my last flight pre-pandemic. On landing in Newcastle our flight was given domestic status as the UK recognise Ireland as a CTA (Common Travel Area) – another time travel throwback.  It felt like arriving in the 1990s with no passport check or personal locator forms or Digital Certificates needed.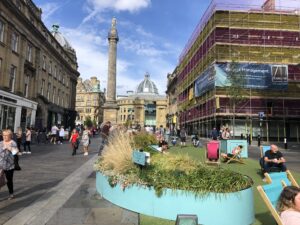 Newcastle has a good metro system with direct access to the centre of the town and once we arrived at the Grey's Monument it was back to normal. Shops and restaurants are open without restrictions or masks. I even spent some time in the casino with my first roulette spin since my last pre-pandemic cruise and came out £45 up!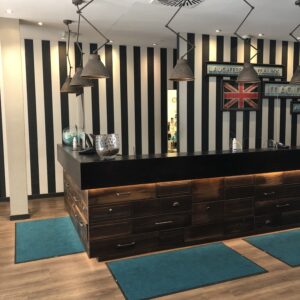 We checked into the Motel One in a fabulous location at the heart of the city. This is where we leaped forward in time as this German hotel chain has a clever approach providing affordable accommodation while embracing sustainability. Every Motel One reflects the host city in its décor and it's no coincidence that the bold black and white wallpaper in reception is a nod to the Newcastle Football Club kit. The images of industry and the Tyne Bridge in the cool interiors give this hotel a unique boutique ambiance. Motel One's are based in most European capitals cities and Dublin can look forward to its first Motel One opening in 2022.
Our room was small but the bed was huge – same for the bathroom but the shower fit two people comfortably! The coffee making facility was hidden behind a slick pull down shelf and with handy USB ports for phone charging this is a hotel prepared for the future. We enjoyed unspoilt views of the Baltic (fabulous art museum) and SAGE buildings peeping over the rooftops from our window. https://www.motel-one.com/en/hotels/newcastle/
Next morning breakfast was served in the extended lobby and bar which is all open plan. Guests pick their own cutlery and plates from a sleek buffet that is covered by a sliding door once breakfast is over – no wasted space or cleaning. The croissants and pain au chocolat were probably the freshest I've tasted and although breakfast was continental there were plenty of meats, cheeses and fruit.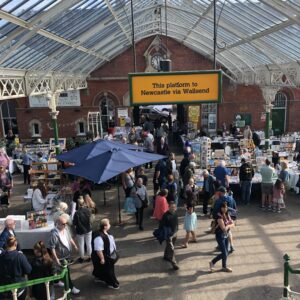 The best way to get your bearings in any city is to take a walking tour but as this wasn't my first experience in Newcastle I was keen to explore the outskirts. Sunday morning we rambled around Tynemouth Market, a sprawling fun day out located at Tynemouth Train Station. The mix of stalls selling old and new goods from vinyl records to crystals was as you'd expect but the absence of masks and smiling faces made the experience friendlier.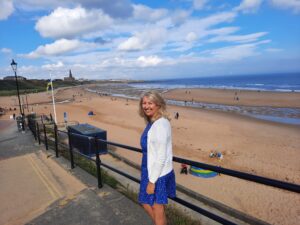 Tynemouth is a quaint town popular at weekends with buzzing bars and plenty of dining experiences. The old church on the main street is now a foodhall with anything from Cuban tapas to pies.  Tynemouth was once the home of Admiral Collingwood who took over from Admiral Nelson as Commander in Chief at the battle of Trafalgar. The Collingwood monument towers above the sea and nearby the Castle and Priory are reminders of the historic importance of this town positioned at the mouth of the River Tyne.
We caught the last warm rays of Autumnal sunshine and took a stroll along the coast to Whitley Bay. As we passed by Tynemouth Aquarium, the surf boarders headed to catch the waves on the endless stretch of unspoilt beaches where the past and future now blend in harmony. The wind farms out in the North Sea mark a nod to the future and sustainable energy and in stark contrast to this areas once historic dependence on coal and a nod to the past. Quaint fish and chip shops mix with artisan cafes and I realise there's much left to explore in the North-East of England. Our time travel adventures were complete later that evening with bars open and dancing in full swing – offering hope for brighter travel days ahead.
For more see www.newcastlegateshead.com or https://www.motel-one.com/en/hotels/newcastle/hotel-newcastle/