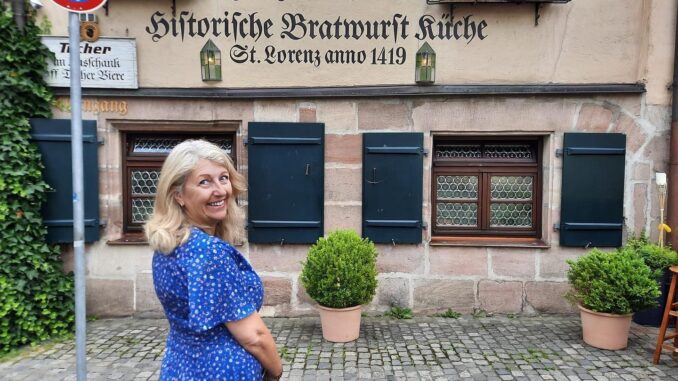 This week I'm taking a look at some great destinations for a city break. I've been on my travels since the end of June and navigated four airports with varied success. The autumn is shaping up to be a better time to travel so I've some inspirational cities to visit and hopefully you will find one to suit your taste!
Become a Derry Girl for the weekend – close to home so easy to get to! So much to see and do in this city filled with history and the Foyle Maritime Festival starts on July 20th until July 24th. For more information see https://www.visitderry.com/whats-on/foyle-maritime-festival
The Derry Walls are the only maiden city walls still intact in Ireland or the UK. Lots of great tours such as the Free Derry Tour which includes a guided walk around the streets where Bloody Sunday happened. I made time to see the Museum of Free Derry which is thought-provoking and well worth the visit.  Derry Craft Village showcasing beautiful handcrafts and coffee shops that are worth checking out. www.derrycraftvillage.com
Next week the Foyle Maritime Festival sees the clipper ships from the Round the World Yacht Race end in the dockside with great fun for all the family. The 2022 Foyle Maritime Festival will celebrate and acknowledge 'What Lies Beneath' our beautiful seas and oceans. From the remarkable sea and plant life, to the damage of climate change and pollution, we will showcase a life beneath the surface.
Bringing to life the magic and wonder of the world under water, the festival will feature breathtaking large scale props including an 18 metre long whale, seemingly endless sea tentacles, illuminated jellyfish, and giant sea urchins. Visitors can look forward to a display of light, sound, and performance, a transformational trip through our oceans with fun family activities on the banks of the Foyle. Read more about my stay at the last event here Foyle Maritime Festival
There are plenty of wonderful hotels such as Bishopsgate which is set within city the city walls
Bishopsgate Hotel is part of Ireland's Blue Book and to stay there this summer for two nights the rate is B&B and dinner one night is €354 for two people during the Festival – for one night with dinner the price is £205 but this autumn that drops to £119
Great news for foodies, Browns in Town has opened up in Derry with expert chefs Ian Orr and Marcus Roulston from Ardtara Country House at the helm.
There are lots of cities to visit in the UK but I've a favourite, especially for value, and that's Newcastle. It takes a short 50 minutes with Ryaniar and Aer Lingus to fly there – set on the river Tyne Newcastle Gateshead is buzzing and great fun for a cheeky weekend. I went over recently to a concert and the airport is very easy to get through with a direct metro into the city centre – only €4
Newcastle is a welcoming town and it's not just for stags and hens. It's understandable why they go there as is it's so cheap – 9.10 for two pints and a glass of beer – even with sterling exchange it's great value
Famous for great sights such as the Tyne Bridge and Angel of the North but it's also close to Hadrians Wall. It has a super transport out to Tynemouth which has a great market and the beach stretches for miles out to Whitely Bay. One of my favourite places to visit is The Baltic Museum which is an old flour mill that hosts contemporary exhibitions and is celebrating it's 20th year this week. Another great spot to visit in Gateshead is Beamish. Beamish is a world famous open air museum, telling the story of life in North East England during the 1820s, 1900s, 1940s and 1950s. It's a great filming location and series such as Downtown Abbey have been filmed there.
I stayed at the Melia inside hotel which is in a great location with gorgeous views and it has the signature Gino Da Campo restaurant – we all love the show he does with Gordon Ramsey and Fred….on VMTV
Rates to stay at the Melia Innside Newcastle – with Gino Da Campo Restaurant on site are from €112 midweek and goes up to €175 per night at weekends
Flights are with both Aer Lingus and Ryanair but if you want protection go to your travel agent to book for you
Amsterdam is often described as the Venice of the North with its pretty flower covered canals but it is steeped in history that takes days to unravel – It's great for all ages but especially the fit as it's a walking and cycling city. Public transport is good and we took a train straight into the city with only three stops that took just over 20 minutes.
Get an iamsterdam card to save money from transport to museums and for discounts in shops and restaurants. A two day card is €90 but a three day is only €110. Included in the card is a free Yellow bike tour great way to see the city. You've a choice of canal tours but we took the more leisurely canal tour with Blue Boats – be warned to bring your own refreshments on board.
The Ann frank house is probably the most unique and important place to see in Amsterdam. During the Second World War Anne and her family hid out in her father's warehouse to avoid being taken to a concentration camp. unfortunately only a couple of weeks before the end of the war she was found and taken away at only the age of 15 years. Her story is harrowing and it brings to light the importance that we learn about what happened during this dark time in European History and that we never forget. Booking a ticket before visiting is essential and costs €14 for adults https://www.annefrank.org/en/about-us/contact/
To make the best use of the iamsterdam card go to some of the many fabulous art galleries and museums. I enjoyed wandering around the Flea market which is close to Neumarkt – a good place to explore for nightlife. The Heineken Experience is another great way to put in the afternoon. We enjoyed a discount with the iamsterdam card of 20% making the cost just over €15 and included in the tour are two glasses of Heineken. https://www.heinekenexperience.com/en/
Kimpton de Witt hotel is a charming city centre Hotel in a great location next to Central Station. Decorated with modern chic styling it offers guests free drinks and traditional food Bitterballen everyday at 4pm in the bar. Breakfast at Celia's Restaurant is a delicious mix of European delights that includes waffles, pancakes and the best freshly squeezed orange juice – prices start from €269 per room https://www.kimptondewitthotel.com/en/
Aer Lingus operates 4 daily flights from Dublin to Amsterdam and 2 flights daily from Cork. Fares start from €35.99 each way including taxes and charges. For more information check out aerlingus.com.
Sunway Holidays offer this autumn weekend in a similar 4*Hotel 12th to 15th October €342 pp sharing for 2 sharing.
New direct flights from Dublin with Ryanair opens up this terrific part of Germany which is in the heart of Bavaria. Apparently Nuremberg has one of the best Christmas Markets in Germany and this is the time of year to start thinking about that and booking your trip. Very accessible city with train straight from the airport to city centre in only 15 minutes and again it was very cheap
Stroll through the cobbled picturesque streets and great food – famous for a particular type of sausage much nicer than the frankfurter. I enjoyed lunch at The Golden Stern where I tasted the traditional sausage served with mashed potato. Another traditional delight is the gingerbread which is delicious and I found some lovely artisan shops where you can buy the equipment to make your own cookies. But by far the best meal we enjoyed in Nuremberg was at Frank'ness
Home of the artist Durer whose house survived the second world war – the city had to be rebuilt after the war but retains its medieval charm and many fine art works were saved in the art bunker
The German Museum has wonderful artefacts and a globe that doesn't include America as it hadn't been discovered yet.
Court 600 where Nuremberg trials were held and 20 nazi criminals were tried in 1946. This important museum recalls the atrocities of the second world war and it's important for the next generation to learn and the older generation to not forge
New route direct with Ryanair from Dublin –
Famous for its delicious sausage which is about the size of your finger and it was a medieval city and seat to the holy roman emperor. It has fabulous market in the centre of the town and wonderful walks over medieval bridges.
Nuremberg Christmas Markets
18/12/2022         3 nights Nuremberg         Ringhotel Loews Merkur Hotel     4 Star     Room Only  €259
To get this offer see   Click and Go
Philadelphia was once the capital of the United States and home to one of the city's most famous sons, Benjamin Franklin. An all round over-achiever, Franklin was one of the signatories of The Declaration of Independence. But he was also a scientist, Diplomat, author, inventor, and the list goes on. His resting place is at Christ Church Burial Ground, close to the house where Betsy Ross lived, sometimes credited as the maker of the original stars and stripes flag. If it's more history you'd enjoy then The Liberty Bell is on display in the city centre. Make time to visit the Museum of the American Revolution and home to the original tent, which was used by the countries first president George Washington, displayed in a surprise and spectacular fashion.
For more on History: https://www.discoverphl.com/things-to-do/top-historic-sites-to-see-in-philadelphia/
The City of brotherly love has a huge art scene form the Museum of Art to the Barnes Collection which is one of the finest Impressionist and post Impressionist museums in the world.  Don't miss out on climbing the Rocky Steps and getting your picture with the Rocky statue. One of the best things about Philly is the Tax Free Shopping- info here: https://www.discoverphl.com/things-to-do/shop/
Cuisine doesn't begin and end with the famous Philly cheesesteak although I strongly recommend trying it, and the place to sample the city's culinary delights is all together at Reading Terminal Food Market.
One of the city's best kept secrets is Simeone Foundation Automotive Museum only a few minutes from the city and the airport it's a great for a car enthusiast to put in the afternoon. Located in Philadelphia, PA, the Simeone Foundation Automotive Museum is one of the world's greatest collections of racing sports cars. Through our theme, "The Spirit of Competition", we celebrate the history and evolution of these magnificent machines.
Assembled over 50 years by Dr. Frederick Simeone, the Museum contains over 75 historically significant cars including Ferrari, Alfa Romeo, Bugatti, Mercedes, Jaguar, Bentley, Porsche, Aston Martin, Corvette, Ford, and more.
Tickets for general admission are only $12.
Sunway Travel 26th September 2022 for 3 nights Club Quarters Hotel, Philadelphia €856 pp based on 2 sharing with Aer Lingus flights Sunway Philadelphia
TOP TIP
Disneyland Paris celebrates 30 years this year and it's the ideal time to bring the family whether you go for the autumn or a winter wonderland – Don't put off bringing the kids –
22/11/2022       Click and Go  3 nights Paris Disneyland  Hotel near theme park      Explorers at Disneyland Paris Hotel  3 Star https://www.clickandgo.com/design-your-own-holiday/customise/2022-11-22