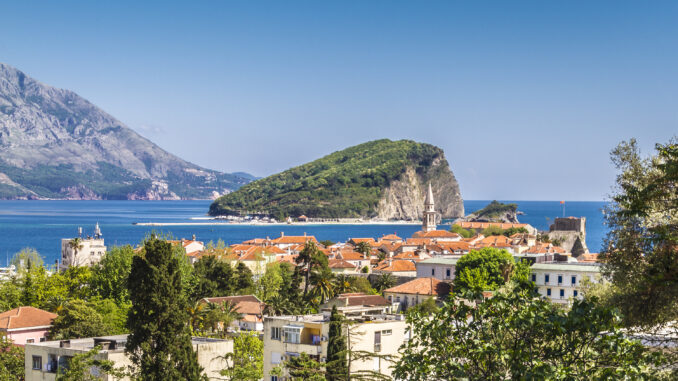 Newstalk Checks Out The Adriatic Sea Montenegro, Croatia and Italy 12th February
On the Hard Shoulder this week, I've built the travel slot today around one of our listeners questions so we are off to the Adriatic to see what choices there are for the Irish tourist.
Question
Hi Michelle
Would like to hear your opinion on holiday to Montenegro , and any other surrounding places to visit.  My husband & I, both early 60,
Another place would be southern Italy that interests us, we like to relax in sun,  & walking , sightseeing
Also, when is best time to travel, don't like too much heat. Mary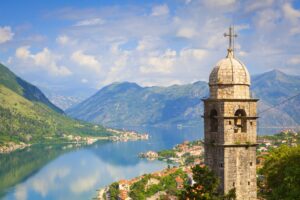 The Adriatic is that sliver of sea that starts in northern Italy and Venice would historically have been a main port. Moving down along the coast with the heel of Italy on one side you have what was the former Yugoslavia which is now made up of the countries, Croatia, Bosnia, Montenegro and Albania all the way down to Greece, we know them perhaps better as the Balkan states. And this year they have been made more accessible by the addition of new flights direct
In 2018, Montenegro was the third fastest-growing country in terms of tourism. It's an undiscovered gem that is starting to gain popularity for its breathtaking scenery, postcard-pretty towns and unspoilt coast. It's similar to Croatia in many ways with orange roofed buildings.
It derived its name from black mountain which the venetians called it – monte negro! It was part of Serbia after the first world war and part of the former Yugoslavia after the second but it didn't get it's current independence until 2006
what is the weather like?
Montenegro enjoys two different climates so I'd suggest Mary goes in May or September if she doesn't want extreme heat: the coast has a pleasant Mediterranean climate with 240 sunny days a year. Summers are hot and dry with temperature between 30 and 35 ºC. Winters are mild and wet. Podgorica, the capital city is one of the hottest in Europe during summer with temperature sometimes above 40ºC. Once you climb above 1,200m during summer, you'll be chilled by the fresh mountain air and temperatures around 25ºC.
Montenegro is set like a diamond shape hugging the Adriatic with a coastline of just under 300km and it has quite a small population of 650,000. The currency used is the euro which is good for the irish tourists and it is cheaper than Croatia- you can expect to pay more in the tourist areas but should be able to get dinner for €10 and a beer for €2/3.
If you want a beach holiday with a difference, explore the Budva Riviera. You'll step back in time exploring the cobbled streets of Budva's Medieval old town or you can party 'til dawn at the outdoor bars that dot its marina. To lap up the sunshine, visit neighbouring Bečići's 2km stretch of perfect beach. Or go to the striking Sveti Stefan, a favourite destination of the stars, where pampering and relaxation are very much the order of the day.
If you want to be awestruck by scenery, head straight for the Bay of Kotor. Technically a submerged river valley, the Bay of Kotor is just as stunning as the majestic fjords that you'd associate with Norway. Rich in maritime history and dotted with towns that resemble Venice, it's a must-see on your visit to Montenegro. I was speaking with Sharon Wall of Croatia tours who do packages to Montenegro and this is what she said
Croatia Tours have a week going out on May 14th fro €590 staying at hotel Kadmo in Budva in a balcony room. That's for two people sharing with flights from Dublin and includes transfers and luggage.https://croatia.ie/
MONTENEGRO DEALS IN MAY AND JUNE!
DIRECT FLIGHTS WITH RYANAIR DUBLIN – PODGORICA, MONTENEGRO
17:05/21:25                             21:50/00:10
20KG PP, SEATS, SMALL BAG
TRANSFERS AND TAXES INCLUDED
4* HOTEL KADMO – BUDVA, SUPERIOR BALCONY, BB
MAY 14, 7 NIGHTS, FROM 590€ PP / JUNE 04, 7 NIGHTS, FROM 740€ PP
5* HOTEL SPLENDID – BECICI, MOUNTAIN VIEW BALCONY, BB
MAY 14, 7 NIGHTS, FROM 810€ PP / JUNE 04, 7 NIGHTS, FROM 1020€ PP
GIVEN PRICES SUBJECT TO CHANGE DUE TO THE FLIGHTS.
BUDVA IS KNOWN FOR A WONDERFUL BEACHES, CHARMING OLD TOWN, NUMEROUS BARS AND RESTAURANT AND GREAT TOURISTIC OFFER OVER THE YEARS.
BECICI IS A SMALL TOWN ON THE OUTSKIRT OF BUDVA.
MANY MORE HOTELS IN OUR OFFER IN BUDVA, KOTOR OR PETROVAC.
GREAT DEALS, FRIENDLY COUNTRY AND THEY USE EURO!
Click and go have a week in Petrovac from €431
1 x Standard room atrium or mountain view Bed & Breakfast
Dates Sunday, 03.05.2020 – Sunday, 10.05.2020 | 7 nights 2 Adults
Flights
Outbound Ryanair FR5612:
Dublin (DUB) – Podgorica (TGD) 03.05.2020 | 17:10 – 21:30
Inbound Ryanair FR5613:
Podgorica (TGD) – Dublin (DUB) 10.05.2020 | 21:55 – 00:15
Dubrovnik is traditionally a lovely city to visit for a city break and get a flavour of the Adriatic. The old town can be a bit pricey for food and of course they have their own currency which can make it more difficult to work out what you are paying. Croatia is not a cheap destination but it is an idea to visit for a weekend to get the flavour of the Adriatic.
I've this lovely little package from Sunway for a stay in Dubrovnik which might appeal to Mary also
7th May  – 3 Nights from only €359pp
Price includes flights & 3 nights in a 3*Hotel on B&B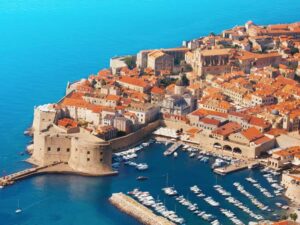 Link  : https://booking.sunway.ie/booking/results/package/airport/1/region/227/2020-05-07/3/1/2/0/0/0?flightclassid=0&direct=false&bid=2
Moving along the Adriatic Venice has traditionally been a hugely popular starting point for European cruises and although there have been restrictions brought into the size of ships which can enter the main channel you can still have it as a base and sail down to the Aegean and across to the Mediterranean.
But how much will a cruise set you back?
€1585 with MSC booked with topflight
Sample cruise itinerary as spoke about in the piece from Topflight:
Ship: MSC Sinfonia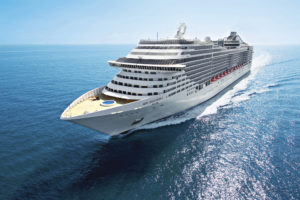 Date: 14th May departure  
Duration: 10 day holiday
Flights from Dublin
Itinerary:  Venice (Italy), Split (Croatia), Santorini (Greece), Mykonos (Greece), Dubrovnik (Croatia), Ancona (Italy), Venice (Italy)
Price: €1,585 per person
Includes:
2 nights pre-cruise in Venice – 3* Al Sole Palace B&B basis
7 nights interior stateroom on MSC Sinfonia
Premium drinks packages included per person
Pre Paid Gratuities included
Entertainment included
All meals included in the main dining venues ( Main dining room and buffet)
Overseas concierge service included
For more details on Topflight cruises, call 01 240 1726
Mary also asked about Southern Italy and I've this suggestion for her here?
Like Montenegro has direct flights from Dublin so too does Puglia which is in the heel of Italy and I think this would be a great destination for Mary.
Puglia also known by its Roman name of Apulia, is a unique part of Italy, just begging to be explored.
An unspoilt landscape dotted with whitewashed villages, rolling hillsides strewn with ancient castles and sandy beaches edged by rocky mountain ranges that sweep down to the Adriatic Sea, Puglia really is a beautiful and unique holiday destination. One of its most striking features is its trulli – old whitewashed stone buildings with conical roofs.
This is an ideal destination for anyone seeking to avoid the hustle and bustle of the busier Italian resorts and escape to a more secluded region where tradition and warm hospitality are a way of life.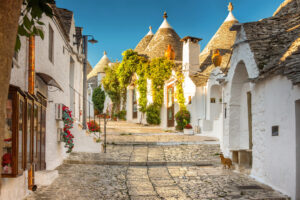 Regarded as the Garden of Italy, Puglia is an important producer of olive oil, pasta and wine and the region positively celebrates food. Cycling is also a popular pastime and there are certainly plenty of views to admire whether you explore the landscape on two wheels, drive through it on four, or simply relax in the grounds of your hotel and enjoy the beautiful surroundings.
Topflight offer escorted tours which ensure that you see some of the key attractions in the area.
The Highlights of Puglia
https://www.topflight.ie/summer-sun/italy/puglia/conversano_puglia/hotel_altavilla_conversano_puglia?data_filter_travcount=2&select_week=null&data_filter_airport=DUB&data_currency=EUR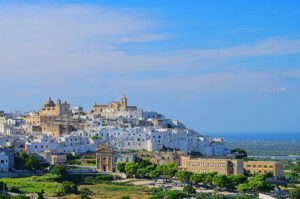 What's Included: 
Return flights with 20kg baggage allowance
All transfers
7 nights at the 4 star Hotel Corte Altavilla, with breakfast
Full day excursion to Lecce & Otranto
Full day excursion to Alberobello, Cisternino & Ostuni
Full day excursion to Matera
Services of Topflight's resort manager
June – September from €1079
Topflight also offer tailor made holidays
Topflight also feature Puglia for tailormade holidays so you can design your own itinerary in this fascinating part of Italy. With flights into Bari (with Ryanair) and Brindisi (with Aer Lingus) the area is very accessible from Ireland now.
An example of a tailormade package is
10 nights in July 2020
5 nights in Lecce
+
5 nights in Polignano a Mare
Staying in 4 star Hotels
Board Basis: B&B
Price: €1499 per person
Price above includes return flights to Bari or Brindisi with 20kg baggage allowance, transfer to 1st resort, train between the resorts and transfer to airport, taxes and services of Topflight's concierge service.
Topflight also offer car hire as an option which is ideal if you want to go and experience hidden Puglia. Family holidays are also an option in Puglia, one resort is the 4* Rosa Marina Resort in Ostuni.
Enjoy a weekend break in Bari and you'll find yourself in an important maritime city, nestled along the heel of Southern Italy, with a busy university, two modern harbours and a number of significant historic buidlings to explore – the 11th Century Basilica di San Nicola – which houses the remains of Santa Claus, the Swabian Castle – a magnificent fortress by the sea, and the cathedral of San Sabino.
Bari Vecchia, the picturesque old town is worth a visit, where you can wander the winding streets and sample authentic Italian cuisine in the hip restaurants that fill the piazzas. Local delicacies include calzone stuffed with garlic and olives, tomato focaccia bread, pasta 'al forno' (covered in mozzarella and baked in the oven), mussels served with rice and potatoes and other fresh seafood that the fishermen sell straight from little wooden boats at the Porto Vecchio.
With a lovely promenade by the sea, beautiful surrounding beaches, a lively nightlife district and major shopping streets, Bari is the perfect holiday destination for an idyllic Italian getaway. Search for cheap Italian city deals on Clickandgo.com and choose from a variety of accommodation in Bari, as well as direct flights from Dublin.
Here's a five star stay with Click and Go going out May 8th €405 for 3 nights
https://www.clickandgo.com/design-your-own-holiday/customise/2020-05-08/3/2::0/RO/DUB/0/7030/136/405?search=all/Bari/2020-05-08/3/2::0//DUB/0