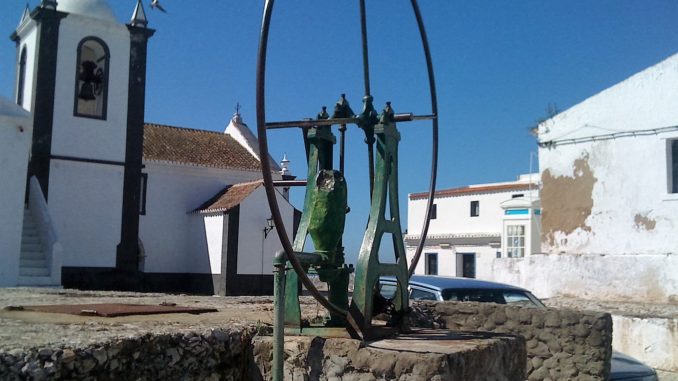 This week we are taking a look at Portugal and some lovely things to do  around the country. Great news for Ivan – you can now get to Portugal by ferry! Transfer time by car from Santander is 8 hours to Lisbon – then it takes about 3 hours to travel down from Lisbon to the Algarve but on the way you can visit some beautiful towns such a Evora and Beja in Alentejo. Car hire is inexpensive in Portugal and the roads are excellent but tolls can be expensive – for example Lisbon to Faro is €27.
Brittany Ferries
Departures from Cork are on Saturdays at 16.00, arriving in Roscoff at 07.00 on Sunday morning.  Return sailings depart from Roscoff at 21.30 every Friday and arrive in Cork at 10.00 on Saturday morning. with 120 cabins on board sleeping up to four the sail time is 26 hours – this is a no frills service.
Brittany Ferries offer a wide range of holidays to suit all tastes and budgets and the full range of 2018 holidays is available at http://www.brittanyferries.ie/holidays.  Bookings can be made either online at brittanyferries.ie or over the phone on 021 427 7801. Sample fare travelling two passengers and one MPV car is €433 going out mid-May
New sailing schedule between Cork and Santander
Route
Type
Day
Depart
Arrive
Cork to Santander
économie
Friday*
22:30
08:00
économie
Wednesday
11:00
14:30
Santander to Cork
économie
Sunday
12:00
15:00
économie
Thursday
17:30
19:00
If you are thinking of visiting Fatima which is in the north of Portugal – this might be a nice road trip.
Sacred Sites
All across mainland Portugal and the islands, there are many sacred sites worth visiting, but the high point among them all is Fátima, with the worship of Our Lady. Out of all the sites which could be listed, the cathedrals are especially worthy of note, wherever in the country they happen to be. Almost all date back to the time when Portugal was founded but followed subsequent artistic movements. Other than the best-known and most-visited, it is worth mentioning the rural expression of the religious buildings known as "Impérios" and which are connected to the Divine Spirit festivities in the Azores and to the Senhor Santo Cristo dos Milagres festivities on the island of São Miguel.
Few sacred sites from Moorish times have survived to the present day but the town-museum of Mértola, in the Alentejo, is an exception that is worth visiting.
Fortunately, we do have plenty of sites from another religion, Judaism, with mediaeval signs scattered throughout the country, such as the ancient synagogue in Tomar, and especially next to the border with Spain, in Belmonte, Guarda, Trancoso and Castelo de Vide.

Photo: Santuário de Fátima © Pedro Sousa, Amatar
Active Portugal
Portugal boasts a choice of caminos for anyone who especially enjoys an active holiday. This is an alternative route to the traditional way of St James along the top of Spain.
This week-long Portuguese Coastal Camino Guided tour  is one of our most popular Camino guided tours for a good reason. It takes the group to the heart of the Rías Baixas, famous for its Albariño white wine and delicious shellfish.
The tour starts in the elegant seaside town of Baiona, where you can visit the Monte Real castle, stroll along the port and go for a swim in the bay before starting your journey to Santiago. From Baiona, the group follows the coast towards the city of Vigo, enjoying views of the magnificent Illas Cíes and Vigo Bay.
The Portuguese Coastal Camino joins the classic Camino Portuguese in the market town of Redondela where you will start encountering pilgrims from all over the world. The group will then continue their Camino journey passing the quaint village of Pontesampaio, the historic city of Pontevedra, spa town Caldas de Reis and Padrón, famous for its celebrated writers and green peppers.
In Santiago de Compostela you will be able to get your 'Compostela' certificate! Talk to our team if you would like to add extra nights in Santiago after your guided tour to explore this wonderful region.
Activity:WalkingDuration:7 NightsDistance:125 kmDifficulty:    Tour Type:GuidedTime To Go:Specific dates from April to SeptemberPrice:€758
Ways to get to the Algarve
The most direct and obvious route is direct flights with Ryanair or Aer Lingus to Faro. But Seville is also close by especially for the Eastern Algarve. Transfer by car from Seville to Faro takes about 2 hours 14 minutes but to Castro Marim it is only 1hour 40 minutes (90 minutes) Duty Free at Faro offers incredible value so leave room in your hand luggage!
Castro Marim in the Algarve
I may well have found the best golf course in the Agarve!
Golf is a very good reason to go to go to the Algarve I recently took a visit to Castro Marim Golfe club and with expert tuition from golf pro Peter O'Connor, yes he is the son of the famous Christy O'Connor Snr and is running a hugely successful golf academy on this beautiful course. To find out more about the Christy O'Connor golf Academy click here http://www.castromarimresort.com/en/promotions/christy-oconnor-golf-academy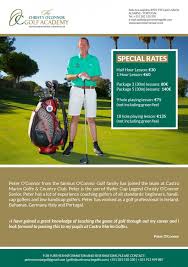 After only a thirty minute lesson I was rather pleased that I could hit the ball like this.
The variety provided by the three nine hole courses – The Guadiana, The Atlantic and The Grouse – means you'll never get tired of playing golf here.
Castro Marim is well known for its practice facilities and often plays host to visiting groups who come on Learn-to-play-Golf holidays. There are two driving ranges near the Clubhouse, one for woods and another for warming up with short irons.
Tokens for a bucket of 25 balls are available from reception for €3. The short game practice area includes a putting green and chipping area with flags, as well as a bunker to practise from.
On course playing lessons, as well as individual or group lessons at the Academy, are available from Castro Marim Golfe & Country Club's.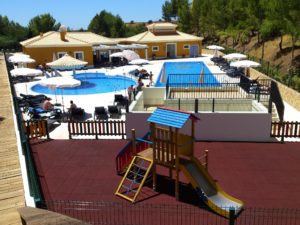 Visiting groups are welcome to use the teaching facilities at Castro Marim Golfe & Country Club when coming for practice weeks with their own teacher. For more information see here http://www.castromarimresort.com/en/golf
The great news is that it's possible to stay at the resort in one of the beautifully fitted villas. There are also facilities to cater for weddings and events.
The Travel Broker
Golf Offer, 1 November 2018 , 5 nights, from €765 pps  
5 nights' accommodation B&B & 3 rounds of golf on Castro Marim (including a buggy) – €765 per person based on 2 sharing or €639 per person based on 4 sharing
Price includes flights, transfers, hotel and 3 rounds of golf
http://itaa.ie/2018/03/29/golf-offer-november/
Medieval Days at Castro Marim
Vila Real do Santo Antonio
At the most sou-easterly point the  beautiful town of Vila Real do Santo Antonio is only five minutes away and it boasts fabulous value – only a stones throw across the river from Spain and the town of Ayamonte. You can cross the River Guadiana by bridge or take the ferry which is only €2 and takes ten minutes – it's a lovely day out for the family and parking is free on the Portuguese side. Order a coffee and cake and you will get a nice surprise. The average cost for a coffee is €1 and even wine is a cheap as €1 in some bars. A set menu can be enjoyed for €10-12 including a beverage of choice and three courses.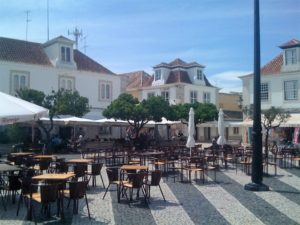 Tavira
Close by is the beautiful town of Tavira with meandering streets and at the waterfront enjoy local seafood in the restaurant at Santa Luzia. About ten minutes away up in the mountains is the perfect spot to have a picnic next to a picturesque waterfall. Pego do Inferno is off the beaten track but a must visit if you are in the area.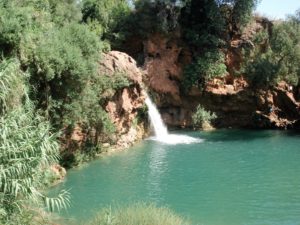 Portugal and Food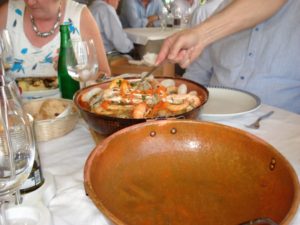 Another good reason to go to Portugal is the food. Sardines are a delicacy and in eastern Algarve Cataplana is a delicious fish stew with incredible flavours.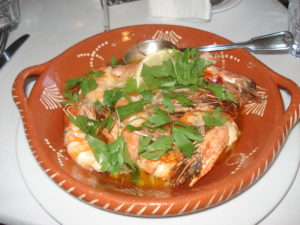 Duplex Suite with Terrace on BB basis
This resort will surely appeal to the eco friendly among us! The Monte Da Bravura Green resort goes the extra mile to  stand out from the eco crowd;  The overall theme of wellness provides a real "therapy for the senses" and a unique feeling of well being! This is teh place to go if you really want to experience the sound of silence!
Monchique is a beautiful little market town set in the hills of the North West Algarve. Although surrounded by thick forests of cork trees, Monchique enjoys fantastic view across the whole Algarve.
You will not only experience some typical Algarvean houses in the village while you wind your way through the narrow cobbled streets, you will also come across the remnants of the Moorish occupation in the middle ages.
Monchique is also the place to be if you want to indulge in some "me-time"! Visit the thermal spa of Caldas de Monchique, built by the Romans and enjoyed by Kings and Queens throughout the ages.
Caldas de Monchique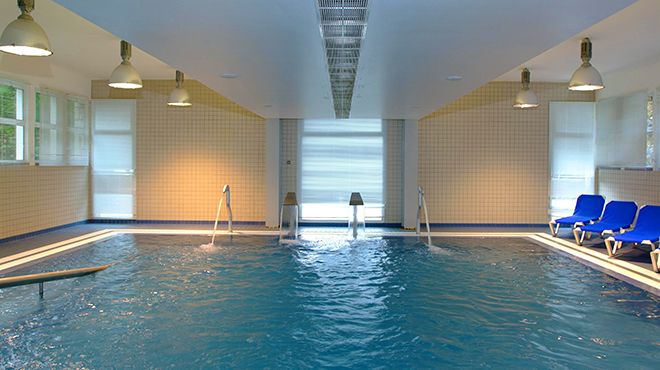 Caldas de Monchique
A century before the birth of Christ, the waters of Monchique were already much appreciated as a treatment for bodily and spiritual fatigue by the Romans, who gave them the name of "sacred waters", as is proved by the numerous important archaeological finds that have been made in the area round the thermal springs of Monchique.
This is the Algarve with a difference – a peaceful and calm environment that will give you the rest you so cherish.
Nearby, the former Arab capital of Silves deserves a special mention, as does Sagres, a place which evokes memories of the epic period of the Discoveries and their great inspirer, Prince Henry the Navigator (14-15C).
Monchique is also famous for it's production of "Medronho" a liqueur made from the arbutus tree growing in the local hills. It is a very strong liqueur, often referred to as "fire water" however is regarded as very good for curing the common cold!
The Travel Broker has this offer to Monchique:
Eco Friendly Algarve – €599 per person
FLIGHTS:
02 SEP – DUB/FAO -0705/1000
09 SEP – FAO/DUB – 1100/1355
Return shuttle transfers + 15kg checked luggage included per person
HOTEL:
4* Monte Da Bravura – Green Hotel in Monchique
http://itaa.ie/2018/04/10/eco-friendly-algarve/
Action in Albufeira – ideal for families
If you're looking for action in the Algarve then Albufeira is where it is at – especially if you have teens who want to do some serious nightclubbing. The strip at Montechoro isn't for the faint hearted or those looking for  a quiet relaxing time but it is nirvana for the youth! This offer with Tavalue is great value.
Travalue.ie
Family Fun in the Algarve
With only a 6 minutes walk from the beach this apartment complex has 3 swimming pools including a small waterparkand. Only 1.5 km away from the Areias São João Shopping Street and Albufeira's Old Town is 5 km away, this complex is popular with families.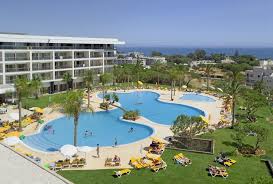 Our price of €2200 is based on a family of 2 adults and 2 children flying from Dublin on the 19th July with transfers to the popular resort of Albufeira and spending 7 nights in a one bedroom apartment with sea view in the Alfagar Alto da Colina.
http://itaa.ie/2018/04/10/family-fun-in-the-algarve-2/
Exclusive offer for Click&Go:
4 star special offer to the Algarve from €399pp in May 2018
From €399pp for the 4 Star Victoria Beach & Sport Aparthotel. Price is per person based on 2 adults sharing for travel in May 2018. 
Price includes:
7 nights in the

4 Star Victoria Beach & Sport Aparthotel, Albufeira, The Algarve
Standard apartment on a B&B basis

Direct Aer Lingus flights from Dublin to Faro

Airport Transfers 

Airport taxes & charges
Lisbon – perfect city break
For a city break year round I recommend Lisbon for so many reasons. It is filled with so much to see and do.
Ways to get to Lisbon and good news for cork
Aer Lingus and Ryanair already fly Dublin to Lisbon. Aer Lingus is to fly Cork to Lisbon in its winter 2018 schedule. Flights begin on October 26 and will operate 2w year-round. Aer Lingus and Ryanair currently fly from Cork to Portugal, with both operating services to Faro this year until October 27. This accounts for an increase of over 25,000 seats for Cork.
This offer from Click and Go is great value and I've heard Air B&B is hit and miss in this city so booking with a bonded tour operator as always offers great protection.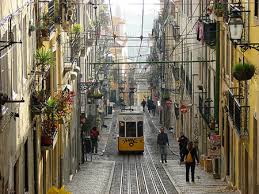 City break to Lisbon from €329pp in May 2018
From €329pp for the 3 star Hotel 3K Madrid.  Price is per person based on 2 adults sharing for travel in May 2018.
Price includes:
3 nights in the

3 star Hotel 3K Madrid, Lisbon, Portugal

Staff Pick

Double/twin room on room only basis

Direct Aer Lingus flights from Dublin to Lisbon

Airport taxes & charges
Link to offer: https://www.clickandgo.com/design-your-own-holiday/details/2018-05-27/3/2::0/RO/DUB/0/5296/206/332?search=all/Lisbon/2018-05-27/3/2::0//DUB/0