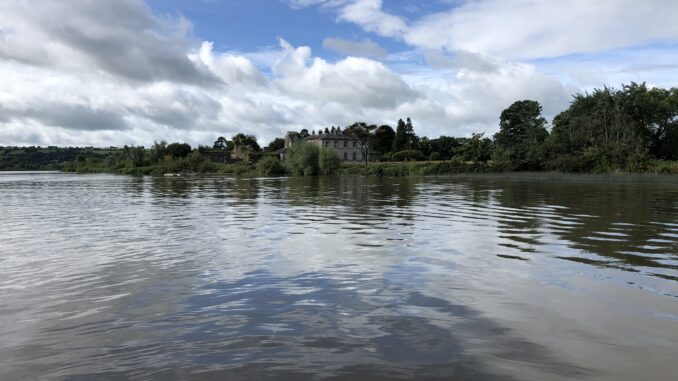 The Munster Vales
I'm recently back from a family trip to The Munster Vales, which included my dad for two days, my other half and my teenage daughter Nicole and her friend Sarah Jane. The Munster Vales is a tourism designated area taking in the five beautiful mountain ranges of The Ballyhouras, The Knockmealdowns, The Comeraghs, The Nagles and The Galtees. The Counties of Cork, Limerick, Tipperary and Waterford offer something to suit every taste. We did so much on our four day trip that I had to make a video to showcase all that this glorious region has to offer.
The thing I noticed about travelling in the Munster Vales is the wonderful attention to detail observed by businesses in the region. If you want to enjoy a staycation be assured of the high level of care taken to social distance by sports centers, museums, hotels and restaurants. I know some people may be nervous about investing in a holiday – if so there is staycation cover which can be purchased to ease minds, I've recently popped up a post on my website about a scheme from Accidental and General who offer staycation cover and this might act as a catalyst to lure those who have already lost money on a foreign holiday this year and it covers a wide range of other losses such as bicycle cover, breakdown, accidents and hospitalisation. We are more inclined to bring gadgets on a staycation and these are covered also in a variety of packages so check out my post for more details. https://www.staycationcover.ie/
Full details of the places we visited on our stay are listed below:
Ballyhoura Mountains Limerick
We went Horse Riding with John Joe of Ballyhoura Horse Trekking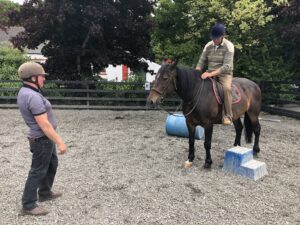 Great for all the family – I've brought my dad to ranches in the USA and now we can't go so far this was a good substitute. The stables caters for kids doing kids clubs but visitors are welcome and it was a great way to put in the afternoon. Ballyhoura Horse Trekking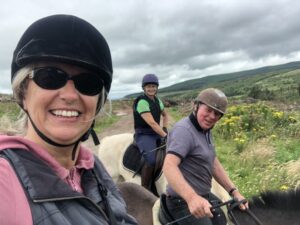 prices: €20 for kids €30 for adults For a 1 hour  trek or lesson.
€50 for the 2 hour trek for experience riders
Thomastown Co Limerick
http://www.ballyhourahorsetrekking.ie/
Places to stay
Ballyhoura Mountain Lodges,  These bungalows are spacious three-bedroomed with full amenities. The grounds have a small playground, zipline and basketball hoop but the walks are truly magical through the woods and the houses are nestled in among fabulous tress. The area is peaceful and calm and safe.
Ballyhoura Mountian Lodges are as follows Week long bookings go from €495 to €800  (electricity is extra)
Also take weekend and midweek bookings.  €299 to €450
Pets allowed in some houses only €25 per pet
Some suitable for people with a disability.
Location: Ballyorgan, Kilfinnane, Co. Limerick
info@ballyhouramountainlodges.ie | +353 (0)63 91666 | + 353 (0)87 2863337
https://www.ballyhouramountainlodges.ie/
IF you get tired of self catering try Eating out in Molly's Restaurant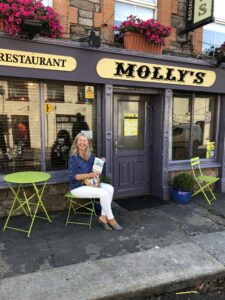 http://www.mollysrestaurant.ie/
Location: Kilfinnane , Co Limerick
* * * * * * *  * *  * * *
Bike cycle TrailRiders,  Ardpatrick, Bike Hire from Trailriders
This is a great activity for the fit and there were lots of young lads and their dads heading off on the longer trails. The different distances and levels of difficulty are well mapped out and it is an adventurous way to see the Ballyhouras. Kilmallock, Co. Limerick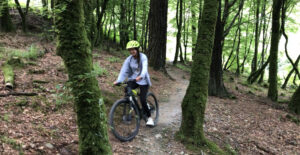 Trail riders at Ballyhoura Mountain Bike Trails
Front Suspension €37  (group discount €32)
Full Suspension €65
Places to eat
Deebert House Hotel Kilmallock, Co Limerick
http://www.deeberthousehotel.com/
I met the lovely Margaret O'Sullivan who talked me through this medieval town. I had no idea that it was steeped in so much heritage and history. Her mother runs the Deebert House B&B next door and she has been hosting guests for fifty years.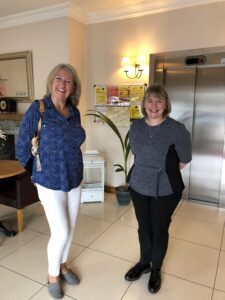 Kilmallock in Limerick is one Ireland's best preserved medieval towns. Don't miss the chance to learn all about the town's 1,400 years of history by taking a walking tour around the great castles, monasteries and fortifications that witnessed rebellions, battles, treachery and corruption. (Monday – Friday: prior booking only unless advertised, Saturdays: 12pm & 3pm).
* * * * * * * * * * * * * **
Cork
We took a tour of Nano Nagle Place  center of spirituality, heritage and ecology
Sister Eileen showed us around the center and they cater for guests too with three bungalows on the grounds that can accommodate up to seven people in each. It is ideal for  a yoga group or people who would like a conference center attached to perhaps paint or try some other creative endeavour. The gardens and organic farm offer wonderful walks under the gaze of the Nagle Mountains. Nano's story is one of real altruism, as a young woman from a privileged life she gave up so much to set up the order of the presentation sisters and help the poor in Cork City.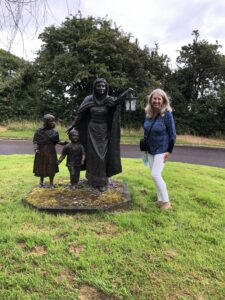 Location: Ballygriffin, Nano Nagle Centre, Co. Cork
https://www.nanonaglebirthplace.ie/
Action and adventure at Ballyhass Aqua park
Ballyhass Lakes  offers a huge array of adventure activities for all the family – choose from the aqua park, wake boarding, kayaking, zip lining and much more. https://www.ballyhass.ie/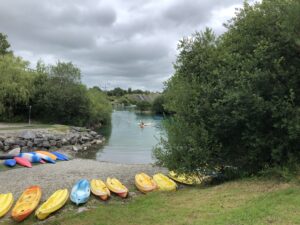 The park is a converted Quarry which was flooded and is brimming with activity for all tastes and ages. I stuck to the ziplining and archery but for the water enthusiast it really is a wonderland. The lovely Kieran and Emma had great patience with us on the day. Ballyhass Lakes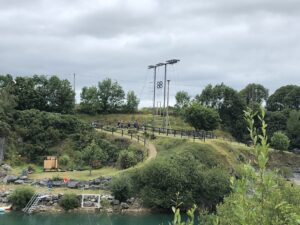 Wakeboarding €25 – Adults, €15 – u18s
Aquapark €20 – Adults, €15 – u18's
Full Adventure Day €30
* * * * * * * * * * *  *
I had my first bash at glamping in Waterford at the Blackwater Eco Pods – fully furnished with all amenities.
Great fun with kids but if your kids are teens get two pods…set in the lovely village of Villierstown it is right next door to the Cruiscan Lan pub and across the road in the village shop is one of the best takeaways in Ireland and you wouldn't even know it served food but everything is homemade and delicious.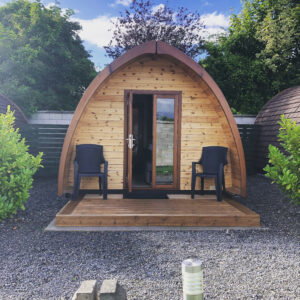 You can stay at the Blackwater Eco Pods located in the centre of Villierstown in Waterford for €140 (one night), €250 (two nights) or €375 (three nights). Each pod can accommodate four adults or a family of five and are just a 15 mins drive from Dungarvan.  Email info@blackwaterecotours.ie to book*
Location: The Quay, Villierstown, Waterford, Ireland
https://www.blackwaterecotours.ie/eco-pods/
Boat tour of River Blackwater Approx 90mins with the charming Eugene who showed us the best of the waterways with stories of the Fitzgerald Clan who conquered  the area and built a castle on the river's shore. We saw an array of wildlife – ducks and herons and new to the area for the past couple of years are warblers from South Africa which are increasing in numbers. We also heard a peregrine chick crying out for it's mother and on a good day you may even see deer running along the shore. This trip takes 90 minutes and is a great way to learn about the life on the rive.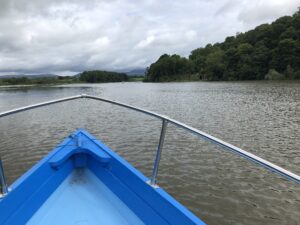 The river tour is additional at €17.50 per adult and €12.50 for children.
https://www.blackwaterecotours.ie/eco-pods/
Dungarvan Park Hotel is part of the family run Flynn group and it is in a lovely location looking over the river Blackwater close to the town center. It has a leisure club and restaurant and you'll be showered with Irish hospitality. The Leisure center is open but pre-booking necessary and each bedroom is sticker checked by the head of house-keeping for extra cleanliness.
https://www.parkhoteldungarvan.com/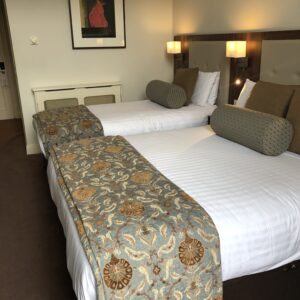 The Park Hotel, Dungarvan
Autumn/Winter package: Sweet Treats
Enjoy 2 Nights Bed and Full Irish Breakfast each morning
Dinner on one Evening
Sweet treats in your room on arrival
From €115 per person sharing
Places to eat in Dungarven Cookhouse 360 Castle Street, Dungarvan
They have a special Canine menu for doggies – great atmosphere and food at a reasonable price.
Tipperary
We took a drive through the Comeragh Mountains to  Clonmel and The Tipperary Museum of Hidden History (Guided Tour) The kids will love this place with lots of eerie historical artefacts such as Oliver Cromwell's death mask made of wax. The jumper worn by the Tipperary team that played in croke park on bloody Sunday is also on display. An array of facemasks make interesting viewing from wars across the twentieth century. The tour takes one hour and it is fascinating to learn about the macabre, historical and interesting stories associated with the county of Tipperary.
Location: Clonmel, Co Tipperary
Fethard Horse Country Experience  The skeleton of the famous Sadlers Wells race horse is on display with lots of other interesting  artefacts such as horse shoes belonging to some of the most famous race horses – including istabraq. The story of the normal conquests and big part horses played in the development of the region from is documented and the it is all set in amongst the city's medieval walls. Tours are organised to Coolmore stud which is a very interesting visit for any horse racing fan. While I was in Kentucky I visited the sister stud a couple of years back…
Fethard Horse Museum is Adult – €7.50
OAP / Student – €6.50
Child 7 – 16 years old – €3.50
Child 6 and Under – Free
Family Ticket (2 Adults  & 2 Children) – €18.50
Location: Fethard , Co Tipperary