Some properties are booking up early but don't panic there is still plenty of availability – and for some novel ideas check out my podcast The Novel Traveller where I talk to Elaina Fitzgerald the president of the Irish Hotel Federation. Podcast.
This week the Failte Ireland webinar said that in 2020 65% said they would take a domestic holiday but only 29% did in the end so we can expect the demand will be higher this year. That's why it will be good to book early for popular spots and many people will have vouchars from Christmas ready to use. I've some nice ideas for summer staycations around the country below.
A cruise on the Shannon or on Lough Erne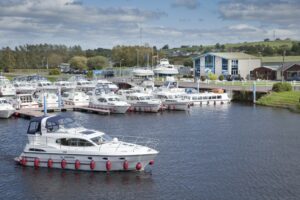 Silverline Cruises
Enjoy the thrill of being captain of your own cruiser on the River Shannon with Silver Line Cruisers. They have a range of cruisers that can accommodate from  2 people up to 12 people . As no license is required for the inland waterways cruising is accessible to everyone .  Families can create their own unique adventures within Ireland's hidden heartlands and can choose routes and destinations as they go and on a timeline that suits themselves.  The River Shannon itself is a real hidden gem and the unspoilt waterway meanders through beautiful countryside and idyllic towns and villages.
For a family of 4-6  for 3 nights in May from €700
Or in July for a family or 4 – 6 from €850Silver Line Cruisers, The Marina, Banagher, Co. Offaly
Bookings can made directly by phoning our office on 057 91 51112 or book directly through web site www.silverlinecruisers.com
Carrickcraft
The Shannon and Erne offer 700km of unspoilt waterways – the longest non-commercial waterway in Europe and give you access to sights and sounds not available to the weary land-traveller. Think of your boat as your cottage on the water. Everything you need for your holiday is on board – kitchen, bathroom, bedrooms, living room. Just go with the flow and do what you want – fish, cycle, visit heritage sites, eat out, eat in, visit a music pub, go waterskiing, go horse-riding. A boating holiday is as much about what you do off the boat as you do on the boat.
Carrickcraft have a full range of boats from 2 berth to 12 berth and no experience is necessary – in fact half of our customers have never been on a boat before. They will give you full instruction, online before you arrive and on the boat when you get here. It's really not difficult and the boats travel very slowly so you have time to plan ahead.
From Belleek in the north to Killaloe in the south, the Erne and Shannon offer some of the most spectacular cruising in Europe. You can start your cruise in any of three marinas – one on the picturesque Erne and two on the lovely Shannon. They also offer limited access for the smaller boats to take the Grand Canal to Tullamore.
Unlike many other waterways, the cruising waters of the Shannon and Erne are lakes and rivers, not canals. And because the rivers flow very slowly, there are few locks and even these are manned. The Shannon-Erne Waterway, connecting the two rivers, has 16 electric/hydraulic locks so there is little work to be done.
Carrickcraft are very flexible on start dates and how long you can stay – for most boats, you can start any day except Sunday and for as long as you like. However, there is a 3-night minimum as it takes you a while to get used to the boat. The website will give you the most up-to-date pricing and all Special Offers.
One-way cruises are their speciality. They have three marinas on the same waterway and you can start at one and finish at another. From Bellanaleck to Carrick-on-Shannon you will have time to visit Devenish Island and Enniskillen before cruising through Upper Lough Erne to the Shannon-Erne Waterway and on to the Shannon. One-way hires are for a minimum of one week and Saturday start only.
From Carrick-on-Shannon to Banagher you can see most of the Shannon in one week. They can also offer a two-week holiday with a one-way from Banagher to Bellanaleck or vice versa (telephone bookings only).
April 2021 weekend prices are:-
Kilkenny class – 4 berth – €799
Clare class – 6 berth – €895
Waterford class – 6 berth – €1099
Fermanagh class – 8 berth – €1499
* * * * * * * * * * * * *
Sunny South East
The Cosy Cabins at Dunbrody House, Co. Wexford
The cosy cabin offers guests a back-to-nature woodland retreat for those seeking to get away from urban life and experience a more relaxed private option to the main hotel accommodation. Set in the woods beside near the Dunbrody herb garden the only sounds you'll hear are the birdsong and cattle lowing. Overlooking the valley down to Arthurstown Harbour the cabin is decorated New England style with one double room and two singles, a lovely open space to sit and relax and a gorgeous terrace from where guests can watch the sunset through the trees.
Only a stone's throw from the main hotel you can still enjoy all the facilities and choose to dine in the restaurant, sip cocktails on the terrace of the seafood bar or head to the pub for a more casual vibe.
Although the cabin is not self-catering breakfast is offered as an additional option in the Harvest Room Restaurant.
Price: From €150 per night sleeping up to four people.
* *  * * * * * * * * * * *
Riverside Park Hotel in Enniscorthy County Wexford
Riverside Park Hotel was one of the first hotels to be awarded the Failte Ireland Safety Charter.
The Riverside Par Hotel  have packages for families up to 2 Adults and 3 Children in one of the superior family rooms as well as solo family offers that cater for the one parent family.
Wexford has 275km of Coastline, endless beaches and over 200 attractions and activities to visit while staying in the Sunny South East and the Riverside Park Hotel is located in the heart of the county the ideal location to visit all.
Prices start from 2 Adults and One Child at €309 in total
2 Nights Bed & Breakfast One 4 Course Evening Meal and a Pass to One Family Attraction in Wexford, 8 to choose from.
e.g of attractions, National Irish Heritage Park, Wells House, Johnstown Castle, Pirates Cover, Blackwater Open Farm, Secret Valley
At the 4 Star luxurious Riverside Park Hotel and leisure club.
Located in the overlooking the beautiful River Slaney in the picturesque town of Enniscorthy Co. Wexford.
Families can enjoy large family rooms, pool with kids pool, 2 playgrounds beside hotel, a 5km walk along the river Slaney from the front door.
2 Restaurants including the award winning Alamo Steakhouse and Prom Bar serving bar food daily.
https://www.riversideparkhotel.com/
* *  * * * * * * * * * * *
 Ireland's Ancient East
Rock Farm Slane
Confidence is building for a June re-opening at the latest. Meanwhile Rock Farm have been working on upgrading the bathrooms at the Glamping and landscaping at the Lime House, and we'd encourage people to come and stay on Wednesday or Thursday nights to experience their flourishing Farmer's Market in the Hay Barn.
Pricing and availability is all online at www.rockfarmslane.ie/book-now. Pricing for 2 guests staying over the weekend in the Summer starts at €234 for min 2 night stay and family of 4 would be €438 in one of our 4 yurts, infants 3 years and under go free.
The Lime House (6-bedroom strawbale guest house) is popular with family groups as well with hot tubs, campfire and pizza oven area like the Glamping and is €1,550 for 16 guests on a Summer weekend.
info@rockfarmslane.ie and 041 988 4861
* * * * * * * * * *
KNIGHTSBROOK HOTEL, SPA AND GOLF RESORT, TRIM, COUNTY MEATH
OFFER TITLE:  Complete Family Break
OFFER DESCRIPTION:
We are delighted to present our recently launched Complete Family Breaks for 2021 available from only €199.00 for a family of 4!
Offering 1, 2 and 3 night stays our packages can include Dinner for All, a Family Pizza Night and a Picnic to enjoy as you discover the Boyne Valley.
VALID FROM: 01/01/2021-
PRICE: from €199.00
Knightsbrook Hotel, Trim, Co Meath. 046 9482100
* * * * * * * * * * * *
DUNBOYNE CASTLE HOTEL AND SPA
Two Night Family Dining Package – Kids Dine Free
Price from €360.00
Enjoy a two-night family stay for up to 2 adults and 2 children. Dine on an evening of your choice in the Ivy Restaurant, which holds 2 AA rosettes for culinary excellence.
Your Package includes:
Two nights' accommodation in a family room for up to 2 adults and 2 children (under 12)
Delicious Continental and Full Irish Breakfast
3 course Table d'hôte dinner for the adults and children's dinner on an evening of your choice
Kids Welcome Pack
Complimentary Hot Chocolate
Dunboyne Castle Fairy Trail with special clues and prizes
For the rainy days, why not try out our special Kids Afternoon Tea (additional charges apply)
For sunny days, why not treat the whole family to a picnic day…bring Teddy along! (additional charges apply)
Let us know if you fancy a "Movie Night In" and we'll provide the Popcorn, Cookies and Milk (additional charges apply)
Local Activities
Dunboyne Castle Hotel & Spa is the ideal base for a fun filled family holiday.  Depending on if you need to take your sunscreen with you or an umbrella, there are exciting things to do right on the doorstep. These activities include:
Clonfert Pet Farm, Pelletstown Riding Centre, Royal Canal Boat Trips
Causey Farm, Tayto Park, Dublin Zoo
https://www.dunboynecastlehotel.com/
* * * * * * * * * * * *
For Dog Lovers
The Courtyard Cottage Suites at Tankardstown House, Co. Meath
The cosy courtyard cottages are beautifully appointed and open out onto the courtyard complete with fountain and access to the walled garden where the hot tub and small summer house are located. Each bedroom within the suites have its own ensuite bath/shower room, whilst an easy seating area downstairs is perfect to relax and enjoy the peaceful surrounds. Well behaved four legged family members are also welcome to Tankardstown House, in the dedicated dog-friendly courtyard cottages.
Price: From €260 per room per night
* * * * * * * *
Wild Atlantic Way
Sneem Hotel and self catering
Kerry
Family Hotel and Self Catering
Taste the FREEDOM, enjoy the Kingdom
3 nights Self Catering in a 2 Bedroomed Apartment which sleeps 4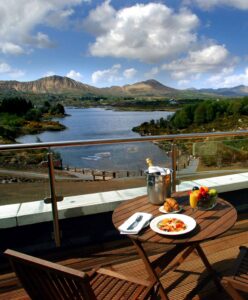 The apartments in Sneem Hotel are beautifully designed in calming neutral colours, with uninterrupted views over the Sneem estuary, Golden's Cove two and three bedroomed apartments are a great example of spacious luxury self catering in Ireland and include a larger open plan living area and kitchen with all the modern conveniences. With spacious bedrooms and two bathrooms, stunning sea and mountain views, with generous balconies or terraces bringing the magnificent outdoors of the Ring of Kerry, they are the ideal choice for spending time with family and friends.
3 nights Family Break €615.00
3 night offer includes breakfast each morning and family dinner on two evenings.
Three Night Stay in a  spacious mountain view family room with en suite facilities for two adults and 1 child, includes breakfast each morning and dinner on two evenings for all the family.
* * *  * * * * * * *
Clare Island Lighthouse, Co. Mayo
Clare Island stands guard at the entrance to Clew Bay, off Irelands western Atlantic coast. For almost two centuries, the islands Lighthouse has been a nautical landmark perched high on the craggy cliffs, watching over Achill, Westport and beyond. Once a safe haven for sailors, this heritage property now offers a sanctuary of a different kind. This architecturally majestic, listed building has been lovingly transformed into fully catered, luxury accommodation, complemented by magnificent sea views and an inspiring, natural environment.
From: €550 per person sharing for two nights
The owners have a beautiful self catering period house just outside Westport with stunning views over Clew Bay. 5 bedrooms, sleeps 10.
If you'd rather be in the centre of bustling Westport see www.bluehousewestport.com – 3 bedroom – sleeps 6.
* * * * * * * * * * * * * *
Ireland's Hidden Heartlands
Woodland Huts at Virginia Park Lodge, Co. Cavan
Originally built as a hunting lodge for the first Earl of Bective,Lord Headfort, one of Ireland's richest men.
LOCATED 20 MILES AWAY FROM HIS PRINCIPAL RESIDENCE, HEADFORT HOUSE, IN KELLS, THE LODGE WAS INTENDED AS A COTTAGE-STYLE HOME FROM HOME, INFORMAL IN LAYOUT BUT STILL LAVISHLY DECORATED WITH THE FINEST SILVER, CHINA, AND FURNITURE.
Situated on the edge of Deerpark forest at Virginia Park Lodge, these bespoke handcrafted luxury Shepard's huts are glamping at its best.
Steps lead up to French double doors with solid oak flooring throughout, open plan living at its smartest, the huts feature a built in dining area that seamlessly converts to a super comfortable double bed. There is a Shaker style fitted galley kitchen area with Neff hob, kettle & fridge. The hut features a good size wardrobe with plenty of storage space and a full standing fitted shower and toilet.
Price: From €140 per hut per night, bed and breakfast.