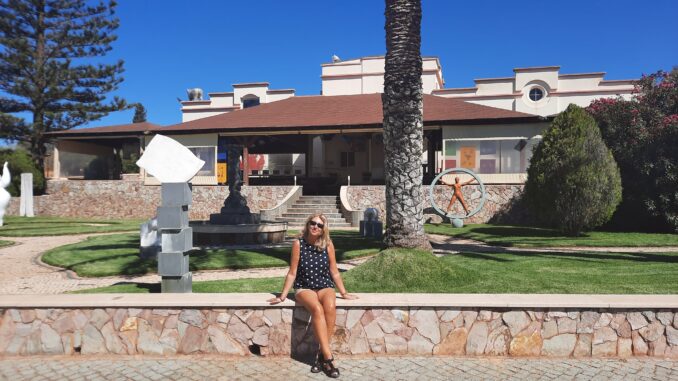 I'm wandering cobblestoned streets lined with stalls selling sweet aromatic treats from North Africa while I sip on a locally brewed beer. I've set out in search of an alternative Algarve and I've certainly found it at the Medieval Festival in the charming town of Castro Marim.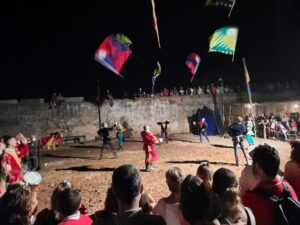 The Dias Medievas is held annually at the end of August in southeastern Portugal with the Spanish border less than 10 minutes away. There are several entrances to the town but in order to take part festival goers must pay. A four day ticket is only €15 and well worth it because it's impossible to get around all the sites in one night.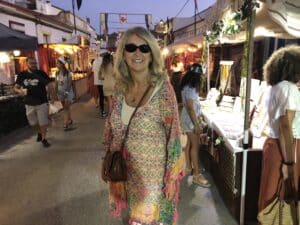 I'm with my other half, Terry, who is starving as we've arrived on an evening flight with Aer Lingus into Faro and rushed straight here to get on with the merriment – so the baked roll with roasted pig from a spit is our dinner. The local baker has her own version of pastis de nada which are much larger than the originals found in The Belem Bakery outside Lisbon.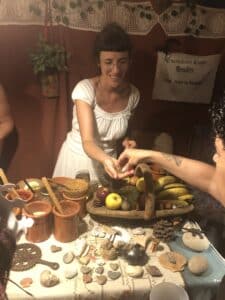 Medieval ceramic mugs are a steal for €2.50 and come filled with beer or wine, whichever you prefer, and the price of a refill after that is only €1. Along the way locals participate in the fun by dancing and many are dressed in mediaeval garments. The constant hum of drums and whistles play over speakers on every street corner as we are whisked back in time.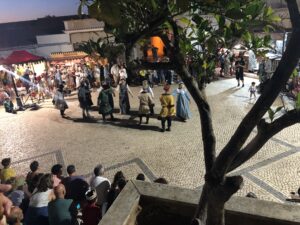 Delicious skewers of pork and vegetables roast on an open grill in the ramshackle food hall and seating is on hay bales next to an open fire burning in the centre of the castle. The atmosphere is relaxed as we revellers soak up the performances in the squares below, from theatre to flag throwing, but in every corner of the town as the sun goes down passions run higher. www.diasmedievais.cm-castromarim.pt/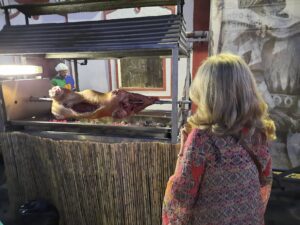 This eastern part of the Algarve is different to better known spots such as Vilamoura and Albufeira and the prices are a great deal cheaper. The nearby town of Villa Real de Santo António is where we take our Sunday morning walk. It's alive with locals stopping to take coffee and pastries in the Market Square being serenaded by the sound of church bells ringing. The ambiance offers a true taste of Algarve culture living like a local. Spain is only a ten minute ferry ride away so for only €2.10 we take the ferry and wander around Ayamonte. It's a pretty town and with a new boardwalk and marina but after only an hour I'm ready to return.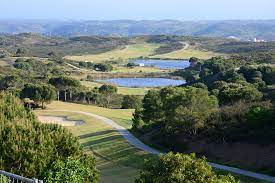 We are staying in Castro Marine Golf Resort which is about 5km from Vila Real. Our villa is plush and includes a private pool with three bedrooms and a large living room that easily accommodates six people. It's essential to have a car when staying here but if you really want to explore the Algarve the best way is by car because there are so many hidden secrets in this beautiful part of Portugal. If you're a golfer you'll be more than happy with tips from the clubs golf pro Peter O'Connor, son of the great Christie O'Connor senior.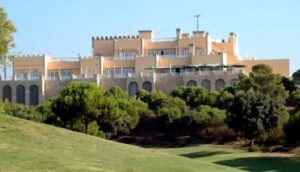 He showed us all this challenging 27 hole course has to offer with great patience. In recent years Peter has formed a Golf Academy for young people. Views from the clubhouse are spectacular and it's an ideal complex to hire for a conference or event with full club house facilities. Smaller two bedroom units are also available to rent and all kitted out with everything you need for self catering.
Praia Verde is a 15 minute drive away for those who like the beach and to my mind is the best long stretch of golden sand in the Algarve.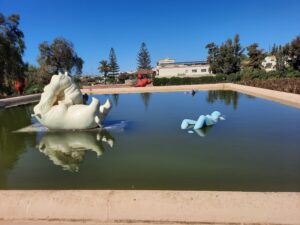 Exploring more unusual and out of the way places to stay we take the A22 further along the coast and come to the tiny town of Estômbar. Here the winery of Quinta dos Vales offers classy self catering pods set amongst the vineyards with every luxury need to enjoy a self-catering holiday. We are greeted by oversized brightly painted sculptures of two bulls.
A plethora of giant dancing figures decorate the car park as in the distance people are tending to the vines, and bringing in this year's harvest. It's a truly unique place with tennis courts and two infinity pools overlooking the two valleys and fields of vines. As a destination venue for a party or wedding the entire resort sparkles with possibilities.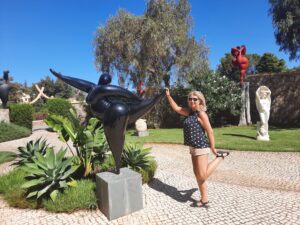 Artist and owner of the vineyard Karl Heinz Stock has amalgamated his passion for art and wine and created a truly magical place. But the rather unique opportunity to become your own winemaker is also an option. The Winemaker Experience involves buying small plots of vines with the capacity to make 300 bottles of personalized wine per year on 99 year leases. No other winery has this option for customers and it is certainly a wonderful chance to become a viniculturist with all the help and facilities at hand. Wine tasting groups gather at different times of the day or you can pop in to the wine shop and do a personalized tasting between 10.30 and 5pm. www.quintadosvales.pt/en/the-winemaker-experience/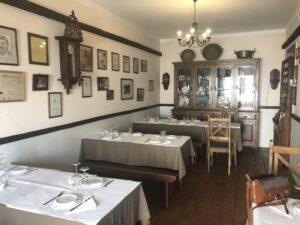 Estômbar is a sleepy village with one convenience store and not the place you expect to find a culinary gem. High up a narrow street is a restaurant that is booked out year round, where people come from all over the Algarve. Offering a seven course traditional Algarvian meal O Charneco's tasting menu includes all your wine and water and at €35 is the best value for a real taste of the region. Slow roasted pork, squid and fish are cooked in traditional sauces and spices. The restaurant has been in the same family for forty years and João's daughter is now the head chef while her son is one of the waiters with his cousin. This truly magical find is worth taking the trouble to book well in advance. As they do only one sitting persevere and beg for an early sitting if you can't get a booking as many Portuguese don't go out to eat until 9pm. We arrived at 6.30 and were just finished by 9pm. www.thefork.com/restaurant/o-charneco-r613321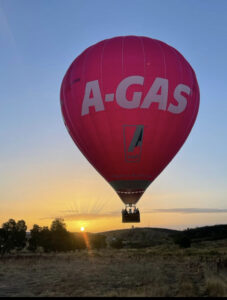 It takes something special to wake me at 6 o'clock in the morning, especially when it's still dark outside and then drive for 20 minutes to a field in the middle of nowhere. However Terry had other plans and as it was his idea I have to give him the credit for organising this fantastic bucket list adventure. It was my first time in a hot air balloon and I wasn't sure what to expect but Helena from Algarve Balloons made the entire process incredibly easy. The sun broke through the clouds with long rays of light as we set off gently into the air in our basket of nine people including the pilot.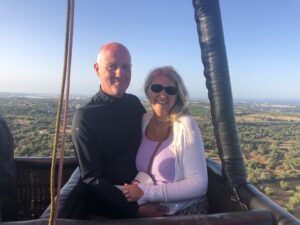 As the trees below became smaller and buildings mere dots it's a very different perspective to an aircraft. The only noise made was when Helena blasted the gas for us to go higher. I didn't expect the champagne break mid-flight making a lovely addition to the experience. Helena explained it's not easy to chart a flight path as the wind can take a balloon in any direction but with 32 years experience under her belt Helena took us down gently to scrubland next to a golf course. I can't think of anywhere better to take your first balloon ride than over the Algarve.
Our incredible day couldn't end there so in order to come back to earth we set out to sea! At Portimao marina we jumped on a catamaran with Discover Tours. The caves along the western side of the burnt amber cliffs are laced with tales of pirates and smugglers. However nowadays you've a much better chance of seeing dolphins. We were only a few minutes out when a pod appeared with several dolphins that included two babies and they put on a show alongside our craft.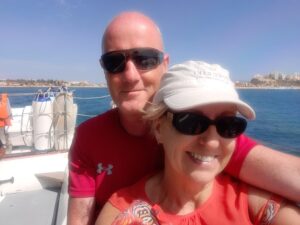 For variety this trip included a huge diversity of visual tastes and sights, sounds and experiences. I've visited this part of Portugal countless times but with a bit of extra research I think I've finally cracked the Alternative Algarve
Highlights
Places to Dine – outside Portimao near Estombar is Casa do Rio – enjoy eating with locals in this gem overlooking the river Arade. Superb sea food and reasonable too. www.casadorio.net. Not far from Praia Verde in Cabanas is the newly opened O Monte with wonderful live music from Nandy on a Sunday and Thursday evening. Enjoy a mix of European and Traditional cuisine cooked by the lovely Teresa. www.facebook.com/omonterest/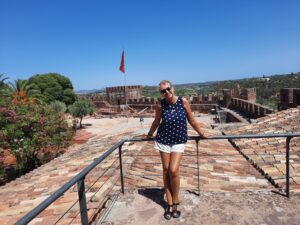 Highlights
Hidden treasures – Visit the walls and remains of the castle in Silves and see the Moorish Influence on architecture on the Iberian Peninsula. Silves is a little pricey – A cork handbag was twice the price here compared to the same found at Vila Rael de Santo António but as a town it enjoys a lovely atmosphere.
Fact box
For all you need to know about the region see www.visitalgarve.pt/en
Aer lingus current seat sale from €29.99 each way to Faro runs from 6th -19th September with flights from Dublin and Cork to Faro. See www.aerlingus.com
Stay at Castro Marim Golf Resort this autumn for 3 Nights, 3 Green Fees + Shared Golf Buggy each round, Breakfast each morning in The Clubhouse.
November 1st- 19th 2022 from €356pp. www.castromarimresort.com
Stay at Quinta Dos Vales in a one bedroom studio apartment at the vines from €291 total for three nights in October. www.quintadosvales.pt