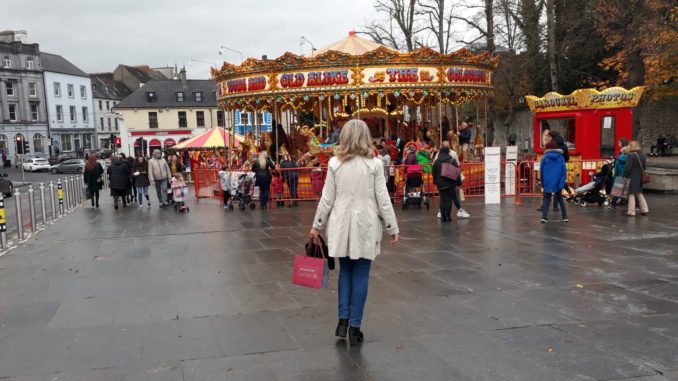 Newstalk December 4th Yulefest Kilkenny
Listen back to the podcast here https://www.newstalk.com/podcasts/highlights-from-the-hard-shoulder/what-to-do-in-kilkenny
Kilkenny, known as the 'Marble City' is a medieval city on the banks of the River Nore. It is a centre for heritage and culture, arts and crafts and hosts a multitude of fine restaurants, cafes, pubs and shops. Walk the medieval Mile and spend your day exploring this magnificent city with a variety of activities to give you a taste of what this charming cultural hub has to offer. www.visitkilkenny.ie Hard water on limestone….you need a new kettle every couple of months but this makes good ale which I will be talking about….
I parked the car up in the Ormond car park and there is a special rate of €13 for three days which worked out much better than the €12 per day so bare that in mind and of course the train station is  a short stroll away from the centre of town. This is an easy city to walk around as everything is close by.
Kilkenny is great for festivals…food festival in October – Cat laughs June Bank Holidays – May is rhythm and roots music festival and the Arts Festival is in August for ten days….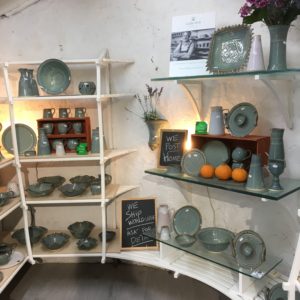 I went to The Kilkenny Design Centre which is part of Kilkenny's Castle Yard, built in the 1780s by the Butlers, Earls of Ormonde, as the coach houses and stables of historic Kilkenny Castle. The Castle Yard is also home to the National Design and Craft Gallery, one of Ireland's most exciting artistic venues. The historically significant Kilkenny Design Workshops were also established in the Castle Yard in the 1960s. Staffed by bright, young international designers, craftspeople, design graduates and apprentices, the workshops' remit was to improve design and manufacturing standards in Ireland, which they achieved through their creative output right up until closure in 1988. The government-funded design research and development centre of excellence revolutionised Irish Design with lasting impact. www.kilkennydesign.com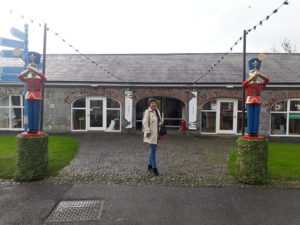 Des Byrne is a silversmith responsible for making the current copy of The Sam Maguire in 1988 for the Dublin Millennium but that isn't all that he made – I had a chat with him about the 51 years he has spent making jewellery and craft in Kilkenny. He also made a sculpture for the pope designed by Oisin Kelly that was given in 1979 during the visit of John Paul 11.
There's an irony that the home of hurling is responsible for the Sam Maguire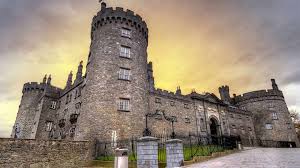 Kilkenny Castle is largely a Victorian remodelling of the thirteenth century defensive Castle. I took in a guided tour of the period rooms in this grand country house and walk through its fifty acres of rolling parkland with mature trees and an abundance of wildlife.
The Parade, Collegepark, Kilkenny www.kilkennycastle.ie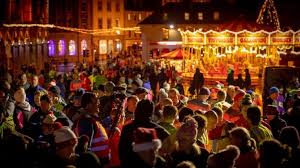 There will be several events over the Christmas period with choirs and concerts. So check out the Yule fest program https://yulefestkilkenny.ie/
* * * * * * * * * ** *
Where to stay? Kilkenny Hibernian Hotel
The great location in Kilkenny city, beautifully designed guest bedrooms and mouth watering food makes the 4 Star Kilkenny Hibernian Hotel one of the best hotels in Kilkenny City. All 47 guest bedrooms have had a complete makeover providing luxurious, chic accommodation for all visiting. All popular restaurants, shops and museums are within walking distance of The Kilkenny Hibernian Hotel making it the ideal city centre hotel.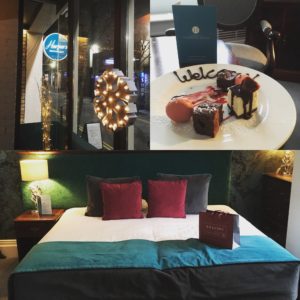 Rooms from €71 per room but you can also enjoy a suite which has a whirlpool bath!
www.kilkennyhibernianhotel.com
 Butlers House is also in the centre of the town in a great location and steeped in history – it's one of Blue Book Houses that I love around the country and it has a special set of activities in its gardens during the festive period. As paula mentioned there is a special winter garden open for families and it is free – pop in and have a festive afternoon tea….
It is a beautifully restored Georgian House, it has that cosy feel of staying in someones home rather than in a hotel. The lobby is more like a sitting room than a hotel reception and you can sit and have a tea or coffee by a fire! Some rooms have views out into the garden and seating by the window so you could spend some enjoying a book in the room for some down time during your stay.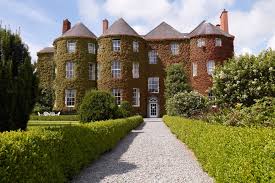 If you want to enjoy an evening meal The Anocht Restaurant it is just a short walk through the gardens to The Heritage Center. Great portion sizes and again a warm cosy atmosphere means you can get out of the hotel for an evening, have a meal and then enjoy the city.  Rooms from €110 B&B
Winter City Break at Butler House, Co Kilkenny
Escape for a mini stay this winter, with 1 Night' Bed and Breakfast from €110.00 total stay. This winter escape will offer relaxation at its finest. Take a walk on the Medieval Mile or explore all Kilkenny has to offer before settling down to enjoy one of our luxurious rooms. In the morning stroll around our Garden before treating yourself to our award winning  breakfast. The perfect recipe to rejuvenate the batteries. -Artisan Breakfast -Complimentary Parking -Complimentary WiFi
* * * * * * *  * * * **  * * *  *
I found some incredible places to eat!
Ristorante Rinuccini is a family owned and run multi award-winning Italian restaurant located in the heart of Kilkenny City for almost 30 years.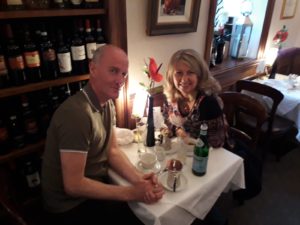 Specialising in classic Italian cuisine, made using the finest of Italian and fresh Irish ingredients, Ristorante Rinuccini boasts an extensive menu selection offering lunch, dinner, group bookings and private dining in our city centre restaurant.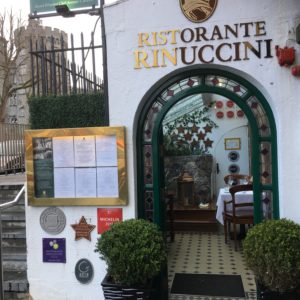 This was the best Italian meal I had outside of Italy since The Hotel San Remo in San Francisco back in 2015! The scallop risotto will stay in my happy memories for some time to come!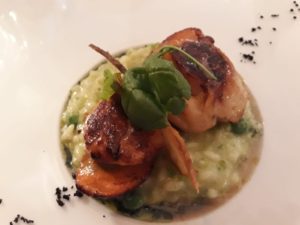 Address: 1 The Parade, Kilkenny, Ireland      www.rinuccini.com
I had dinner at Harpers Restaurant in the Hibernian and they have a wonderful chef there Cormac who sent us out some sea bass to try – wonderful atmosphere and tables were full…
Aran Bakery….The big story in Kilkenny is a little Artisan Bakery that is only open five months. I went for brunch on Sunday and there was a queue out the door. The Bakery was started by Bart who grew up in Kilkenny but is originally from Poland – he went off to Denmark where he met his wife Nicole and they have something  very unique that is popular with locals….The bread is grown from local suppliers and the sausages supplied from wild boars that are bred locally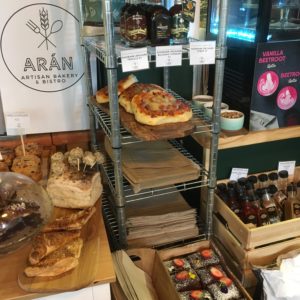 Artisan bakery and bistro in the heart of Kilkenny city serving delicious brunches from seasonal local produce and stone baked breads with natural Irish ingredients. All of their breads are stone-baked daily in our bread oven and contain nothing but salt, water, flour and natural leaven or a fresh yeast culture. no preservatives. no chemicals. just nature. All flours are grown and milled at The Little Mill built on the River Nore in Bennettsbridge, Co. Kilkenny.
Address: 8 The Arches, Barrack St, Kilkenny                                   www.arankilkenny.ie
I met Kathy Purcell from Castlecomer Discovery Park for a chat about the Christmas Experience at Castlecomer Discovery Park. Embark on an enchanted journey this Christmas… experience a Magical Woodland Christmas at Castlecomer Discovery Park.– The Junior Woodland Adventure Course and The Bouncing Net, Visit Mrs. Claus in an Igloo, Meet Santa Claus & Receive a Gift, Explore and Play.
This is a community based business in castlecomer which was affected by the closer of the coal mines in the 80s but this led to great creativity of the landscape and the 80 stunning acres of woodland now boasts the longest zipline in Europe – it's home to the Christmas wonderland…
The Left Bank has been transformed into one of Kilkenny's most popular bars and venues. A recently renovated Bank of Ireland Branch, this Kilkenny bar features a beautifully designed main bar with lively atmosphere and friendly staff.
Address: No. 1 The Parade, Kilkenny  www.leftbank.ie
Dinner Harpers: At Harpers, their ethos is to provide amazing food, quality wines, select craft beers and great service in a warm and friendly atmosphere. They ensure all guests are given an unforgettable dining experience, with talented chefs led by Head Chef Cormac Vesey, only using the best ingredients from local suppliers they know and trust.
Their Collection of Harpers Menus included dishes that use the best of seasonal produce, ensuring award-winning taste and quality. Combining casual urban dining with stylish interiors, Harpers is undoubtedly one of the best restaurants Kilkenny can offer. With an extensive wine list and wonderful selection of gins, whiskeys and various other spirits, you can have Harpers as your go-to destination for your next night out in Kilkenny.
www.kilkennyhibernianhotel.com/harpers
As part of yulefest I went to see – Trio Rodin (from Spain) at The Heritage Council
Trio Rodin, one of the most outstanding young Spanish ensembles of their generation, was founded in 2011 in Utrecht. Acclaimed by critics for their intensity, expressive and communicative style with the audience, Trio Rodin was awarded 1st Prize at "XI Chamber music competition Montserrat Alavedra" (Terrassa, Spain), as well as at the prestigious "Storioni Festival Prijs" (Hertogenbosch, The Netherlands). In describing 'Nostalgic Tales' the ensemble states that music can express feelings, emotions, experiences and even ideas in a way that words cannot.
Played at The Heritage Council, Church Ln, Gardens, Kilkenny, 11 minute walk straight down High Street towards St. Canice's Cathedral. Pass the Cathedral via Church Lane on the right hand side and the Heritage Council is behind the Cathedral on the far side of the road.
What about sight-seeing?
I visited The Smithwicks Experience. The original Smithwicks Ale was called St Francis Abbey the history of Smithwick's Irish Ale at our Kilkenny Brewing Tour. Part of the tour comes to life with a holographic monk and this wonderful room where the Smithwick family from the centuries tell thier stories.
John Smithwick was a catholic and he wasn't allowed to own a business so it was fronted by his friend Richard Cole and he secretly ran the business from 1710. I got hands on brewing experience at this top Kilkenny attraction and learn about how the nine generations of Smithwick's men worked all their lives to create an ale made from quality, reliability and the perfect marriage of technology and tradition.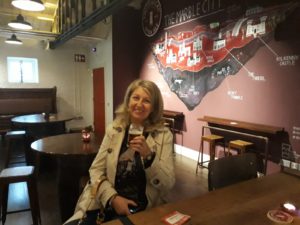 The interactive display where the pictures come to life with different members of the Smithwick clan is well worth experiencing and of course at the end of the tour you get to sample from the range of ales…..
Tickets €14 adults – pre 12pm entry is €12
44 Parliament St, Gardens, Kilkenny  www.smithwicksexperience.com
I also recommend
The Medieval Museum set in the old St Marys church
It has perfect replicas of stone crosses such as the High Cross at Ahenny
https://www.medievalmilemuseum.ie/
 Overall Kilkenny was a wonderful setting for a cheeky winter break. It's the perfect sized city to stroll around as everything is close by. With a huge choice in restaurants and places to go and things to do it's perfect for couples or families or a gang of friends….Kilkenny I'll be back!