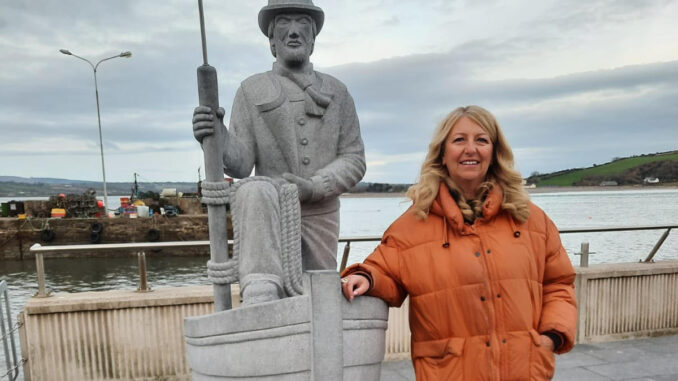 One hundred years is a long time to be in business but that's an accolade Aherne's Townhouse and Seafood Restaurant can enjoy with satisfaction this year. I dropped by on a recent whistle stop trip to Youghal in Cork and met proprietors, the Fitzgibbon family. It is always a delight to be greeted by the owners and staff with a warm welcome. This simple addition to a trip which is dwindling in this age of self check-in and technocratic hotels. Katie showed us to our room swaddled in pink and roses and immediately I felt like I was visiting family. She told us about the best spot to go for music that night and to take our time coming down for dinner.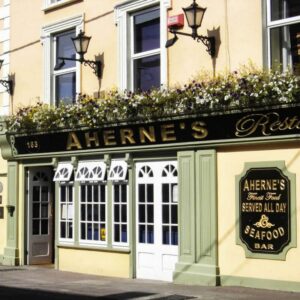 Youghal is a town steeped in history so I set off with my other half, Terry, to discover more. The Clock Gate Tower is impossible to miss and marks the center of the town since 1777. Built on the site of Trinity Tower which was the gate to the medieval town in the 1400's, it originally functioned as a gaol. The story of the tower has changed over the centuries where it has been a center for trade and from 1915-1959 it was home to the Mc Grath Family. It is now a fascinating museum and tour about the life of the building. A one hour tour costs €9.50 children under 6 free. Family ticket €25 and it opens to the public after St Patrick's Weekend.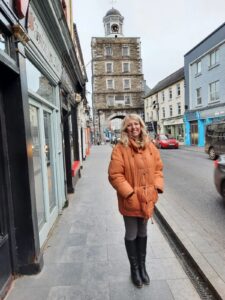 On our ramble down the Main Street we popped into a charming second-hand bookstore and found a copy of the letters of CS Lewis sitting in the window – I'd wanted to read it for some time so picked up the bargain. Buying a book reflects the easy pace of life in Youghal and it felt like we had stepped back in time. Along the waterfront we stopped at a stone statue of Gregory Peck as Captain Ahab from the motion picture Moby Dick. The opening scenes of the movie was filmed in Youghal Harbour in 1954 and this commemorative statue was unveiled in 2020 and stands in Market Square. It's a nice addition to a town that has many stories to tell.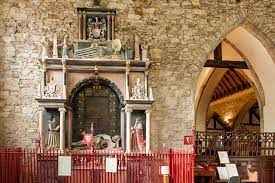 Another historic jewel that we visited is St Mary's Collegiate Church in the town's Raleigh Quarter. It is the oldest church in Ireland to be in continuous use since the 13th Century. Built a Roman Catholic it remained so until the English Reformation of 1533. The baptismal font is over 600 years old and only one of the many artefacts that mark time in Ireland's history. Standing under the aged-oak ceilings beams that have survived famines and war since the 13th century is a unique and spiritual experience. Open seven days a week from 11am to 4pm, there is now a self guided audio tour and touch screen interactive points set up around the church. For more see www.livingyoughal.ie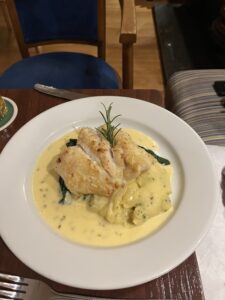 It was time for dinner and Aherne's boasts an award winning restaurant over three decades. We settled into the cosy corner of the bar and sent on a voyage of delicious seafood tasting. If given the choice I would always go for seafood but with scallops and monkfish and lobster it was difficult to decide so we ended up sharing four dishes and got to sample many delights.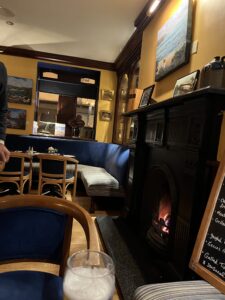 With our appetites more than sated we took Katie's advice and went over to The Nook to hear the jamming session made popular on Thursday nights. We sat at the bar and enjoyed the mix of Rock, Irish and Country music filling the walls with atmosphere. Being the day after Ash Wednesday there were plenty of orders of Guinness 00 and coke but the craic was good and joys of a real Irish bar palpable.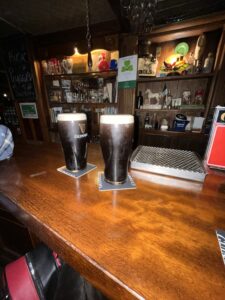 Next morning at breakfast owner John Fitzgibbon joined us and recounted the story of how his father who was an army officer in the local barracks met his mother. He said a record was kept in the officer's mess stating where he was going at night. It read cinema, dance etc until on one particular day it reads Aherne's Bar and from that day on it remained Aherne's bar. His future wife worked for her parents in the bar and from then they would build the family business together with their sons. This is to be the last season for the Fitzgibbon family as the property is for sale but the legacy they leave in the town of Youghal will be remembered for many years to come.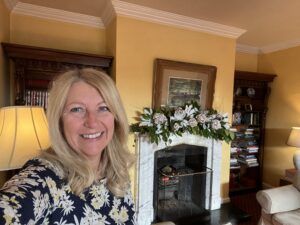 Many of our glorious country and town houses in Ireland offer an authenticity that is difficult to find around the world. As the landscape of hospitality changes at a quicker speed than usual it's more important than ever to cherish and support the uniqueness of Irish properties like Aherne's. Luckily they are members of Ireland's Blue Book and any vouchers bought through the group can be used in many such gems across the country without an expiry date. I hope the new owners put as much care into maintaining Aherne's and the uniqueness of Irish hospitality.
For more Irish places to stay see www.irelands-blue-book.ie