When I was a sock designer in the eighties I used to travel to London every couple of weeks, but since the new millennium I have only been a handful of times for fleeting visits. That's why I was very keen to seek out the changes in cuisine on a recent visit. I found a huge variety of epicurean delights that will suit all budgets and as my friend and I were travelling with our kids it made the experience more challenging.
Afternoon Tea is a quintessentially English experience and The Arch Hotel on Great Cumberland Place is a real find for a very different treat.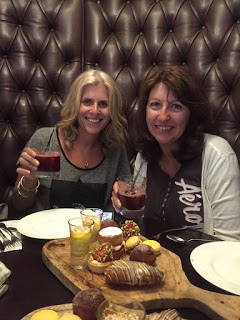 The contemporary Afternoon Tea offers fresh warm cinnamon and sugar doughnuts filled with apple jam in the place of scones.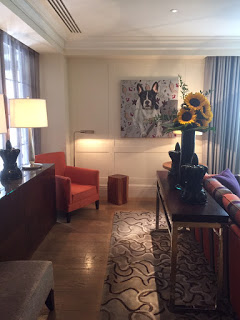 The Arch Hotel
Savoury delights include Mini Beef Burgers with Onion Marmalade in Brioche Buns; Smoked Chicken, Chilli, Avocado and Mango Tortillas, Mini handmade Scotch Eggs with Piccalilli; and Chicken Satay served with a Peanut dipping Sauce and Sesame Seeds.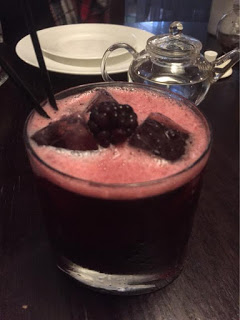 This fruity cocktail was an exotic start to the Afternoon Tea
Sweet treats include homemade Macarons; exquisite Mini Coffee Éclairs; and a Lemon and Mango Rice Pudding with Toasted Coconut. Strawberry and Pistachio Tarts and Mini Raspberry Victoria Sponges will provide a nod to the traditional British Afternoon Tea.
Priced at £29 and £38 with Champagne, the Afternoon Tea can be enjoyed in the hotel's stunning Martini Library, stylish restaurant, or chic Salon de Champagne lounge.
This was afternoon Tea with a difference. The kids adored the mini fish and chips and mini burgers while the adults demolished the chicken on a stick. This charming hotel is somewhere we all would like to return to.
Check out this chic boutique hotel on this link The Arch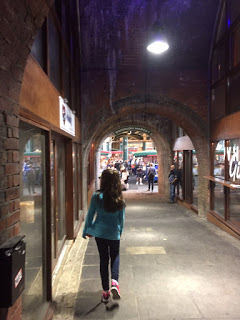 My daughter couldn't wait to explore Borough Market
Since the development of the South bank of the river Thames there is always somewhere yummy to eat. Southwark is home to the Tate Modern and the new Globe Theatre and although I had not been I had heard about the development. But I didn't realise that Southwark is home to an exciting food Market. The aromas from the stalls are filled with so much choice and variety that there is something for everyone's taste. From the hog on the spit, Pad Thai in a box or Oysters for £5 my eyes and senses were reeling. Under the gaze of the Shard (the tallest building in the EU) this area is also home to The Leaky Cauldron and a must for Harry Potter fans! Start your Muggle Tour here!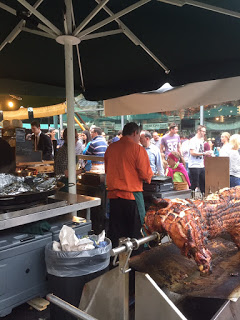 Borough Market

Check out the website here to whet your appetite. Borough Market 



Radio Rooftop at ME London

Brunch is a great way to spend a lazy Saturday or Sunday and I think I found the perfect spot in London. The Radio Rooftop restaurant has probably the best view of all of London's major sights in the perfect location on the Strand. At the top of the uber trendy ME hotel it is a hive of activity with a menu that will satisfy all tastes – including picky kids! 
Check out the views on the website if you don't believe me. Radio Rooftop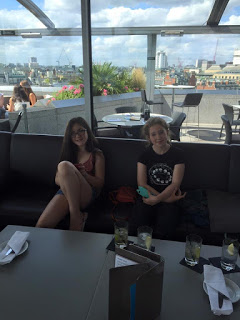 Kids on Top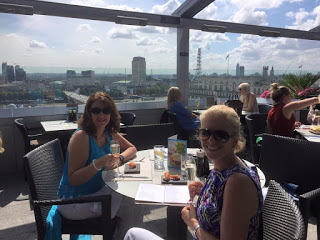 Happy Mums for Saturday Brunch at Radio Rooftop
With super fast Wifi the kids were so busy that my friend and I could mull over a bottle of Prosecco for three hours under the London sunshine. French toast with berries satisfied the kids while I enjoyed crab omelette, sweet corn fritters and my friend, Wendy went for the Eggs Benedict. Yet again we found a true delight and if I return without the kids I will be paying this bar a visit in the evening too!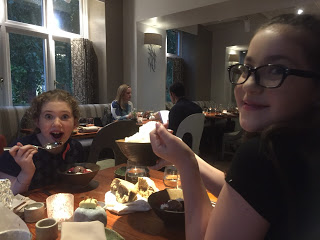 The delicious Caxton Grille at the St Ermins Hotel

If you are looking for a truly special meal in London, then a few steps across the road from New Scotland Yard is the beautiful St Ermins Hotel and home to The Caxton Grille. Masterchef Adam Handling made this dining experience one of the best meals I have ever had the pleasure to enjoy. I did wonder how the kids were going to like such exotic cuisine but I needn't have worried…after their delicious mains our waiter produced a bowl of homemade candy floss to impress the girls and it most certainly did!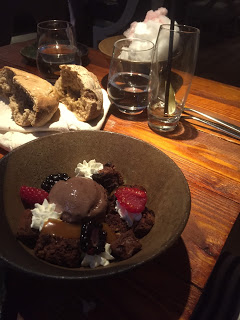 The Kids choclate Brownie with Candyfloss in Background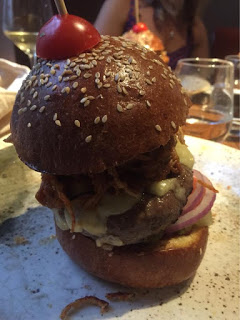 My main course Wagyu Burger
My mouth still waters every time I think of my Wagyu Burger and I didn't think that the meal could get any better…until desert came out that is! A feast for the eyes and senses is the only way to describe my popcorn, nougat, caramel and burnt orange ice-cream pudding.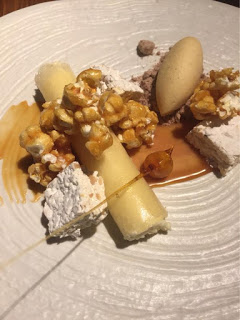 Followed by home made lollipops and petit fours I cannot remember a better meal. 
Adam Handling is a genius. Check out the website for the Caxton Grille here.
If you are travelling on a tight budget then you can still find plenty of good places to eat. I was pleasantly surprised to find dinner for two adults and two kids for £50 including a half carafe of Wine on Victoria Street. The Colosseo is a warm friendly place with freshly made pizzas and pasta dishes – well worth checking out for a lovely family experience. Click here colosseo restaurant to see more information.
Overall our dining experience in London was mouthwatering with wonderful choice to please all the family, young and old.
I write about 1980's London in my novel Six Postcards Home and if you would like to read a copy you can get it here on amazon