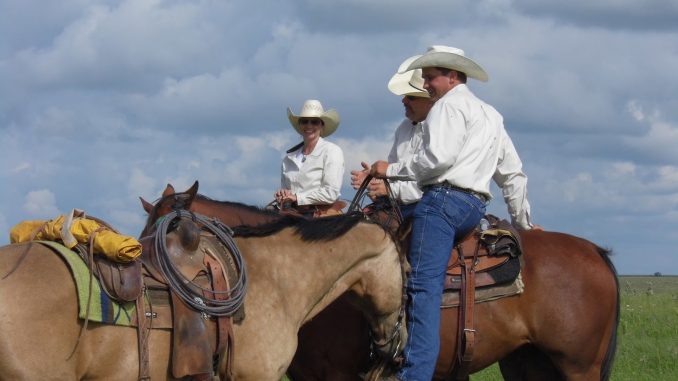 The Wizard of Oz usually springs to mind at the mention of Kansas but this summer I set off with my Dad who is passionate about the Wild West to discover what the Sunflower state has to offer the discerning traveller. We found an enchanting destination with a call of the wild!
Our Kansas adventure started the moment we landed at Wichita airport. Regarded as the airplane capital of the world and home to names like Cessna, Beech and Boeing makes it a must for aviation enthusiasts. We flew from Dublin with United Airlines via Newark and after a short transfer into Wichita city my arrival was cushioned by a warm welcome at the Ambassador Hotel. After a delicious dinner we were just in time to see the lighting of the lamps at the iconic 'Keeper of the Plains' statue. This 44 feet statue of an Indian Chief stands majestically at the meeting of the Arkansas Big and Little Rivers. Every night at sunset flames shoot from the urns at the foot of the keeper for fifteen minutes, dramatically lighting the night sky. As we arrived the confluence was buzzing with visitors and locals to see this almost spiritual experience.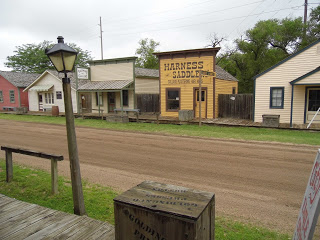 Next day we swung by Old Cow Town, a perfectly reconstructed Wild West village which whet my appetite for my stay at the Moore Ranch in Bucklin. This ranch is where the famous advert for Marlboro Cigarettes was shot in the 1980s. Long horn Texan cattle abound the mid-grass prairie and hosts Joe and Nancy Moore immediately make their guests feel like part of the family. That includes dining at the family ranch and helping with the chores like feeding the orphaned lambs and calves. It's a job that proved a joy for a city slicker like me and my Dad being a lover of the countryside felt right at home.  
Morning means time to check on the cattle and their calves. My choice of horse for the chore was a steady white who was kind and despite my nerves carried me out to the fields with confidence. This is not a dude ranch, this is the real deal. Joe set off next day to Colorado to sell a dozen head of cattle and while we rode the range there were fences to fix. Accommodation is chalet style and set about 100 yards from the main house. Each chalet is equipped with an en-suite and air conditioning. But to truly enjoy the experience forget the luxuries of a mint on your pillow, what the Moore's offer is something unique and missing from the generic experiences we have become accustomed to in mainstream hotels. www.moorelonghornranch.com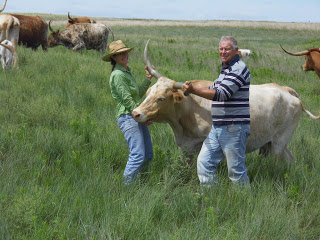 Nancy Moore and my Dad holding down a steer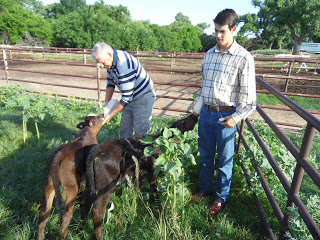 Feeding the calves at Moore Ranch with Will the ranch hand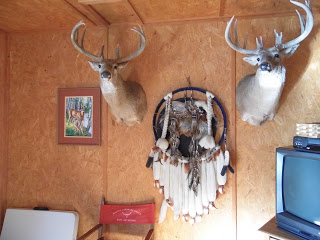 The guest cabin at Moore ranch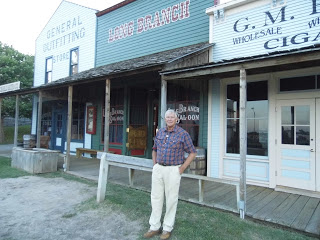 My dad was in his element at the Long Branch Saloon
With great reluctance we left the Moores after two days and promised to return for a week next time. It was a forty mile drive to my next destination, Dodge City. The town's motto is 'Get the heck into Dodge' and it was a great chance to explore real cowboy history. The main street has been reconstructed as it was in the 1840s. Once a major stop off for the cowboys who herded the cattle from one end of the country to the railroad in Abilene and the Sante Fe trail, it is now a city of 50,000 that holds firmly to its cowboy heritage. It is also great fun. The Long Branch Saloon, made famous in the popular TV series Gunsmoke, hosts a nightly show with a staged gunfight on the street outside followed by a performance from the legendary Miss Kitty and her Can Can dancers. See www.visitdodgecity.org for more details of this fun town.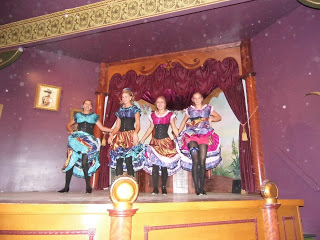 Miss Kitty dancers at Long Branch Saloon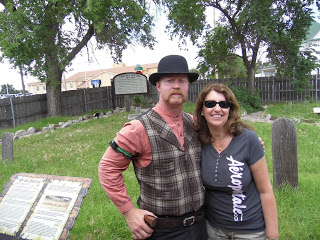 At Boot Hill Cemetary Dodge City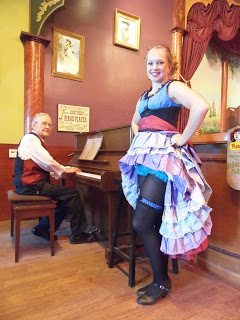 Dodge is also home to a spectacular casino for those who fancy a flutter. It is next door to a Hilton Hampton hotel where we conveniently stayed before setting off for Great Bend the next day. Great Bend is a large town next to one of the states greatest treasures − The Byways and Wetlands. Our wildlife adventure started at Cheyenne Bottoms, a massive marsh land hosting flocks of pelicans, terns and unusual seabirds that use the area as a stopover on their journey from coast to coast. The area is well signposted for tourists but it is a good idea to pay a visit to the Wetlands Educational Centre beforehand to know what to look out for.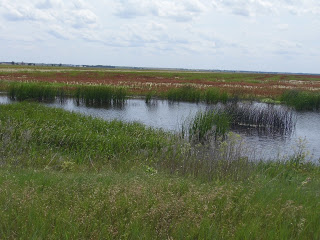 At Cheyenne Bottoms
The great salt lakes of the prairie make up Quivira national park where we spotted deer frolicking and a mischievous coyote out for a gander. Binoculars are a must on this excursion and ornithologists will find a little bit of heaven as Cormorants, Herons and Hawks soar past. Close by we enjoyed a spectacular lunch at Heartland Farm which is run by a group of Dominican Sisters. The sisters keep Alpacas and serve delicious home grown organic food. They offer incredible budget accommodation in a wonderful setting and for a true retreat from a technology busy world this place is perfect www.heartlandfarm-ks.org.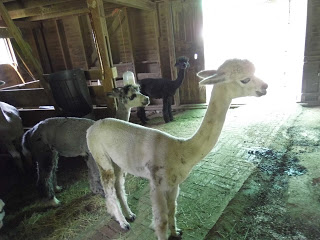 Our visit to Kansas was perfectly timed to fit in the Symphony in the Flint Hills annual festival. In its tenth year the theme this time was 'Grasslands of the World' and the Flint Hills can proudly be named as one of these. Home to the greatest expanse of grassland in the United States, where the buffalo roamed freely until their demise in the 1870's, the Flint Hills can best be described as lush green countryside with gently undulating green hills that beckon to be discovered on horseback. It compares admirably to the Mongolian and Patagonians grasslands and dare I suggest even the Serengeti. The wildlife may be more subtle than the species found in Africa but the sense of freedom and air of majesty was comparable.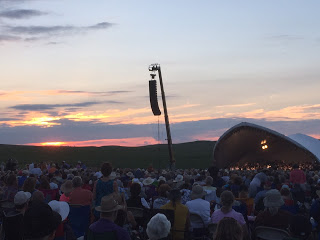 The Symphony in the Flint Hills – the cows gathered from surrounding prairie to listen to the music
The headline act for the tenth festival was Lyle Lovett, better known perhaps as ex-husband to Hollywood actress Julia Roberts. The music flowed with orchestral arrangements of Out of Africa and Silverado, finished off with the Grammy award winner's country tunes. In the distance herds of cattle gathered around the stage to show their approval and had to be ushered away from the stage. Another truly unique experience in this land filled with surprises.
Heading west to east we drove through the picturesque town of Lindsborg. Populated by Swedish immigrants in the 1800s it is as much a piece of Sweden today as the land that the immigrants left. Blue flags with yellow crosses wave from poles along the main street in unison with the Star Spangled Banner. This town is extremely desirable to live in with beautiful art galleries and studios. The award winning National Geographic photographer, Jim Richardson, shows his extraordinary work in the Small World Gallery and studio. It sits beside the lovely dala horse shop where the souvenir wooden horses are sculpted in all sizes and painted by hand in a traditional and unique fashion. Check out www.lindsborgcity.org for more details.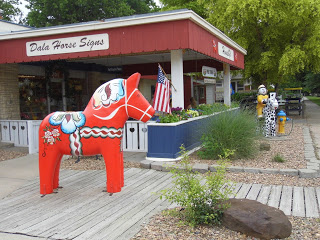 Giant Dala horse in the Swedish style town of Lindsborg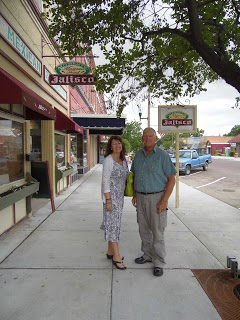 Dad and I were fascinated by this jewel of a town in the middle of the prairies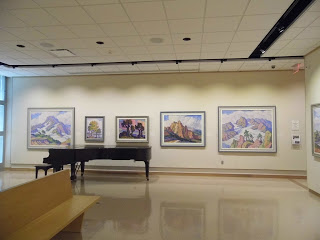 The Sandzen Gallery
I continued on my journey east and a short ten miles from the university city of Lawrence is the delightful Circle S Ranch. This haven is home to a herd of buffalo and long horn cattle, but it is also a very desirable County Inn which hosts wedding parties all year around. Each room is themed and I was led to the exquisite 'blue and white room' which boasted four windows and a Victorian free standing bath in the corner of the room. At night the fireflies put on a show, dancing like fairies from branch to branch in the surrounding fields. Dinner was good enough to be given a Michelin star with creamy mash, Mediterranean veg and marinated beef that didn't require chewing. I was overall impressed with the choice of eateries in Kansas and the option to find quality rather than the usual preference of quantity in the mid states. See www.circlesranch.com for more details.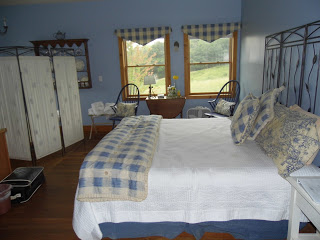 My beautiful room at Circle S ranch with a victorian bath behind the screen!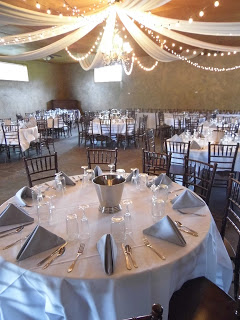 All set for a wedding at Circle S ranch
Kansas is also home to the pioneering adventurer Amelia Earhart and after travelling the state for a week I realised that I needed more time to see everything. There aren't too many references to Dorothy or the Wizard of Oz but the Museum of Oz is in Wamego and situated between Lindsborg and Lawrence. However I can now understand Dorothy's attachment to her homeland and see why she was so keen to get back there.
I clicked my heels three times and found myself on a United Airlines Boeing 757 with the comfort of extra legroom for a mere €60. Dining was refreshingly good for economy with three course servings and constant refreshments available throughout the flight. I was home with a fresh view of the Wild West and a rejuvenated spirit.
Published in The Irish Country Magazine October 2015, credit to Irish Farmers Journal publications.
For more information see www.travelksok.ie

For packages see www.AmericanHolidays.ie or call Dublin 016994232
United Airlines
 offers a service from Dublin to Kansas City International Airport via its New York hub, Newark Liberty International Airport and Washington, D.C. hub, Dulles International Airport operated by Boeing 757-200 aircraft featuring 169 seats – 16 flat-bed seats in United BusinessFirst® and 153 in United Economy®, including 45 Economy Plus® seats with added legroom and increased personal space. 
Visit www.united.com

or call 1890 925 252
Fare start from €970  incl tax for travel outbound between 1NOV – 17DEC and 25DEC – 31MAR
Fare start from €1050  incl tax for travel outbound between

 

23 AUG – 31 OCT

 

and

 

1APR

 

24JUN
Fare start from €1293  incl tax for travel outbound between

 

25JUN – 22AUG
Fares are non-refundable and changes are permitted with a fee of €130 per transaction.