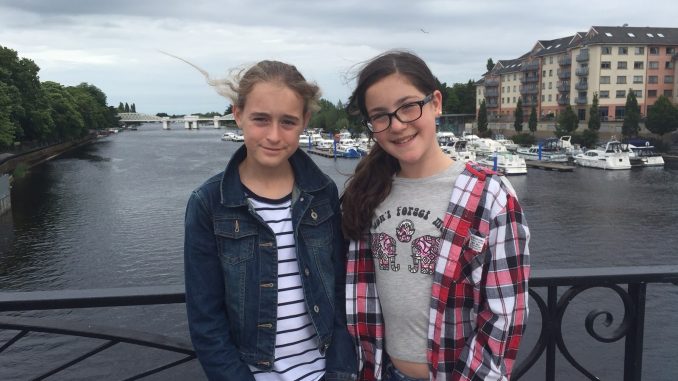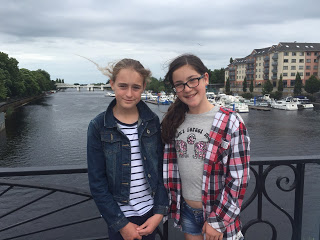 The summer holidays can feel long when you have a teen and a tween shuffling around the house but living in Ireland we often forget that there is plenty to do on our doorstep. I let my son and daughter bring a friend each on a mini staycation to Athlone. Being in the middle of the country Athlone is close to everywhere and it has a vibrant history and story to tell.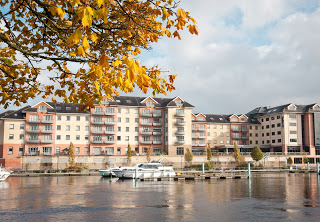 Our staycation started at the Radisson Blu hotel which sits in the middle of the town overlooking the River Shannon and a great location to park up the car. My 11 year old daughter and her friend were excited by our huge family room and unpacked quickly leaving their teddies on the giant bed for later. My teenage son was relieved that he and his pal had the privacy of an adjoining room and I was pleased that they were close by for me to keep an eye on them. With two ensuites, plenty of TVs and free wifi I knew they would be happy at night.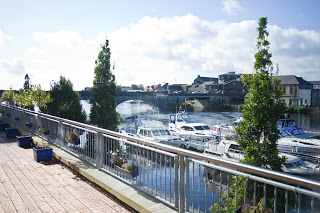 We took a Viking Tour from outside Athlone Castle on a replica Viking ship. Our captain and navigator gave a running commentary which was informative and enjoyable with stories of folklore and natural history. It proved great fun for all ages and an interesting 45 minute trip along the river to Hodson Bay. At €10 per adult and €5 for kids it was good value too.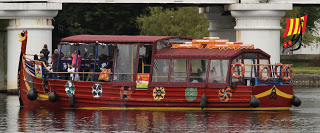 We were left off on the jetty at Hodson Bay and home to Baysports Boat and Water Sports Centre. This is Ireland's largest inflatable waterpark and will rival any found on the continent. There was plenty to entice my teens and tweens who were given wet suits on arrival and after debriefing were brought out to the floating pontoon by rib.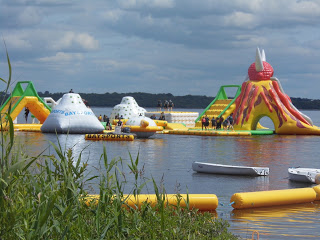 The hour spent on the slides, trampolines and other delights slipped by but even after all that exertion they wanted to try kayaking. The waterpark is excellent value at €10 per hour for children up to 14 years old.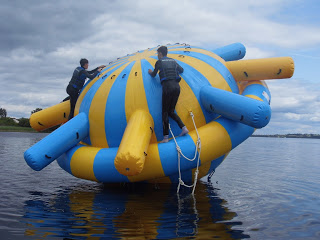 We caught the Viking ship back to the town after two hours but the kids still had energy for a swim in the pool at the Radisson Blu. While they are bathing I sat on the open decked bar and sipped a glass of wine. The hotel serves BBQ lunch on sunny days and watching the boats float up and down the river was a wonderful way to spend the run up to dinner.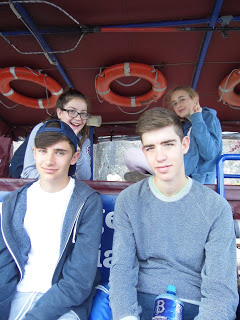 There are lots of good eateries in Athlone and it is worth checking out the website www.athlone.ie to see a selection. We dined in the Radisson Blu Elemtentals Bistro. It offers a broad menu – we ate duck, steak and chicken and each meal was beautifully presented, only the boys had room for dessert however as portions were generous.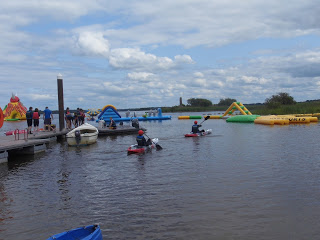 After a great night's sleep we got up to enjoy a hearty breakfast buffet. I pulled rank and insisted we put a little culture into our staycation. Athlone Castle is a stone's throw from the hotel and tells about the development of the town from Bronze Age settlers to the twentieth century and of course the famous Siege in 1691. In the market square St Pauls' church is home to six magnificent Harry Clarke windows which really are worth a view.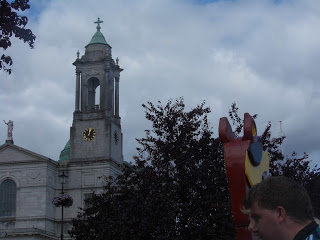 We packed up our luggage a little too quickly and when we get home discovered to my daughter's horror that she had left her favourite teddy in our hotel room. But the housekeeping at the Radisson Blu proved super efficient and told us they keep records of all lost property. They guaranteed to post teddy to us immediately FOC which was a huge relief and great service. I don't think teddy wanted to leave Athlone and neither did the kids.
http://www.vikingtoursireland.ie/ Viking Tours run from Easter to October
http://www.baysports.ie/ for information about Baysports Water Centre