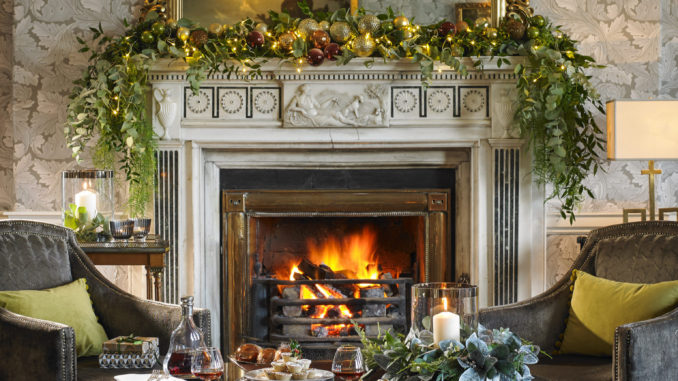 Does the thought of preparing for Christmas terrify you? Do you want to run away and avoid all the hassle and work? Well on Wanderlust Wednesday we have just the solution for you. Check out these trips to far flung places where you can forget about Christmas all together or soak up the festive atmosphere in Ireland without the work….
Quick Getaway with Sunway
These packages are good value considering this is a premium time of year to travel – the weather is not guaranteed wherever you go but you do have a good chance of the high teens which is going to be better than the weather in Ireland…
Christmas in
Algarve
Departs:23 December 2019  –
5 Nights
4* Vila Gale Cerro Alagoa
BB – € 349 PP
Alfagar Village
Santa Eulalia, Algarve FAO
Return Flights
Self Catering
1x One Bedroom Apartment Gardenview
Payment Planview plan
Baggage & Transfers are optional extras From €609 pp
Lanzarote
3* Blue Sea Hotel Los Fiscos
Departs: 22 Dec 2019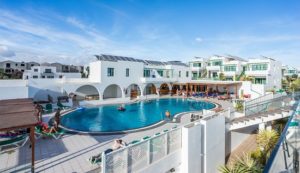 6 nts Half Board  Basis €805 pp
Contact Sunway https://www.sunway.ie/sun-holidays/lanzarote-canaries/
Agadir
22nd December 2019 – 7 nights
Fly Dublin – Marrakech
Return Airport Transfers 7 nights 3* Argana Hotel
10 kgs checked in luggage pp
Total price €649pp
* * * * * * * * * * *  * * * * * * * * * *
Spend Christmas in the Snow
This package with Topflight ensures a magical atmosphere and ideal for someone who wants to experience a different yet memorable Christmas away from home
Travel on 21st December
4* Hotel Bruggwirt, St Johann in Tirol, Austria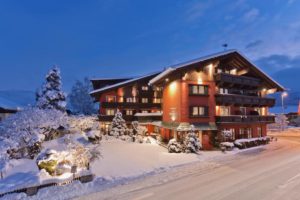 €1019pps (from Dublin)
€949 (from Cork)
£872 (from Belfast)
Price includes:
– Return flights
– Return transfers
– Accommodation for 7 nights with breakfast and four-course evening meal
– Taxes
– Topflight's in resort management service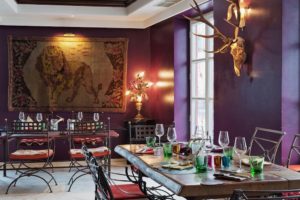 A Christmas Break at Cashel House
Christmas Eve: Guests can enjoy a special cocktail reception in the bar as the McEvilly family welcome you to Cashel House. A festive dinner will commence at 7 pm accompanied by traditional Irish music and carols.
Christmas Day: On Christmas Day a traditional Irish breakfast will be served in the Dining Room or in your own bedroom. Santa will make an appearance in the afternoon will gifts for all, followed by a buffet lunch in the Dining Room. The day is then yours to do with as you wish; head out for a walk or bike ride in the Connemara countryside or just put your feet up by the log fire. Afternoon Tea is available throughout the day. A mulled wine reception will precede a traditional Christmas dinner. Traditional Irish music will be provided by musician Seamus Flaherty.
St. Stephens Day: St. Stephen's Day will begin again with a traditional Irish breakfast, and dinner will be served in the evening, giving you the whole day for activities or relaxation.
Price: From €695 pps
Dates: 24.12.2019 – 27.12.2019
For more information or to book, contact Cashel House directly on 095 31001
 * * * * * * * * * * * * * * *  * * *
Christmas at Mount Juliet Estate
Treat your loved ones to the ultimate Christmas getaway at Mount Juliet Estate. Enjoy the wonderful surrounds of the Manor House this Christmas and indulge in the fantastic festivities and flavours on offer.
Christmas Eve: Arrive to a warm and festive welcome of carols singers and enjoy mulled wine before dinner in either the Lady Helen or the Hound restaurant.
Christmas Day: Awake to enjoy a leisurely champagne breakfast. Spend the morning enjoying the comfort of your room or attending a local Christmas ceremony. Santa Claus arrives in the afternoon to surprise all junior guests with a bespoke gift. A champagne toasts preceded a traditional Christmas Lunch in Hunters Yard. Unwind for the afternoon with a peaceful walk in the grounds or just relax by the fire. The evening will culminate with a light buffet in the Manor House before live music in the drawing room.
St. Stephens Day: Enjoy a relaxed breakfast before a leisurely stroll around the grounds and then Afternoon Tea. Choose from a range of activities on the estate such as horse riding or falconry before dinner is served in the Lady Helen Restaurant on your final evening.
Price: From €1248 total stay for two people
Dates: 24.12.2019 – 27.12.2019
For more information or to book, contact Mount Juliet Estate on 056 777 3000 or visit www.irelandsbluebook.com
 * * * * * * * * * * * * * * *  * * *
Enjoy a Wonderful Wexford stay at the Ferrycarrig Hotel this Christmas
Ferrycarrig Hotel offers guests the chance to relax and unwind this Christmas with a choice of one to three-night packages including Christmas Eve, Christmas Day and St. Stephen's Day on offer.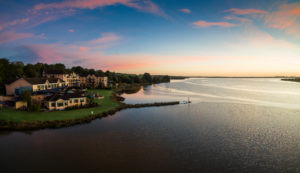 Take the stress out of Christmas this year. Spend the festive season in a cosy & tranquil 'home from home' atmosphere, where the friendly staff will ensure a memorable experience for all the family.
Arrive on Christmas Eve to a warm welcome and a festive drink. Later in the evening, join a mulled wine reception and carol singing in the beautifully decorated Residents' Lounge before indulging at the award-winning Reeds Restaurant.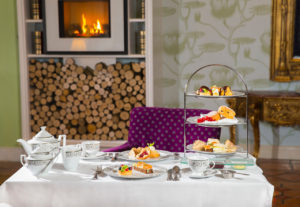 Wake up on Christmas morning with glorious views across the River Slaney, before making your way to enjoy a tasty breakfast. Christmas Day lunch is served in Reeds Restaurant and it is completed with the arrival of a very special guest, none other than Santa Claus!
After lunch, enjoy a classic Christmas movie in the Residents' Lounge by the fire or board games in the warm snug at the Dry Dock Bar. Resident entertainer, 'Giggles the Clown' will be along to celebrate the spirit of Christmas with the young VIP's and the celebrations in the evening include a light Christmas buffet and live music. After a delicious St. Stephen's morning breakfast, you can spend the day enjoying a swim or soak in the jacuzzi in the 5-star Active club.
If it's a New Year's celebration you are looking for, check into Ferrycarrig for a two-night New Year break on December 30th or 31st. Enjoy a welcome cocktail, followed by a sumptuous Gala Dinner in Reeds Restaurant while the resident pianist provides a sophisticated evening's entertainment. Enjoy views from the outdoor decking overlooking an impressive fireworks display over the River Slaney. Festivities continue into the New Year with live music in the Dry Dock Bar, ringing in the New Year in style. Enjoy this two-night break from only €259 per person sharing.
It's New Year's Eve for the little ones too. Ring in 2020 from 8 pm to 12 midnight – join and meet the Crazy Clubbers team followed by a disco and entertainment from Giggles the Clown. Family dining is available on New Year's Eve in Reeds Restaurant from 6 pm. Kids entertainment will be provided in an adjacent room to the Dry Dock Bar and Reeds Restaurant to allow you the ease of access to join your children for the 2019 celebrations. Children's nightly accommodation rates, age 1-3 years complimentary accommodation, age 4-8 years €30 age 9-14 years €40.
For details and booking see www.ferrycarrighotel.ie
Pricing Information
All-inclusive 3 night Christmas package from €540 per person sharing
2 night Christmas package also available from €385 per person sharing
Christmas package children's rates:
1 – 3 years – accommodation free of charge
4 – 8 years – €205 for 3-day package
9 – 16 years – €245 for 3-day package
* * * * * * * * * * * * * * *  * * **
Athlone
Radisson Blu Hotel, Athlone is magnificently located right on the river and in the very heart of Athlone town. Chic and stylish, there isn't a better location from which to enjoy the stunning views over the old town, Athlone Castle and the River Shannon this festive season.
Christmas at Radisson Blu Athlone is full of style and good cheer, with delicious seasonal menus, family-friendly moments and everything needed for a relaxed and enjoyable holiday season.

Stay two nights from €369 per person sharing including bed and breakfast, Christmas Eve dinner, a visit from Santa on Christmas morning for the younger folk, a delectable 5-course Christmas Day lunch from 2 p.m., an indulgent Christmas evening buffet and – should the mood take you! – complimentary use of Synergy Health & Fitness.
With mulled wine and fruit-filled mince pies on arrival, and punctuated by carol singing and other live music over the course of the yuletide celebrations, a three night Christmas stay is available in Radisson Blu Hotel Athlone from €439 per person sharing, which includes dinner on St. Stephen's Night too.
Available from 24th to 26th December 2019, advanced booking is essential. Experience the magic of Christmas on the banks of the mighty Shannon at Radisson Blu Hotel, Athlone. For more information, visit www.radathlone.com or call +353 90 644 2600.
* * * * * * * * * * * * * * *  * * *
Treasure every festive moment this Christmas with a break to Radisson Blu Hotel & Spa, Cork
Carve out a little me-time with an escape to the tranquil surroundings of the Radisson Blu Hotel & Spa Cork, the perfect base to kick back and relax this Christmas.
From the moment you arrive at Radisson Blu Hotel & Spa, Cork you'll know you made the perfect choice as a warm festive atmosphere fills the hotel. Begin your stay by toasting with a warming mulled wine and mince pies on arrival, then kick off those shoes and chill-out in style with a complimentary upgrade to a luxurious business class room. Curl up on your large, super comfy bed and watch a movie or enjoy complimentary access to The Spa thermal suite and Fitness Club.
During your stay, celebrate all things Christmas with a Christmas lunch with all the trimmings in the festively decorated Maestro's Restaurant where an extravagant menu of traditional and contemporary fare awaits.
After a long and peaceful slumber, wake up the next morning to a Super Buffet Breakfast in Maestros Restaurant and enjoy a complimentary late check-out, an ideal way to finish off a relaxing night away.
Christmas Getaways are available from the 24th to 26th December from €185 per person sharing for one night and from €285 per person sharing for a two night stay. With pre-Christmas getaways for all the family also available from €255 per room, for more information on festive breaks at Radisson Blu Hotel & Spa, Cork, visit www.radcork.com or call +353 (0)21 429 7000.
* * * * * * * * * * * * * * *  * * *
IMMERSE YOURSELF IN CHRISTMAS AT THE WESTIN DUBLIN
Add a touch of magic to Christmas by visiting The Westin Dublin. Located in the heart of Dublin city centre, the five-star hotel offers a range of festive seasonal packages, including overnight stays and delicious food and drink menus, that will add a touch of sparkle and a dash of glamour this December.
Whether it's a two night stay or a full Christmas get-away over the three days of Christmas days, each package includes a traditional Irish breakfast, dinner in Morelands Grill on Christmas Eve or St. Stephen's Day, a five course feast in the glamourous surroundings of The Banking Hall, along with live entertainment on Christmas Day, a gift for each guest and a visit from Santa Claus.
Kick start the season in style with Christmas Eve lunch in The Banking Hall. Served from 12.30pm – 3.30pm, the five course buffet for €89pp includes a selection of mouth-watering dishes such as Wright's oak smoked salmon; chickpea and sprouting broccoli with Cashel blue cheese and smoked almond; roast sirloin of Irish beef and red wine jus, and seared supreme of chicken with mushroom and tarragon cream. No festive feast is complete without dessert and the Christmas Eve lunch menu does not disappoint with traditional Christmas plum pudding with brandy anglaise, warm traditional mince pies, or white chocolate and raspberry cheesecake.
Make new traditions with loved ones at The Westin this year, and enjoy Christmas Day lunch or dinner in style. Starting from €80pp, guests will enjoy a glass of Champagne or mulled wine before moving to the majestic Banking Hall. With its opulent marble pillars and four crystal chandeliers, it's the perfect setting for a special Christmas. Some of the delicious dishes that guests can enjoy on December 25th include a seafood buffet with a selection of Carlingford oysters, crevettes, Galway mussels and clams; pear and blue cheese with beetroot and baby leaf, as well as the more traditional dishes such as roast crown of Turkey with all the trimmings – sage and onion stuffing, cranberry sauce and gravy.
The two-night package at The Westin Dublin, arriving Christmas Eve at €545pp includes:
Two nights luxury accommodation on 24th and 25th December
Traditional full Irish buffet breakfast each morning
Dinner in Morelands Grill on Christmas Eve
Five course lunch on Christmas Day with live entertainment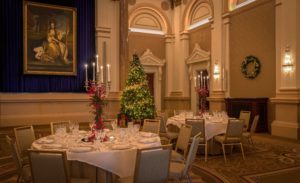 The two-night package at The Westin Dublin, arriving Christmas Day at €495pp includes:
Two nights luxury accommodation on 25th and 26th December
Traditional full Irish buffet breakfast each morning
Five course lunch on Christmas Day with live entertainment
Dinner in Morelands Grill on St. Stephen's Night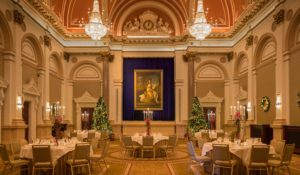 The three-night package at The Westin Dublin, arriving Christmas Eve at €657pp includes:
Three nights luxury accommodation on the 24th, 25th and 26th December
Traditional full Irish buffet breakfast each morning
Dinner in Morelands Grill on Christmas Eve
Five course lunch on Christmas Day with live entertainment
To book a magical stay in the heart of Dublin this December, please contact the reservations team at The Westin Dublin by email [email protected] or call 01 645 1149. All residential packages include a Christmas stocking with surprises.
* * * * * * * * * * * * * * *  * * *
* * * * * * * * * * * * * * *  * * *
The Irish Travel Agents Association website is great for last minute offers check it out here https://itaa.ie/offers/
Finally Craig at Cruisescapes has this offer
We have a fantastic river cruise departing 23rd December – Christmas in Bordeaux https://itaa.ie/2019/10/23/christmas-in-bordeaux/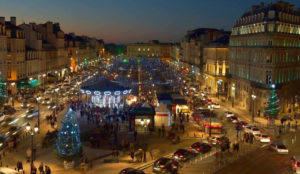 It is 4 nights on the 5* river cruiser MS Cyrano de Bergerac, with all drinks and all meals including Christmas dinner included. There's also a Christmas present included and the option to attend midnight mass in Bordeaux (in French). There's no single supplement so it's a great option for solo travellers.
Enjoy a relaxing 4 nights in the Bordeaux region onboard the wonderful 5 Anchor MS Cyrano de Bergerac, with all drinks and all meals including Christmas dinner included.
Embark on a magical cruise through the Gironde. You will be able to celebrate Christmas all along this journey where you will discover the most precious secrets of the region. After a refined Christmas Eve dinner, you have the option to go to mass in Bordeaux. Your stay will also be the opportunity to discover the Grands Crus Wine Route of the Medoc as well as Blaye and its Route de la Corniche.
4 Nights. Departing Dublin 23rd December 2019
Main Deck Cabin from €1,369 pp
Middle Deck Cabin from €1,499 pp
Upper Deck Cabin from €1,539 pp
No Single Supplement!
Price Includes:
Direct Flights to Bordeaux
Transfers from Airport to the quay to board your river cruiser
4 nights on the 5 anchor MS Cyrano de Bergerac river cruiser, based on 2 sharing
Superb French Cuisine, all meals onboard on a full board basis from Dinner on the 1st day to Breakfast on the last day
Christmas meal (Christmas Eve)
Unlimited complimentary onboard drinks
Free Wifi
Entertainment onboard
Midnight Mass in Bordeaux (in French)
Christmas Present
Transfer from the quay to the airport
Return flight to Dublin
1 bag prepaid per person 20kgs
Visits:
Bordeaux – Paulliac – Blaye – Libourne – Saint-Emilion
Call today: 01 294 1000
* * * * * * * * * * * * * * *  * * *