With Valentine's Day around the corner it's time to spoil you and your loved one with a romantic getaway and it's not too late to book a cheeky weekend in Europe.
I've gathered some lovely deals in places where I can guarantee that you will have a lovely stay. I'm starting off with the blue book because I'm a big fan of their properties and this one is for those want to enjoy a special meal during their stay.
Wexford
Romantic Valentines Stay including dinner in The Duck at Marlfield House, Co Wexford
Description: Treat your darling to a romantic stay in Marlfield….  Arrive in the afternoon and snuggle up with bubbly in beautiful surroundings by one of the many blazing fires.  Enjoy a delicious three course candle lit dinner The Duck Restaurant.  And following a wonderful night's slumber in a beautiful room relax over our delicious full Irish breakfast in the Conservatory before departing feeling totally loved up! Offer includes:  One-night B&B, three course dinner in the Duck, bottle of Prosecco and chocolates on arrival Tell us if you are using your Blue Book Voucher and we will upgrade your room if we have availability.
Valid From: 12.02.2020 To: 16.02.2020
From: €160.00 per person
For more information please see www.irelandsbluebook.com or contact Marlfield House directly on 053 9421124
* * * * * * * * * * * * * * *  *
Cliff at Lyons and Cliff House Hotel
Maybe the love of your life is your Dog? Well then why  not spend this Valentine's with your beloved pooch, with a Puppy Love break at Cliff House Hotel or Cliff at Lyons Hotel & Country Retreat.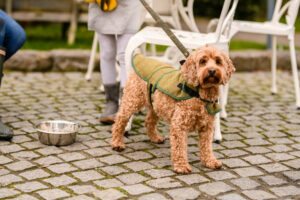 Cliff House Hotel, the luxurious seaside boutique gem set into the hills overlooking Ardmore, has a Sandy Paws offer where everyone can enjoy long clifftop walks and sea swimming (or doggy paddling), and some can get extra kicks from digging holes and burying shells. Once dried off with their complimentary fluffy towel, furry friends are welcome to join their family on the Terrace at Cliff House Hotel and enjoy a relaxing nap at their owners' feet.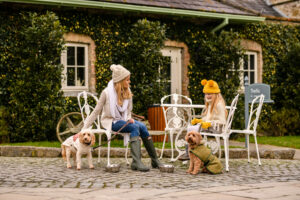 Cliff at Lyons, the hotel and country retreat set in acres of lush Kildare countryside and gardens, has Puppy Love, a seventh heaven sensory overload of blissful walks for hound and human through the estate gardens and grounds, and all along the nearby canal, lanes and hedgerows.
If your dog is most deserving of your love this Valentine's, spend a lovely break with them at Cliff House Hotel or Cliff at Lyons.  Sandy Paws at Cliff House Hotel, Waterford is available from €284 per night for two, including breakfast plus one dog guest, and Puppy Love at Cliff at Lyons, Kildare is from €195 per night for two humans plus one dog, including breakfast.
For Sandy Paws visit www.cliffhousehotel.ie or call 024 87800
For Puppy Love visit www.cliffatlyons.ie or call 01 630 3500
* * * * * * * * * * * * * * * *
Farnham Estate Cavan
Create your own love story this Valentine's Day at Farnham Estate Spa and Golf Resort. Start as you intend to go on with prosecco and chocolate dipped strawberries in your room on arrival. Blow the cobwebs away with a meander through the seven kilometres of woodland walking trails, stopping along the way to take in the view and relax on the swing benches at the edge of the lake. After all the activity visit the spa's beautiful outdoor infinity pool where watching the sun set is a magical experience. The Water Mint Thermal Suite and relaxation rooms will help you recharge for dinner in Maxwells Grill Room. A glass of wine in the atmospheric Cellar Bar provides the perfect end to a lovely day together. Retire to your room to discover a rose petal turn down service and Farnham Estate bath salts and body scrub to help you unwind for a blissful night's sleep. Arise the next morning to enjoy a leisurely breakfast.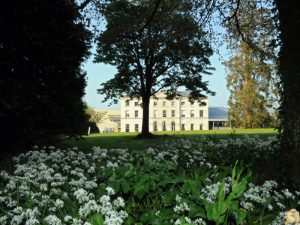 The Love Actually one night package is available from €259 per room throughout February 2020 and includes bed and breakfast, prosecco and chocolate dipped strawberries, dinner in the Maxwells Grill Room, a rose petal turn down service unlimited use of the Health Spa's infinity pool, Water Mint Thermal Suite, Gymnasium, and Relaxation rooms.
Make it a Valentine's Day to remember at Farnham Estate Spa and Golf Resort.
* * * * * * * * * * * * * * * *
 Lisbon
This comfortable, well-located, family-owned hotel belongs to Lisbon's small Heritage Group, a collection which brims with history and a sense of place. It was refurbished recently, breathing new life into the antique-filled rooms, whilst retaining its real home-from-home atmosphere.
Lisbon is getting very popular with its breezy sea views, glossy tiled facades and red roofs. It's the perfect place for a quiet, relaxing break with loved ones. There is history, culture and great food as well as beautiful weather. Lisbon is one of the world's oldest cities predating the likes of London, Rome and Paris by hundreds of years. Portugal's national drink, port or porto, is in abundance in the city. Take a sunset cruise on the Tagus River, the longest river in both Portugal and Spain. Day and evening cruises run from Belém, but cuddling with your partner on the water while the sun is setting is the most romantic experience of them all. Alfama's streets are so narrow that brushing up against a partner while walking together can't be helped at times. Duck into one of the tiny bars for a glass of wine, port or Ginja liqueur. Eat dinner accompanied with the melodic and melancholic sounds of fado, which has a sound so haunting that it can tug at the heartstrings of even non-Portuguese speakers.
Portugal is a short plane journey with pleasant weather in February and so much to do from romance to medieval culture to great drinks and wonderful food.
Lisbon City – 13th Feb – 2 Nights – 4* Lisboa Plaza Hotel B&B from €206 pp with Sunway
Just around the corner from Liberty Avenue, this 4-star family-run hotel is ideally located. It is only a 2-minute walk from Avenida Metro Station and just 1 Metro stop from Marquês de Pombal Square and Eduardo VII Park. It is also a 5-minute walk to Glória Funicular/Tram, that connects to Bairro Alto. Relax with your love on the chic terrace with views of Lisbon.
Tel 1800 862862
* * * * * * * * * * * * * * * * * * * *
Prague
Prague is packed with breath-taking architecture, stunning views, charming alleys, maze-like cobbled streets and art galleries. For a romantic walk, it's hard to beat the beautiful, cobbled lanes of Prague's Malá Strana district, where music spills out of palace windows and hushed baroque gardens appear behind great grandiose gates. The city's centuries-old architecture, barely scratched during the Second World War, serves as a fitting backdrop to a lifestyle that gave us the word Bohemian. Stroll in Petrín Hill gardens –a kiss by the statue of tragic poet Karel Hynek Mácha is a guarantee your love will bloom. Wander across the Legionnaire's Bridge, avoiding the crowds on the Charles Bridge downstream, and marvel at the pairs of white swans as they glide beneath. If you are looking for a city with great food and lovely restaurants, you will find that in Prague. You will find fantastic high-end restaurants along Prague Castle, Vltava River, Old Town and Lesser Town. For the less expensive but still delicious options, head to a traditional Czech pub located inside Prague's narrow alleys. These pubs have locally brewed beer and hearty, homemade meals.
Wednesday, 12.02.2020 
– Saturday, 15.02.2020 
| 3 nights for two adults
Flights Outbound
Ryanair
FR7326
:
Dublin (DUB) – Prague (PRG) 12.02.2020 | 12:05 – 15:30
Inbound Ryanair Sun FR7327:
Prague (PRG) – Dublin (DUB) 15.02.2020 | 11:35 – 13:15
Sunway to Prague – 13th Feb – 2 Nights – 3* EA Hotel Tosca B&B from €214 pp
The modern Tosca Hotel is situated in the historic Vinohrady quarter in Prague's city centre. The Old Town is easily reachable on foot or by public transport. Its centrally located and ideal for couples who are interested in architecture. Metro station and tram stops are located only a few steps away from the hotel. It takes a mere 10 minute comfortable metro or tram ride to the historical city center. Wenceslas Square and commercial zone are within walking distance.
Tel 1800 862862
* * * * * * * * * * * * * * * * * * * *
Fuerteventura –
08th Feb – 7 nights – 2* Castillo Beach Bungalows from €375 pp
Castillo Beach Park Bungalows provide a sanctuary from which you can explore the island's fabulous natural beauty. Set in the quieter outskirts of the popular resort of Caleta de Fuste, Castillo Beach Park Bungalows have a distinctive Canarian design, colourful rooms and a relaxed atmosphere making it popular with guests looking to experience all of the beauty of Fuerteventura. Caleta de Fuste is one of the most popular areas to visit on Fuerteventura. Whether you're looking for a relaxing getaway with walks on the beach, or opportunities to explore some of the island's incredible sand dunes or rugged mountain landscapes, Caleta de Fuste's central location makes it easy to make the most of your holiday.
Located just 100 kilometres off the North West coast of Africa, Fuerteventura is the perfect holiday destination for outdoor enthusiasts looking for a romantic getaway. Fuerteventura has been shaped by nature for over 20 million years, creating its soaring mountains and remarkable volcanic landscapes. One of the most famous of all of Fuerteventura's natural attractions, Corralejo Dunes Natural Park is the best place to enjoy the desert beauty of the island. With expansive stretches of the magnificent Corralejo sand dunes and pristine beaches, this park is the ultimate place to discover some of nature's finest work. If you're keen to brave the mountain hikes and get a close-up view of the island's volcanic beauty, then pack your walking boots, along with a camera and experience a truly unique landscape. You can also enjoy winter water sports in pristine white beaches. Climb Tindaya Mountain – there's a path that allows you to get up-close to the mountain and really appreciate its beautiful colours. Soaring over 401 metres, this mountain is a nature lover's haven on the island.
Tel 1800 862862