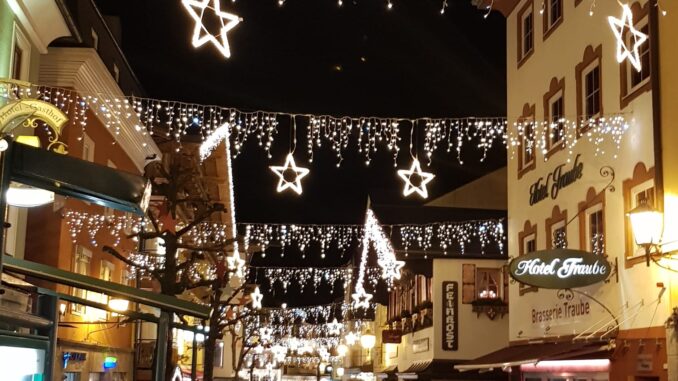 Christmas is celebrated differently in places around the world. Many traditions have their origins in pagan times and were merged with religious feasts. Some of the Best Places to Enjoy Christmas are in Europe. Many of our traditions in Ireland were taken from Victorian era traditions in the UK. Before Victoria's reign started in 1837 nobody in Britain had heard of Santa Claus or Christmas Crackers. No Christmas cards were sent and most people did not have holidays from work. The wealth and technologies generated by the industrial revolution of the Victorian era changed the face of Christmas forever. Sentimental do-gooders like Charles Dickens wrote books like "Christmas Carol", published in 1843, which actually encouraged rich Victorians to redistribute their wealth by giving money and gifts to the poor – Humbug! These radical middle class ideals eventually spread to the not-quite-so-poor as well.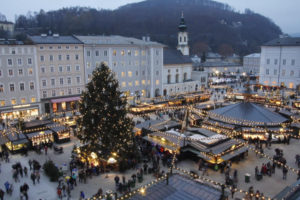 Difficult to Beat Austria and Germany this time of year for Christmas magic
The Christmas Markets had their origins in medieval times and were traditionally an opportunity for farmers and fishermen to sell alternative goods that they made to get them through the harsh winter months. The Christkindle market is available now on line- https://www.christkindlmarket.com/
Pre Christmas Traditions
St.Nicholas and the Krampus – 5th December and 6th December.
The Krampus or devil, such as many demonic creatures of the Alpine area – dates back to pre-Christian times. The typical Krampus has a coat or suit made of fur and hand-carved mask with horns. In South Tyrol, pine wood was and is the most used wood type for these masks. The tradition of Krampus processions dates back many centuries in Tirol. The region's towns and villages play host to wild ceremonies in early December as local men dash through the streets dressed as these fearsome half-goat half-demon characters. In Central European folklore, Krampus traditionally accompanies the friendly Saint Nicholas, who brings presents to children who have been good throughout the year.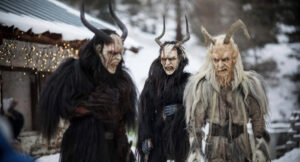 St. Nicholas with his long white beard, his bishop's mitre and crozier is loved by all children as he comes with a lot of presents and sweets each year on December 6th as long as they have behaved well.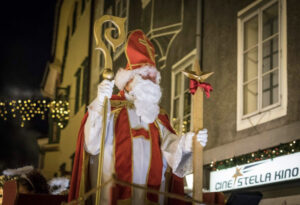 Christmas biscuits served everywhere in hotels – lebkuechen _ love cooking
Lots of beautiful decorations everywhere and lights – traditional usually
Winter wonderful activities such as sleigh rides, snow shoeing, seg way, winter hiking, curling, toboganing.
They all celebrate Christmas on Christmas Eve.
Vienna
Vienna is magical during  Christmas with so many markets. A Mozart concert or Vienna Boys Choir sum up the festive season. The choir is over five hundred years old and has been performing virtually since the Covid restricitions.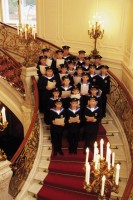 Also in Vienna is The Sacher Hotel is famous for Sacher Torte and Hot Chocolate with Rhum!
The Spa Resort of Baden Bei Wein is a gorgeous little town only a tram ride away.
When you hear the name bad in front of an Austrian town this is acutally good – because it means that it has natural thermal springs and baths making it a Spa Town.
Salzburg
This magical city is the home of Mozart.
St.Peter's Keller for dinner – one of oldest restaurants in Europe – in old town
Have coffee and cake in Tomasellis' one of oldest coffee shops in Salzburg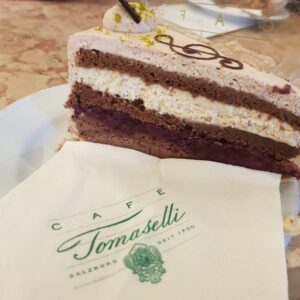 Mozart's house of birth is in the center of the town and it is wonderful to climb up to the Castle or go out to the Advent Markets in Hellbrun – 15 mins outside the city center and truly magnificent
THE CHRISMTAS MARKET IN SALZBURG IS AMAZING. THEY EVEN HAVE CHRISTMAS MARKET POLICE CHECKING THE QUALITY OF THE PRODUCTS.
* * * * * * * * * * * * *
SPAIN
Spain has wonderfully different traditions. As in most of Europe Christmas Eve is the day that families host dinner and exchange gifts. For all the information you need on spain visit https://www.spain.info/
The Three Wise Men
The parade for the arrival of the Three Wise Men is a big part of Christmas celebrations in Spain. These are the ones that bring all the presents to kids as Santa Claus is not a tradition. These kind of parades for the Three Wise Men take place in every city and town, the one in Alcoy is a famous one (as it is the oldest) but anywhere you go in Spain you will see one taking place on the 5th January.   https://www.spain.info/en/calendar/three-kings-parade/
In Alcoy, old folk and youngsters alike live Christmas and the arrival of the Three Wise Men with special excitement. On the Sunday prior to 6 January, the feast of the epiphany, children dressed up as shepherds parade with their flocks to give gifts to the new-born Baby Jesus: this is a children's parade called "les Pastoretes" (the little shepherds). From then on, the excitement builds steadily until 4 January, when the Royal Envoy announces the imminent arrival of Melchior, Caspar and Balthazar, reading a proclamation throughout the town. He is accompanied by "les Burretes", small donkeys that carry letterboxes where the children put their letters to the Three Wise Men.
New Year
Would you like to know how people see in the New Year in Spain? They do it by eating twelve grapes. Tradition has it that you have to eat them one by one, in time with the striking of the clock at midnight on 31 December. If you manage to eat all the grapes in time, you are in for a year of prosperity and good luck. Whether or not you believe in magic, try the experience – it's great fun. The grapes are the most anticipated moment of New Year's Eve. The chiming of the clock is broadcast on TV all over Spain. On this day, family or friends usually get together for a delicious dinner and then have the twelve grapes. In many towns and villages people go to a central square or an iconic place where there is a large clock, to eat the grapes together and share the last minutes of the old year. If you would like to take part in this event, ask at the town's Tourist Office for detailed information.
Caga Tió also comes out on the Feast of the Immaculate Conception.
Caga Tió: 08 December
It is a small log with a smiley face, wearing the traditional red Catalan hat – the Barretina. The name Caga Tió means 'Poo Log'. Every day children look after the Caga Tió between the following dates:
08 December – Christmas Eve
They cover him with a blanket to make sure that he is warm and they feed him Turron every evening. This is to ensure that he is nice and full so that he will poo out lots of treats on Christmas Eve!
On Christmas Eve, after our large dinner (detailed below), dessert comes courtesy of Caga Tió. The children are given a stick with which they hit the Caga Tió. They sing a special song:
"Caga Tió avellanes I torró
Si no vols cagar
Et donanem un cop de pal."
This translates as:
"Caga Tió hazelnuts and turron
If you don't want to poo
We will hit you with a stick"
The children then reach inside the Caga Tio's blanket and find sweets and small toys. Similar to the sorts of treats that children receive in their stockings from Santa Claus.
* * * * * * * * * *
Other great places to enjoy Christmas are Budapest and Bratislava and Talinn
It's also the perfect time of year to explore the northern lights in Tromso in Norway or Iceland.
Iceland
December is the darkest time of the year in Iceland. However, the dark days are lit up with countless Christmas lights, often accompanied by a beautiful blanket of snow. On clear nights, there is even a possibility to see the Northern Lights, dancing in green, white, pink and purple streaks across the sky. Hence, this is a fascinating time of year, one where winter's nature comes alive. Christmas in Iceland lasts for 26 days, from the 11th of December until the 6th of January, and Iceland has 13 Santa Clauses, or Yule Lads. Christmas season starts when the first Yule Lad comes to town (13 days before Christmas Eve), and finishes when the last one leaves town (Twelfth Night).
Back in the day, people would normally give a candle and some playing cards as Christmas gifts – but in modern times it is almost certain that people will receive at least one book – especially during Christmas holidays!
Icelanders call this experience the jólabókaflóð, or "Christmas book flood". Iceland publishes more books per capita than any other country in the world and the bulk of book sales happens at this time of year, with the publishing industry receiving something like 80 percent of its annual revenues in the approximately two months leading up to Christmas.
The main reason for this deluge is the longstanding tradition in Iceland of giving books as Christmas presents – each and every Icelander typically receives at least one book under the tree each year. After opening the presents on Christmas Eve, many people revel in the thought of crawling in between the covers with something new to read.
Iceland Yule Lads
13 Yule Lads live in Iceland, the sons of the old trolls Grýla and Leppalúði. Grýla and Leppalúði keep a pet, a wicked cat, which may sometimes catch children. Grýla, who is big and formidable, was said to collect the naughty children in a sack and take them home to eat for Christmas dinner. If a child is naughty, Grýla finds out immediately. Grýla can´t lay her hands on good children.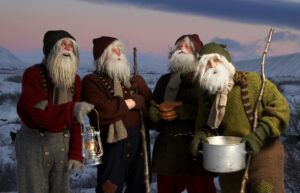 An old tradition in Iceland is, that 13 days prior to Christmas the Yule Lads start coming down from the mountain one each night. Children in Iceland place their best shoe on their windowsill before going to bed and each night a little gift is left in the shoe from the Yule lad that came down from the mountain that night. If the child has been misbehaving, there might be a raw potato left instead.
The Yule Lads aren't as mean as their parents but they aren´t very well-mannered either. The Icelandic Christmas season begins on December 12th, when Stekkjastaur (Sheep-Cote Clod) descends from the mountains. The last one, Kertasníkir (Candle-Stealer) arrives on Aðfangadagur, Christmas day on the 24th of December. Then they leave again to the mountains, one by one in the same order until the last one, Kertasníkir leaves on the last day of Christmas, January 6th
The Yule Lads have funny names and each has a strong personality
Sheep-Cote Clod: He tries to suckle yews in farmer's sheep sheds
Gully Gawk: He steals foam from buckets of cow milk
Stubby: He's short and steals food from frying pans
Spoon Licker: He licks spoons
Pot Scraper, aka Pot Licker: He steals unwashed pots and licks them clean
Bowl Licker: He steals bowls of food from under the bed (back in the old days, Icelanders used to sometimes store bowls of food there – convenient for midnight snacking?)
Door Slammer: He stomps around and slams doors, keeping everyone awake
Skyr Gobbler: He eats up all the Icelandic yogurt (skyr)
Sausage Swiper: He loves stolen sausages
Window Peeper: He likes to creep outside windows and sometimes steal the stuff he sees inside
Door Sniffer: He has a huge nose and an insatiable appetite for stolen baked goods
Meat Hook: He snatches up any meat left out, especially smoked lamb
Candle Beggar: He steals candles, which used to be sought-after items in Iceland<
* * * * * * * * * *