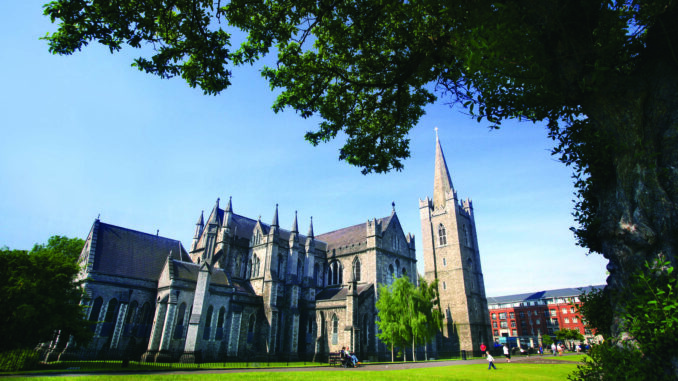 Newstalk City Breaks May 21st The Hard Shoulder Listen to the podcast here
On this weeks show I've picked out some hotel deals in Ireland's main cities to make a great city break. I've focused on Dublin, Cork, Limerick, Galway and Waterford and I couldn't leave out Kilkenny for the chat with Kieran.
I got into trouble recently from one of  the listeners on the show when I did a piece on castles and didn't mention King John's Castle in Limerick. Since then I've been doing my research and it's now on my bucket list for a trip this summer.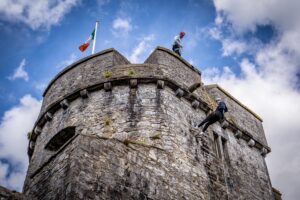 Did you know you can now abseil down the castle? Visitors will have the opportunity to take in stunning views of Limerick City in one of the most unique ways, by abseiling down the historic walls of King John's Castle. The team at King John's Castle have partnered up with Nevsail Watersports to bring this exhilarating experience to life. Available on selected dates throughout June, July and August, visitors can take in the sheer beauty and scale of Limerick City's most iconic building in the most exciting way possible. Available to visitors 10 years old and over.
From exploring the castle's interactive exhibition, enjoying the magnificent views and experiencing the lifestyle of a Norman soldier, visitors have the unique opportunity to discover the stories of King John, the noble knights, and rebellious natives.  The interactive exhibition uses exciting 21st century touch screen technology, 3D models and discovery drawers are among the exciting techniques that will connect you to tales of siege and warfare.
To ensure proper social distancing, pre booking for a King John's Castle visit is essential. Tickets will go on sale from Thursday 13th May to book visit www.kingjohnscastle.com/book-tickets/
To book an abseiling experience which includes full access to King John's Castle interactive exhibition and courtyard games visit https://www.kingjohnscastle.com/news-events/news/courtyard-games/ Pre booking is essential.
Hotel Pick Limerick
Also on my bucket list is the beautiful number One Pery Square – this is located in the city centre right beside the Limerick City Gallery of Art No.1 Pery Square, Limerick. It even has it's own spa!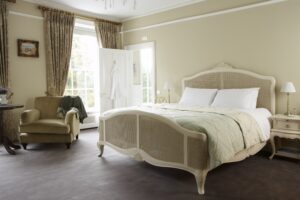 Includes: One night accommodation in a uniquely named bedroom
Full a La Carte breakfast and Full 3 Course Dinner
From: €318 total stay (based on two people sharing) Visit www.oneperysquare.com
The city of the tribes has to be one of the best in the country for craic and culture. Galway missed out from showcasing its wonderous delights during the brief reign as European city of culture https://galway2020.ie/en/.
The good news however is that Galway is there all the time to be enjoyed and explored. Last summer I took a brief trip to Galway and I stayed at the Harbour Hotel. Set in a super location right smack in the middle of the city with easy reach to the Galway City Museum and Spanish Arch and of course all the life on the Quays.
Galway will re-open for leisure guests on June 2nd and inspired by the lyrical beauty of the City of Tribes and the breath taking terrain of the Wild Atlantic Way, have created some super new summer experiences with FREE interactive walking tours. The interactive walking tours will afford guests the experience of discovering the heartbeat of Galway City, taking in the hotspots like the Spanish Arch and Eyre Square plus some secret boltholes frequented by Galwegians.
Back by popular demand The Harbour's Rekindle package is bookable online and includes 2 nights' accommodation in a luxurious Executive Room, a chilled in-room bottle of Prosecco on arrival, a three course dinner for two on an evening of choice at the popular Dillisk on The Docks plus delicious à la carte breakfast each morning.   Two night package experience costs from €412 per couple.
Luxurious Galway
I've been raving about Glenlo Abbey since I stayed here a few years back for many reasons but especially because of their fabulous Pullman restaurant. There's lots to do including golf, a cinema and activities such as archery and falconry.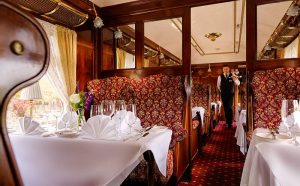 The Pullman Package reigns supreme, offering guests the chance to step back in time to when going to dinner was an art form! With options to stay for one or two nights the package includes luxurious accommodation, 3 course gourmet dining experience aboard The Pullman Restaurant (former carriages of the Orient Express) plus à la carte breakfast the morning after. The Pullman Package rates available from:  Overnight experience from €470 per night. 
Two-night package from € 820 per room.
Dublin City
I haven't been in my own home city of Dublin since restrictions last year. But I've found a great deal offered by Maldron Hotels and they have a Dublin flash summer sale starts on May 28th for 72 hours and you can book a room at any Maldron Dublin hotels for only €75 per night including breakfast. They also have an offer when you sign up for  'Make it Maldron' – Guests can save an additional €10 per night, every time they book when they sign up to Make it Maldron and book direct.
There are six to chose from but if you haven't been to Dublin for a while you might want to go to the shopping malls all along the m50 so their hotel at Newlands Cross or Tallaght are well located or if you'd like to explore the Fingal beaches or outlying towns such as Malahide or go up to Tayto park then the Maldron at Dublin airport is a good base for families. There are so many things to do such as the National Aquatic Center or the zoo so any of these hotels will work well. https://www.maldronhotels.com/hotels-in-dublin/
I stayed at the wilder last year for a night and that has to be one of the loveliest quirky boutique hotels in the city and only a stroll from Stephens Green – they are offering cocktails on arrival – I recommend this for a couple who have been cooped up with the kids all through lock down – the time you save on travel you can make up for in these gorgeous rooms….get a takeaway sent to your room!!!
The Wilder Townhouse, Dublin 2  Bee Wilder in the City Includes: Overnight Stay, Full Home Cooked Breakfast, Orange Blossom Or Honey Gin Cocktail on Arrival, Picnic basket of Charcuterie & Cheese Board and Wilder Bee Honey & Wine From: €289 per room per night.
To Book: Visit www.thewilder.ie
There's so much to do in this fabulous city – the real capital as they say in the south of the country. For me the English Market is a must stop and of course if you'd like to get the gift of the gab then take a trip out to Blarney. I stayed in some gorgeous hotels over the last few years including the Kingsley and the Metropole but I haven't stayed at the Montenotte Hotel yet however I've plans to do something about that this summer.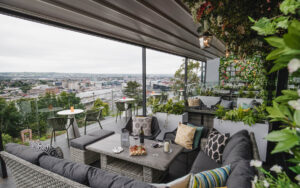 This package includes:
A 3-night stay in an Executive Bedroom
Breakfast each morning with Room Service Delivery on one morning
Bottle of Prosecco on arrival
Dinner on two evenings in the Panorama Bistro
Gin-cocktail making class A 50-minute Treatment at Bellevue Spa
A personal training session in Motion Health Club
Self-guided Tour of the Museum at Nano Nagle Place in Cork city
Access to Cameo Cinema
Flexible Cancellation
€490 per person sharing
The Metropole
Located in busy McCurtain Street in the Victorian Quarter as they call it now and they've a really great deal from 2 NIGHTS B&B WITH DINNER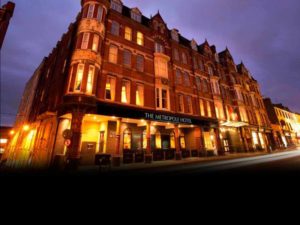 Perfect for a girls reunion, belated birthday or anniversary celebration. Includes 2 nights B&B and 2-course dinner on one evening in The MET. €169 per night
https://www.themetropolehotel.ie/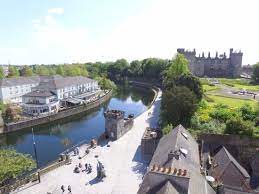 Kilkenny is the marble city and I know there are bigger towns but it's always popular for visitors from all over the country what deals have you?
Great value for couples and families Pembroke Hotel Kilkenny – Coupes Offer
Staycation

Explore Kilkenny's Medieval attractions from the perfectly located base at Pembroke Kilkenny. This package includes a tour of Kilkenny Castle, full Irish breakfast the next morning plus complimentary wi-fi, complimentary car parking and free 24-hour cancellation
From €155 per room
Kilkenny Rivercourt Hotel – Dine & Delight – 1 Night with dinner €169 Total Stay
Staycation in Kilkenny and transform your dinner and drinks into an overnight stay
Overnight accommodation for two guests sharing Full Irish Breakfast A 4-course meal in the Riverside Restaurant or Riverview Bar Complimentary car parking. Wi-Fi access throughout the hotel  Free Cancellation 24hours prior to arrival.
Book here https://www.rivercourthotel.com/
Waterford is a lovely size city and is home to one of the best book shops in the country. The Book Centre is an institution and it has a wonderful coffee shop which is a well-known meeting place in the centre of this old converted cinema. I featured it recently in an article that I wrote for the Irish Independent on the best book shops in the world. You can get a copy of my new novel there Journey to the Heartland and in all the Book Centre stores in Wexford and Kilkenny as I'm stocking only with independent bookshops.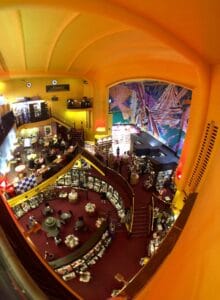 Waterford has great Viking heritage too – places to see include MEDIEVAL MUSEUM
Situated between Cathedral Square and the Bishop's Palace, Waterford's latest museum is a tribute to Medieval Waterford and life in the city during that period. It is Ireland's only purpose-built medieval museum and the only building on the island to incorporate two medieval chambers, the 13th century Choristers' Hall and the 15th century Mayor's Wine Vault. Don't miss the stunning Heavens' Embroidered Cloths, Waterford's cloth-of-gold 15th century vestments.
Situated at the apex of the Viking Triangle in Waterford's historic city centre, Reginald's Tower is home to an exciting exhibition that uses a superb collection of historic and archaeological artefacts to tell the story of Waterford's Viking heritage.
Owned and run by  two generations of the Cusack family a dedicated team of Management and Staff are on hand to ensure that your stay in Waterford is a pleasant and memorable one at one of the top hotels Ireland has to offer. The Hotels main aim is to provide a unique experience for guests and provide top notch comfort and hospitality as you stay in Waterford and explore all this vibrant, historic city has to offer.
Dine in the AA Rosette awarded Bianconi Restaurant where you will taste the Irish Sea in the fresh fish and the rich flavour of beef raised on luscious green pastures. Taste the famous Waterford Blaa, a traditional bread only kneaded in Waterford.
Visit the Thomas Francis Meagher Bar (Thomas, the originator of the Irish Tricolour was born at the Granville) where you can sample from the Whiskey Wall of over 50 Irish Whiskeys or try a craft Gin Cocktail made with herbs from Irelands only Rooftop Cocktail Herb Garden.
Breakfast is special too, the Granville have won many Blas na h'Eireann  taste awards for their jams, you also can have your eggs benedict with the traditional Waterford Bla ( a type of bread roll made in Waterford ) Also Flavahans porridge is made in Waterford so they celebrate that by including the option a choice of toppings including  a drop of whiskey with your porridge
Discovering Waterford Greenway
Night offer with Breakfast and 4-Course Evening meal served in our AA Rosette Bianconi Restaurant
Complimentary Granville picnic lunch
Complimentary Wi-Fi
24-Hour Room Service & 24-Hour Concierge
Overnight parking from 5pm until 12 noon
Price from €179 for a Double Room.
https://www.granvillehotel.ie/en/
I hope some of these city stays appeal to you – it's great to be back planning for trips and if you keep an eye out for my posts you can find out more great deals this summer
Happy Travels Michelle