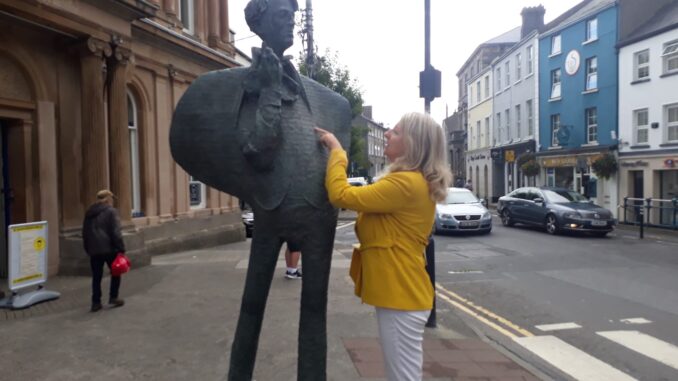 On this week's Travel Tuesday we are being swept away in a haze of wonderful poetry.  I've been checking out places that inspired and formed the roots and traditions of some of our best loved Irish poets. I've taken a route around the country starting with the Stoney Grey Soil of Monaghan and the small town of Inniskeen which has proudly seen the recent opening of the Patrick Kavanagh Centre.
Patrick Kavanagh, Monaghan
https://www.patrickkavanaghcentre.com/
The Patrick Kavanagh Centre opened this year and is situated in the parish church of St Mary's, a former Roman Catholic church. This building, which dates from 1820, was de-consecrated in 1974 when a new parish church was built. Patrick Kavanagh was baptised here, attended regular Mass and served as an altar-boy here in his youth. St Mary's Church features in his novel, Tarry Flynn, and also in the semi-autobiographical, The Green Fool.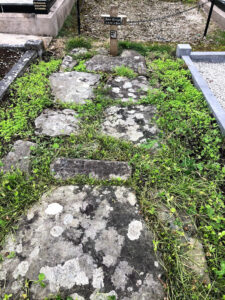 Patrick Kavanagh is buried in the adjoining churchyard, along with his wife Katherine Moloney Kavanagh, his brother Peter, and his sisters Anne and Mary.
Kavanagh was born here in Inniskeen in 1904. This exhibition honours his life, his writing, and his continuing legacy and universal themes of Soul, Love, Beauty.
Self-guided tours of the centre can be taken between the hours of 10am and 4.30pm every week day. The visit typically lasts one hour but feel free to take your time and enjoy the visit at your own pace. There's a seating area with plenty of reading material to hand, or maybe you'll be inspired to write a couple of lines of verse?
Ticket prices for self-guided tours are as follows:
Cabra Castle, Kingscourt, Co Cavan
The perfect place to stay after a leisurely wander around Kavanagh's world is a short hop across the Cavan Border at Cabra Castle, Kingscourt.
Set on 100 acres of parkland and gardens, with the magnificent backdrop of Dún a Rí Forest Park, there is much to explore, both indoors and out.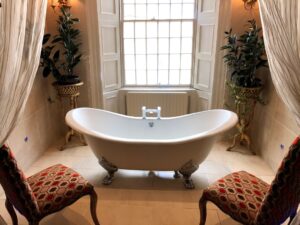 Due to its idyllic location and superb range of accommodation, Cabra Castle is one of the leading luxury hotels in Ireland and is also one of the best-known castle wedding venues in Ireland. It has been the venue of choice for many society and celebrity weddings due to its large capacity.
The Castle has a remarkable history and even a resident ghost Sarah who has been known to make appearances.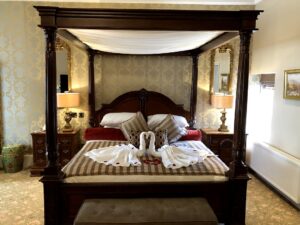 At the moment they are offering 15% off all rooms types in Cabra Castle.
We are offering (One Night Dinner, Bed and Breakfast Packages)
€194.00 based on 2 people sharing in a cottage room
€250.00 based for 2 people sharing in a Courtyard Room
To book see https://www.cabracastle.com/ or https://www.romanticcastlesireland.com/
or go to www.originalirishhotels.com  
Enjoy a €50 vouchar when you stay at one of their hotels for this month that can be used in any of their associated properties.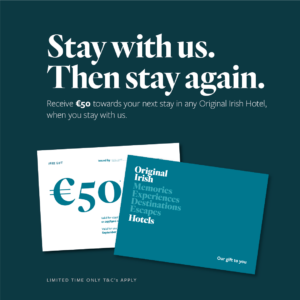 * * * * * * * * * * * * * * * * * * *
Seamus Heaney. County Derry
When travelling up north do check the wwwdiscovernorthernireland.com website so you don't miss out on any great places to eat or things to see or do in Northern Ireland.
No Irish list of great poets would be complete without the inclusion of Seamus Heaney. The Seamus Heaney Homeplace has been open for four years now and boasts one of the great interpretive poetry exhibitions in the country. http://seamusheaneyhome.com/
Seamus Heaney HomePlace
Immerse yourself in the extraordinary world of Seamus Heaney, and explore through his words and imagination the people and place that so inspired him.
Seamus Heaney HomePlace features a fully interactive exhibition over two floors, filled with personal stories, images and the voice of the poet himself. A recreation of his Dublin study will transport you back to 1995, when Seamus Heaney was awarded the Nobel Prize in Literature.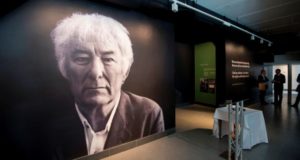 Previously unseen artefacts, transcripts and books kindly donated by the Heaney family are also on display, ensuring a truly unique and illuminating experience for all.
Opening Times – Updated due to Covid-19
Monday – Saturday 10am – 5pm
Sunday 1pm – 5pm
Price List
Adult  £7
Children 7 and under Free
Children 8 and over £4.50
Family (2 adults and up to 3 children) £19.00
* * * * * * * * * * * * * * * * * * * * * * * * * *
Galgorm Resort and Spa
While you are in the area it is worth noting that you are very close to the Dark Hedges – made famous in the series Game of Thrones. If you continue in the direction of Ballymena then where better to stop off than at one of Ireland's most impressive resorts Galgorm Hotel and Spa.
You will be spoiled for choice with the fabulous on site restaurants – be sure to visit Fratelli Ristorante, Pizzeria & Bar which oozes rustic Italian charm with a contemporary edge. Meaning 'brothers' in Italian the Fratelli brand concept is to welcome guests into a family-friendly, informal environment where the focus is on simple yet quality cookery and a warm welcome. They also have a sister restaurant based in Belfast: www.fratellibelfast.com
Gillies Grill is a favourite amongst guests and locals alike, with a warm and relaxed ambience and charming views of the Resort's stables. Our extensive selection of menus cater for a wide range of tastes with classic brasserie dishes, a grill selection and Asian-inspired creations with a satisfying accompanying wine list. Encompassing all menus is a commitment to using the freshest of ingredients and the very best local Antrim produce.
Please note Gillies Grill is a residents-only restaurant.
* * * * * * * * * * * * * * * * * * * * * * * *
Yeats Country, Sligo. WB Yeats
I've recently returned from a wonderful few days exploring the stunning scenery and history of County Sligo. Better known by scholars as Yeats Country, I was also surprised to discover that there is a connection with Bram Stoker as he and Yeats mothers both shared  Sligo as their birthplace. I was taken to the hub of Yeats heritage at the Yeats Society which is situated at the Yeats Memorial Building and is under the care of Susan O'Keeffe. The Yeats summer school has been running for over sixty years and brought visitors from all over the world. The center documents the people who formed the nobel prize winners character and includes artefacts and documents that inspired Yeats. His mother and her family provided a rich source of story-telling and folklore that he and his sisters and artist brother Jack B Yeats, took with them through their artistic careers. 
https://www.yeatssociety.com/
One of the best treats for me on my homage to the great poet was finding the perfect eateries for Yeats fans in the town of Sligo itself. WB's Coffee House which is also home to the fabulous 
https://sligooysterexperience.ie/. 
Here Aisling Kelly also offers guided tours of a local Oyster farm where the true essence of Sligo and its surroundings are to be enjoyed.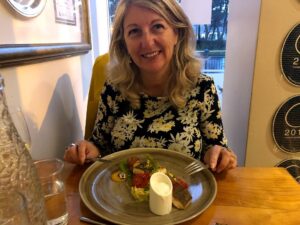 If you are looking for a very special venue with incredible cuisine in a setting where you can be cossetted and wrapped in the words of the great poet WB Yeats, then Eala Bhan is a must stop.
https://www.ealabhan.ie/
Chef Anthony Gray adds panache and a wonderful ambiance in a fusion of poetry and food in his restaurant. The addition of great locally sourced produce served in an exciting and imaginative way makes this one of the best dining experiences I have enjoyed on my staycation trail this summer.
Sligo Park Hotel
I stayed at the Sligo Park Hotel which is a couple of kilometres outside the city center. It is a great place for families with a leisure center and swimming pool
Sligo Park Hotel autumn packages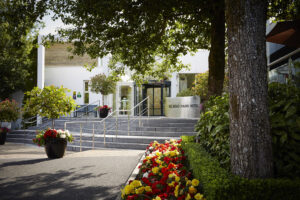 Autumn along the Wild Atlantic Way
From €149pps, the Autumn along the Wild Atlantic Way package includes:
Two nights bed and breakfast
One evening meal for two adults
Complimentary parking throughout your stay.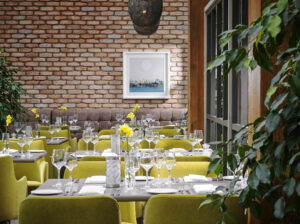 Explore Sligo
From €119, the Explore Sligo package includes:
One night bed and breakfast
Complimentary parking throughout your stay.
Ladies Night Away reunion
From €179pps, the Ladies Night Away reunion package includes:
Two nights bed and breakfast
One dinner on an evening of your choice including a pre-dinner cocktail
Complimentary parking throughout your stay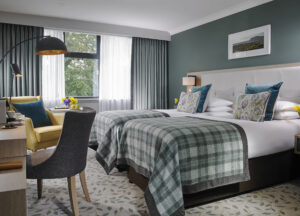 * * * * * * * * * * * * * * * * * *
Galway, Padriac O'Conaire
I haven't quite forgiven Padriac O'Conaire for writing Scothscealta and torturing me during my school days but he is a remarkable poet and storyteller who captured the uniqueness of the West of Ireland and especially the Aran Islands.
It is timely that during Galway's year as European City of Culture O'Conaire should take a special place at the exhibition in Galway City Museum, located down at the Spanish Arch.
https://www.galwaycitymuseum.ie/
The history of the statue is presented here.
This beautiful venue offers a variety of exhibits but the current one entitle Monument is a celebration of Island living around europe, exploring the similarities in culture and heritage that we enjoy on this continent. Some vintage footage captures the harsh lives those who lived on the Aran Islands have endured over the centuries but the remarkable achievement of building great tombs and forts too which we can be proud of.
Harbour Hotel, Galway
Harbour Hotel, Galway has just launched its autumn offers for those looking to reignite the romantic flame or looking to have some fun with friends and family.
Couples have struggled to get alone time over the past few months and with many working from home, it is now time to spend some quality time in the romantic West of Ireland.
With this in mind the ideally located 4* Harbour Hotel, Galway has put together a two night break including a relaxing stay in a fully air-conditioned Executive room with pillow topped beds, luxury crisp linen, the softest pillows and black out curtains ensuring a peaceful night's sleep.  Guests will be welcomed with a cocktail on arrival and are free to relax in the comfort of their room or take a romantic stroll along the harbour and soak-up the unique ambience of the City of Tribes.   On one evening you will be treated to a carefree dinner with glass of bubbly plus enjoy a hearty breakfast daily at the AA Rosette Dillisk on the Docks.  Late-checkout also ensures a quality lie-in before departure. The Rekindle at The Harbour package costs from €185 per person sharing plus on-site complimentary parking for all residents.
For those looking to re-connect with friends then the "Girlie Getaway" two-night experience at the Harbour Hotel is a perfect choice.   The package includes accommodation for two, delicious a la carte breakfast each morning, three course dinner on one evening at the AA Rosette Dillisk on the Docks plus Afternoon Tea on an afternoon of choice.  An ideal break for those looking to treat mum or spend some quality time with a sibling. Package from €175 per person sharing.
Harbour Hotel Galway has recently refurbished their rooms to include air-conditioning, pillow topped mattresses, mini fridge, Bluetooth speaker and HD TV as standard.  With a stellar reputation for customer service where a warm welcome is guaranteed upon arrival from their genial staff, Harbour Hotel is the perfect place to enjoy a breakaway from the new stresses of home life! Harbour Hotel has worked hard to ensure a safe and comfortable environment for all guests – please see link to Harbour's policies here Covid-19 Policies
With numerous dining options available onsite you can comfortably graze throughout your stay with delicious lunch, brunch, dinner, Afternoon Tea and Sunday Lunch choices available from Dillisk on the Docks plus a selection of delicious wines, craft beers and cocktails.
Boasting an enviable waterfront location in the heart of Galway City, just a 3 minute stroll will take you to Eyre Square and the city centre, Shop Street, Quay Street and the Latin Quarter making it an ideal location to enjoy the renowned charms of "The City of Tribes".   For those looking to explore the magic of the west of Ireland then a mere 5 minute drive will take you to Salthill Prom, the coast road to Connemara and the sights of the Wild Atlantic Way, plus the hotel offers free on-site parking.
To book your stay or purchase a Gift Voucher visit www.harbour.ie or T: +353 91 894800 for more details.
* * * * *  * *  * * * * *  * *
Travel Department Tour of Connemara and the Aran Islands
Whether it's ancient Gaelic culture, iconic villages or the stunningly remote islands on the coast, Galway has it all.
On this guided group holiday from Travel Department, you will:
Stay 3 nights in Galway – the perfect location to explore the West of Ireland
Enjoy a full day excursion to the Connemara region with a sightseeing cruise on Lough Corrib
Travel to The Aran Islands & explore Inis Mór, including entrance to Dun Aengus Fort
Visit the Kilbeggan Whiskey Distillery en-route to Galway
Visit charming villages like Leenane, Letterfrack and Cong, made famous by the film 'The Quiet Man' starring John Wayne
Leisure time to explore at your own pace
Travel Department is now offering a Flexible Low Deposit from €100pp on all new Homegrown bookings made until 30th September 2020. Should their plans change, customers will be able to change their holiday free of charge, or simply swap the deposit for a voucher up until 18th December 2020 or when their balance is due; whichever comes first.
Prices from €599pp for 3 nights including 3* B&B hotel accommodation, transfers, excursions and expert local guide, departing from October 2020.
For more information or to book, click here or call 01-6371600
Video Footage Novel Traveller Films copyright
Donal O'Dea, Terry Talbot, Michelle Jackson