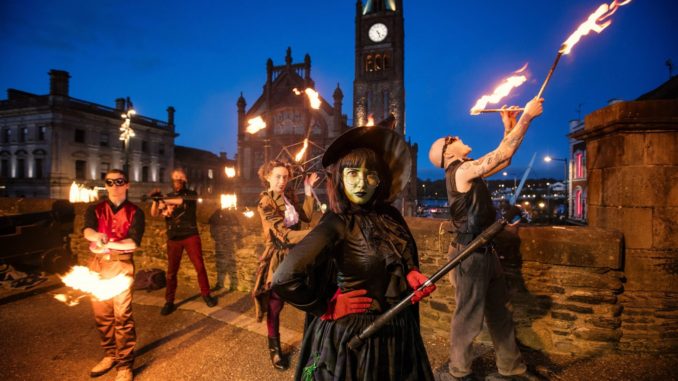 I adore Derry. I've visited several times over the last few years and each time is a treat. I've yet to visit during Halloween which is when I am told is the very best time to stay. This year will see the return of an exciting festival programme that takes in all of the city and other surrounding areas. For more about Derry see my recent post – Derry. Or go to https://www.visitderry.com/
The Festival Programme includes events daily from October 29th to 31st 
At the heart of 'Awakening the Walled City' there is a shared celebration of imagination, wit, wonder and folklore where people reinvent themselves, tell the tallest of tales and the unbelievable seems believable for a few enchanted days and nights. Central to the concept is the belief that each Halloween, this ancient walled city is the destination of choice for supernatural beings and ghosts of the otherworld when they awake to walk the earth with the living before a new year begins (traditionally the Celtic New Year began on 1st November).
Awakening the Walls   
Each zone will feature a range of installations, displays, dressing and animation as well as pre-booked only experience, to assist with crowd control. A number of trading opportunities will be identified within each of the three zones in order to give audiences visiting each area, a fully immersive experience that is self-contained. It is hoped that this will encourage an even spread of visitors across the city on any given night of the event, thereby reducing mass movement of crowds. https://derryhalloween.com/whats-on/worlds
Characters, themes and Zones
Zone One Whispering Wharf – Foyle Marina, Foyle Arts Building, Magee UU, North West Regional College, Riverfront Park and Queens Quay
This zone will be known as 'Whispering Wharf' and will focus on the idea of storytelling and ghost stories, led of course by the Seanchai, well quite a few Seanchai actually, as it is Derry we're in and we love to tell a good tale, especially at Halloween.
Set alongside the riverfront, this iconic maritime location has witnessed many tales of lost love, tearful goodbyes and emotional welcome home's, as boats came and went from the dockside.
With the chilling winds that rise from the sea to greet her, the quayside is a favourite haunt of the Cailleach, Queen of Winter, Goddess of the Cold and Winds. She's in her element at this time of year, rising from a long slumber to embrace all the drama that this chilly season brings. From a distance she has a great beauty, a regal presence but as you get closer her appearance fades to reveal an old lady with a more sinister manner. Are you brave enough!
This zone will deliver a blend of fiction and fact in an imaginative display of story-telling, using a range of animation and multi-media.
Both the North West Regional College and Ulster University are prominent buildings along the quayside and will have a strong visual impact if incorporated into a lighting scheme. The North West Regional College in particular lends itself to the concept of a massive projection space which could be enhanced with sound effects/performers kept at a safe distance from crowds along the opposite side of the quay.
Zone Two – City of Bones– Guildhall Square, Shipquay Street, The Diamond, Cathedral Quarter
Walter De Burgh is the skeleton depicted on the city Coat of Arms and has become an endeared character associated with the city's love of all things Halloween. As the city awakens, Walter, this fun loving skeleton, and his ancestors will turn the confines of the walls into his very own 'City of Bones'.
An aerial installation will be the central focus for the animation filling the night sky with funny bones showcasing their spectacular acrobatics. A welcome distraction from the sinister and chilling lament of the Banshee, who can be found lurking at each of the city gates, warning all in her path that they are destined to haunt these ancient walls forever.
IYSC Walter Wakes  DHWN21  https://fb.watch/6sGszUNS_I/
Zone Three
The Awakening – Ebrington Square
Each year, during the final days of the Harvest Moon, the veil between our present universe and that of other worlds, fades into oblivion, revealing a series of portals, known as Samhain Circles that can be crossed for 3 days and nights only…
Standing tall and elegant as it surveys the riverscape of the city, Ebrington Square waits quietly. Crowds gather in its shaded corners, eager for this Samhain Circle, the city portal, to open. A mix of masked individuals, many boasting several hundred years of existence, blending seamlessly beside the fantastical costumes and guises that the locals are famed for wearing at this time of the year. A fire garden in the nearby forest spits and crackles, waiting to warm the weary bones of those who have journeyed across time to reach the ancient walled city for Samhain.
The Clock Tower stops. A mist rolls in from the River Foyle, descending on the city with a ghostly hush. Flames and shadows flicker against the walls of EbringtonSquare as the city and its people beckon the spirts of the other world to step through the thinning veil for their annual pilgrimage to the mecca of all things Halloween – Derry.
Suddenly the Clock Tower comes alive, the very building seems to move as it exhales fantastical ghouls and ghosts of the otherworld. They spill onto the Square, an ever changing silhouette that sweeps across the crowd, to find a familiar face, then scatters to each corner of the walled city. People watch in wonder, captivated by the powerful presence of their guests, smiling in delight at their return. The Cailleach, Banshees, Queen Morrigan and beloved Walter are among those that have joined the Samhain celebrations.
Forest of Shadows – St Columb's Park
In the Forest of Shadows nothing is what it seems, for here lies the dominion of the Phantom Queen Morrigan. This fierce and beautiful goddess welcomes all to her court with dancing flames of fire, a hypnotic and mesmerising display that slows your step and lures you to into the heart of the forest. But beware, for these paths are lined with shape shifting creatures and in the sanctuary of the shadows cast by these great oak trees, all manner of things can materialise.
Many years ago the charismatic Walter de Burgh summoned this beautiful queen to come to his rescue as he lay chained in his cold damp prison. Alas it was too late for Walter in the mortal world when Morrigan cast her eyes upon him but in their meeting these kindred spirits found a friendship that they celebrate each year at Halloween.
And so Morrigan makes her annual pilgrimage to the ancient walled city each Hallow's Eve. At dusk she stretches her majestic wings into the night sky, soaring high above the city to survey this gathering in all its splendour, swooping down towards Walter's Walls before crossing the River Foyle and returning to her roost to be soothed by the haunting birdsong of her shapeshifting army in the Forest of Shadows
Zone Four –
The Lost World – Strabane Town centre
Friday 29th& Saturday 30th Oct (2pm – 6pm)
Family Friendly experiences as you explore the unknown through the town centre but remember to keep your guard as you may discover some strange unwanted characters lurking about that have got lost on their way to the Awakening and come through the wrong portal and landed in Strabane. Stories and tall tales to be told! 
Zone Five –Swan Park Buncrana Co Donegal
Family friendly experience will be created in Swan Park, Buncrana that helps bring to life this story.
Near Banba's Crown, from faerie mounds
Standing on the Ninth Wave, high above the Walls of Derry
The Ancients await the opening of the gate
between this world and the other.
Gods and Goddesses lead the Star People.
Danu, Macha, Morrigan, CúChulainn and Mac Cool.
At BrúnaBoinne, they wait.
At Newgrange, Beltany and Tullahogue, they wait.
Within Grianan of Aileach, Red Branch Knights in battle gear
restrain their horses as they rear. They are ready.
And as the Samhain moon draws near the people of Derry show no fear.
Disguises are donned, fires are lit, feasts are made and places are set.
To welcome one and all to the biggest party yet.
To keep up to date with the events at Visit Derry This Halloween see https://derryhalloween.com/
Covid19
If circumstances or advice changes then Council may be obligated to alter/ terminate this agreement in accordance with Clause 1-9 within DCSDC
Festival & Events Contracts.
Daily Programming Various 29th -31st October – Times between 12.00noon – 10.00pm
Legenderry Food Trail – We will be including the Legenderry Food brand as part of the programme, it may be the case that we aren't able to put on a full market on Guildhall Square –  if that is the case we will link in with the businesses to create a Food and Drinks Trial which hopefully will include experiences and Market Stalls around the various Zones providing hot drinks and munchies.
Little Horrors – Restrictions allowing, we are programme a number of shows that link in with our theme in the Guildhall which be a family hub with Storytelling Trial around the City Centre.
Arts & Cultural Funding available for business, venues and organisations to enhance Halloween Programme
Tours n Trail – Restrictions allowing, we hope some of the Halloween Tours n Trails can go ahead in outdoor locations eg Cemetery Tours, Origin Tours
After Dark – Promotion of Live Music Programme taking place across the City eg Music Capital/ Lūmināre Presents Liam Ó Maonlaí – Friday, 29 October 2021 at St Augustines Church on the Walls
Fun Fair –Ebrington
Haybale Sculpture Trail – Annual Hay Bale Trail district wide from Strabane
Fireworks –TBC Two pontoons firing over the River Foyle is to spread large crowds along the quay on Halloween night only/later times proposed
Places to Stay
Lots of great accommodation in Derry here are some of my favourites.
North West Mini Break has been really popular, From £65pps
This special offer includes:  Main course from the À La Carte Menu in The Grill Restaurant including a choice of a glass wine, beer or a soft drink – Continental breakfast. Complimentary WiFi with access to over 7,000 digital newspapers & magazines and car parking
Not forgetting the Complimentary Hastings Hotels duck.
https://secure.hastingshotels.com/convert/site/Hastings%20Everglades/en/rate/7017214.html?partya=0&noerr=
The Derry Girls Afternoon Tea is a great fun experience and booking is essential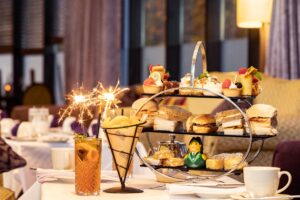 Ardtara have availability on the 27th and 31st at the moment, the D, B&B rate is £284.00
https://www.ardtara.com/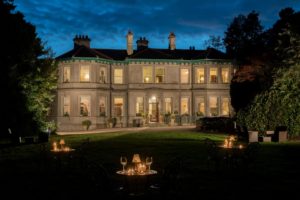 Bishop's Gate have availability from the 25th – 30th, starting at €199 per night for two people sharing B&B.
https://www.bishopsgatehotelderry.com/