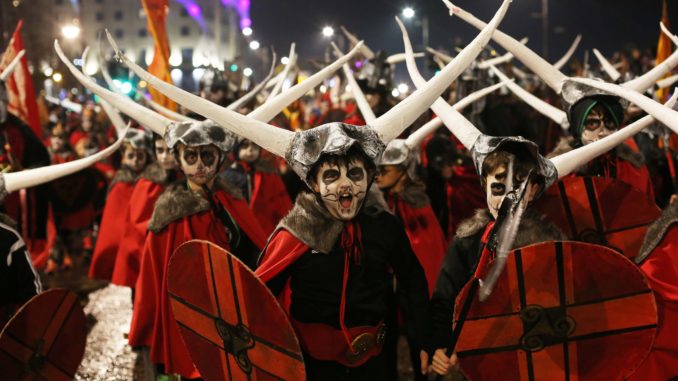 In case you thought Halloween was an American invention, you'd be very wrong. The early Celts gathered at this time of year to celebrate the harvest, welcome in the darkening evenings and called it the Samhain. Even the Jack-O-Lantern has its origins on Irish shores and was traditionally carved out of turnips but the Irish who travelled to America continued the tradition with the more accessible pumpkins. It's shaping up to be a 'spook'tacular Halloween around the country with lots to do for all the family so I've pulled together some special fun activities to inspire your travels.
Set to return this Halloween season is the Pùca Festival in county Meath which will run from October 23rd until the 31st. With artists like Jerry Fish, Aoife Scott and Joanne McNally performing, a huge turnout of visitors is guaranteed. Check out the www.spiritsofmeath.ie website for full list of events. Venues will be in Trim, Athboy, Drogheda and this year Slane Castle is joining in on the fun for the first time. If you like the idea of dining in the castle The Feast of the Spirits is a once-off opportunity to enjoy a Samhain dinner in the incomparable surroundings of Slane Castle Ballroom. Limited to just 50 people, this feast is a celebration of produce from the Boyne Valley region with a special Samhain slant. www.slanecastle.ie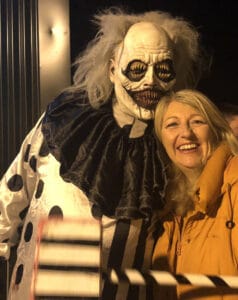 I've already been to my first event of the season at Causey Farm where the scary Farmaphobia is bigger and better than ever. Running at weekends and for the entire build up to Halloween on October 31st, this haunted experience is something for everyone to enjoy over the age of 13, under 16s must be accompanied by an adult but the adult doesn't need to pay or go into the various worlds. Tickets are from €29-€35 booking essential www.farmaphobia.com
Why not treat the family to a cheeky stay at Trim Castle Hotel with treats and tents and kids dine free voucher with prices from €180 for two adults and two children. Or at Dunboyne Castle Hotel where a Mid-term two night break with dinner for the family is from €438 inclusive – they have a lovely spa too.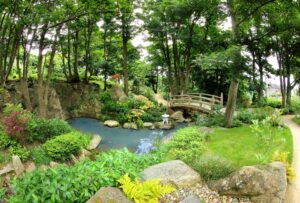 In the south of the country Waterford has a host of spectacles. Be afraid as you enter the haunted Woodlands of the Lafcadio Hearn Japanese Gardens in Tramore. Lafcadio Hearn is globally famous for his Japanese Ghost stories, so in these gardens ghosts, ghouls, witches and spiders haunt the woodlands even in daytime. The Ghostly Woodland Walk runs from Sunday 17th October to Sunday 31st October. Open every day 10.00am to 5.00pm. General entry to gardens and woodlands:  Adults €6 Children €3.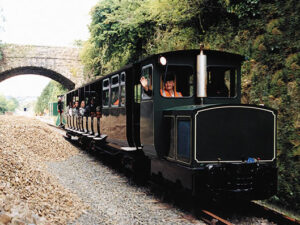 Midterm is a good time to visit Waterford Suir Valley Railway. This heritage narrow-gauge railway runs along 10 kilometres of the abandoned Waterford Dungarvan line and will operate five trips per day throughout the mid-term break for all the family to enjoy. Watch out for the spooky scenes at Kilmeadan Station and along the route. www.wsvrailway.ie
There's always something happening in Kilkenny and this spooky season is no different. I especially like the story of the county's most famous witch and one of the oldest inns in Ireland. The daughter of a Norman banker, Alice de Kyteler married four times and, in the process, amassed a considerable fortune. Local jealousies abounded and she was eventually accused of witchcraft and sentenced to be burned. Her excellent connections with local gentry ensured however that she was 'spirited' out of the country to England before the execution could take place. www.kytelersinn.com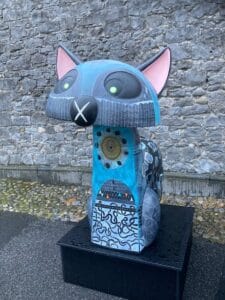 The Kilkenny Catwalk Trail consists of 21 wonderful Cat sculptures which have been decorated by some of Kilkenny's most talented artists for public display in and around Kilkenny City until next April. Anyone can follow the trail on the official Kilkenny Catwalk Trail App. Inspired by the feline character Pangur Bán that features in the film 'Secret of Kells', the 5ft tall sculptures are scattered around the city and make a great way to see some of Kilkenny's best loved attractions and get some iconic photos and memories on your next Kilkenny getaway. See www.kilkennycatwalk.ie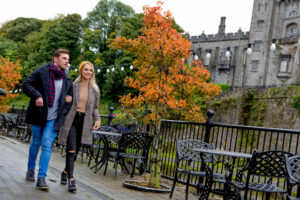 If you've time for a family stay in Kilkenny then the Newpark Hotel has a Halloween mid-term break with two night action packed family Halloween Breaks from €648. At the Hotel Kilkenny families can enjoy a two-night family mid-term break with two children under 12 staying for free prices start from €420.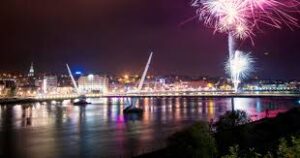 Derry has been voted number one place in the world for Halloween by The New York Times and with very good reason. This year the festivities stretch out further than ever including events in Strabane and Buncrana. With something for all the family including illuminations, shows and fireworks check out the website for more details. www.derryhalloween.com. Always worth nipping up for a stay I've heard there is still availability in the gorgeous Blue Book country house Ardtara with a dinner bed and breakfast rate of £284 for two people.www.ardtara.com
For more see www.visitwaterford.com and www.derryhalloween.com and visitkilkenny.ie and www.spiritofmeath.ie