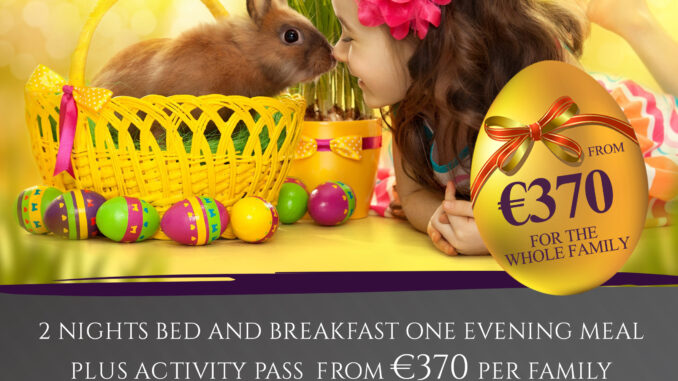 Easter Fun is on offer at Hotel Kilkenny
I love Kilkenny and have stayed at the Hotel Kilkenny in the past and it's a great place for a family Easter break. Families can check in and enjoy a one, two or three-night Easter break at the four-star Hotel Kilkenny for a family of four with 2 children under 12 staying for free.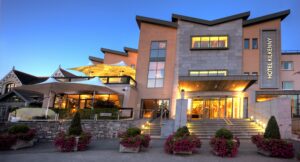 The Hotel Kilkenny staycation package includes accommodation in a spacious deluxe bedroom, full Irish breakfast each morning, dinner on one evening in Pure Bar, plus enjoy full use of the health and fitness club and pool and full free access to the kids clubs, family swimming facilities and play areas designed to keep the little ones entertained all from €235 for a one-night break, from €470 for the two-night break and from €705 for the three-night stay for two adults and 2 children under 12.
The team at Hotel Kilkenny have also partnered with some of the county's best-in-class activity providers and cultural sites, enabling visitors to conveniently book their stay and activities all in one place at the best rates available through the team at Hotel Kilkenny via adventureescapes.ie
You can check out my video to see things to do in Kilkenny here
Families can enjoy the Castlecomer Discovery Park where there is a thrill at every turn. A visit to the National Reptile Zoo showcasing over 100 animals and 50 species is a wonderful activity that all of the family will enjoy. Or take to rural life on the farm at Nore Valley Park, with a variety of animals to see.
Cultural experiences including a visit to enjoy a tour of the magnificent 12th-century Kilkenny Castle is on offer along with an opportunity to view St Canice's Cathedral climb to the top of the 30-metre high round tower or meander through the formal and informal gardens at Woodstock, which date back to Victorian times or for an adrenalin rush, visitors can enjoy eco safaris and white-water adventures in Kilkenny and Carlow with 'Go with the Flow' Kayaking or enjoy a riverboat adventure on the river Barrow in Graiguenamanagh with Riverboat Adventures. For an easy pace, a two-hour guided cycling tour with Kilkenny Cycling Tours visiting historical and cultural sites around Kilkenny is also on offer.
The Kids Club at Hotel Kilkenny offers a wide range of activities, which are guaranteed to keep any four to a twelve-year-old, entertained with Lego building challenge, foozeball knockout, disco/karaoke night, quiz night, arts & crafts and board game nights. The kids club is open every day during school holidays.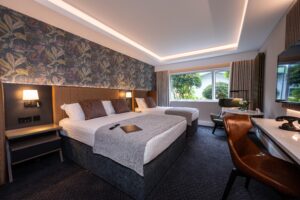 The stylish 4 Star Hotel offers a luxe and relaxing stay with Italian marble decor, French wallpaper and custom pieces of furniture designed specifically for Hotel Kilkenny ensuring a sense of relaxation and luxury. Hotel Kilkenny is the ideal base from which to explore the culture and history of the medieval city of Kilkenny. Nestled in mature gardens a short walk from Kilkenny City centre. For further information on this Easter Family break package see www.Hotelkilkenny.ie or www.AdventureEscapes.ie
RATES:
1 Night from €235 for a family of 2 adults & 2 children (0 – 12 years)
2 Nights from €470 for a family of 2 adults & 2 children (0 – 12 years)
3 Nights from €705 for a family of 2 adults & 2 children (0 – 12 years)
Enjoy Wonderful Wexford this Easter at Ferrycarrig Hotel 
The 4-Star Ferrycarrig Hotel in Wexford boasts one of the most inspiring locations of any hotel in Wexford or Ireland; situated on the water's edge of the River Slaney with every one of the hotel's 102 rooms offering a view. This Easter Ferrycarrig Hotel is offering the perfect family escape with a choice of a two or a three-night stay for a family in an ensuite room overlooking the beautiful views and a delicious breakfast each morning, plus full use of the hotel's leisure centre, pool, baby room and outdoor playground plus a family pass to Ireland's largest outdoor museum – the Irish National Heritage Park.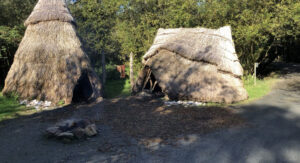 Guests also have the option to add some adventure to their stay with the Ferrycarrig Adventure partners.  The team at Ferrycarrig want their guests to experience the very best that Wexford has to offer so with this in mind, they have partnered with the best attractions and activity destinations in the county.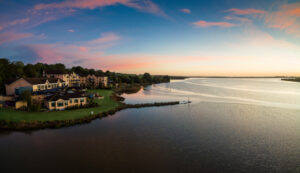 The team at Ferrycarrig can do all of the heavy lifting for quests to create their very own bespoke adventure escape. You can choose different activities as part of your stay at Ferrycarrig either in advance of your stay or on arrival. Activities and visits are priced exclusively for Ferrycarrig guests ranging from free to a maximum of €49.50 per person for some of the activities all of which are accessible from just 5 minute to 40 minutes drive from Ferrycarrig Hotel in Wexford.
The Easter Adventure break offers guests the opportunity to enjoy surfing, stand-up paddling, sand-duning, archery, horse-riding, zip-lining and more plus there are some historical attractions to visit for a more sedate day out with Hook Lighthouse, Johnstown Castle, The Irish National Heritage Park and Wells House. The Easter at Ferrycarrig families can enjoy a two or three-night stay with a delicious breakfast each morning as they are seated overlooking the River Slaney. Full access to the pool and a baby preparation room is all included. A break for two adults and two children (to age 15) is available from €390 and a three-night stay from €555.
For further information on Ferrycarrig Hotel and Easter Fun, packages see ferrycarrighotel.ie
Riverside Park Hotel
Staying in Wexford The Riverside Park Hotel in Enniscorthy has some fabulous deals and stays for all the family. Overlooked by Enniscorthy Castle, the Riverside Park Hotel is the perfect location in Wexford and the sunny south-east to explore Wexford's dramatic scenery and sandy beaches, wild beauty and spectacular landscapes. Explore all the treasures and local attractions in the cornerstone of Ireland's Ancient East from our doorstep.
At the Riverside Park Hotel, their 100 contemporary rooms allow guests to choose from luxurious standard, couples deluxe. spacious superior family rooms or balcony rooms with panoramic views of the river Slaney.  Soft lighting and calming colour palettes infused throughout the rooms ensure an exceptional hotel experience. During your stay also enjoy complimentary use of our leisure club including swimming pool, treatment rooms and a kid's pool and playground for your little VIP's.
Wexford is privileged to have access to the finest of locally sourced ingredients from fresh fish with over 275km of coastline in Wexford to dairy, vegetables, potatoes and infamous Wexford strawberries. Their menus reflect a passion for high quality locally grown produce in the Alamo Steakhouse,  Moorings Restaurant and the Prom Bar.
Wexford is the perfect destination if you're seeking a tranquil getaway, exploring Ireland Ancient East or bursting with anticipation for the next adventure. Whether it's a golfing break with old friends, a family activity break to make timeless memories, a girlie getaway break that has been long overdue or a romantic getaway for the two of you – The 4 star Riverside Park Hotel in Wexford has you covered. With rates starting from €370 per family for a two night getaway check out below. https://www.riversideparkhotel.com/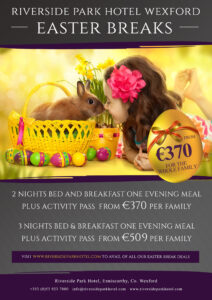 To book your stay go to their website at 4 Star Riverside Park Hotel,