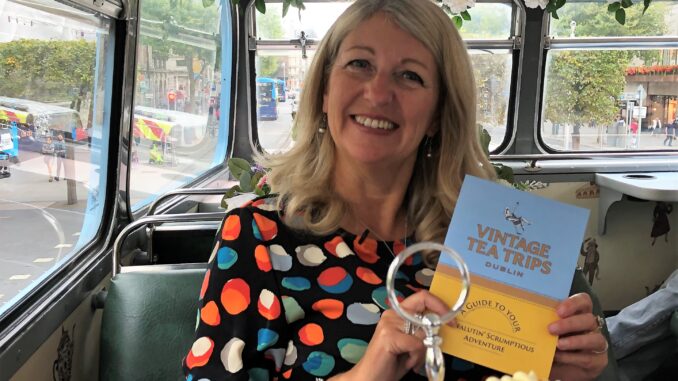 With Mid-term break already in some of our minds it is worth checking out where we can go for an autumn staycation. The timing is good for taxpayers as the Government have launched a new scheme that might entice some to go on a little break.
Stay and Spend is a tax scheme aimed at consumers to help drive sales in the hospitality sector during the off-season which has been negatively impacted as a result of COVID-19.
The scheme will provide a maximum of €125 in income tax credits to tax-payers who spend up to €625 in restaurants, pubs, hotels, B&Bs and other qualifying businesses, from Autumn 2020 through to Spring 2021, including over the Christmas period.
Where a taxpayer has insufficient income tax liability to fully benefit from the measure, they may still avail of the relief against their USC contributions.
The taxpayer can submit receipts via the newly updated and easy-to-use Revenue Receipts Tracker mobile app.
* * *  * * *  * *  * * * * * * * * * * *
So I've put together a few nice ideas for ways you can spend and save over the coming weeks
Dublin
The Vintage Tea Trips is perfect for a daycation if you live in Dublin but if you fancy a trip to the Capital then they've teamed up with the gorgeous Wilder Hotel with a very special offer…
The Vintage Tea Trips is a wonderful way to learn about the city and enjoy the delights of a traditional Afternoon Tea. Afternoon tea is a much-cherished tea-related ritual from the early 1840s. It was a mini-meal to fill the gap between lunch and dinner and was composed of scones with clotted cream and jam, delicately cut sandwiches, sweets and delicious cakes. Book online here and this VIP experience is €47.50 for adults. https://www.vintageteatrips.ie/dublin-afternoon-tea-trip/
We boarded the vintage Routemaster bus in historic Temple Bar. Then we soak up the nostalgia as our host gets the conversation started, the 1950s jazz starts up, and a classic afternoon tea is served. We enjoyed all the afternoon tea favourites—finger sandwiches, desserts, cakes, and pastries—as our bus travels through downtown Dublin. Pass sights such as St. Patrick's Cathedral, Christ Church, Trinity College, St. Stephen's Green, Wood Quay, O'Connell Street, Phoenix Park, and the grand buildings of Georgian Dublin.
Where to Stay?
Take a trip on the Wild Side and enjoy two experiences in one with a  stay at The Wilder Hotel which is part of Ireland's Blue Book Hotels. I popped in to see the delights of this centrally located boutique hotel and was blown away by the uniqueness of this resident only hotel
The Wilder, one of Dublin's finest resident's only Townhouses, nestled in beautifully manicured gardens, close to the famous Iveagh Gardens and nearby St. Stephen's Green. This Victorian townhouse offers a luxurious and quiet hotel retreat from the hustle and bustle of the city.
The Vintage Tea Experience Package includes:
Overnight Accommodation in The Wilder Townhouse

Classic afternoon tea for two onboard the Vintage Tea Tours with 1950's Jazz
Full home-cooked breakfast
* * * * * * * * * * * * * * * * * * * * * * * * * * *
Offaly
Take a cruise on The Shannon with Silverline Cruisers
This year has seen a huge rise in the popularity of cruising on Ireland's rivers and lakes and one of the smartest providers of cruiser holidays is Silverline. I took a short trip from Banagher in County Offaly to experience the peace and serenity of the beautiful River Shannon in a luxurious 40ft boat from Silverline. The Silver Ocean can sleep up to eight people with two double rooms and one bunk bed room. The facilities were excellent with two en-suite bathrooms and a fully kitted out kitchen. Barbara showed us around and with expert guidelines we felt very confident taking off to explore the Shannon. Banagher is about one and a half hours from Shannonbridge  and another hour from Clonmacnoise. Further up the river Athlone makes an ideal stop and cruising in the opposite direction brings you down to Lough Derg. I can't recommend this experience highly enough – it's a wonderful family holiday and ideal for friends too. There is always someone at the end of the line if you run into trouble and people are friendly and helpful on the waterways.
Prices for October
3 nights on a 2 berth cruiser €410
3 nights on a 6 berth cruiser from €500
3 nights on an 8 berth cruiser from €850
Weekly prices
2 berth from €600
6 berth from €820
8 berth from €1210 .
To Book go to their website https://silverlinecruisers.com/
Places to see on the River – Clonmacnoise is a wonderful heritage site operated by the OPW. Admission is €4 per adult and it can be visited from the river if you are cruising.
Clonmacnoise
St Ciarán founded his monastery on the banks of the River Shannon in the 6th Century.  The monastery flourished and became a great seat of learning, a University of its time with students from all over Europe.
The ruins include a Cathedral, two round Towers, three high crosses, nine Churches and over 700 Early Christian graveslabs.
The original high crosses, including the magnificent 10th century Cross of the Scriptures area on display in a purpose built visitor centre adjacent the monastic enclosure.
Don't leave without a visit to Lukers of Shannonbridge
What better way to finish off your stay than a stop off at Lukers of Shannonbridge. The pub is set beside the bridge and a hive of activity with fabulous restaurant and now the Boatyard open air pub which features movies and music at weekends.
There's lots to do in Offaly….
Slieve Blooms mountain range is a key attraction in Offaly.
Slieve bloom mountains spread across offaly and Laois – 16 looped walks and one of 4 sites that have recently been invested in to develop international standard biking trails.– phase one completed – and the Slieve Bloom Mountain Bike Trails due to open in 2021.
https://www.coillte.ie/site/slieve-bloom-mtb-trails-offaly/
Lough Boora Discovery Park
https://www.loughboora.com/ – Explore the transformed beauty of harvested bog lands, now habitat to a unique array of flora and fauna, enhanced by a dramatic sculpture exhibit.
Lough Boora Discovery park is the property of Bord Na Mona who wanted to give back to the community – see links above. Also a visitor centre and café( take away offer now)
Reclaimed commercial bogs that were previously harvested – are now boasting lovely flora and fauna and home to many species of birds & wildlife – they also have outdoor sculptures reflecting nature and the landscape and the industrial story.
It's free of charge and you can bring your bike with you or you can hire bikes too and it's really safe and self contained. If you have little ones don't miss The Fairy Trail –https://www.loughboora.com/things-to-do/fairy-avenue/
** * * * * * * *
Birr Castle demesne and parkland is home to the 7th Earl of Rosse with 120 acres of parkland and gardens and walks
Entry is €26.00 for  family of four and adult tickets are €9.50 general admission -all tickets must be purchased online.
https://birrcastle.com/sharing-our-heritage/
https://birrcastle.com/telescope-astronomy/
Steam turbine original inventionhttps://birrcastle.com/engineering/ –
Biggest tree house in the country and playground. https://birrcastle.com/kids/
Where to stay?
Glamping?
Pub, Townhouse and Glamping sites, established in Summer 2015, Giltraps has welcomed many happy guests through our doors to enjoy this unique experience.
Get closer to nature in this perfect setting of manicured gardens with camping bays, six Log Cabins and a Mongolian Yurt, imported directly from Ulaanbataar.
The rates for Glamping start FROM €99 for a Log Cabin that can accommodate up to 4 guests. For the Elaine Show, they are happy to offer a 10% DISCOUNT for anyone that references 'ELAINE' when they contact us via email at [email protected]
Ireland's Ancient East
Racket Hall Country House Hotel
Racket Hall Hotel is the perfect location to explore and enjoy the Irish midlands and the wider Ancient East region.
2-NIGHT FAMILY FUN B&B + 1 EVENING MEAL FOR 4 – PLAY TOGETHER & STAY TOGETHER !
Break away with your family for a fun-filled trip to the Midlands! A perfect location to enjoy the many attractions in the region.
There is the Lough Boora Discovery Park, Roscrea Castle, Birr Castle and Outdoor Adventure Centre – and a great range of outdoor activities for all with walking and cycling trails to enjoy.  After your fun packed day, return to the relaxed setting of Racket Hall and enjoy a delicious meal at Lilly Bridges Restaurant.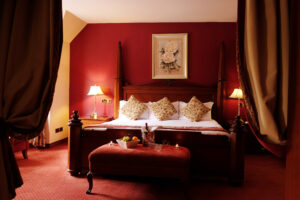 Offer includes:
* Overnight accommodation for 2 nights for 2 adults and 2 children
* Evening meal in Lilly's Restaurant
* Full Irish Breakfast each morning
* Free Wi Fi
From €300 total stay based on 2 adults  & 2 children under the age of 12
Original Irish Hotels Racket Hall
* * * * * * * * * * * * * * * * * * * * * *
Sunny South East
Mount Congreve Gardens a free day out for Grandparents
On Saturday, October 4th Mount Congreve Gardens in County Waterford will throw the gates open for free to all grandparents visiting with their grandchildren.
It is the first Grandparents day being celebrated at the gardens and Estate Manager Ray Sinnott feels it is an important occasion to mark in 2020. "We all know that for many months of this year grandparents sadly lost the opportunity to spend time with their grandchildren as they were cocooning.
"We are delighted to open the gates to Grandparents and enable them to come and enjoy some time exploring nature with their Grandchildren to mark national grandparents Day. We all know it has been a difficult year for families and especially for the more senior members of the family so we want to give back this opportunity to families for us all of appreciating all the joy and wisdom that grandparents bring to our lives."
National Grandparents Day for 2020 takes place on a schoolgoing day of Tuesday, October 6th and the celebration date at Mount Congreve Gardens has been set for a Saturday to allow for this.
All tickets to the gardens need to be pre-booked in advance, free tickets to a grandparent will be allocated with any accompanying child or another adult ticket. Children's and adult tickets can be pre-booked at www.mountcongreve.com

The 70-acre Mount Congreve Gardens with its 16 km of walking trails, majestic woodlands and beautiful lawns along with its family-friendly nature trail is the perfect family day out. Located just 10 minutes from Waterford City on the River Suir it is an escape to nature. See www.mountcongreve.com for further details.
Mid-term Fun at Wexford's Ferrycarrig Hotel
A fantastic family mid-term break is on offer this Halloween at the four-star Ferrycarrig Hotel.
The Ferrycarrig's waterside setting promotes immediate relaxation yet it is minutes from Wexford town ensuring Ferrycarrig Hotel is the perfect staycation spot.
The family mid-week midterm break at Ferrycarrig includes family accommodation in a luxury room overlooking the River Slaney with a delicious full Irish breakfast each morning, full use of the health and fitness club and pool as a pre-booked time for you and your family and full access to the outdoor playground from €270.00 per stay from Sun, 25th Oct 2020, see https://www.ferrycarrighotel.ie/
Dining at Ferrycarrig is a delightful experience with food from local suppliers and producers placed firmly to the fore. The multi-award-winning Reeds Restaurant offers an Early Bird Menu or a full A La Carte Menu and at the Dry Dock Bar with its outdoor terrace, food is served until 9 pm each evening.
A variety of fun-filled activities are on offer across Wexford this Halloween, including the gothic castle experience at Johnstown Castle with its ancient underground servant's tunnel, a traditional Samhain at Hook Lighthouse, and right on the doorstep of Ferrycarrig Hotel is the Irish National Heritage Park – Ireland's largest outdoor museum which will take visitors back to 9,000 BC and showing them how people lived before 4G, with a replica Viking longship, a stone-age chipper and demonstrations of how dolmens were made.
Faithlegg House in Waterford has a lovely deal for mid term too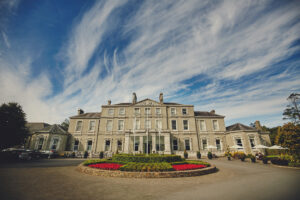 As the evenings grow shorter and the leaves beginning to fall from the trees, what better excuse to escape to the beautiful countryside surroundings of Faithlegg for an autumn activity break.
Whether it's a round of golf on the superb golf course or a relaxing hour spent in the Faithlegg Treatment Suites – perfect for some much needed me time and a dip in the Jacuzzi – or to read a book by the roaring fire in the Aylward Lounge, at Faithlegg a cosy, quiet corner is never too far away.
In the evening enjoy a delicious meal in the award-winning 2AA Roseville Room Restaurant, knowing that your evening meal has been prepared using the very best of local produce by head chef Jenny Flynn.
Make a break for Waterford this autumn with an overnight break to Faithlegg. Complete with an overnight stay, dinner in Roseville Room Restaurant and breakfast the following morning, Make a Break for Faithlegg is available from €159 per person sharing. For more information or to book a relaxing break away this autumn visit www.faithlegg.com.
* * * * * * * * * * * * * * * * * * * * * * * *
Video and Photography Footage copyright Novel Traveller Films
Donal O'Dea, Terry Talbot, Michelle Jackson