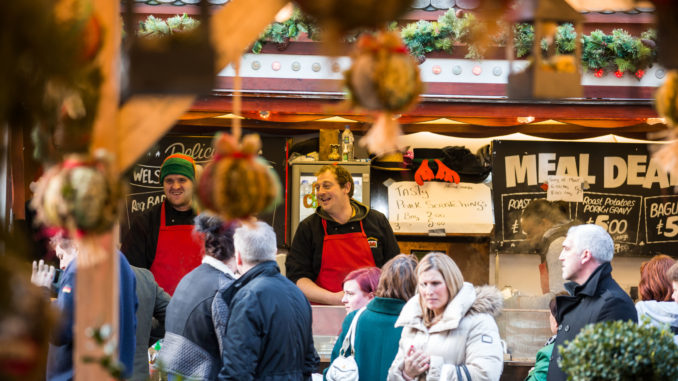 Glasgow might not be the first destination to come to mind for Christmas Markets but with the second best stretch of retail in the U.K. after London, and a weak pound, there's never been a better time to visit.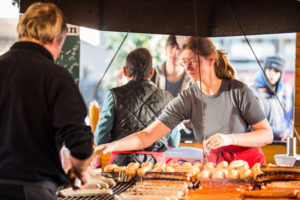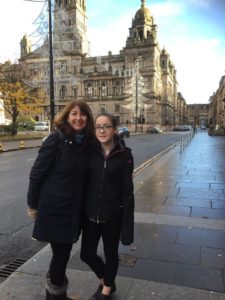 Aer Lingus Regional operates daily to the largest city in Scotland and before take-off I grab a bottle of my favourite Marc Jacobs, perfume at The Loop and leave it for collection on our return back in Dublin, much to my chagrin as I will find out before the weekend is over.
Glasgow has undergone a Renaissance over the last twenty years. Gone are the days of shipbuilding and busy ports and in its place are modern architecture and wondrous shopping malls. With my friend and our two teenage daughters we decide to investigate thoroughly.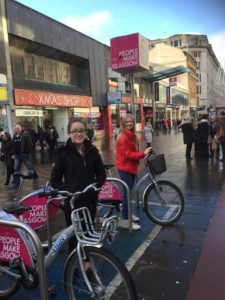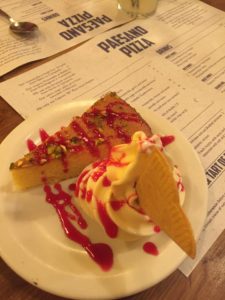 Location is pivotal when travelling with kids and the stylish Fraser Suites, situated on Albion Street, is in the middle of everything we need for our shopping weekend. These stylish serviced-apartments have a selection of one and two-bedroom suites and a comfortable kitchen dining room perfect for families. The nail bar around the corner offers manicures for £15 and massage for a little more and Maggie Mays pub which seems to be the epicentre of Glasgow nightlife is only downstairs.
http://michellejackson.ie/index.php/2016/12/07/starting-off-my-2017-holiday-bucket-list-with-cancun-mexico-and-peru/
We're hungry after our twenty minute taxi ride and the kids are determined to find the best spot for pizza in Glasgow. We crack this request at Paesano Pizza on Miller Street. Our waitress tells us it is always busy and it's easy to see why. The small menu is cheaply priced and the atmosphere is fantastic. Every demographic is catered for and at the back of the restaurant, four chefs industriously churn out delicious sour dough pizzas to the satisfied customers. We didn't really have room for dessert but the Lemon Polenta Cake came with whipped Ice-cream and at £4 it would have been rude not to order. You may have to wait a few minutes to get a table but I guarantee it will be worth it!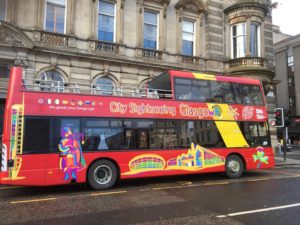 Next day we are set to hit the markets and the golden mile from Merchant City to St Enochs and around Georges Square. But first we hop on the sightseeing bus to get our bearings. http://www.citysightseeingglasgow.co.uk/ The narrator takes us through Billy Connolly's old haunts and the Victorian buildings that give the city its character. Top stops on the tour include the famous Barra Markets (where you're likely to meet a Scottish Del Boy with all the ambience of London's East End) and Kelvingrove Art Gallery and Museum which has an eclectic mix of art and artefacts. After so much information it's time for Afternoon Tea at The Willow Tea Rooms – designed using features, styling and furniture created by the Glaswegian Rene Mackintosh and is set right in the middle of Buchanan Street, AKA The Style Mile and housing every high chain store that our teens desire.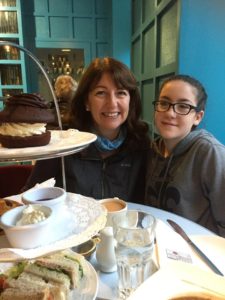 But the real Christmas markets are in George's Square and St Enoch's Square where we enjoy mulled crepes and the usual German market fare! The prices are great for artisan presents with plenty starting at £5 from Turkish ceramics to Himalayan Salt Candle holders.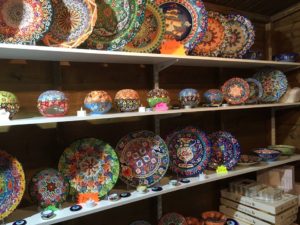 The choice in food is huge in Glasgow and we dine in the Corinthians Club on Ingram street for a bit of posh on our second night and even that doesn't break the bank- easily one of the most stylish venues where the food is good and atmosphere decidedly Christmassy!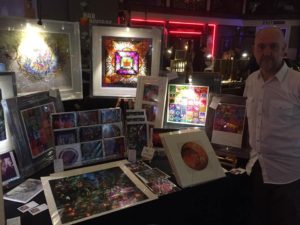 So after doing damage on the credit card, we get an extra bit of culture in next day at the Museum of Modern Art. You won't be short of museums to visit either and the good news is they are all free, which is an added bonus when travelling as a family! We watched the turning on of the lights on George's square and can confirm that Glasgow is well and truly set for Christmas!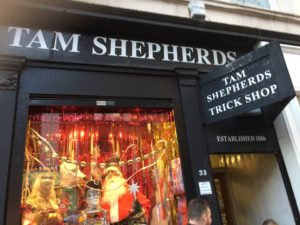 If you've the kids with you, or indeed if you want to bring out your inner kid, then stop off at Tam Shepherds Trick Shop, a Glasgow institution that has found its way into many of Billy Connolly's comic routines and given hours of joy to plenty of Glaswegian schoolboys.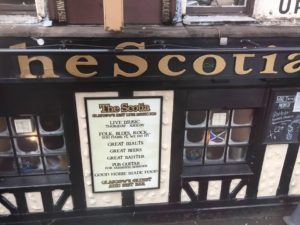 A glass of larger and hot whiskey didn't put a dint in our spend at Merchant Square which had creative bespoke art on sale. Being indoor the mood was very relaxed and surrounded by chic restaurants, a nice alternative to the German style markets of St Enoch's and George's Square. The markets run until December 29th so there's plenty of time to plan a last minute trip to Glasgow. The best bit about Glasgow is the slogan is true and we found it everywhere People do Make Glasgow.
Our only disappointment after our fun-filled weekend was at The duty free at Glasgow airport where my favourite Marc Jacobs perfume is (on offer with free body cream) for only £57. Even taking into account the currency difference, I paid €15 more at the Loop!
For more information go to www.peoplemakeglasgow.com  and for information about events over Christmas see www.glasgowloveschristmas.com
Aer Lingus Regional operates flights between Dublin and Glasgow up to four times daily with lead-in fares from €19.99 one way including taxes and charges. For information on fare and flight times, visit www.aerlingus.com.
Fraser Suites
Set in a beautifully-renovated 1850s Victorian building in the Merchant City, Fraser Suites Glasgow offers a collection of luxury and sophisticated residences comprising studio, one & two-bedroom apartments. One-bed apartments from £90 per night.  1-19 Albion St, Glasgow G1 1LH
http://glasgow.frasershospitality.com/en
To dine in Glasgow see: http://paesanopizza.co.uk/ and http://www.thecorinthianclub.co.uk/