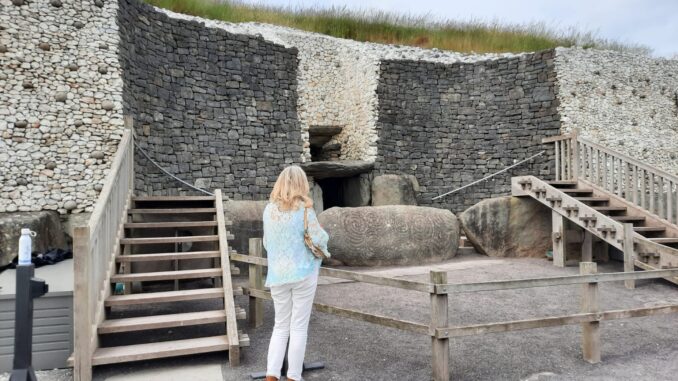 I've been visiting Ireland's Ancient East over the last couple of weeks and I'm overwhelmed by the stories and landscapes that I've had the pleasure to explore. In fact I thought that I would get further down the east coast but I only managed to cover the beautiful counties of Meath and Monaghan for this weeks show.
The Boyne Valley is more than just the home for Boyne Valley Honey but if you'd like to learn more about bees then the Bee Wise Nature Trail is a wonderful place to start.
This remarkable place is the brainchild of Paddy O'Gorman and his wife Claire who passionately guide visitors through their five acre park.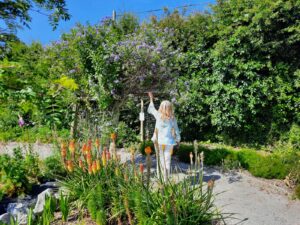 We are all aware of the importance of supporting insects, bees and tiny creatures to ensure our survival on this planet. However I didn't realise that only five percent of bees make honey and ninety five percent are solitary bees who pollinate crops and flora in our cities and countryside.
The gentle buzzing of bees and singing from the birds followed me on the paths as I weaved my way through the various activities and flowerbeds. The maze is especially popular and purpose is to find five stamps amongst the 12 boxes hidden inside. I then had to stamp a piece of card for proof of success – enter at your peril if you've a competitive spirit.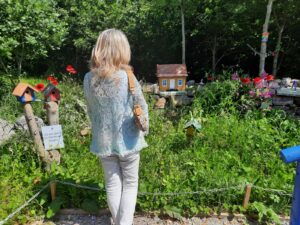 Bee Wise is open every Wednesday and Sunday during the summer making a captivating day out. Tickets are €8 for adults and €6 for children with online booking essential. Private tours are available on request. www.beewise.ie
If you're of a certain age you will remember that Trim Castle was the set location for Braveheart. But more importantly it is the largest Anglo-Norman fortification in Ireland. Hugh de Lacy and his successors took 30 years to build it. Stop off in the visitor information centre to find out more about the Castle.
The central fortification is a monumental three-storey keep. This massive 20-sided tower, which is cruciform in shape, was all but impregnable in its day. It was protected by a ditch, curtain wall and water-filled moat.
Modern walkways now allow you to look down over the interior of the keep – a chance to appreciate the sheer size and thickness of the mighty castle walls.
The castle is often called King John's Castle although when he visited the town he preferred to stay in his tent on the other side of the river. Richard II visited Trim in 1399 and left Prince Hal later Henry V as a prisoner in the castle.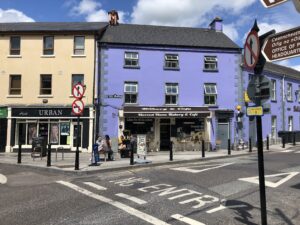 My recommendations for a perfect visit is to pick up a picnic at the gorgeous Harvest Home Bakery in Trim and eat it at one of the picnic benches outside the castle. Finish off your trip with a ramble across the bridge to see the River Walk.
Entry is free to the site for the rest of this summer https://heritageireland.ie/trim-castle/
I stayed at Trim Castle Hotel and enjoyed a great location to see all that there is in this gorgeous town. The hotel boasts a fabulous roof top restaurant that overlooks the town and the castle and it has a lovely Kilkenny Design Shop down at Reception.
A Family overnight break includes 2 adults and 2 children in an executive room, including breakfast and a tee-pee tent in the bedroom with treats for the kids. Kids dine free with paying adults. From €154 per room per night.
Family movie night: Enjoy your own private movie screening with popcorn and treats for all. Also included is a tee-pee tent in the bedroom with treats for the kids. Kids dine free with paying adults. From €184 per room per night.
Last week I took the Floating Through Time Tour with James from Boyne Valley Activities. Boyne Valley Activities are an established activities company set on the banks of the River Boyne in Trim, Co Meath.
We listened as James told stories of how the river was part of every story from the earliest Christian missionaries to medieval leper hospitals and IRA rebels during the War of Independence.
Paddling the raft was great fun and gave us the feeling of being immersed in this historic landscape. Buoyancy aids and wellies were provided to keep us safe and dry on the raft. The cost of the tour is €30 per head and it lasts about two hours
They offer a wide range of activities that cater for the young and they do everything from kayaking to medieval river tours and Kid's Outdoor Camps. To find out more about them see http://boynevalleyactivities.ie/.
A visit to Newgrange is now an adventure which includes a walk through the new Bru na Boinne Visitor Centre. It's the ideal way to learn about the area and the people who built these historic sites over five thousand years ago. It makes me so proud to be Irish that we have these ancient places which are the best examples of megalithic architecture in Europe.
After exploring the Visitor Centre a short stroll over the River Boyne brought me to a bus which took me to the site of the Newgrange Monument. Although the passage into the tomb is closed due to restrictions at present the helpful guides told me all that I needed to know about the site.
All OPW Heritage Sites are FOC for this summer but online booking is essential. Click here for details https://brunaboinne.admit-one.
Do you yearn for a stay at a luxurious hotel that has a spa? Then look no further than Dunboyne Castle Hotel which offers the remarkable Seoid Spa.
Dunboyne Castle Hotel & Spa, nestled in 21 acres of lush green Meath countryside, just 18 km from Dublin City Centre and 20 km from Dublin Airport. With 145 large, comfortable rooms including 2 exceptional Junior Suites and the impressive Presidential Suite on the top floor of the hotel.
Enjoy a two-night family stay for up to 2 adults and 2 children at Dunboyne Castle Hotel and Spa and dine on an evening of your choice in the Ivy Restaurant, which holds 2 AA rosettes for culinary excellence. Two nights' accommodation in a family room for up to 2 adults and 2 children (under 12), enjoy a delicious Continental and Full Irish Breakfast, 3 course Table d'hôte dinner for the adults and children's dinner on an evening of your choice, Kids Welcome Pack, Complimentary Hot Chocolate, Dunboyne Castle Fairy Trail with special clues and prizes.
For the rainy days there is a special Kids Afternoon Tea (additional charges apply). For sunny days, why not treat the whole family to a picnic day…bring Teddy along! (additional charges apply). Let them know if you fancy a "Movie Night In" and they will provide the Popcorn, Cookies and Milk (additional charges apply)
Price from €238.00 per night.
Tayto Park is open again and it is hugely popular with children of all ages. The park is open again with most of the attractions open for visitors – such as the biggest rollercoaster in Ireland Cu Chulain Coaster, The Viking Voyage and of course favourites for little ones such as the farmyard friends with alpacas and African Pygmy Goats. Booking is essential https://bookings.taytopark.ie/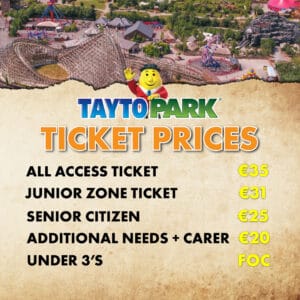 Carrickmacross Lace has been sought after for two hundred years by international designers and by royalty. Indeed it was used on the iconic wedding dress of Princess Diana, designed by David and Elizabeth Emanuel.
Carrickmacross Lace
 recently marked its 200th anniversary making it an institution in the area.
The traditionally crafted Lace is now carried on by the Carrickmacross Lace Co-op, in Carrickmacross, Co. Monaghan, where a team of around 12-15 talented local ladies are keeping the craft alive. This distinctive lace is expertly hand stitched, beautiful and imbedded with the romance of history.
This beautiful lace has been inspiration for International designers as well as royalty, from Queen Victoria to the present day royalty. The renowned fashion designers, David and Elizabeth Emmanuel used Carrickmacross Lace on the late 
Princess Diana's Wedding dress
.
The Carrickmacross Lace Gallery
 is located in a beautiful Market Square building, a hub for crafts in the county. Open Mon-Sat 10am-4pm, entry is free. View exquisite pieces of antique lace, including show-stopping christening gowns and wedding veils, meeting the makers and shop for souvenirs – everything from bookmarks and broaches to framed pieces.
The Carrickmacross Workhouse is recently taken over by Monaghan Tourism and has had a new facelift. Through a remarkable audio visual film telling the story of the hardship endured during the Irish Famine, you will leave here moved and with a better understanding of what it means to be Irish.
Carrickmacross Workhouse, one of only a small handful of restored workhouses in Ireland, has recently reopened with a new-look visitor experience. A visit is brought to life by a talented team of guides, striking pieces by local artist, Orlagh Meegan-Gallagher, and a spellbinding audio-visual element, produced by the award-winning Buckled Cranium. Tours take place Mon-Fri at 11.30am and 2.30pm and booking is essential.
Tour & Booking Details
Tour Charges €6 per Adult – cash only €4 per Student – cash only Under 5s – free
Maximum 4 persons per Tour
Tours must be booked in advance either via Telephone or Email
Telephone – 042 966 45 40  Email – info@carrickmacrossworkhouse.com
While you're in this beautiful part of the country the perfect place to stay is at this iconic estate which is in the equally magical Glasslough Village.
Steeped in history, full of character and charm, Castle Leslie Estate is the ultimate Irish rural escape, nestled on 1,000 acres of undulating Irish countryside, dotted with ancient woodland and glittering lakes.
Best available Bed and Breakfast rate: €250
Enjoy a wonderful breakfast served at Snaffles Restaurant at The Lodge.
Louth County Council Launches New 'sea louth' Scenic Seafood Trail
Louth is setting its stall as a must-visit staycation destination, with the launch of a brand-new scenic seafood trail: 'sea louth' covers the entire 70km stretch of coast, from Drogheda to Omeath, highlighting stunning scenery and the finest local seafood along the way.
County Louth has a proud seafood tradition: world-class Carlingford and Cooley Peninsula oysters; Dunany Crab, caught fresh daily using traditional crab pot methods; lobsters caught in Dundalk Bay and Carlingford Lough; razor clams, unique to Ireland's east coast; the purest Oriel Sea Salt; and fresh fish and langoustines in Clogherhead, straight off the boat and onto the plate.
Pick up a free sea louth passport from any of the county's three tourist offices in Drogheda, Dundalk or Carlingford, and follow the trail to 14 scenic locations. Each scenic viewpoint has a unique, illustrated stamp for visitors to collect from specified shops and outlets along the trail. In order to complete the passport, visitors must also collect two restaurant stamps – choose from over 40 participating restaurants and enjoy a delicious fresh local seafood dish from their menu to receive a stamp.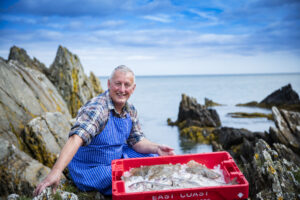 Once completed, the passport can be taken back to a Louth tourist office, where it can be exchanged for an exclusive Sea Louth memento. There is no expiry date, visitors can collect stamps and exchange their completed passports at their leisure.
To view the trail map, see points of interest along the way and browse participating restaurants, visit sealouth.ie The trail will serve to attract visitors to the area and encourage locals to explore and enjoy all that the coast of Louth has to offer and local producers and restauranteurs are expected to benefit from an increase in footfall, as a result.
For a delicious stay in Carlingford look no further than the wonderful Ghan House. This beautiful eighteenth-century Georgian was built house in 1727 by William Stannus, a politician from Dublin of Scotland descent. It's perfectly places in County Louth between Belfast and Dublin. Paul Carroll who runs the property will give you the warmest of welcomes and the bedrooms have been upgraded and extended over the years. But it's the food that really bowled me over. I can honestly say I dine on the best duck dish in Ireland here.
Ghan House is available from €170 B&B per room per night, based on two people sharing. As a member of https://www.irelands-blue-book.ie/you can also use their vouchars here.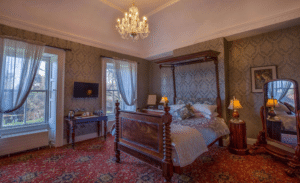 To Find out more about what I have discussed on the show see:
https://www.discoverboynevalley.ie/
https://www.irelands-blue-book.ie/