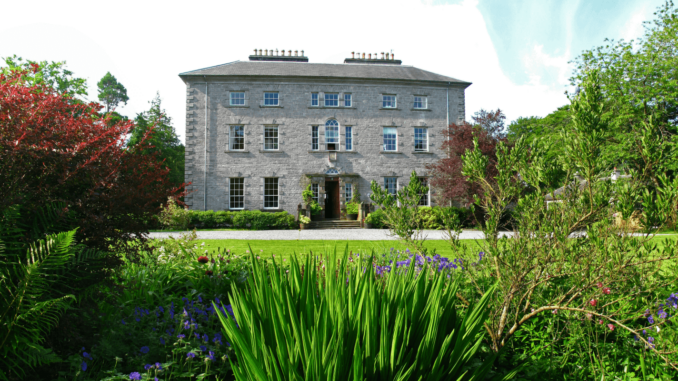 The dates for opening has changed due to new road map from government so please check with individual properties thanks.
It has been a tough for months for everybody but as each new phase passes there is lots to look forward to and in Ireland we have some of the loveliest Country Houses to be enjoyed and most are opening up on July 20th. You might have been able to put a bit of money by as we are all staying in and this is great time to spoil yourself in some of the country's finest accommodation. I've picked a selection of Houses dotted around the country to give you food for thought but be warned they are all booking up quickly.
Starting with some lovely properties from Ireland's Blue Book which has 56 properties around the country. You may have been given a Blue Book Gift Voucher and aren't sure which house to choose from. Vouchars are a great way to pay for a stay as well. Some people will think that paying directly by credit card or cash is the best way to support one of the country house hotels, historic houses, castles and restaurants located around the island of Ireland.  However, Ireland's Blue Book Vouchers can be used in any of the 56 properties, for relaxing overnight stays, delicious meals, luxury spa breaks and more
* * * * * * * * * *
One of my personal favourites is Castle Leslie Estate and I have stayed at The Lodge which is a short stroll from the main house and boasts the fabulous Snaffles Restaurant where you will not go hungry with delicious local produce used. The Lodge and estate open on August 1st.
Castle Leslie Estate, Co. Monaghan 
Overnight Escape at The Lodge 
From: €195 per person sharing 
Includes: One night's fabulous accommodation at The Lodge, a full hearty Irish breakfast, a delicious light lunch for two and a mouth-watering Table d'hôte dinner.  
Unwind and enjoy the 1,000-acre countryside Estate with its glistening lakes, ancient woodlands and numerous walking trails. 
* * * * * *
If you are feeling romantic and the dulcet tones of Conaill from Normal People has you dreaming of trip out west then why not go to Sligo.
Coopershill House, Co. Sligo 
Country House Romance – 2 nights 
Includes: Two nights B&B and one four course evening meal.
Set on a 500-acre private estate, escape to the peace and quiet of rural Sligo at Coopershill. There are just 8 luxury bedrooms so this is a truly quiet place where we take the time to make you feel welcome and relaxed in a beautiful 18th century mansion. Golf and wonderful activities such as kayaking and hill walking are only a short drive away. 
Wineport Lodge in the middle of the country is accessible from everywhere and has the most breathtaking setting just outside Athlone -thier outdoor hot tub is rather lovely too…
Wineport Lodge, Co. Westmeath 
Includes: A night of lakeside luxury lodge style with made to order breakfast (room service optional) with the morning paper and a delicious casual supper in The Grapevine.
Set on the banks of Lough Ree, enjoy an evening drink nestled in nature and surrounded by water. In good weather there are plenty of alfresco places to sit and enjoy the peaceful location. 
To Book: Visit https://www.wineport.ie/ or call 090 643 9010
* * * * * * * * * *
For further details of the above go to https://www.irelands-blue-book.ie/
* * * * * * *
The following three hotels are part of Original Irish Hotels Group To book Call 01-2958900 or visitwww.originalirishhotels.com
Ireland's Hidden Heartlands boast some of the most unspoilt parts of the country and Leitrim has some of the loveliest with lots to do if you are tempted to stay at Lough Rynn Castle which has some fabulous opening rates
Re-opening rates available from €55pps B&B  (plus we are offering 10% discounts on our rates for longer stays – (Stay Longer for Less) – I've attached an ezine we sent out yesterday
300 aces estate with magnificent walks and bike tours around the estate
One of Irelands largest privately owned walled gardens
Afternoon tea in the drawing rooms – an experience not to be missed
Dinner in the 2 AA Rosette
Self Catering Lodges ideal for Family's – rates from €400 for the house for 3 nights
Activities to enjoy in the area-  Stand – up paddling in Acres Lake – so peaceful – become one with nature
A Visit to Lough Key Forrest Park – offers lots to do – boat tour / beautiful walks / zip line and lots of kids activities also
Arigna mining experience – offers guided tours of the mines
A Visit to Carrick on Shannon – great way to spend an afternoon – a stroll along the river Shannon – stop on some of the lovely coffee shops – visit the boutiqiues
A Trip on the Blue way from Carrick on Shannon to Drumshambo
Soon to open Shed Distillery – where the very famous Drumshambo Gin is produced, they are opening their visitor centre
So as you can see , Lots to enjoy in the great outdoors – Leitrim really does have so much to offer as a county
* * * * * * * * * *
Fancy a seaweed bath? Seaview House Hotel is a delightful manor house set in private and well-tended grounds in the quiet village of Ballylickey, in West Cork.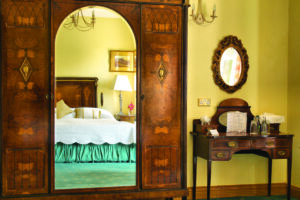 For more information please feel free to contact nbyrne@originalirishhotels.com.
2 nights with Dinner for 2 one evening and 2 Luxury baths of choice
Relax and enjoy 2 Nights at Seaview with Breakfast on each morning, Dinner for 2 on an Evening of your choice. Take in a walk or just relax avail of 2 Luxury Baths of  your choice in our Bath House Spa with this package.
From 430 for two people .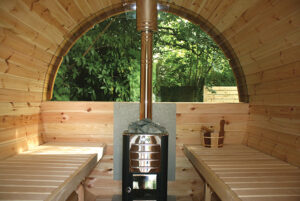 Relax in the hotels newly opened Luxurious Seaweed Bathhouse & SPA, a unique experience you won't find anywhere else in West Cork. With three private double seawater bath suites with state of the art Russian cedar steam barrels and private showers, with gentle music and candles to create a truly relaxing atmosphere. There are also 2 spacious treatments rooms for facials, seaweed wraps and scrubs or therapeutic massage you can avail of out door Hot Tub and Sauna when you book these treatments.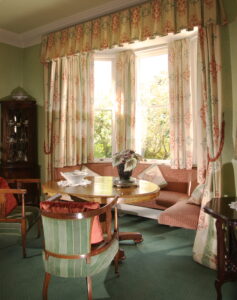 Seaview House Hotel, a member of Original Irish Hotels, is a seasonal 3rd generation family-run Hotel. Owners Ronan & Suzanne O'Sullivan took over in 2017 from Ronan's aunt the legendary host Kathleen O 'Sullivan, who had previously been welcoming guests to Seaview since the 1970's and his Grandmother prior since the 50's. Together with their team they strive to continue Seaview's reputation for unrivalled hospitality and award-winning dining.
* * * * * * * * * *
If you don't want to go away without your doggie then Lough Inagh Lodge in Connemara will let you take your pet with you. It has some great trout fishing facilities too.
Lough Inagh Lodge is set snugly in the aptly named Recess of Connemara, Co Galway. Though it is by no means a small house, Lough Inagh Lodge is yet dwarfed by the magnificent scale of the landscape. To the west of Galway city, the Hotel rests on the shores of Lough Inagh, one of Connemara's most spectacular lakes. The Lodge is surrounded by majestic Mam Turks and spectacular Twelve Bens mountain ranges on all sides.
Pet Friendly
Lough Inagh Lodge is an award-winning pet-friendly hotel and has been so for many years. Pets are more than welcome to be kept in the bedrooms and brought into the front lounges to enjoy sitting beside open log fires in the library or in the oak-panelled bar but the Lodge appreciates that they are kept away from all dining areas. There is no extra cost to bring your four-legged friend to stay at Lough Inagh Lodge.
*As the hotel is situated in a farming and natural wildlife area Lough Inagh Lodge have to ensure that all pets are adequately controlled while on and off the grounds of the hotel.
Lough Inagh Lodge Offer
Connemara Garden Package at Lough Inagh Lodge Hotel
2 Bed & Breakfasts & 1 Dinner & Day Visit to Kylemore Abbey & Victorian Walled Gardens
From €140 Per Night
Enjoy 2 nights' accommodation in a warm comfortable room, have a hearty breakfast each morning and on one evening of your choice, dine in our Finisglen Restaurant with a wonderful selection of locally sourced produce.