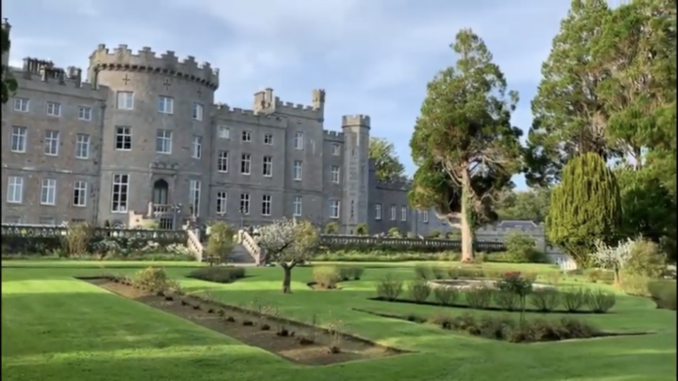 Irish castle stays offer a uniquely enticing experience to people from all over the world but this summer they are open for staycations so there's never been a better time to enjoy our wonderful Irish Castles. Listen back to my chat with Kieran Cuddihy on The Hard Shoulder Here
Romantic Castles of Ireland have four castles to choose from and although they are hugely popular for weddings – this summer they are going to be luxurious destinations and something we might not have experienced before….
Set in Kerry Ballyseede is close to Tralee. Step back in time with a hotel steeped in history that offers luxurious surroundings and 30 acres of private gardens and woodland. The 2-star AA Rosette O'Connell Restaurant at Ballyseede Castle is renowned for serving beautiful food in magnificent surroundings, using Irish cuisine and the finest locally-sourced seasonal ingredients.
Accompany your meal with the finest wines – from the connoisseur, to the tasty table wine, there is a bottle for every palate.
Ballyseede Castle – 2 Nights with Dinner
Midweek offers 2 Nights B&B with Dinner on one night from €448.00 based on 2 people sharing. Weekend – 2 Nights B&B with Dinner on one night from €468.00 based on 2 people sharing
To book your stay go to https://www.romanticcastlesireland.com/
* * * * * * * * * * * * * * *
Markree Castle Sligo
Markree Castle in County Sligo is close to Sligo town and a short drive to the wonderful surrounding sights of Sligo such as Ben Bulben, Knocknree and WB Yeats country. I've been a big fan of Sligo since I took a visit last summer and you've everything from surfing to seaweed baths and sumptuous cuisine. See sligotourism.com
Markree Castle – 2 Nights B&B with 1 Dinner
Midweek – 2 Nights B&B with Dinner on one night from €440.00 based on 2 people sharing
Weekend – 2 Nights B&B with Dinner on one night from €470.00 based on 2 people sharing
To Book your stay see https://www.romanticcastlesireland.com/
* * * * * * * * * * * * * * *
Cabra Castle Cavan
Close to Kingscourt County Cavan this iconic castle has seen more weddings than most venues but it has so much to offer – like its sister castles expect to be greeted by the irish wolfhounds who share their home with guests. Cabra Castle even has its own ghost but you're unlikely to meet her unless you stay in Sarah's room. With many glorious hideaway reception rooms and places to enjoy a glass of wine – you will have no problem relaxing in regal style.
Cabra Castle – 2 Nights B&B with 1 Dinner
Midweek  2 Nights B&B with Dinner on one night from €380.00 based on 2 people sharing. Weekend  2 Nights B&B with Dinner on one night from €420.00 based on 2 people sharing
To book your stay https://www.romanticcastlesireland.com/
* * * * * * * * * * * * * * *
Glin Castle Offer:
We've all missed being with our families but here's a nice idea for someone who wants to keep in their own family group or pod and it sounds expensive but for this price of a good hotel room you will have unique ownership of your very own castle….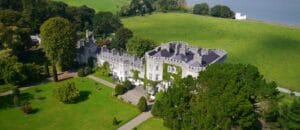 The Castle comprises 15 luxurious, uniquely decorated en-suite bedrooms, a grand entrance hall, dining room, comfortable library and elegant light drawing-room, all with open fires. The kitchen offers the best in Irish country house cooking. Activities such as clay pigeon shooting, yoga and archery as well as evening whiskey tastings with Irish music, can be arranged on-site. Glin Castle is the perfect gateway to the southwest and the Wild Atlantic Way.
Glin Castle available for Exclusive Hire for small groups. Priced from 2,500 per night for up to 16 guests. Minimum two night stay required. The rate is inclusive of breakfast. A host will also be on site to assist throughout the stay. Dinner, lunch, afternoon teas, picnics can be arranged but must be booked in advance. Available on selected dates. Please contact claire@glin-castle.com for further details.
* * * * * * * * * * * * * * *
Great Castles to Visit for a day
We have so many lovely castles and sites with castles – check out heritageireland.ie website to find a host of castles for day trips….Rock of Cashel, Dublin Castle, Cahir Castle and of course kilkenny castle – all great for day trips – many are part of the OPW and can be located via the heritageireland.ie website. Others are privately maintained and Birr Castle is one of these.
Birr Castle in County Offaly
We forget that Ireland has an abundance of castles around the country that make perfect day trips and for me one of the best is Birr Castle in Offaly – it's truly a hidden gem with an incredible history and it is a wonderful place to bring the kids.
Birr Castle Demesne is the perfect outdoor setting to explore with 120 acres of parklands, a variety of trails, garden walks, space and the home of the remarkable Parsons family, famed for their discoveries in scientific & engineering feats.
An adventure of endless discoveries includes 10 kilometres of scenic walks, rivers, waterfall, a lake, one of Europe's finest plant collections, the world's tallest box hedge, the Great Telescope and Ireland's tallest treehouse! A must-see for all the family and those with a passion for photography, botany, wildlife, nature, education, science, engineering, astronomy, and heritage.
New at Birr Castle is the Japanese spiritual practise of shinrin-yoku or
'Forest Bathing', known for boosting our immune systems.
Over the past year many of us have become aware that spending mindful time in the woods is beneficial for both the body and the soul. The practice of shinrin-yoku, which literally translates as'forest bath', is understood in Japanese culture to be a critical factor in the fight against diseases of the mind and body, boosting the immune system, lowering blood pressure and aiding sleep.
As more research highlighted the benefits of shinrin-yoku, the Japanese government incorporated it into the country's health programme. And last year the Woodland Trust in the UK suggested it should be recommended by GPs' surgeries to boost patients' wellbeing. Studies have revealed that a chemical released by trees and plants, called phytoncides, boosts the immune system. And Catherine, Duchess of Cambridge is a fan, incorporating the principles into the Chelsea Flower Show in 2019.
New this year and suitable for all generations is the 2km hour long Solar Trail, which explores our galaxy, perfect for all interested in the skies above, and the 5km Red Tree Trail (65 trees of distinction) which can be enjoyed over multiple visits if needed.
For younger visitors the popular Quest, a family friendly trail, explores a variety of interesting sites within the demesne.
Guided tours available. Advance booking essential. Café take-out open in the Courtyard, and Gift Shop & bathroom
facilities available onsite.
* * * * * * * * * * * * *
More fabulous Castle Stays around the country….

Belleek Castle Mayo
Belleek is a gorgeous Gothic style Castle set in 200 acres of wooded lands in the town of Balina.
opening 2nd June
Best Bed & Breakfast rate from €90 per person 
Summer Stay & Dine Offer
Stay in one of our spacious and elegant Manor Rooms furnished with antiques, some which have four  poster beds. Enjoy a 3 Course Early Evening Meal in Jack Fenn's award winning restaurant housed in the restored 19th Century Coach House.
Relax with a drink in front of the large open fires in the Spanish Armada bar. Freshly cooked breakfast is included which is served to your room or in the Bistro.
From: €270 per night (based on one room with two people sharing)
* * * * * * * * * * * * * * *
Abbeyglen Castle Hotel
Set in beautiful clifden the Mc Hugh brothers are terrific characters and will make you feel very welcome. Unique features include the piano bar in the evenings and you can even fly there as the hotel has it's own helicopter pad.
The Hiking Getaway at Abbeyglen Castle Hotel – https://www.originalirishhotels.com/offers/the-hiking-getaway
2 nights Accommodation with Full Irish Breakfast each morning & a Gourmet 5 Course Evening Meal each night with live piano or traditional music in our award winning restaurant. A hike up Diamond Hill which is situated beside the village of Letterfrack, in the northwest corner of the Twelve Bens in the Connemara National Park. Diamond Hill is 442 metres high.
A gourmet packed lunch to enjoy after your hike. Offer from €232 per person sharing
* * * * * * * * * * * * * * *
Lough Rynn Castle Leitrim
Michelle: I've stayed here this hotel is an oasis set in stunning grounds and not too far from all the best sights in the hidden heartlands
Staying in a luxurious Castle Hotel in Ireland doesn't have to be a once in a lifetime experience. Take a step back in time as you approach imposing entrances at Lough Rynn Castle which offers acres of breathtaking scenery, historical sites and walled gardens. Our entire Irish castle hotel's estate comprises of over 300 acres of land that is idyllic, rich in history and charmed with natural beauty. Take a romantic walk in our walled gardens overlooking our lough and come back to the castle hotel for some exquisite dining in our restaurant or drinks at the Dungeon Bar. Relax and take in the authentic Irish castle atmosphere in the Baronial Hall or in the John McGahern Library.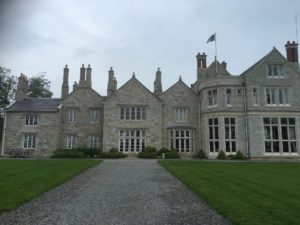 Lough Rynn Castle – STAY LONGER & SAVE – This Summer stay 2 nights or more and save 10% off their best available B&B rate
Rates from €75pps per night for B&B
* * * * * * * * * * * * * * *
Ashford Castle
This luxury castle is always popular with the Irish and following on from our golf chat last week a round of golf is included in your stay but you will need to check availability before booking.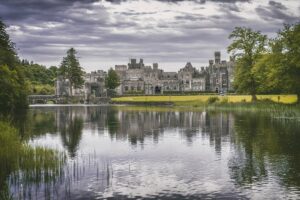 Prices start from €625 for an overnight stay for two people in a luxurious Corrib Room with views of the River Cong including full Irish breakfast the following morning
www.ashfordcastle.com
* * * * * * * * * * * * * * *