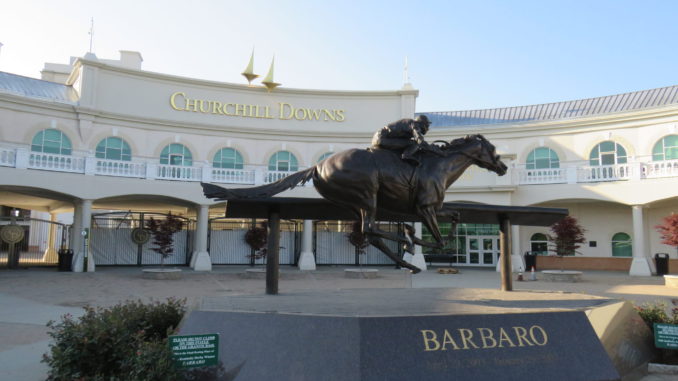 It's been four years since my first visit to Kentucky.  The majestic twin towers of Churchill Downs and the pounding of galloping hooves as they run for the roses will stay with me as the embodiment of what horse racing is all about. I've dusted down a travel article that I wrote that might inspire those of you who like a wee bet to travel there someday.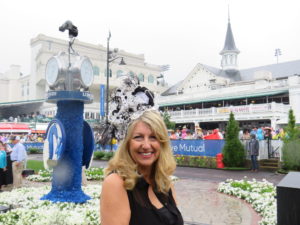 With my sweaty palm wrapped tightly around my betting slip and a Mint Julep cocktail in my other hand, I'm ready to witness my first Kentucky Derby. The rain may be pouring down on My Old Kentucky Home but the mood is electric as I find a gap between two spectacular hats. This can only be the most exciting week in horse racing and I'm in the terraces on Millionaire's Row in the clubhouse at Churchill Downs. Times like this I appreciate having the fabulously talented Irish designer Claire Garvey to call my friend, as she has kindly made me a fascinator for the event. Some of the ladies hats have cost several thousands of dollars. A year in the planning, it's a known fact that ladies chose the dress to go with the hat and that fashion is as much a part of the Derby as the horse racing.  The Star spangled Banner is being sung by the Pentatonix, probably America's most lauded Acapella group, and a few moments later the trumpet sounds the off.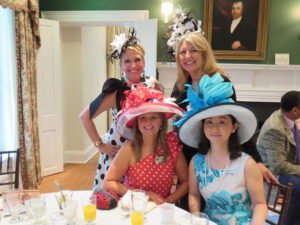 The two minutes that follow are laced with a cacophony of cheers and 'oohs' and 'ahhs' dotted with names such as Audible, Good Magic and of course Justify. The fancy hats bob up and down as punters urge their horse to win. It's the wettest Derby Day in history and has been raining solidly for hours but the excitement isn't dampened as there's a personalised 24 carat gold trophy at stake and a pot of 1.4 million for the owner of the winning horse.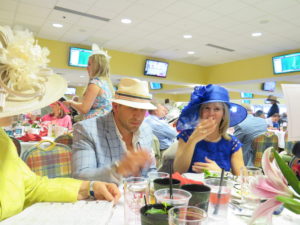 My money is on Mendelssohn, the Irish horse hotly touted to do well − he doesn't suffer jet lag among other great virtues. But it isn't to be my day as the favourite is Justifiably the winner, and is covered in a blanket of roses as he enters the paddock. Justify is with trainer Bob Baffert and tipped to be in line to win the coveted triple crown of racing this year which will guarantee a place in thehistory books and hugely lucrative future for his owner in stud fees.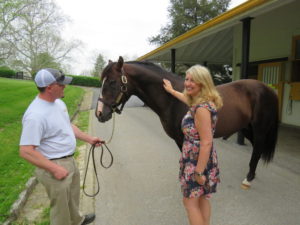 I knew none of this before my arrival to Lexington the day before, but I'm becoming an expert on the dietary, sleeping and training habits of the thoroughbreds who are the star athletes. My first lesson on arrival to Kentucky was at Claiborne Farm near Paris. There, the informative Billy Buckler brought me to the bridle suite where the 12 stallions tirelessly sire foals day after day. He introduced me to War Front, a stallion whose services are requested at 250,000 dollars a pop and with three sessions a day in the honeymoon suite with various mares it's little surprise that he is valued at 80 million dollars. Costs of running this farm run into $5 million per year.
In the grounds lie the gravestones of famous thoroughbreds who served out their days here − most notably Secretariat who became a Triple Crown winner in 1973. It's tradition to put a coin on his headstone to bring luck, but it didn't seem to work for me.
Kentucky is the county Kildare of America. With lush green pastures and rolling hills, I learn that the famous blue grass fed by natural spring water is what gives this state two of its most important industries, horse breeding and bourbon. "Not all bourbon is made in Kentucky but 100% of the best is," I'm told by Steve at the Jim Beam factory. Bourbon distilleries are dotted in every corner of the state but Knob Creek is a select bottle that I get to see being bottled from a single cask. The process is fascinating as the glass is cleaned and rinsed with bourbon before the lid is sealed with hot wax and I'm invited to put my thumb print on the top.
Knob Creek Bourbon was named after the family farm of Abraham Lincoln. One of the president's earliest recollections was the time he spent there from the age of 2-5.  Bourbon has a few requirements to distinguish it from Whiskey. Most notably it must contain at least 51% corn, be at less than 160 US proof and it must be made in the USA. It's my duty to sample the flavours as I tour the distilleries.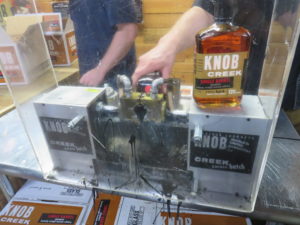 In my pre-Derby training I visit Alltech, an Irish company and manufacturer of high grade animal feed, founded by the late Irish entrepreneur Pearse Lyons who passed away untimely in March. His wife, Deirdre, graciously continues his legacy along with her son Mark at the plant's distillery where whiskey and beer are produced. The strong Irish connection is felt all over Kentucky and it is not just in the business of horse racing and whiskey.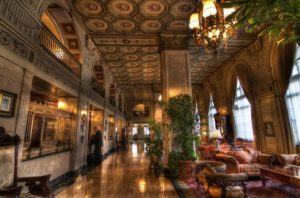 I'm staying at the Brown Hotel in Louisville, listed on the national register of Historic Places. It too has a great Derby tradition with flowing bowls of red roses filling the elegant reception. Home also to the Hot Brown, a delicious ham and cheese dish, is still being served as the ultimate bite to eat after a night's dancing. Rumour has it that Mr Brown likes to stick around the 13th floor and who can blame him as the club lounge has tasty treats and drinks throughout the day from breakfast time. You can even have a bottle of beer brewed at Alltech.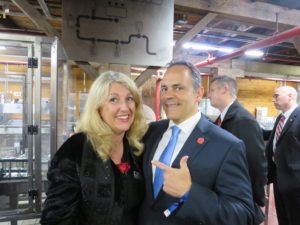 I'm on the VIP list for the Gala dinner at the Governor's Mansion the night before the Derby and there I get to see the Capitol which rivals the finest in any state. Set in a valley in the picturesque town of Frankfort, a river runs through it and I learn another fact, Kentucky has more rivers and water frontage than the coastline of Florida so although it is landlocked it's easy to find a creek or river to picnic or enjoy nature. Daniel Boone paved a route to Kentucky in 1775 and is buried in the graveyard on a picturesque setting overlooking the state capital. His route through the Appalachian Mountains in the east was followed by 200,000 before the end of the 18th Century and is now the gateway to the Daniel Boone National Park.
I'm feeling very much at home in Kentucky and my Derby weekend has only scratched the surface of what is on offer. The Kentucky Derby Museum is open year round so anyone can get a taste of the great race and during the summer months take a tour and see the stables where horses are having their baths and watch them training from the side of the race track.
Before taking my flight home I pop into the Muhammad Ali Centre set at the riverfront in Louisville. Filled with personal artefacts, videos and interactive exhibits it is popular with anybody looking to be inspired. Based on the six core principles that Ali lived by Conviction, Confidence, Dedication, Giving, Respect and Spirituality, it is where tributes were made at the time of his death two years ago. Ali is buried not far away, another fascinating fact that I didn't know about this Kentucky native.
Finally with my hat packed away, a head full of memories and my pockets a good deal lighter from my first betting experience at Churchill Downs I've found a new state to sing about. Blue Moon of Kentucky, keep on shining!
************************************
Factbox
For all you need to know about Kentucky visit https://www.kentuckytourism.com/
How to get there:
American Airlines
American Airlines operates up to five daily flights from Dublin and Shannon to Chicago, Philadelphia, New York and Charlotte. This year, all of American's flights from Ireland offer fully lie-flat Business Class seats, premium 'Casper' bedding and celebrity chef inspired menus. American is the first airline to offer transatlantic Premium Economy on flights from Ireland – now available on services from Dublin to Philadelphia and Charlotte. For more information or to book, visit www.americanairlines.ie or call 0818-710-299.