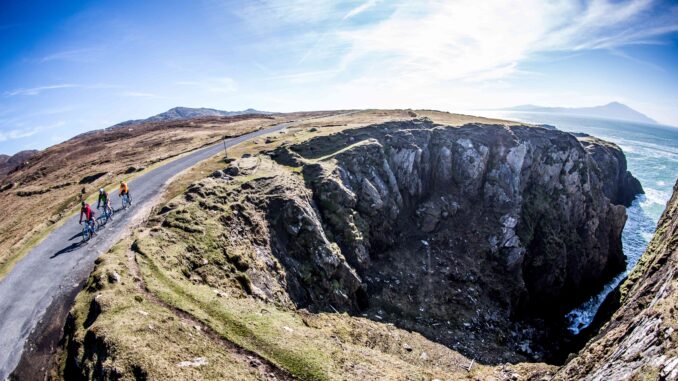 Watch my chat on RTE 1 Today Show with Maura and Daithi about all to see and explore in beautiful Mayo.
Clew Bay Bike Trail
The Wild Atlantic Way has 2,600km of some of the finest coast in the world – there's so much to see you can only take a short nugget at a time to savour and enjoy all that there is on offer. I've spent a spectacular few days in Mayo exploring the landscapes and local islands by bike. The Clew Bay Bike Trail is a combined bike and ferry route looping magical Clew Bay in Co. Mayo, including both Clare Island and Achill Island and about 105km in total. The trail includes two short ferry journeys, one from Roonagh Pier, near Louisburgh to Clare Island and the other from Clare Island to Cloughmore near Achill Sound. The Clew Bay Bike Trail can start at any point and can be cycled in either direction. More info website https://www.clewbaybiketrail.ie/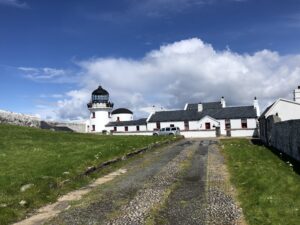 The route hugs the coastline from Mulranny to Westport and on to Louisburgh from where a magical loop includes romantic Achill and Clare islands. We have streets named after Grace O'Malley in my hometown of Howth so how thrilled was I to visit the pirate Queen's ancestral home on the trail. The tower house at Kildavnet, known locally as Grace O'Malley's Castle, is a 40ft medieval castle built strategically at the mouth of Achill Sound.
The Pirate Queen's present day descendants provide the ferry from Roonagh Pier to Clare Island daily and on to Achill Sound on Wednesdays and Sundays – with a big dollop of West of Ireland charm. We even got to see dolphins on one leg of the journey. See websites www.omalleyferries.com  and www.clareislandferry.com
Our EBikes were provided by fun and informative guide Rachel of Rachel's Irish Adventures who picked us up at Westport for the start of our journey. This is the way to go if you aren't a regular cyclist and they are easy to get used to and made the uphill climbs a doddle. Rachel will offer a bespoke bike tour but you can also hire bikes from her for €25 per day or €45 per day for an electric bike. See also https://www.clewbaybiketrail.ie/bike-hireWe paid a visit to the Pirate Queen statue at Westport House to get used to our bikes and then set off from the quays for the ferry to Clare Island. Worth a stop, under the gaze of Croagh Patrick, is the Famine Memorial statue created by John Behan – both harrowing and beautiful with a nod to the heritage and history of Mayo.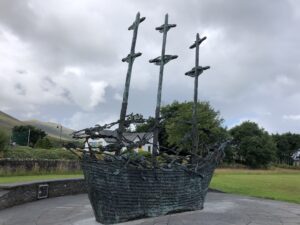 From Clare Island the Clew Bay Bike trail takes on a spectacular vista with the lighthouse making a focal point. If you'd like to hire it for a stay check out irelandsbluebook.ie for details. Hikes all over the island will leave you reeling with each view outdoing the one before. We followed with a cycle to the Medieval Abbey, where the remains of Grace O'Malley are reported to be buried, and found an oasis of historic calm decorated with stunning artwork. Lunch was a treat at the Sailors Bar and here we heard the great story of Clare Island Whiskey which is stored on a boat in the harbour for maturation – tours are provided https://clareislandwhiskey.ie/experience/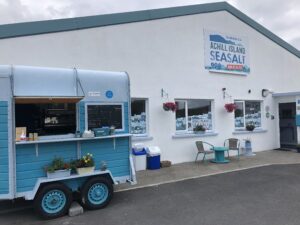 Achill Island beckoned next with so much to do that a two night stay or more is warranted and the folklore is only part of the story. Achill Island Seasalt is a lovely stop with a great story of how resourceful the islanders have been in creating new ways to celebrate their unique environment. https://achillislandseasalt.ie/. Not far away is the distillery  https://www.irishamericanwhiskeys.com/ and it would be rude not to stop by for a tasting! For those with kids the Achill Aquarium is a good place to learn about the history of the island as well as the oceanography. We stopped for a bite to eat at the Beehive Restaurant, a favourite for those who frequent Keel Beach. Expect to find delicious specials on the menu – I had the mussels in white wine with homemade brown scones and the service is something special too.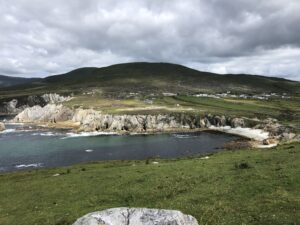 We followed the coast from Keel to Keem Beach which was busy but accessible and it's no surprise that this part of the Wild Atlantic Way has become so popular. Looking up from the beach we saw the remains of the house where Captain Charles Cunningham Boycott dwelled – a much loathed British Land Agent whose actions led to the origins of the term boycott when his tenants ostracized him. There's a wonderful book of the same name inspired by this history and written by Colin C Murphy, published by Brandon Press.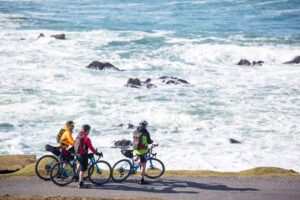 The sad stories of the Tattie-Hokers left me wanting to learn more. I remember my mother telling me how she used to see the potato pickers at Connelly Station in Dublin during the 1950s and 60s – wearing rough clothes made of sackcloth they travelled to Scotland each year to bring in the harvest. How difficult it must have been then to leave such a beautiful place and how much we yearn now to be in the places where these characters came from. Beauty now shines in abundance in this unspoilt corner of our country.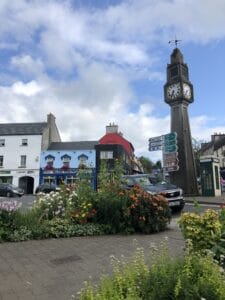 Once leaving Achill the Clew Bay Bike Trail takes a scenic off-road route in parallel with the N59 but with the safety of a secure trail suitable for families of all ages. From Mulranny to Westport the trail passes through the gorgeous town of Newport with plenty of places to stop off and dine before finishing the loop back to Westport. To truly enjoy the route take at least three days or even more with a stay on each island.
www.clewbaybiketrail.ie and https://www.mayo.ie/visit