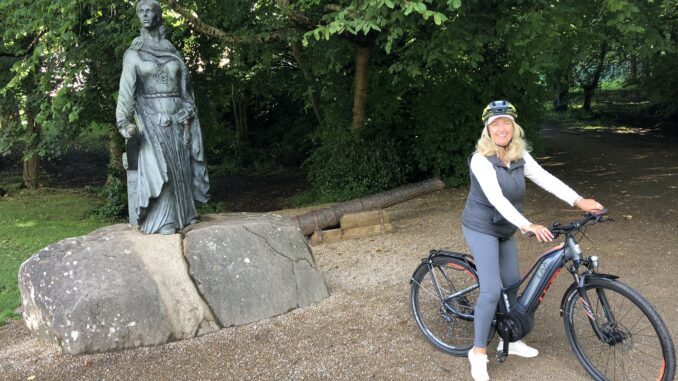 Travel Tuesday on The Elaine Show Tuesday 17th August
This week on Travel Tuesday we follow the Trails of Pirates in Mayo, Dublin, Wexford and Cork and start with Ireland's most famous Pirate Queen Grace O'Malley.
This week on the Elaine Show we are going Pirate Hunting and where better to start than in County Mayo and the home of Ireland's Best Known pirate Grace O'Malley. Known also as Grainne Mhaol because she cut off her hair to look more boyish when heading out to sea in the 16th century. The O'Malley Clan were an important family in the area of Clew Bay and Grace is reported to be buried in the Abbey on Clare Island.
I started by exploration at Westport House where there is a statue to the pirate queen and from there I took the Clew Bay Bike Trail to Croak Patrick and Roonagh where I got the ferry to Clare Island. The Lighthouse is a special feature on the island and it's also somewhere you can stay. Book with irelandsbluebook.ie
Check out my video here of my wonderful time exploring Clew Bay.
O'Malley Ferries which run between Clare Island and Achill were very helpful with getting our ebikes on and off the boats. We even got to see dolphins and porpoises between the islands. I was joined by Rachel from Rachel's Irish Adventures who supplied the bikes and looked after the stop offs on the journey.
Achill Island is reachable by road from the mainland but the best way to  reach it is by sea from Clare Island. This is where Grace O'Malley had her castle at Kildavnet. There's much to see and do on Achill Ireland including the distillery Irish American and Irish Atlantic Sea Salt. Everyone has to see the breathtaking Keem Beach which is simply stunning.
Places to stay in Mayo
Westport
I stayed at the Wyatt Hotel who are offering September deals for €440 per couple sharing for a two night stay including one night dinner. For more see https://www.wyatthotel.com/deals.html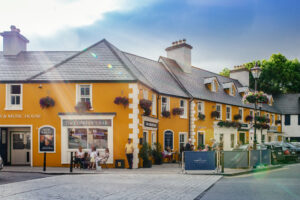 Enniscoe House – https://www.enniscoe.com/
They have recently announced a new partnership with the National Parks and Wildlife Service, with several rare breeds being introduced on the estate such as Connemara ponies, Irish Moiled Cattle, Cladoir Sheep and Old Irish Goats.
Enniscoe House offer: Bed and Breakfast from €115 per person sharing.
Another great way to use up your Ireland's Blue Book Vouchers is at Delphi Lodge. With the addition of self catering cottages you can have a wonderful getaway for up to four adults from only €240 per night at the end of August. They have six cottages to chose from.
Delphi Lodge offer: 1 Night Dinner, Bed and Breakfast from €320 per room per night at Delphi Lodge.
Howth
Grace O'Malley stopped off in Howth in County Dublin on her way back from her trip to see Queen Elizabeth 1 in 1593 and there's a wonderful tale of her adventure at Howth Castle. Howth is my hometown and there are so many lovely places to see here. Howth Castle is where Grace O'Malley left a curse on the St Lawrence family because they weren't very hospitable to her. In retaliation she kidnapped the grandson and heir Christopher St Lawrence and only returned him after the family promised to always leave a place set at their table for a weary traveller seeking rest.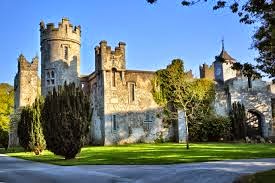 King Sitric Restaurant and Acommodation Howth
The King Sitric is has lots of lovely tables offering delicious cuisine and it's celebrating a big anniversary this year. With the addition of the new East Café Bar and eight ensuite guest rooms it's a wonderful place to stay. B&B rates start from €170 per room per night at King Sitric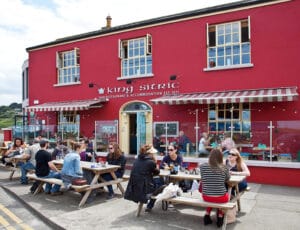 Epic Museum
If you want to know more about pirates then a trip to Epic museum in the CHQ building in Dublin is where you can learn more about Grace O'Malley and the notorious Ann Bonny who is one of the most famous pirates in the world.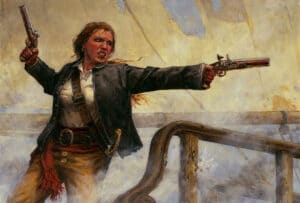 Ann married James Bonny after moving to Carolina in 1715 but she later left him for Calico Jack when they moved to the Bahamas in the Caribbean. Jack became her pirate partner and lover and they left a legacy of carnage all over the Caribbean until they were captured in 1721 but Ann Bonny was saved the death penalty as she was pregnant. Calico Jack was the inspiration for the character Captain Jack Sparrow in the Pirates of the Caribbean movies. Entry to the Epic Museum is €16.50 for adults and kids go free for the rest of August. Epic Museum
Clayton Hotel Cardiff Lane, Dublin
The Clayton Hotel offers great weekends this autumn for couples and girlie retreats
 Pamper in the City from €330 – Available on stays up to 31 December 2021
Stay in one of their luxurious rooms, indulge in our timeless afternoon tea with glass of bubbles, enjoy a soothing beauty treatment and when the sun goes down get glammed up before a delicious meal and bottle of wine in Stir Restaurant.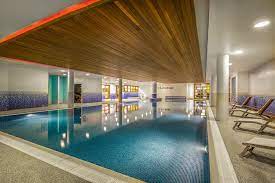 Package includes: Luxury overnight stay in an Deluxe Room, Enjoy Clayton Vitality Breakfast the following morning. Afternoon tea with glass of bubbles and a 2 course dinner in Stir Restaurant with bottle of wine. Choose a 40 min treatment of either a soothing, wellbeing, youthful, energising, anti-ageing facial or a personalised Swedish massage. Complimentary access to Club Vitae & Fitness Club with 22-meter swimming pool. Save an extra €10 per room per night when you Click on Clayton!
Wexford Pirates in Courtown
I brought my kids to Courtown when they were younger and they had an amazing time at the Pirates Cove. It's open with lots to do including crazy golf and bowling. Ideal for any little ones in your family that are fascinated by Pirates.
"Make the most of the last of the summer with a family fun day out at Pirates Cove
It's the South-East's leading entertainment centre. Enjoy sub-tropical gardens, play mini-golf and 10 pin bowling, ride the go-karts and paddle boats, explore giant caves and a full-sized shipwreck!"
For a family of 5 (2 adults and 3 kids) the golf costs €42 and the bowling is €33.  Each activity takes approx one hour.
To book a timeslot they can simply call us on 053 9425555 or purchase tickets online on 
www.piratescove.ie
The Sacking of Baltimore Pirate Trail
Baltimore is a pearl in the string of treasures along the coast of West Cork and I couldn't follow a pirate trail in Ireland without mentioning the famous Barbary Pirate Raid of Baltimore in 1631.
Visit Inish Beg Estate to ennjoy the Pirate Trail and learn more about the characters involved in the Sacking of Baltimore while you wander the 97 acres hunting out the Pirates hiding on the island.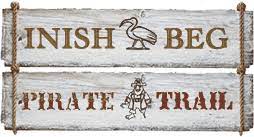 The Pirate Tail at Inish Beg Estate is linked to the raid by the Algerian pirates who captured 107 inhabitants of Baltimore and took them as captives to what was known as the Barbary Coast in Africa.  We know some of the names of these pirates who sailed into Baltimore Harbour on 21st June 1631 and images of 10 of them are to be found hiding in the extensive gardens and woodlands of Inish Beg.
It is one of four trails at estate which features in the 100 Best Gardens in Ireland (Liberties Press, 2011).The organic estate consists of 97 acres of gardens, woodlands and farmland and is open throughout the year.
Linked to the mainland by a bridge, Inish Beg is 8 kms from both Skibbereen and Baltimore. Entrance to the gardens and woodlands is €6 with children under 12 free.
There is a wide range of holiday rentals available on the island. click here to find out more. https://www.inishbeg.com/availability/