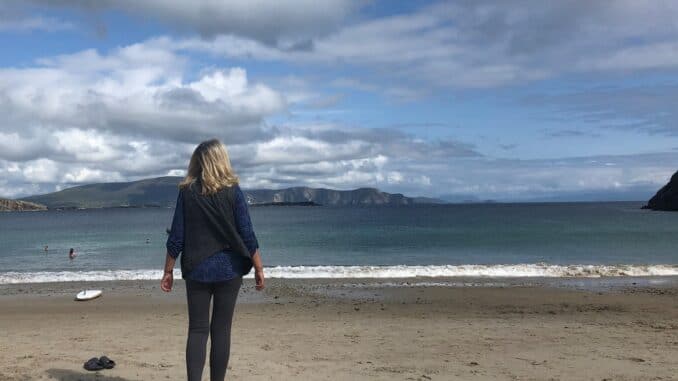 Newstalk Travel Exploring Irish Coastlines on Pat Kenny Show August 9th
I'm taking a closer look at three coastal routes around the country that are popular this summer and worth exploring.
Wild Atlantic Way Clew Bay Bike Trail
More info website https://www.clewbaybiketrail.ie/
The Wild Atlantic Way has 2,600km of some of the finest coast in the world – there's so much to see you can only take a short nugget at a time to savour and enjoy all that there is on offer. So today I am highlighting Mayo and especially The Clew Bay Bike Trail. The Clew Bay Bike Trail is a combined bike and ferry route looping magical Clew Bay in Co. Mayo, including both Clare Island and Achill Island and about 105km in total. The trail includes two short ferry journeys, one from Roonagh Pier, near Louisburgh to Clare Island and the other from Clare Island to Cloughmore near Achill Sound. The Clew Bay Bike Trail can start at any point and can be cycled in either direction.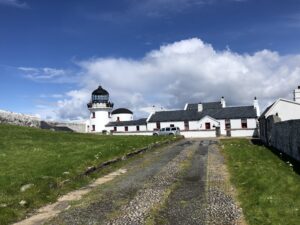 The route hugs the coastline from Mulranny to Westport and on to Louisburgh from where a magical loop includes romantic Achill and Clare islands. We have streets named after Grace O'Malley in my hometown of Howth so how thrilled was I to visit the pirate Queen's ancestral home on the trail. The tower house at Kildavnet, known locally as Grace O'Malley's Castle, is a 40ft medieval castle built strategically at the mouth of Achill Sound.
The Pirate Queen's present day descendants provide the ferry from Roonagh Pier to Clare Island daily and on to Achill Sound on Wednesdays and Sundays – with a big dollop of West of Ireland charm. We even got to see dolphins on one leg of the journey. See websites www.omalleyferries.com  and www.clareislandferry.com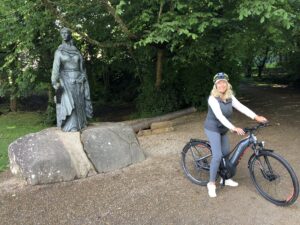 Our EBikes were provided by fun and informative guide Rachel of Rachel's Irish Adventures who picked us up at Westport for the start of our journey. This is the way to go if you aren't a regular cyclist and they are easy to get used to and made the uphill climbs a doddle. Rachel will offer a bespoke bike tour but you can also hire bikes from her for €25 per day or €45 per day for an electric bike. See also https://www.clewbaybiketrail.ie/bike-hireWe paid a visit to the Pirate Queen statue at Westport House to get used to our bikes and then set off from the quays for the ferry to Clare Island. Worth a stop, under the gaze of Croagh Patrick, is the Famine Memorial statue created by John Behan – both harrowing and beautiful with a nod to the heritage and history of Mayo.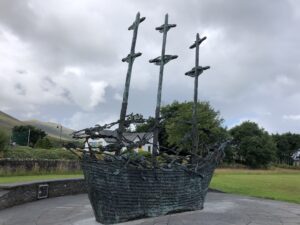 From Clare Island the Clew Bay Bike trail takes on a spectacular vista with the lighthouse making a focal point. If you'd like to hire it for a stay check out irelandsbluebook.ie for details. Hikes all over the island will leave you reeling with each view outdoing the one before. We followed with a cycle to the Medieval Abbey, where the remains of Grace O'Malley are reported to be buried, and found an oasis of historic calm decorated with stunning artwork. Lunch was a treat at the Sailors Bar and here we heard the great story of Clare Island Whiskey which is stored on a boat in the harbour for maturation – tours are provided https://clareislandwhiskey.ie/experience/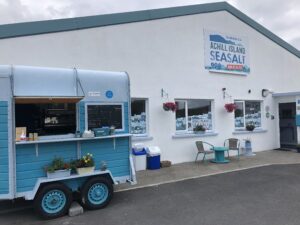 Achill Island beckoned next with so much to do that a two night stay or more is warranted and the folklore is only part of the story. Achill Island Seasalt is a lovely stop with a great story of how resourceful the islanders have been in creating new ways to celebrate their unique environment. https://achillislandseasalt.ie/. Not far away is the distillery  https://www.irishamericanwhiskeys.com/ and it would be rude not to stop by for a tasting! For those with kids the Achill Aquarium is a good place to learn about the history of the island as well as the oceanography. We stopped for a bite to eat at the Beehive Restaurant, a favourite for those who frequent Keel Beach. Expect to find delicious specials on the menu – I had the mussels in white wine with homemade brown scones and the service is something special too.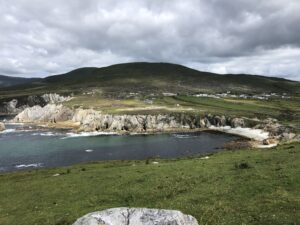 We followed the coast from Keel to Keem Beach which was busy but accessible and it's no surprise that this part of the Wild Atlantic Way has become so popular. Looking up from the beach we saw the remains of the house where Captain Charles Cunningham Boycott dwelled – a much loathed British Land Agent whose actions led to the origins of the term boycott when his tenants ostracized him. There's a wonderful book of the same name inspired by this history and written by Colin C Murphy, published by Brandon Press.
The sad stories of the Tattie-Hokers left me wanting to learn more. I remember my mother telling me how she used to see the potato pickers at Connelly Station in Dublin during the 1950s and 60s – wearing rough clothes made of sackcloth they travelled to Scotland each year to bring in the harvest. How difficult it must have been then to leave such a beautiful place and how much we yearn now to be in the places where these characters came from. Beauty now shines in abundance in this unspoilt corner of our country.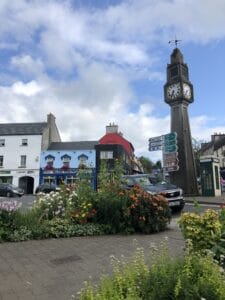 Once leaving Achill the Clew Bay Bike Trail takes a scenic off-road route in parallel with the N59 but with the safety of a secure trail suitable for families of all ages. From Mulranny to Westport the trail passes through the gorgeous town of Newport with plenty of places to stop off and dine before finishing the loop back to Westport. To truly enjoy the route take at least three days or even more with a stay on each island.
www.clewbaybiketrail.ie and https://www.mayo.ie/visit
Northern Ireland
CAUSEWAY COASTAL ROUTE
More info website https://discovernorthernireland.com/destinations/causeway-coastal-route
The rugged, raw elemental beauty of the Causeway Coastal Route truly captures the thrill of an adventure in Northern Ireland. The Causeway Coastal Route covers a total distance of 212km stretching along the rugged Antrim coast from Belfast to Derry. Maybe it's the sheer breadth and beauty of its landscape. Perhaps it's the mythical stories, shaped and inspired by the dramatic coastline. It's certainly in the warm and hospitable people you will meet along the way.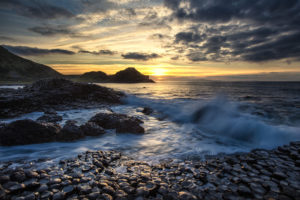 Wherever you find that legendary spirit of Northern Ireland, embrace it. And awaken your own. There's quite a lot to see along the Causeway Coastal Route – voted the Number 1 Region in the World to visit by Lonely Planet in 2018.
Belfast to Carnfunnock
Your adventure begins (or maybe ends) in Belfast – you decide. From Belfast, head north, making your first stop at Carrickfergus Castle, one of the best persevered medieval structures in Ireland.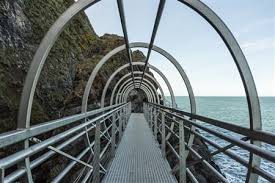 Your next stop-off is at the breathtaking cliff-face pathway, The Gobbins. Your spirit will soar – and your senses heighten – on exhilarating suspension bridges, caves, steps and tunnels. Entry is £20 adults £14.50 Children.
Berkeley Deane Wise was an engineer who was passionate about safety. That might seem strange for a man who built bridges between sea cliffs, but it was his commitment to quality that made The Gobbins possible. This edwardian attraction created by him was hugely popular for the early part of the 20th century but closed in 1954. Fifty years later, Larne Borough Council announced an ambitious plan to reopen The Gobbins. They constructed fifteen new bridges and six elevated paths using the latest materials and working to modern health and safety standards – an approach that Wise would have approved.
While the methods may have changed, the design has remained the same. The Gobbins' engineers built replicas of the Tubular Bridge and the suspension bridge at the Seven Sisters to retain the charm of its original, Edwardian design.
The path reopened in 2016 and now attracts tens of thousands of visitors each year. Mid and East Antrim Borough Council, The Gobbins' current custodians, are laying plans for an extension that will realise Berkeley Deane Wise's original vision.
Your final stop is at Carnfunnock Country Park, an excellent spot with loads to do, including a chance to solve the mysterious hedge maze. Carnfunnock Country Park offers over 191 hectares of mixed woodland, colourful gardens and spectacular coastline, with panoramic views of the Antrim Coast and North Channel.
Cushendun via The Glens of Antrim
Once you've left Carnfunnock, a pit-stop in picturesque Ballygally is a must. It will come as no surprise that, in a land steeped in legend, the local hotel is haunted – but by a friendly ghost. From here, journey inland to the storied Slemish mountain. This extinct volcano is where, according to legend, Saint Patrick tended sheep after being captured and taken to Ireland.
Heading towards the coast again, you'll find Glenarm Castle. Glenarm Castle is one of few country estates that remains privately owned but open to the public. It is steeped in a wealth of history, culture and heritage and attracts over 100,000 visitors annually from all over the world. Wander in its historic Walled Gardens or simply marvel at the sumptuous house interior. It is also worth your time exploring the mythical nine Glens of Antrim. The spectacular coast road to Cushendall, capital of the Glens, offers must-see views on route to your last stop – the pretty-as-a-picture Cushendun. Look out for the caves behind the village as seen in Game of Thrones®.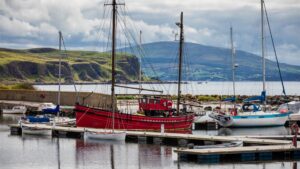 Rathlin Island via the Dark Hedges
For Thronies, or fans of Game of Thrones, this leg features another iconic location. First, take a detour to Torr Head, the closest point to Scotland with stunning views of Fair Head and Rathlin Island. Stop off next at the picturesque Bonamargy Friary ruins containing the remains of legendary chieftain Sorley Boy McDonnell.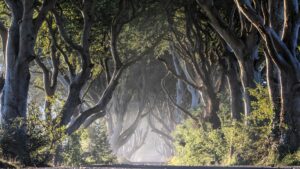 From there, it's on to the legendary Dark Hedges. Game of Thrones® fans know it as the epic Kingsroad highway in Westeros. This is selfie heaven as well as a piece of natural paradise planted by the Stuart family in the 18th century to impress visitors. You will be seriously impressed.
For sheer beauty, Rathlin Island is the experience for you. Just embrace the spirit-enhancing and rugged tranquillity of our only inhabited island. Hugely popular this year it is best to take a day trip unless you are very fortunate and get somewhere to stay well in advance. The ferry to Rathlin Island travels just six miles across the Sea of Moyle. This island is six miles long, one mile wide, "L" shaped and home to a slowly increasing population of around 140 people.
A short walk from the harbour is the Boathouse Visitor Centre(Seasonal) where visitors can discover some of the exciting history, learn about present day island life and see some artefacts from shipwrecks around the island. Enjoy many of the walks the Island has to offer including along the shore to Mill Bay where you may see some of the resident seals basking or at play. Cycle hire is another way to enjoy the island or take a bus trip. Contact Ballycastle Visitor Information for further information on the Boathouse Visitor Centre Tel. 028 2076 2024 and see www.rathlincommunity.org for updates on what is open on the Island.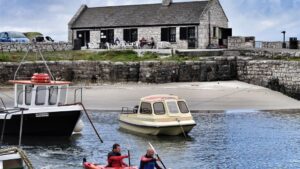 In Ballintoy Harbour follow the winding road from the village past the white-washed parish church. Spoiler alert: the harbour doubled as exterior Iron Islands shots in Game of Thrones®.
You simply can't miss the Giant's Causeway! Legend says it's the remains of a causeway built by an Irish giant to meet a challenge to a fight by a Scottish giant. Or maybe the intriguing stones are volcanic. Either way the place is epic.  End at one of the route's jewels – Dunluce Castle. Perched dramatically on cliffs, it has already inspired C.S. Lewis's Narnia and will inspire you too.
Dunluce Castle to Derry 
As stunning experiences go, don't miss the romantically wild Downhill Demesne. Beyond its ruined mansion perched on a cliff, you'll find the iconic Mussenden Temple. Here, the line of dramatic basalt cliffs at Binevenagh dominates your surroundings with panoramas across Lough Foyle to Donegal. If you're feeling adventurous, follow one of the hiking trails to the summit.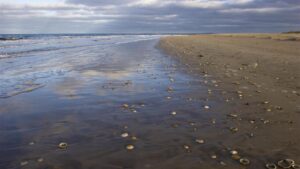 Your next beauty spot is the stunningly remote Magilligan Point, guarding the entrance to Lough Foyle. If you've arrived (or maybe started) in Derry, discover Ireland's only remaining walled city and its rich history. It's also a fun city, so if you have energy left or need a boost to get going, go there.
YOUR COASTAL BASE
Now all you need is the perfect base to explore from. And there's plenty of choice when it comes to hotels, guesthouses, B&Bs, camping, glamping and caravanning all along the Causeway Coastal Route.
If the campervan or caravan is your idea of a home away from home, then the fantastic family-run Watertop Farm in Ballycastle is just the spot for you. This homely holiday park offers two caravan sites, both providing everything you need to make your coastal trip a cosy one.
More accommodation options but please note the area is busy and best to ring ahead for availability: https://discovernorthernireland.com/destinations/causeway-coastal-route/accommodation
ACTIVITIES to do on the Route:
Formed over 60 million years ago, the Giant's Causeway is arguably Northern Ireland's most famous attraction. It's a breath-taking landscape filled with hexagonal basalt columns and has left behind some uniquely distinctive formations. The camel, the wishing chair and the organ are just a few of the quirky names that have been given to some of these awe-inspiring formations. Be sure to head over to the world-class Visitor Centre, where you'll learn all you need to know about this UNESCO-protected attraction.
| | Online price | Standard price |
| --- | --- | --- |
| Adult | £13.00 | £13.00 |
| Child | £6.50 | £6.50 |
The Catch and Sea tour in Portstewart offers a foodie experience like no other. Guided by passionate local foodie Wendy Gallagher, you'll set sail at dawn, see the extraordinary coastline from a new angle and catch your own breakfast. Back on dry land, your catch of the day will be cooked to perfection right in front of you.
The picturesque Glenarm Village. Spend the afternoon visiting the walled garden in Glenarm Castle before indulging in their famous cream tea. Game of Thrones® enthusiasts, be sure to head over to Steenson's Économusée in the village. Their artisan jewellers are famous for the handcrafted pieces they made for the iconic series.
Hook Peninsula County Wexford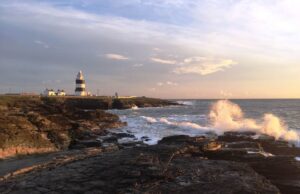 More info website https://hookpeninsula.com/
Wexford is famous for its beaches and coastline but I think one of the most beautiful spots is the Hook Peninsula.
The 800-year old Lighthouse, which has been open to the public year-round since 2001, has returned to its normal opening hours of 7 days per week from Monday, May 31st.
Due to the Lighthouse tower itself being currently unavailable for tours inside due to restrictions, the team's creativity in lock-down has seen them develop a brand new tour experience for families, and Hook Lighthouse is delighted to unveil the Hook Outdoor Guided Walking Tour. You can book tickets for this when you get there and it is only €5 per adult and €2.50 for children.
The guided walking tours will be available daily and the tour will offer visitors access and insights into the maritime heritage of Hook Lighthouse, the Hook's 'Save Our Seas Eco-Education Station' offering an exhibition of digital and hands-on activities to illustrate the cycle of water: how it is affected by global warming (sea levels, tides, currents, wind, temperature, plastics) along with human interaction and individual responsibility. Visitors will be invited to take a pledge to help reduce sea pollution by using less plastic and disposing of it properly. https://hookheritage.ie/
The Hook's expert guides will also share details of the medieval Hook Lighthouse Tower, offering a 360-degree view of the tower as the tour is guided along the top of the Hook walls walkway. Details of the seascape surrounding the majestic lighthouse will inform visitors of the graveyard of 1,000 ships that lays out before them as the guides share some of the fascinating moments of the Southeast's maritime heritage.
The final stage of the tour will see visitors enjoy an update on the area's focus on biodiversity including the bedrocks with their outstanding fossils, wild plants, amazing underwater marine life, wild birds, spectacular whales and dolphins and the nature conservation designations of the Hook peninsula.
The 30-minute walking tour within the grounds of the lighthouse will be available daily (€5 per adult, €2.00 for under 18's and under 5's are free) from June 12th onwards, and it is hoped that guided tours of the tower will return as restrictions are eased.
Hook Lighthouse will open from 10 a.m. until 5 pm daily. The outdoor tours will be subject to availability on arrival as each group will include a maximum of 15 persons, the tours are also available for pre-booking at hookheritage.ie or via 051 397055.
The Hook Lighthouse gift shop and 'The Seahorse' outdoor café on the grounds of Hook Lighthouse are also open.
Beaches on the Hook
On the Hook Peninsula visitors will find a beach to suit all activities.
Family Beaches
Families can find safe refuge for a traditional fun day by the sea at Grange, Baginbun, Sandeel or Ducannon where a lifeguard is on duty during the summer season (lifeguard flags are displayed when on duty). A beach wheelchair is also available on the beach and can be booked through the Wexford County Council website.
Looking To Escape
If you are holidaying to escape head for Dollar, Booley or Boyces Bay where you can take in the beautiful rural coastal seascapes on these quite secluded beaches, the gentle crashing of waves is the only sound to interrupt your thoughts.
Looking For Adventure
Surfing
For those with a more adventurous spirit Carnivan is one of Wexford County's best surfing beaches, Freedom surf school will make the trip from their home in Tramore to give lessons and Carnivan is also the location of the peninsula's annual Hooked'n'Tagged beach rugby tournament.
Kite Surfing
On a windy day head to Duncannon beach to witness its skyline filled with the spectacular site of experienced kitesurfers flying over the water; lessons are available for novices from the renowned Hooked Kite Surfing school.
Wildlife at the Hook
The waters around Hook Peninsula are frequently visited by majestic whales, such as Humpback (pictured), Fin and Minke, along with Harbour Porpoise, Common Dolphins and Seals. The Humpback has become particularly associated with the Hook Peninsula. This is one of the largest animals on the planet and is best seen during the winter months when they visit our warm waters to feed. They don't have true teeth but large filter type ribbons (Baleen plates) lining their huge jaws. When feeding, they open their jaws wide while swimming through shoals of small fish and plankton (tiny rine animals). The jaws then close again, while the tongue which is the size of a car, pushes the water out, trapping the food against the filter plates. The red balcony at the top of Hook Lighthouse is an ideal viewing point for whale, seal and dolphin watching, while there are also chartered whale and dolphin watching boat trips. Contact Hook Tourism for more information.
Taking Hook as a base there are many places to stay and of course Kevin Dundon has the lovely Dunbrody house up the road – the hookpeninsula website has come up with a selection of suggested itinerarys
Day 1
Start the morning off with a round of crazy golf (cost €5, duration 1 hour). Play 18 holes featuring many of the iconic features of the peninsula such as the Hook Lighthouse, Loftus Hall and the Fethard main street.
After a short 10 minute drive up the road to Tintern Abbey you can explore the wonderful Tintern Trails. With 5 different marked trails and an ever evolving woodland there is always something new to see.
You can also refuel yourself at the Tintern Abbey Tea Rooms.
Baginbun Beach
Finally, you can finish out the day at Baginbun Beach. Experience the historic site of the second Anglo-Norman invasion of Ireland. This beautiful, sheltered beach is ideal for swimming with it's usually calm waters. There are also plenty of caves and rock pools to explore.
Day 2
Starting off day 2 these beautiful gardens stretch from the formal walled garden and vegetable potager by the house down through the woodland where there are surprises and things to see around every turn.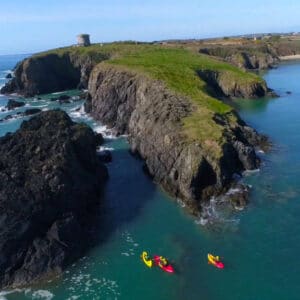 After a refueling stop in Fethard (30 min drive from Kilmokea) at either the Wheelhouse Cafe, Le Baginbun or Hooked on Coffee, you can take your family on an adventure to remember. Starting at 1:30pm and lasting an hour and a half the mini tour is perfect for families with young children. Explore hidden beaches, discover sea caves and if your lucky you might even spot some of the local seals.
Finish off day two at the historic Hook Lighthouse. Take the hour long tour and climb the 115 steps to 46 meters above sea level and enjoy the spectacular views. You can also have fun on the pirate ship that has 'run aground' at the base of the tower.