Newstalk  Boston 16th October 2019
This is the time of year to enjoy autumn foliage and there are few places in the world more beautiful to do this than New England. So this week we are taking a trip to Boston to find out what to do in the beautiful city that is a home from home for the Irish.
Listen back to the podcast from Newstalk's The Hard Shoulder here
Boston Podcast The Hard Shoulder Travel Wednesday click here
Boston
Boston is the capital of Massachusetts which is part of New England – made up of six states in the north-east of America. It is a little smaller than Dublin with a population of under 700k and it spreads out over 232 square Km. Set on the beautiful Charles River it is a walkable city with good cycle paths and access for cars since the completion of The Big Dig in 2007, moving interstate 93 underground. The center of the city is now a beautiful mile long park called The Rose Kennedy Greenway, after the Matriarch of The Kennedy Family.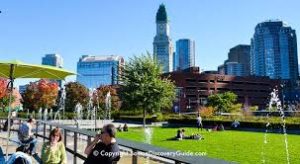 For more information see the Official website at https://www.massvacation.com/guide/
How to get there?
During peak period there are four flights a day from Ireland.
Double daily flights with Aer Lingus from Dublin to Logan International Airport. From next year flights will start again to Shannon with Aer Lingus. Delta operates from May to October returning for ten days over Christmas starting up again on 12th March 2020
What's new?
Time Out Market Boston
Located right in the heart of the buzzing Fenway neighbourhood, Time Out Market Boston is a curated dining destination that features 15 eateries, two bars, a demo cooking area and a video-installation wall into one space that encompasses the best food, drinks and culture that Boston has to offer. opened in Summer 2019 this a 'must experience' for visiting foodies.
https://www.timeoutmarket.com/boston/
Boston's Seaport District
This trendy new district is home to many new hotels in what was once an old industrial dockland but now regenerated into a bustling part of the city. It's a great area to stay as it is walking distance to The Tea Party Ship, Children's Museum and The City Centre. It is an art hub with boutique style shopping and dining options. https://www.bostonseaport.xyz/
Ferry to Salem Only a Broom Will Get You There Faster.
The Nathaniel Bowditch is owned by the City of Salem and operated under contract by Boston Harbor Cruises. She holds 149 passengers and cruises at up to 33 knots—so you can spend less time getting to Salem and more time exploring there. The vessel is 92 feet long and features two decks. The first deck features booth seating, a galley and three restrooms. The second deck includes a partially enclosed space with benches and tables as well as a large open-air space for soaking up the summer sun.https://www.bostonharborcruises.com/salem-ferry/salem-ferry/
Visit MA Trip Planning App
With this New App that you can download to your phone, you can access the best in museums, restaurants etc
Visit MA Trip Planning app. It also available to use as part of the website.
Planning the perfect getaway to Massachusetts just got much easier! The new "Plan Your Trip" feature on the Massachusetts app is an interactive way to map out everything you don't want to miss in the Bay State.
This handy tool is a new way to explore Massachusetts, including upcoming events, iconic attractions, hidden gems, dining and shopping spots, seasonal activities, and more. View it all at once or search by categories like Arts, Culinary, or Outdoors.
There are ready-made itineraries that make it easy to save, share, and enjoy. Or customize your visit to your preferences.
Plymouth Plantation home of The Mayflower II
Plymouth Rock is 400 years old next year and there will be great celebrations to mark the occasion. Heading out towards Cape Cod and beautiful towns on the coast, it really is worth taking the time to visit. Massachusetts Celebrates 400th Anniversary of the Plymouth Landing: "The Voyage That Made a Nation"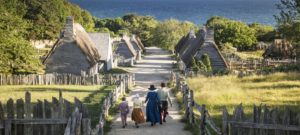 America is poised for an anniversary of national and international significance, the 400th anniversary of the Mayflower voyage and the founding of Plymouth Colony. Taking place in 2020, the Plymouth 400 Anniversary will highlight the cultural contributions and American traditions that began with the interaction of the Wampanoag and English peoples, a story that significantly shaped the building of America. https://www.plimoth.org/
Click here for more information
Living like a Local Clodagh's advice:
Boston is a walking city and the must do is to walk the Freedom Trail and learn about the history of the city. Boston is filled with beautiful houses in the old district of Beacon Hill and you may be forgiven for thinking that you are in London. https://www.thefreedomtrail.org/
Dining out go to the North End for great Italian Food. Monica's
Legal Seafood in trendy Seaport https://www.legalseafoods.com/restaurants/boston-legal-harborside-30
Take the kids to Legoland or the Children museum and they will love the Boston Tea Party Ship where they get the chance to throw bales of tea into the river as the locals did before the American Revolution. A visit to the Tea Party Ship is a wonderful experience making history come alive and active participation of visitors is encouraged.
https://www.bostonteapartyship.com/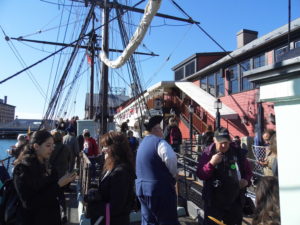 Good outlet shopping up in Assembly Row.https://assemblyrow.com/
Great Hotel to Stay and soak up the heritage of the city on the Freedom Trail is The Omni Parker https://www.omnihotels.com/hotels/boston-parker-house?utm_source=GMBlisting&utm_medium=organic
* * * * * * * *  * * *  *
Great things to do with Teens
Great hotel to stay with Teens is The Envoy at Seaport. Plenty of USB ports in the rooms and trendy decor. We had netflix on the TV and a great seaview of the port. Food was delicious too and breakfast included specials such as Lobster Benedict. Surroundings included cool art and reflects the trendy neighbourhood. The rooftop bar is open in the summer months and one of the hottest spots to hang out.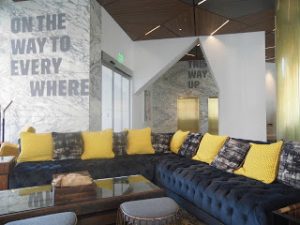 https://www.marriott.com/hotels/travel/bosak-the-envoy-hotel-autograph-collection/?scid=bb1a189a-fec3-4d19-a255-54ba596febe2
Harvard Tours or The Hahvahd Tour
You can't go to Boston and miss out on a visit to Harvard and sometimes students take time out to do guided tours and along the way you'll see interesting highlights such as Bill Gates digs and locals playing chess just outside the campus. It is similar in many respects to Trinity College and has that same air of timelessness
For groups of no more than 20 guests:
Adult (18+)$14.00, Senior (60+)$11.50, Child/Student (4/17):$11.50
TD Garden – The Garden
Bring them to a Game – In winter the Boston Bruins, Ice Hockey team play at TD Gardens and Boston Celtics are a top Basketball Team. Experience the excitement of All American Sport here https://www.tdgarden.com/
Take a bike tour of Boston
This was a favourite activity for my son and I getting to Fenway Park and Boston Greenway. We circled the city taking in the major streets and cycle paths along the River Charles. https://www.urbanadventours.com/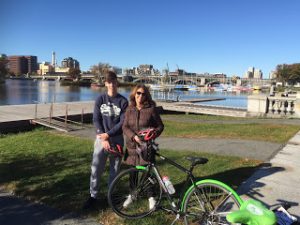 FREEDOM TRAIL WALK INTO HISTORY TOUR
Freedom Trail Foundation, 99 Chauncy St, Suite 401, Boston, MA 02111
Welcome to the Freedom Trail, a 2.5-mile, brick-lined route that leads you to 16 historically significant sites — each one an authentic treasure. Explore museums and meetinghouses, churches, and burying grounds. Learn about the brave people who shaped our nation. Discover the rich history of the American Revolution, as it began in Boston, where every step tells a story. The Freedom Trail Foundation offers public tours daily year-round from the Boston Common Visitor Information Center and ArtsBoston BosTix booth at Faneuil Hall
* * * * * * * * * * * * * *
Outside of Boston
Massachusetts is a wonderful State to explore and my favourite places include
Concord
This is where Paul Revere called out that the English were coming on the night of April 18th 1775 and part of the timeline of events that led to American Independence from Britain.
It's also stepped in literary heritage and was home to Louisa M Alcott who wrote the novel Little Women.
Close by is Walden Pond where Henry David Thoreau went to the woods in 1845, living for two years and two months in a cabin he had built on the north shore of Walden Pond. The book resulting from his experiment in simplicity was published in 1854, to lukewarm reviews. A century and a half later, however, "Walden" is a fundamental text of the ecological movement, and the pond has become a place of pilgrimage
Longfellow's Wayside Inn
Stop by at The Wayside Inn as written about by Henry Longfellow in his Tales of The Wayside Inn. It is the oldest operating Inn in the United States, offering comfort and hospitality to travellers along the Boston Post Road since 1716. Be served by waiters in traditional costume of the 1700's and enjoy hearty thanksgiving food including Turkey and apple pie and smell the cranberries in the aged wood. http://www.wayside.org/
Cape Cod
Provincetown at the end of the cape cod peninsula is a Funky-town made famous by the colourful population and has long been a destination for the LGBT queue community. A drive along the Cape ensures Magical views of the Atlantic Ocean and beautiful historic lighthouses dotted along the coast. A stop at Hyannis port is a must and some may recall spending their summer is on a J1 Visa working in the Yankee candle factory here. It is also home to the Kennedy family and there is lots to see here.
Halloween in Salem
Check out the Haunted Happenings website which is full of adventure Macabre Massachusetts: The Salem Haunted Happenings & Other Spooky Events
Spooky events and ghoulish happenings are taking place right across Massachusetts this October! Experience the thrills and chills of Halloween in the Bay State's gothic mansions, haunted homesteads and eerie graveyards.
Salem Haunted Happenings
Taking place throughout October, the Salem Haunted Happenings festival is a celebration of all things spooky in the Massachusetts city known for the infamous witch trials in the 1600s.
Great fun for all the family, The Salem Haunted Happenings features a full calendar of events including eerie candle-lit graveyard tours, spine-chilling horror movie screenings on Salem Common, a supernatural costume ball and a spectral fireworks display.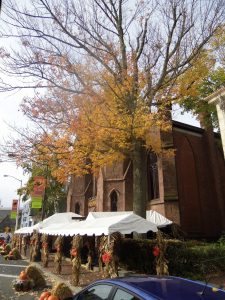 Now in its 37th year, the Salem Haunted Happenings attracts more than 50,000 visitors.
The town of Salem, Massachusetts is approximately 40 minutes from downtown Boston and is easily accessible by public transport.
While the Salem Haunted Happenings is the biggest, single Halloween festival, there are spooky events taking place all over the state this Halloween! Here's a flavour of what to expect…
Halloween in Provincetown, Cape Cod
From a family-friendly costume parade to more grown-up events like a 21+ haunted hotel, live shows, themed parties and the Black & Gold ball at Provincetown Town Hall—spooky good times are lurking in every corner of town.
Dead of Night Ghost Tours, Plymouth
Walk the oldest streets in America. Hear real accounts of local paranormal activity and visit the locations of frequent ghost sightings and haunts. Learn local legends and folklore, tales of mystery and the macabre. See the original burial site of Plymouth's Pilgrims, dating back to the 1600's.
* * * * * * * * * * * * * * * *  *
Thinking of going to Boston try American Holidays or Platinum Travel who will offer great bespoke trips to suit your personal needs and fly-drives so you can go explore the rest of MA or even other states in New England.
Some sample packages
Platinum Travel https://www.platinumtravel.ie/
A good value family holiday and a romantic couple fly drive
Prices CAN be lowered for lower standard of properties, dates etc.
Option 1 – June Family holiday for Boston & Cape Cod with Ferry trip to Salem
Travel Dates – June 2020
2 adults & 2 children
10 Nights
Includes:
Direct flights from Dublin
3 nights Boston City Centre Hotel
Historical Trolley Tour of Boston
Ferry Round trip to Salem with Salem Tour
7 nights Car rental
7 nights in Cape Codder Resort  & Spa (has 3 story waterpark lighthouse and brilliant for families)
Checked bags / taxes etc all included
Ideal for Families who want some city sightseeing followed by a 7 nights in the stunning Cape Cod area with so much to see and do and explore every day
Total Cost – Eur4990 per family
**************************************
Option 2 – June Couple holiday to Boston, Salem, Newport & 4 nights in Historical Romantic Guest House in Chatham Cape Cod
Travel dates – June 2020
11 nights
Includes
Return flights from Dublin
3 nights Boston city centre hotel
Take Car for 8 nights
2 nights in Salem & North of Boston Area
2 nights Newport Rhode Island – 2 nights (gorgeous harbour town with beautiful restaurants, shops and lots to see and do in the area)
4 nights in Chatham,  Cape Cod – Stay in the Beautiful Romantic Queen Ann Inn – Historic Guest house –  5 nights in Romantic B/B
Checked bags / taxes etc all included
Eur1790 per person
***************************
American Holidays
Telephone www.americanholidays.com Dublin: (01) 960 1155
Boston & Salem
Fr. €1399pp / £1279pp
Includes;
2 NIGHTS Boston in 4 * Godfrey Hotel (Staff Recommendation)
3 NIGHTS Salem in 3 * Salem Waterfront Hotel & Suites 9 (Ideal location)
4 Days Car Hire
Flying BA Dublin to Boston via London Heathrow
Departing 26 Sep 2020
Quote Ref 52203739
**********************
Option two
American Holidays
Flights, Hotel & Car hire
Departing  25th October 2019 1st Nov
7 Night Stay flying with Aer Lingus from Dublin to Boston
4 nights at 4 * Boston Park Plaza, Standard Room,
3 Nights at 3* Ocean House Hotel at Bass Rock (Gloucester Mass 20 min drive from Salem) 4 days car hire
Total Price for 2 adults is €4,282 (Quote 52194773
Departing Friday 1st November the same itinerary is €3,314 (Quote 52194912)