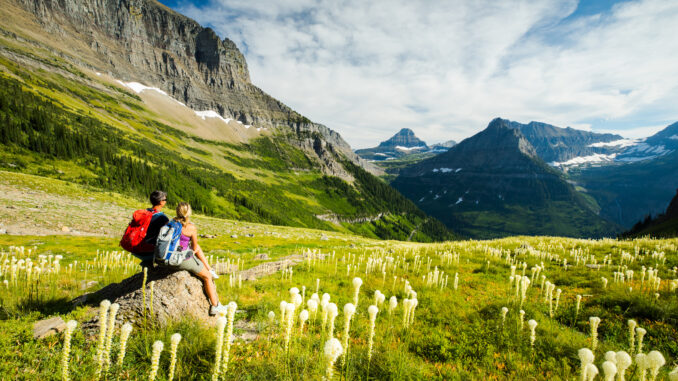 Elaine show 29th January 2020
This week on the Elaine show we are looking at what's hot in travel for 2020 after I spent a very busy weekend at the Holiday World Show in Dublin. This year the show celebrated 30 years and was bigger and better than ever with participants from all over the world and included many local attractions countrywide.
If you missed it and are living in Cork then don't miss this:
The Cork International Travel Fair 2019
The Cork International Travel Fair in association with Cork Airport will take place at the Cork International Hotel on Saturday February 2nd and Sunday February 3rd 2019 from 11am-5.30pm.
The travel fair, which is in its 3rd year is the ideal place to browse the many exhibitors and get the best value when booking your 2019 holiday.
There is something for everyone at the Cork Travel Fair from family holidays, action holidays, honeymoon's, luxury holidays as well as an insight into the newest routes that are operating from Cork Airport.
There are lots of new routes connecting us to even more destinations this year….
Five new air routes from Dublin to Rhodes, Montenegro, Menorca, Brindisi and Alghero
Shannon direct to Paris, Barcelona and Vienna
Knock serving Palma in Majorca and Cork new routes to zadar in Croatia
There is actually a new trend set by Greta Thunberg and its called  FLIGHT SHAME. The concept of flygskam, which translates as flight shame, will prompt responsible travellers to think more carefully about how often and where they fly to. As a consequence, the new decade will see many people turning to trains instead of planes.
So train travel definitely going to be a new trend.
Taking to the seas to start!
Cruising is up this year by 25% according to the travel agents association and it isn't going away. It's a super way to see new countries without having to move and the good news is there are plenty of deals coming up this year and new ships to sail on which are even more fantastic and luxurious.
Celebrity cruises have a new ship to join the edge class, Celebrity Apex, and she will be based in Southampton and ready to go this summer.
The new ship is really fab and if you would like to try a celebrity cruise theres a special price available until February for some lovely itineraries Ex Dublin
Celebrity Cruises
€1967pp
Balcony including Drinks and Gratuities and $200 to spend on board
Celebrity Reflection
28th May,8nt Norwegian Fjords
Fly Cruise from Dublin
€2159 Balcony
30th May 2020, 7nts Rome to Barcelona – Naples Florence Monaco, Cannes , Mallorca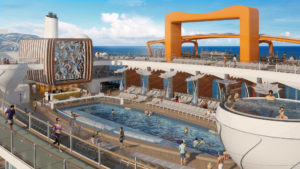 Princess cruises great packages with Click and Go
Baltic Capitals / Northern Europe
25th April & 11th July 2020 | 11 nights
Sky Princess Flight & Cruise
From Inside cabin €1,479 per person sharing, Balcony cabin €1,679
* * * * * * * *  * * * * * * * * *
Fred Olsen have a wide range of river cruises
http://www.fredrivercruises.co.uk/
http://www.fredrivercruises.co.uk/cruises/amadeus
For a special offer they will be operated by the brand new Amadeus Imperial (very similar to the ship in the video but she isn't quite finished yet). These dates are 14th April 2020 with a lead in price from £1,799pp and 28th April 2020 with a lead in price of £1,949pp. These include return London flights and an Early Booking Discount which finishes on the 29th February 2020.
The Tulip Serenade cruise includes stops in beautiful cities like Ghent, Antwerp and Rotterdam. Along the way, guests will get to visit the enchanting Keukenhof Gardens, home to over 7 million blooms and 800 different varieties of tulip. They will also sample Dutch cheese on a tasting in Amsterdam and see the authentic windmills that still stand in the fields outside of Middelburg.
* * *  * * *  * * * * * * * * * * *
USA
Thinking of heading to the states this year? There is more choice than ever and lots of destinations are becoming increasingly popular with the Irish.
Go South
The Deep South so unique it could be a different country to the rest of the states
Savour the Deep South with Platinum Travel and Flydriveusa
Atlanta (Georgia) – Nashville (Tennessee) – Memphis (Tennessee) – Natchez (Mississippi) – Lafayette (Louisiana) – New Orleans (Louisiana) – Mobile (Alabama)- Montgomery(Alabama) – Atlanta (Georgia)
Platinum Travel have this offer for 14 Nights From €1599 (Per Person)
Ever tasted a praline?  Yum.  Pecans, caramel and chocolate.  How about grits?  With syrup or cheese, maybe?  Fried chicken, hominy, barbeque, Brunswick stew, cornbread, these are all foods treasured by America's most unique region.  The South is so different from much of the United States that it could be its own country.  And once thought it was.  But that's another whole story!
It's not just the foodways that are so different here from the rest of America. The Southern "drawl" is unique to the region.  Landscapes, lush gardens, art, architecture and the temperature are also distinct.  The fact that there are regional differences between the states also makes the region more intriguing.  Barbeque in North Carolina is different from barbeque in Louisiana.  Catfish is different in Alabama than in Virginia.  Even more interesting is that even though there is a "Southern" culture, the south is not a monolith.  Each state has its own personality.
The perfect place to start your trip through the south is the vibrant New South city of Atlanta, punctuated with lots of public art and great gardens.  You'll be able to contrast it to the rural back roads of Mississippi and Louisiana, the Alabama coast, the palm trees of Florida and the Appalachian Mountains further north.  Even though all your destinations were once Confederate States of America, there are regional differences.  Natchez, Birmingham and Jackson are in the true heart of gentility.  Memphis and Nashville are more renowned for their music than anything else.  The Louisianians are "Cajun," of French descent, originally from Acadian Canada.  In Virginia, more people are of English decent than in New England.  What's most interesting is that in many places the Old South has blended seamlessly with the New South.  Vibrant contemporary buildings stand proudly with antebellum mansions where you'd almost expect Scarlett O'Hara to glide down the steps between the white columns.  Many are surrounded by lush flowering gardens that grow effortlessly in the warm sun.  Few people know that combining African banjo with the fiddle pickin' of the Southern Scots-Irish created the foundation for every form of popular music we know today: jazz, blues, rock, soul, rap, country, cajun and religious.  Tap your feet and clap your hands and celebrate whenever you have the chance.
And that's what you need to do everywhere.  Plan to enjoy and plan for an adventure.  Never be fooled by the pace.  The region is full of life no matter what the temperature.  You'll find the hospitality rages as folks regale you with stories of their lives and history.  You'll be left wondering how they survived it all.   Who knows what you could discover yourself!
https://www.flydriveusa.ie/fly-drive/savour-the-deep-south.html 
GO WEST
Best of The Great American West – Montana, Wyoming, North Dakota, South Dakota, Idaho
Discover the Great American West
BEST OF THE GREAT AMERICAN WEST
21 days of adventure through The Great American West
Start Rapid City, SD |Finish Jackson, WY
21 nights – €1999 per person based on 4 sharing – full fly drive including accommodation, flights, and car rental
https://www.platinumtravel.ie/holidays/fly-drive-holidays/great-american-west-usa.html
The diverse and intriguing American states of Montana, North Dakota, South Dakota and Wyoming epitomise the Great American West. Year-round adventure, awe-inspiring scenery, majestical mountains, shimmering lakes, expansive prairies and tumbling waterfalls await. Not to mention legendary history and heritage, real-life cowboys, rodeos and ranches, American Indians, iconic National Parks and monuments, plus more wildlife than people. The Great American West has it all.
No Great American West adventure is complete without a visit to the world's first national park. Yellowstone boasts the world's most extensive area of geothermal activity, harbouring more than 10,000 geysers, hot springs and mud pots; the most famous being Old Faithful. A mountain wildland, home to grizzly bears, wolves, and herds of bison and elk, the park is the core of one of the last, nearly intact, natural ecosystems in the Earth's temperate zone.
The Great American West is blessed with an unspoiled, natural beauty that beckons visitors from around the world. Take time to discover it yourself.
Top tips
The Cody Nite Rodeo runs from the beginning of June to the end of August every year and is a must for all visitors to Buffalo Bill's Cody in Wyoming
Pay a visit to the Million Dollar Cowboy Bar in Jackson, Wyoming, even if it's just to have a sit on one of the saddles converted to a bar stool
When visiting Mount Rushmore and Crazy Horse in South Dakota be sure to drive the Iron Mountain Road anti-clockwise for perfectly framed views of Mount Rushmore
Try to time your visit to Badlands National Park, in South Dakota to co-inside with a spectacular ranger led night sky viewing of constellations, stars, planets and even the Milky Way. The programme runs Friday to Monday during the summer
Take a free guided tour of Little Big Horn Battlefield, Montana with a member of the Crow Indian Reservation
Drive the Going-to-the-Sun Road in Glacier National Park, Montana both ways, the views are too good to miss
Bozeman in Montana is the closest domestic airport to Yellowstone National Park
The Medora Musical in Medora, North Dakota runs from June to September each year. Combine it with a Pitchfork Steak Fondue for an authentic western style meal
The Enchanted Highway in North Dakota features a series of unique giant metal sculptures including Geese in Flight, the World's Largest Grasshopper and a Tin Family
For a real feel of the wild west spend a few days getting stuck in on a ranch
May, June, September and October are the best times to visit for cooler clear days and fewer visitors to the National Parks
Platinum Travel
Tel +353 1853 5000
infoplatinumtravel.ie
* * * * * * * * * *  * * *  * * * * * **
Camping in France
Camping is always popular with the Irish holidaymakers and especially families. Check out the website Siblu here
SAVE UP TO 35% IN SIBLU'S NEW YEAR SALE, WHICH ENDS ON 5 FEBRUARY
Siblu, who own holiday villages across France, are offering hundreds of euros off June and July holidays in their New Year sale, which ends on February 5.
There are 20 holiday villages included in the offer, such as Les Charmettes in Charente Maritime on France's west coast, which is Siblu's most popular location for Irish families, and Les Viviers in Aquitaine, on the south west coast, which is a new holiday park for 2020.
The savings are 35% for all holidays taken in April, May and June, and 30% on breaks in July. For example a week at Les Charmettes from 4 July now costs from €769, saving €330.
Seven nights at Les Viviers from 18 July costs from €419, saving €225, for up to six sharing a two-bedroom holiday home.
Les Charmettes is one of Siblu's biggest holiday villages in France, and is a favourite of families with indoor and outdoor pools, slides and splashzones, four free children's clubs, lots of sports and evening entertainment included in the price of holidays.
Les Viviers, which is Siblu's twentieth holiday village, overlooks Arcachon Bay in Aquitaine and has a private lake and sandy beach and you can climb Europe's biggest sand dune at Pilat or cycle along trails through endless pine forests. The area is famous for its fresh oysters, which are best enjoyed at chic Arcachon, a short ferry ride across the bay.
For families who want to fly to the sunny south coast, Siblu's well known La Carabasse holiday village has a giant lagoon-style pool, outdoor stage for evening entertainment and its own beach bar overlooking the Mediterranean. One week from 13 June costs from €469 in the sale, saving €252.
Sun-seekers can head to France's famous Cote d'Azur for a hot start to the summer holidays. Siblu's Le Montourey holiday village is close to the sandy beach at Frejus, with glitzy St Tropez, Cannes and Nice in easy reach. Seven nights starting 20 June now costs €460, down from €707.
Parks closest to the ferry ports are Domaine de Litteau in Normandy, and Domaine de Kerlann and Le Conguel in Brittany. Domaine de Litteau is in Calvados, just 45 minutes from the Caen ferry port and close to Bayeux, home to the famous tapestry and cathedral, and Cherbourg, where there's an incredible maritime museum called Cite de la Mer. Prices start from just €296 for a week starting 13 June, saving €159.
Le Conguel was new to Siblu in 2019. The park sits on the tip of the Quiberon peninsula in southern Brittany and is just 10 metres from the nearest sandy beach. There's a large covered pool and a big outdoor pool, plus facilities including waterslides and playgrounds, children's clubs and evening entertainment. Prices start from €887 for a week starting 18 July, saving €380.
For all of these deals and more, head to Siblu's website at www.siblu.ie, or call their team on  01 526 86 58.
Note – these deals don't include ferries or flights, which can be booked directly.
* * * * * * * * * * *  * * * * * * * * *
The Caribbean with Classic Resorts
Barbados
Ocean Two Resort & Residences
★★★★
B&B | 7 nights
fr €1285pp
Family of 2+2 from €4599
Travel Sept/Oct
Prices include flights, taxes, transfers and hotel.
Quote ref: 92673 & 92674
Book by 31st January
---
Nestled along the south coast of Barbados on Dover Beach, Ocean Two is a fantastic location to explore the island. Visit St. Lawrence Gap and discover vibrant restaurants, bars and club, or take a trip down to Oistin's Fish Fry on Friday nights for scrumptious Barbados delicacies as sweet soca music fills the air.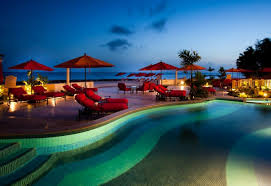 Bonus offer: $75/$125 Restaurant Credit per room per stay. Honeymooner receive Bottle of Sparkling wine, nightly turn-down service, romantic breakfast in room & 25% of private dining setup.
Mexico
Riu Cancun
★★★★
All Inclusive | 8 nights
fr €1299pp
Travel Sept/Oct
Prices include flights, taxes, transfers and hotel.
Quote ref: 92632
Book by 31st January
---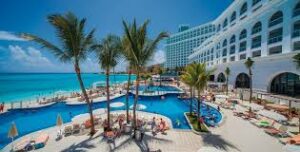 Set in the heart of Cancun's hotel zone this contemporary beachfront resort is a lively and fun place to start your holiday. Only a short distance to the shopping malls and 20 mins from the airport. Honeymooners receive a bottle of rum and a fruit basket in room on arrival.
'Call Classic Resorts on 01-8745000 or email us at info@classicresorts.ie'