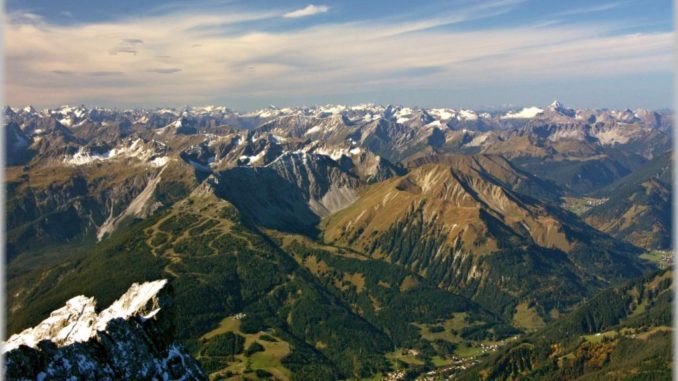 Guest Post By Eamonn Blaney
Sometimes you just need a break. Not a holiday as such but a relaxing break away for a few days to simply press the 'control alt delete' button of life and reboot yourself. This is exactly what I did recently while spending a few days in the area surrounding the German Austrian border. Probably not the most obvious destination (unless you're an avid skier) but definitely worth doing as it is a spectacularly beautiful area nestled near the foot or more precisely 708 metres (2312 ft) up the Wetterstein Mountains.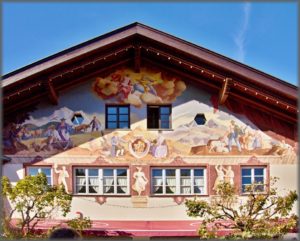 Being less than two hours journey by road or rail from Munich the town of Garmisch Partenkirchen in southern Germany made an ideal base from which to explore the region. This town was in fact two separate towns until they were forced to combine in 1935 on the orders of one Adolf Hitler in preparation for the 1936 Winter Olympic Games, the original five Olympic rings of which presently adorn the front of the winter Stadium. Partenkirchen itself was originally a small village on a Roman trade route to northern Europe and was first mentioned in A.D. 15 whereas Garmisch which dates back 'just' 1200 years is today probably the more modern of the two towns. What are common to both are the stunning frescoes which adorn the facades of practically all buildings, particularly in Partenkirchen.
When you take your first stroll through the centre of the town what strikes you is how unhurried and peaceful it is. Although cars are permitted you rarely see them, as everybody walks or cycles to their destination. Another thing that you will notice is that the majority of the shops are small and locally owned, for several generations in many cases.
Refreshingly, you rarely see any of the large high street multinationals that have become so prevalent in many other towns. There is a huge array of restaurants serving local specialities, fine dining and everything in between. Woodcarving is traditional in the area and many shops stock the handiwork of local residents, the detail of which has to be seen to be appreciated  As well has boutiques with really interesting ranges of clothes and footwear.
One place that you must visit in Partenkirchen is the famous Chocolaterie Amelie which is located on Ludwigstraße 37, as it is an institution for chocolate lovers.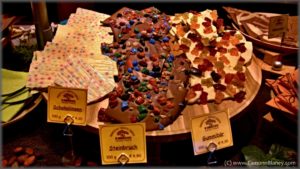 Everything is handmade on-site and you can even attend classes in chocolate making. The selection is absolutely mouth-watering with taste combinations that you will probably never have come across before. It is definitely worth a visit particularly if you intend picking up a few presents for those back home.
If golf is your thing then you will be happy to know that there are two golf clubs near the town and one of which is a par 72 championship course however I have been told, given its mountain location, you will need to be prepared for a good hard walk.
Towering above Garmisch Partenkirchen is Germany's highest mountain, the Zugspitze, which reaches 2962mt (9,717ft) at its summit and is only a 20 minute drive from the centre of town. The Eibsee Cable Car (which was replaced just two years ago and boosts the highest cable car pylon in the world!) will bring you all the way to the summit where you can enjoy fantastic food and schnapps while you look out over the Austrian, Italian and Swiss Alps. The journey up to the summit takes approximately 10 minutes and gives you stunning views north towards Munich and the town below in the valley. Mind you, this experience doesn't come cheaply and in fact it may cost you more than your Ryanair flight from Dublin to Munich, with a return ticket costing €54 for adults.
At the base of the Zugspitze there are countless hiking and cycling routes with all levels of difficulty catered for and these activities are becoming really popular with both locals and tourists alike. To give you some idea, in the area around Garmisch Partenkirchen there are some 650 km of trails!
While photographs will give you an idea and feel for the place a camera cannot do justice to the spectacular scenery which you can see from the top of the Zugspitze and for this reason alone it is definitely worth the excursion.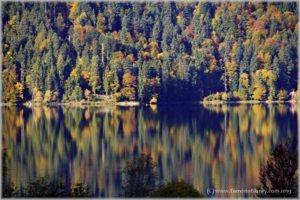 Ideally, you would need to allow yourself four or five hours for this excursion particularly if you intend to enjoy your lunch alfresco, at the top of the mountain.
Just 25 minutes drive north of Garmisch Partenkirchen is the small village of Oberammergau which you would be forgiven for not having heard of before. However, once every decade an amazing spectacle takes place here and has done so for the past 420 years.  Since 1634 the villagers have staged the Oberammergau Passion play, which re-enacts the suffering, death and resurrection of Christ. And this isn't just some other play but one in which has a cast of literally thousands, practically all of which are locals and none of which are professional actors.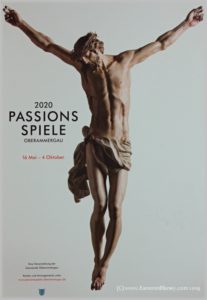 In 1633, Oberammergau, the surrounding regions and much of Europe were devastated by the plague which killed millions. Fearing for their lives the villagers made a promise to God that if they were spared any further deaths from the plague they would celebrate his life and resurrection every 10 years and this promise has been kept until today.
The play will once again take place in 2020 and will run from May 16th to October 4th, with five performances a week (none on Mondays & Wednesdays). Although tickets are available for the event itself it is essential that you book accommodation well in advance and as importantly, dinner as the town is home to double its normal population while the event is on. For this reason it makes sense to stay in somewhere like Garmisch Partenkirchen and travel up for the play. The play takes place in two halves each approximately 2 ½ hours long and concludes at approximately 10:30pm each night. Tickets for the performance itself can be purchased from the organiser's website and range in price from €30 – €180.
Just 40 minutes south of Garmisch Partenkirchen (by rail, bus or car) is the Austrian town of Seefeld which is in the centre of the Tyrol region and quite close to the capital Innsbruck. Although not as big, Seefeld has that same laid-back cultured feel of Garmisch Partenkirchen with superb hotels, eateries, fantastic shops and spectacular scenery. It lies approximately 1100 m above sea level and is overlooked by the Wetterstein and Karwendal mountains and is a renowned base for cross-country skiing and hiking. During the skiing season it is very popular with both the Germans and Austrian locals as well as tourists and off-season it is a superb destination for those interested in hiking and biking.

Just a few hundred metres from the centre of Seefeld you can take the vernacular railway to near the summit of the Karwendal Mountain. During the summer months this is an excellent place to set out on the multitude of hiking trails which are very accessible. Alternatively, you can just enjoy your lunch and take in the amazing views of the town below.
As this region is easily accessible from Ireland with daily flights to Munich (or during the skiing season, Innsbruck) it is well worth considering for a short break. You could not help but be rejuvenated by the incredibly clean Alpine air, plenty of walking, cycling and sightseeing in what has to be one of the most beautiful regions of Europe.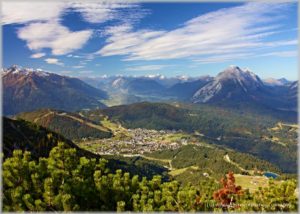 Advantage Austria promote walking and hiking holidays in Austria, and promoting Austria as the perfect location to extend your visit to Oberammergau for 2020.   The Austrian Tirol is within 45 minutes of Oberammergau, within easy transfer distance.
We flew with Ryanair who have up to 2 flights per day from Dublin to Munich, which is the closest airport to Oberammergau and a gateway airport for holidays to Austria.  www.ryanair.com
The Passion Play is performed every ten years. It runs from the 16th May – 4th October 2020, with Special Youth Days from the 7-10 May 2020.
For those making their own arrangements, you can book online at www.passionsspiele-oberammergau.de/en
Groups are recommended to plan their trip in advance, with their travel agent or tour operator.
Our Top Tip is book before Christmas, as it is selling out fast.   Our other Top Tip is to consider booking during the Youth Days – 7-10 May.
Within the Oberammergau area, there is a myriad of places to stay, and things to do, apart from visiting the Oberammergau Passion Play itself in 2020, for groups or individuals planning a trip:
Base yourself in Garmisch-Partenkirchen nearby, or base yourself in the Austrian Tirol – in a resort such as Seefeld
Take a day trip to the mighty Zugspitze Mountain – near Garmisch or Lermoos/Ehrwald on the Austrian side.  The Zugspitze is Germany's highest mountain.  And it is fully disability accessible.
Visit the castles of Neuschwanstein and Schwangau near Fussen.
Visit Linderhof, King Ludwig's Hunting Lodge
Day trips to Munich and Innsbruck are within easy reach by train.
Fact File Seefeld Austria
SEEFELD AUSTRIAN TIROL
+Info on the area and villages: https://www.seefeld.com/en/region-tyrol-olympiaregion
Summersports:
Hiking: https://www.seefeld.com/en/walking
Biking: https://www.seefeld.com/en/ebike
Ideal for families: winter and summer – many events and acitivies are included in the overnight tax-guest card https://www.seefeld.com/en/family-holiday
Golf:
Seefeld has  1 championship golf course – GC Seefeld Wildmoos but has another 9 hole course GC Seefeld –Reith  – see all about Golf – here link: https://www.seefeld.com/en/holiday-tyrol-golf
We have a golf cooperation with nearby Innsbrucks courts and Mieming – called the golf heart Tyrol
Gourmet:
The delicatessen place is called Tre Culinaria – see press info enclosed and two pics – second pic shows and wooden formed ski-platter, where they offer the delicatessen like all the best things from the alps.
But we have approx. 70 mountain huts, and 100 restaurants in the Olympiaregion Seefeld https://www.seefeld.com/en/mountain-huts-1
but here a general info on gastronomy in the area: https://www.seefeld.com/en/gastronomy
Soccer
Mike Delaney organises every year a soccer skill adademy in Seefeld – this year it was in august – look at post on fb
https://www.facebook.com/events/bleulerstrasse-70-8008-z%C3%BCrich-z%C3%BCrich-schweiz/summer-camp-in-seefeld-sommer-fussballcamps/746461569102966/ but this has to do with kids – future professionals
the international football clubs come because oft he top facilities to train, to be accommodated – see link: https://www.seefeld.com/en/further-topics/soccer
Winter:
Cross country skiing; https://www.seefeld.com/en/cross-country-skiing-tyrol
Alpine skiing – good for families with children https://www.seefeld.com/en/holiday-tyrol-ski – all about skiing and ski schools….
Family offers in winter apart from skiing like tobagganing, ice curling, skating, snow shoe walking…….
And Events all year round from sports events to traditions processions – https://www.seefeld.com/en/top-events