Published in Irish Mail on Sunday July 2013

Visit www.united.com or call 1890 925 252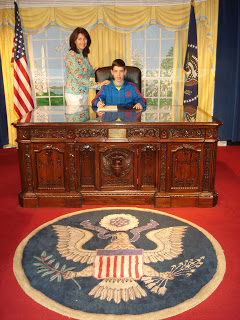 All set for the White House
Being a teacher for over twenty years can make anyone a bit pedantic about education and although you can take the teacher out of the classroom there are always those moments when the classroom comes out in the teacher. I recently had one of those when my son asked me to suggest a famous figure from history to write about for his school project. I got overly enthusiastic as usual and my son stopped me in my tracks with my first suggestion – Abraham Lincoln. "That will do mum," he said and slunk off to Google the 16thPresident of America. Feeling a bit surplus to requirements I handed him a five dollar bill and one cent coin that carry Lincoln's image but I still wasn't in the picture. Then the opportunity came handed to me on a plate to research DC as a destination for one of my novels – it was fate, serendipity – call it what you like but a wonderful chance for my son and I to spend time together in a city with more museums to the square mile than anywhere in the world so it would be educational too.
We took a United Airlines flight direct from Dublin which made the 6 ½ hour journey seem short. The extra leg room in economy plus was available for a nominal charge and a must because it gives plenty of room to stretch right out. We decided to get in the mood for our destination chose the latest Will Ferrell comedy from a huge list of movies. It's appropriately called 'The Campaign' about a politician seeking re-election.
The first thing that struck us at Washington Dulles airport was the order and newness of the place – this was America with its best foot forward and what else would I have expected. The drive from Dulles was a little over half an hour and we stayed in the heart of the city – a stones throw from the White House in the fabulous W hotel.
With the time difference to our advantage our arrival meant that it was still only the afternoon and the temperature was a pleasant 20 degrees. We set off for a stroll to get our bearings and discovered that most of the must see tourist attractions are laid out in a convenient triangle. The George Washington memorial, which is the iconic monument shaped like an Egyptian obelisk, was being repaired and covered in scaffolding but it did not detract from the impressiveness of the scale. At one time it was the tallest building in the world and is still the tallest stone-made structure.
We had our first dinner at the Old Ebbit Grill which had a pleasant mix of tourists and locals unwinding on a Friday evening. It had an old world feel and had hosted plenty of presidents since opening in 1856. DC has history and I discovered that quickly as my son informed me that the civil war was played out all around the area of Virginia and Maryland which sandwiches the ten square miles of the capital.
The next morning we woke sprightly and made our way to the Old Post Office Pavilion from where the Bike and Roll tours depart. This is an ideal activity with children offering a choice of routes. We took the three hour monument tour and although I am not the most athletic the bikes were extra comfortable with padded seats and it was a fun way for our bonding to commence and see the best sites of the city.
The Lincolnmonument was awe inspiring and the tour sent us all around the basin which in April is covered in cherry blossoms and a spectacular time to visit DC. All of American history is commemorated in this square mile including WWII, the Vietnam War, FDR, Martin Luthur king and Thomas Jefferson but we had the most fun at the enormous Einstein statue outside the museum of science. It is purported that to touch Einstein's nose ensures an increase in intelligence so I made sure we gave the bronze statue a good rub.
It was time for lunch and where better to have it than the POV which stands for 'point of view restaurant' with unspoilt views of the White House and the mall. My son was pacing me and advising me on a rest before our next visit to the Newseum. This is the museum of news and packed with all you ever need to know about anything that has happened in the world over the last century. It is bang up to date and hosting a special exhibition about JFK at the moment. I was buzzing with excitement at the chance to read in front of an autocue and see ourselves in a news reel on screen. My son however took it all in his stride – he had bigger fish to fry and was really sussing out his surroundings, I felt like the child as he told me that it was time for another break before we got our taxi to the Kennedy centre for performing arts. I hoped I hadn't pushed my luck by organising a show. 'Shear madness' is the longest running theatre show in Americaat over 25 years and it runs in Bostonand DC. It's a comic rendition of a whodunit with audience participation and a choice of four endings, played out only after the audience had voted. We decided that the hairdresser had done it.
Next morning our tour to Fordes Theatre was organised for nine o clock which was fine because we had woken at 5.30 we had breakfast at the famous Willard Hotel next door in the Café du Parc and the theatre was only a short stroll three blocks away. This was the venue where President Lincoln was assassinated and after an intense tour through history, which included historic items such as the actual murder weapon, we got to see the stage and what is now a working theatre. My son was interested but not by all the gory details, more by how the crime related to a similar event that we had seen in the Newseum the day before – he had digested the information about Kennedy and I was delighted that he was clearly learning something.
So it was time for lunch and we had it on the Potomac River courtesy of Odyssey cruise line which was a leisurely two hours of feasting complete with live entertainment and finished off with an enormous chocolate fountain. It's a nice way to see the city from a different perspective and gave us the chance to have chats that are missing from our routine filled with texting and technology at home.
We had the afternoon at our leisure to visit some of the many free museums – the Air and Space was the priority. I was amazed by the space hardware and information but again Mark seemed to be taking it all in his stride. Sit here mum and I'll show you how this works. I was the child being brought around and he was asking me how I was managing and did I need to sit down. It's an interactive museum and I certainly needed his help to work some of the contraptions.
The museum of the American Indian was next door and we learned how the Innuit tribe train kids to sit in a canoe. It is in a beautiful building shaped in the round and has the reputation for the best food of all the Smithsonian Museums. However, on the recommendation of a chef that we met along the way we ended up taking a taxi ride to U Street – the happening end of town where Bens Chilli Bowl restaurant is a must. The mural of Bill Cosby outside advertised his patronage and a photograph of Obama and his family dining there were proof of how highly this place rated. Mark had a hot dog and I had the chilli burger with a milkshake covered in cream and a cherry on top and hoped for the best with the weighing scales on my return to Dublin. But this was our last night in Washington and my son had become accustomed to watching the NBA and baseball games on American TV, I felt like I had had a glimpse of what my little boy was going to be like – and as I flicked through my camera I saw that he had grown an inch over the weekend.
We stood later at the carousel at Dublin airport and I smiled as he ushered me over to a chair while he looked after the luggage. My boy had matured so much after our Washington adventure. Later that day when we got home I asked him. "So which was your favourite memorial then?" "I liked Lincoln best." He answered quickly. "And what was the best thing we did in Washington?" "The bike and roll probably," then he gave me a knowing smile and I was sure he could read my mind. The best part for me was being with him and Washington DC had been the perfect destination.