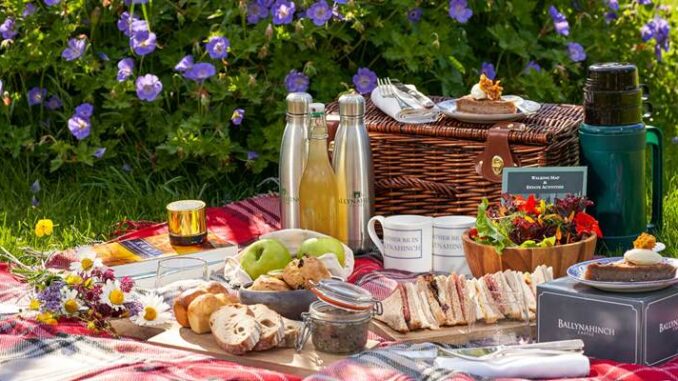 Travel Tuesday Picnics Elaine show 13th April
It's a perfect time of year to explore our own counties as the days are getting longer and the sun is shining. I've been gathering the best picnic spots and options around the country and I'll start in the east where there are plenty of options.
Dublin
Best picnic spots – get a take away from Vintage Tea Trips and then take to wherever you want to go- I suggest St Annes Park or Portmarnock Beach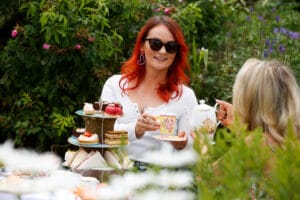 Vintage Tea Trips have started doing collection of their Afternoon Tea Boxes as well as delivery as we had great interest in people wanting to pick them up and take them to their local park, beach etc as a picnic. And now with the 5km ban being lifted take your picnic wherever you want in Dublin
They've also begun selling a beautiful range of party decorations and tableware to take your picnic up a notch. Here is a link to the site https://vintage-tea-trips.myshopify.com/
The price for 1 – 3 people is €25pp and for 4+ people it is €22pp. The tableware are all different prices depending on what people choose.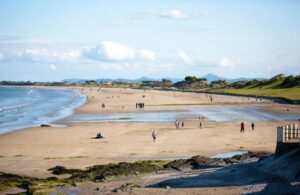 Discover Boyne Valley
Old Bridge House and Gardens is on the site of The Famous Battle of the Boyne and now you can enjoy a picnic in the grounds. There is a beautifully restored walled garden and with unique octagonal sunken garden and herbaceous borders. Check out their website discoverboynevalley.ie and find lots of places to visit from Trim Castle to Bettystown Beach.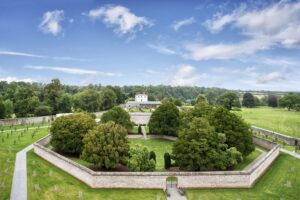 The Boyne Valley is great for food and The Headfort Arms is supplying beautiful picnic hampers or afternoon tea available from 12pm daily.
Take it to the people's park and enjoy the Spire of Llyod – Ireland's only inland lighthouse.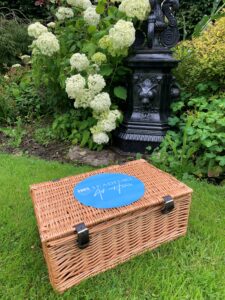 County Meath has it's own local food producers market and you can pick up fresh local produce that you buy online check it out here https://www.neighbourfood.ie/markets/slane/collection/3728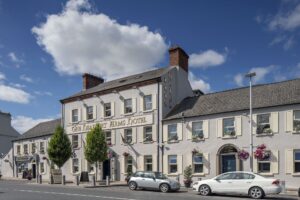 The Headfort Arms have a reopening offer of €99 pps
Sunny South East
Kilkenny has so much to offer and a great visitors guide on their website
https://visitkilkenny.ie/the-ultimate-kilkenny-picnic-guide/
Get your hamper from Bridies on John Street and bring it to Woodstock Gardens or Brandon Hill – picnics from Bridies cost adults €16 pp and kids €10
Woodstock Gardens & Arboretum
The stunning Woodstock Gardens are located in the south east of Kilkenny just outside the picturesque village of Inistioge. The gardens, overlooking the River Nore Valley, offer visitors a wide variety of attractions and are a relaxing and beautiful environment in which to spend a day with a picnic!
There are picnic tables around the gardens, a playground and an orienteering course for the more adventurous families. Visit: www.woodstock.ie
For something special treat yourself to a Take Out Afternoon Tea to enjoy in one of Kilkenny City's many open spaces. Enjoy fresh food cooked to order.  €32.50 for a box for two. Kiddies takeaway Afternoon Tea is available too, at €10 per child.
Kilkenny has the jewel in the crown of picnics at Mount Juliet estate – you can get a takeaway picnic from the hotel and then go off and enjoy the grounds…..
See the huge selection of places you can go to enjoy on the visitkilkenny.ie website
Mount Juliet Estate, Co. Kilkenny
What finer way to enjoy their wonderful estate than a private lunch outdoors. Down beside the River Nore behind the main manor house, by the fishing lakes, along one of the many marked walking trails, or even in the old walled rose garden, with its mixture of modern and old-fashioned roses, each picnic possibility is more picturesque than the next.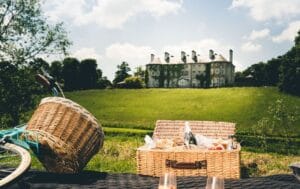 They will assemble a bespoke gourmet hamper that meets your requirements and dietary needs, which you can share with your loved one, creating new memories here at Mount Juliet Estate.
From €45 per person.
Wexford
Wells House in Wexford
There are a few takeaway picnic box options that our onsite restaurant Brambles offer:
Kids Picnic Box – €7.00
Adult Box for 2 – €35.00
Family Picnic- €45.00
The rambler truck will be used onsite as soon as restrictions open up and business levels increase.
Opening hours will be 10am -5pm, however if we have evening events (when we can have events again) these hours will be extended.
Wells House & Gardens is a 450 acre site that comprises of 2 woodland Walks (The Fairy Walk & Mogues Enchanted Walk), our arboretum, terrace gardens, adventure playground and animal farm. There is loads here to build up your appetite and enjoy a picnic box for everyone in the fresh air and outdoor space.
Check out the visitwexford.ie website for lovely walking trails around Wexford
Pure Cork
Being the largest county in Ireland Corkonians are spoiled for choice with so many places to go
Casey's of Baltimore, Co. Cork
Choose from the picnic basket of old Favourites or –  a Local Artisan Basket – both are on a Pre order Basis
Local Artisan Basket Containing Selection of Gubbeen Charcuterie and West Cork Farmhouse Cheese Selection.
Skeaghanore Duck & Peach Salad.
Skeaghanore Smoked Chicken Sandwich, Jalapeno Mayo. Hummus.
Home-made Breads. Pickles, – Olives and Local Leaves.
Sweet Chilli Relish.
Brownies and Strawberries
Picnic Basket of Old Favourites – To Share -Pre Order Basis €25
Picnic Basket of Ham & Cheese Sandwiches, Coleslaw, Potato Salad, Hummus, Scotch Egg, Mixed Fruit, Mini Chocolate Brownies
* Craft Beer Bottles & House Wines are also available
Best place to enjoy locally – €30 Take a walk up to the Baltimore beacon / The beacon of hope and hope that you can soon have the option to eat inside the hotel!
The Baltimore Beacon, an astonishing monument overlooking the city and the Atlantic Ocean. It is actually a white, conical maritime beacon, built in the 1798s! A must see!
The beacon is locally nicknamed the "Lot's Wife" or "Woman of Salt" in homage to an episode in the Bible where a woman was transformed into a pillar of salt.
Access to the beacon is free, and its setting offers an environment of the wildest, alternating between cliffs and ocean. To be seen without hesitation!
Galway
Currarevagh House, Co. Galway
Currarevagh House is a Victorian country manor romantically situated on the shores of Lough Corrib in 150 acres of private woodland. Having all Connemara (including the Aran Islands and The Burren) within easy reach for touring, Currarevagh is the perfect base for exploring the magnificent West of Ireland. Their own boats with engine provide guests with the opportunity of enjoying Lough Corrib, and picnics are prepared on request. There are many walks, both on the private estate and in the local area, including the recently upgraded and spectacular Western Way.
For those exploring during the day, guests can try one of Currarevagh's famous picnics or avail of a light snack lunch. The country house will prepare a picnic for you on the day with delicious homemade goodies; you can land on your own deserted island, make a fire to brew some tea, and relax as the waters lap the shore.
Picnic lunch from €15 pp
Ballynahinch Castle Co. Galway
INDULGE IN ONE OF LIFE'S GREAT TREATS
BALLYNAHINCH PICNIC MENU
Enjoy the menus of Ballynahinch Castle in the great outdoors, a picnic can be prepared for a day exploring Connemara or even for a more relaxing stroll on the gardens and estate.
Wine & Cheese Hamper
Collect your cheese and wine hamper at reception at a prearranged time and venture to quiet corner of the estate.
Included:
A bottle of wine (white or red) & 2 wine glasses
A selection of three artisan Irish cheeses
Preserves and house made crackers
Picnic blanket
Estate map
Please order 24 hours in advance. /€50 for 2 people sharing
Best place to enjoy locally Gurteen& Dog's Bay Beaches are a must visit on a nice day in Connemara. They are two beaches either side of a sand spit close to the fishing village of Roundstone.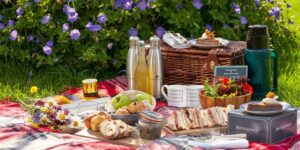 The sand spit and stretches into the Atlantic Ocean and offers some incredible views of the coast when walking across the spit to the opposite beach. Located 20 minutes' drive from Ballynahinch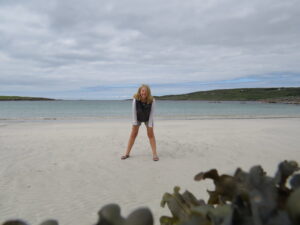 Sligo
Coopershill House, Co. Sligo
If you are looking for a genuine, romantic, Grand Irish Country House with comfort, character and sublime cooking, then you are going to love Coopershill in Co. Sligo. Encapsulated with majestic mountains, ancient ruins and miles of sandy beaches they will provide you with maps, prepare a delicious picnic for you each day and will help you plan your walks.
Their "Picnic on Benbulben's Head" offer includes 2 nights B&B, 1 x 4 course dinner, maps & directions, 1 x picnic from €594 total price.
Limerick
Woodland House Hotel and The Dunraven Adare Co. Limerick have lovely picnic offers in Adare
There is a new takeaway option from Fitzgeralds Woodlands House Hotel – ''The Tree House'' and they serve their own exclusive Treehouse Coffee blend, dishes from Buddha bowls, dressed fries, salads, Beef Bla's, Sweet treats & burgers straight from our Treehouse EGG.
All individually priced but they might be a great option to take with you on a local walk.
Why not light up a portable BBQ  and order the lamb burger kit from Dunraven arms (BBQ not included)
The West Limerick Spring Lamb Burger Kit
Grass Fed Organic Spring Lamb, Crispy Bacon, Vintage Cheddar, Dunraven Spiced Tomato Chutney, Wild Garlic Aioli served in a homemade Brioche Bun
The kit includes everything you need to recreate this at home :
4 Handcrafted Organic Spring Lamb Patties
4 Handmade Dunraven Brioche Buns
4 Slices Rigneys Bacon
Cahill's Vintage Cheddar
Dunraven Spiced Tomato Chutney
Curraghchase Wild Garlic Aioli
Order from The Dunraven Arms Hotel
€35 – There is also a Beef & Venison Burger option and takeaway Coktail options from €12 (Serving 2) West Limerick Spring Cocktail, Cosmopolitan etc.
Bring your picnic to the Woodlands and check out this video of the beautiful town of Adare
Kerry
I'd a huge response from people on social media who told me that Kerry is the best place in Ireland for a picnic and they are probably right – lots of people will be making their way down there when we can travel around our counties again. But many will be rushing to this corner of Ireland for their summer holidays so I will be doing more on Kerry later.