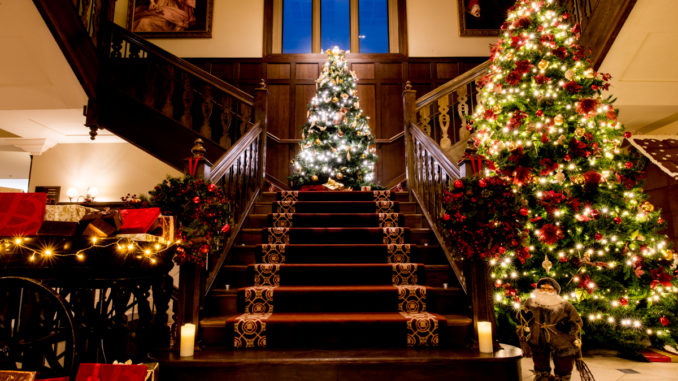 Travel Tuesday Christmas Gift Ideas on The Elaine Show
Christmas isn't far away and already we are thinking of gifts to buy for loved ones. I've compiled some novel ideas for those who love to travel. The best way you can support your favourite hotel group of small travel business this year is to buy a voucher and this means that you are giving the gift of something to look forward to. All hotel chains offer vouchers and some have no time limit on use. Others have five years so there is plenty of time to plan for your trip.
Original Irish Hotels have a range of lovely manor houses and castles and hotels to choose from around the country
Pembroke Kilkenny
Pembroke Kilkenny delights in its amazing city centre location in the heart of Kilkenny's old city quarter in South-East Ireland. Situated on Patrick Street, right in the middle of the rich medieval heritage and thriving arts and culture of this fantastic city, The Pembroke is a stunning base for discovering over 400 years of history and a stunning selection of scenic countryside and coastal locations. With its offering of 74 spacious, bright and airy bedrooms, Statham's Bar & Restaurant, and Mint beauty, Pembroke Kilkenny provides the perfect city-centre base for guests of all ages looking to make the most of what Ireland has to offer.
Pembroke Kilkenny B&B from €99 per night 
This luxury 4 star castle hotel is situated in County Roscommon in a secluded corner of the idyllic West of Ireland. https://www.originalirishhotels.com/hotels/kilronan-castle-estate-spa
Kilronan Castle Estate is full of history as it was lovingly transformed from the ancestral home of the royal Tennison family into a luxurious hotel and spa.
Built in the 18th century, Kilronan Castle welcomes its guests through a set of magnificent medieval gates at the top of a meandering driveway, which is surrounded by forty acres of lush green estate and is next to a beautiful lough making the castle look like something straight out of a fairytale. The castle seamlessly mixes the elegancy, sophistication and tradition of the past with the luxury and comfort of the modern era.
Guests at Kilronan Castle Estate are treated to luxurious castle accommodation that includes four poster beds and antique furniture while dining at Kilronan Castle is one of the finest dining experiences in Ireland. Kilronan Castle Estate & Spa also offers its' guests one of Ireland's best Spa experiences as the spa at the Kilronan Castle treats guests to a journey of relaxation and indulgence in intimate and luxurious surroundings. B&B from €139 or 1 night Gourmet Getaway with Breakfast & a delicious meal in the award winning Douglas Hyde Restaurant from €255
Lough Inagh Lodge
Set in Spectacular Scenery, in the Heart of Connemara is Lough Inagh Lodge
To the west of Galway city, the Hotel rests on the shores of Lough Inagh, one of Connemara's most spectacular lakes. The Lodge is surrounded by majestic Mam Turks and spectacular Twelve Bens mountain ranges on all sides.
A perfect haven for complete rest, and relaxation Lough Inagh Lodge Hotel offers you all the comforts and pleasures of an elegant, modern hotel in an old-world atmosphere.
Lough Inagh is also perfectly placed to take advantage of a number of outdoor pursuits and activities such as Hill walking, fly fishing, cycling, golf, sightseeing, & exploring.
https://www.originalirishhotels.com/hotels/lough-inagh-lodge-hotel
2 Night escape to the wilds of the West of Ireland with breakfast each morning and dinner for two on one evening from €230pps
Take to the seas
TRAVEL E-VOUCHERS
Give someone you love the gift of memories with a Stena Line travel e-voucher – the perfect gift for Christmas as lots of people are yearning to travel again! The e-vouchers can be used online as full or part payment for any Stena Line crossing including ferry and accommodation bookings!
www.stenaline.ie/gift-vouchers
FLEXI FOOT FARE
As we know, plans might change due to various circumstances so Stena Line offers a flexi foot fare from only €40 per person single where tickets can be changed without amendment fees!
CHRISTMAS TRAVEL
If regulations change and people are allowed to travel at Christmas, you can secure Christmas travel with Stena Line from only €100 car + driver single!
Are you concerned about plans changing? Have no fear Flexi fare is here! When you upgrade to a Flexi fare for just an extra €18 single you can change your booking with no amendment fee – just pay the difference in fare, if there is one. You can also cancel a booking up to 24 hours before your departure and receive a full refund.
* * * * * * * * * * *
Staying on the High Seas
You don't have to travel too far to feel the sea beneath you – what about buying your loved one a vouchar to sail around Dublin Bay or to travel to the Aran Islands with Doolin Ferries?
Dublin Bay Cruises Vouchers
Why not treat your loved one to a trip around Dublin Bay. I love seeing places from the water as it gives you a different perspective on a place that might be familiar.
GIVE THE GIFT OF A DUBLIN BAY CRUISE!
Why not treat a friend or loved one to a Dublin Bay Cruise in 2019, where they can take in the sights of Dublin Bay from a unique perspective (Dublin's docklands, the Bailey Lighthouse, Ireland's Eye and Joyce's Martello Tower to name a few).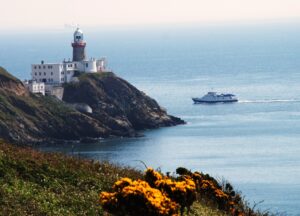 Our daily sailing schedule will start up again in Spring 2019 and we sail 7 days a week up until September 30th 2019. They can choose to sail from Dublin City, Dun Laoghaire or Howth and avail of our 'Rail and Sail' deal, by returning the their origin for just €2 by DART.
-Dublin Bay Cruises operate daily boat trips on Dublin Bay between Dublin City Centre, Dun Laoghaire and Howth (March to September)
-Our 96 passenger vessel has an upper and lower outdoor viewing deck, and an indoor cabin with full bar on board.
-See Dublin from a unique perspective while taking in sights such as Dublin's docklands, Poolbeg, Bull Island, Joyce's Martello tower, Howth Head and the Baily Lighthouse, Dalkey Island and Killiney Bay.
-Suitable for adults and children of all ages
-Vessel available for private and corporate hire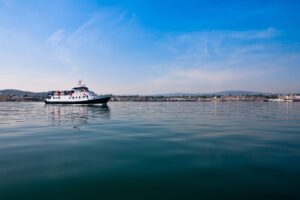 * * * * * * * * * *
Spend Christmas in a Castle
THE FOUR NIGHT CHRISTMAS FESTIVE PACKAGE – 4 NIGHTS FOR THE PRICE OF 3:  
Your Yuletide break will begin with a complimentary night's stay on Wednesday December 23rd and encompasses Christmas Eve (December 24th), Christmas Day (December 25th) and St Stephen's Day (December 26th). Begin making memories with a mince pie and mulled wine reception in the hotel's foyer, and then decamp to the award-winning 2 AA Rosette Cedars Restaurant or the more informal Gallery Bar for a Christmas Eve three course dinner made under the direction of Head Chef Richard McKee and his team.
On Christmas Day, guests will begin the festivities with a hearty breakfast in Cedars Restaurant. The Christmas day celebration will officially commence with a lunch served in the Castle Ballroom, with a welcome glass of bubbly upon arrival as well as some uplifting live music to get you in a celebratory mood. Retreat to your room or CARA Organic Beauty Spa for a treatment, recharge the batteries before arriving to Christmas night supper in the Gallery Bar (between 7pm & 9pm) then enjoy a peaceful night's sleep in one of the hotel's spacious bedrooms.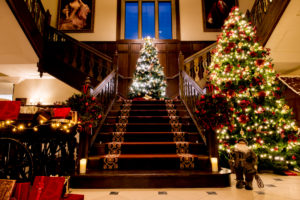 On St Stephen's Day, you will commence the day with a full Irish breakfast at Cedars Restaurant, and also included in this four night break is a three course dinner on St Stephen's Night in either the Gallery Bar or Cedars Restaurant.
This Christmas package starts at €889 per person sharing in a Courtyard Room (based on two adults sharing one room) 
https://www.lougheskecastlehotel.com/christmas
CHILDREN'S FOUR NIGHT FESTIVE PACKAGE STARTING FROM €320 PER CHILD AGED 3-12 YEARS OLD: 
Lough Eske Castle wants to make sure your little ones have a Christmas to remember with their child friendly "Children's Festive Package". Kids will enjoy a hot chocolate on arrival, daily breakfast in Cedars Restaurant and dinner on both Christmas Eve and St Stephen's Night.  On Christmas Day, Santa will visit and families will enjoy the festive Christmas lunch as well as supper on Christmas Night.
Children's Four Night Festive Package
From €320 per child (3-12 years old) sharing with two adults
From €450 per child (3-12 years old) not sharing with two adults
From €526 per child over 12 years old
TO BOOK: https://www.lougheskecastlehotel.com/christmas 
For reservations, please contact Lough Eske Castle on 00353749725100 or reservations@lougheskecastlehotel.com 
GIFT VOUCHERS- THE PERFECT WAY TO SHOW SOMEONE YOU APPRECIATE THEM  
Stuck for gift-giving inspiration? A gift voucher will never go out of fashion, so why not present someone you love with a Lough Eske Castle gift voucher this Christmas. The hotel's gift cards are available in monetary value and can be used throughout the hotel's various spa, bars and eateries or indeed can be put towards accommodation offers and stays.
Thereafter all vouchers are available to use within 5 years of the date of purchase to its equivalent monetary value.   
Purchase Gift Vouchers on www.lougheskecastlehotel.com or contact: 
00353749725100 or email reservations@lougheskecastlehotel.com 
* * * * * * * * * * * *
Travel Photo Album
Some years ago I took a very special trip with my father through America's Heartland and we stayed at a ranch in Oklahoma. We gathered some truly special memories and what better way to record memories of wonderful travel than by making a Photo Book.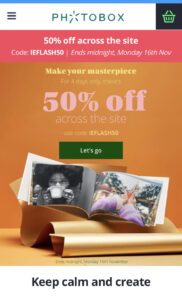 There are lots of apps and platforms that you can use to make a book and you can even make it from your phone. Photo Books come in at around €39.95 but at the moment there is 50% off all photo books. There's also the option of making lovely memories by designing your own calenders and they start at €19.95 and a photo mug is €9.95
* * * * * * * * * * * *
Give your loved one a taste of the Munster Vales
Give your loved ones a taste of the Ballyhouras in the beautiful Munster Vales
Ballyhoura Apple Farm

We at Ballyhoura Apple Farm have a range of Artisan Award Winning Apple Juices and Raw Apple Cider Vinegars. From our Pure Apple Juice, Apple and Beetroot Juice, Applesnips Juice to our Lemonade new to the market. Our festive favourite Hot Mulled Apple Juice and Hot Friskey are also now available. And of course, our Pure Irish Apple Cider Vinegar. We also have something for the pet lovers, Fingein's Veterinary – Apple Cider Vinegar.
This year we have just launched our Festive Hamper with a selection of 12 Juices delivered to you for less than €50. 
Website: https://ballyhouraapplefarm.com/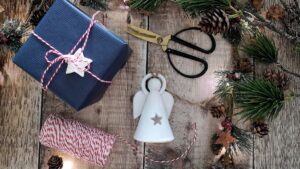 Tipperary Food Hampers
Tipperary Food Producers Network have launched a new "Taste of Tipperary" Hamper, in conjunction with Hampers & Co, Ireland's leading luxury hamper company. Hampers & Co is owned by Emer Purcell, a proud Tipperary woman so the Network is delighted with this collaboration.
The Tipperary Food Network has discussed on many occasions to create a Tipperary hamper offering, available year-round. I guess you could say that the recent lockdown has given the Network that extra "push" to get this initiative up and running and are delighted to be working with Hampers & Co, in the knowledge that the hamper will be beautifully presented and that delivery is in good hands.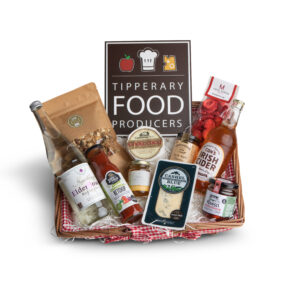 Details of the hamper can be found on the following link:
OR
https://hampersandco.com/the-tipperary-food-producers-hamper.html
You can enjoy a taste of Tipperary this Christmas, no matter where  you are in the country or worldwide.
* * * * * * * * * * * * *  *
Healthy Retreat for Two
Butterfly Cottage Retreat creates an intimate, warm, supportive environment where people can relax and unwind from the stresses of everyday life. Here we guide, inspire, educate, motivate, and empower clients to relax and nourish their body, mind and soul, leading to healthier happier and more fulfilled lives.
We use kundalini yoga and meditation with live music and chant, guided relaxation with live music and sound healing, energy healing and tapping. We enjoy nature's living foods, juice therapy and an expert nutritionist and therapist to help clients cope with stress, chronic illness, low energy, digestive issues and hormonal imbalances.
Our vision is a relaxed and nourished world where people are empowered to feel healthy, happy, energised, positive, fulfilled and loved.
https://butterflycottageretreat.ie/retreats/group-relax-nourish-retreat-day/
this is a lovely gift for two people who would like to be spoiled…..
* * * * * * * * * * * * *
Seaweed Baths
Send someone you love to Sligo for a Seaweed Bath
VOYA Seaweed Bathhouse gift voucher
The gift of flexibility, a Bathhouse voucher allows the cardholder to choose from a range of treatments, seaweed baths or products.
Can be purchased from https://www.voyaseaweedbaths.com/gifts
Online the voucher options are €30, €60 and €100.
The single baths are €30 and the twin rooms are €60 & €65
A bath is 50 mins long, they also offer other treatments like reflexology, facials and massages
The Voucher can be redeemed against all goods and services provided at the VOYA Seaweed Baths in Strandhill, Co. Sligo, Ireland.
* * * * * * * * * * * *